Eugene Levy CM is a Canadian actor who has been working in the entertainment industry ever since 1969 when he was just 23 years old. You might know him from the American Pie movie series or the sitcom Schitt's Creek. Because of such a long career, Eugene Levy net worth has soared.
Eugene has not only done acting but he has also produced some movies along with trying his hands in the directing and writing department as well. Another one of his renowned works was his time in the Canadian TV sketch comedy series SCTV in which he worked from 1976 till 1984.
Most of Eugene's characters are known to be a bit unconventional and different from the norm. He has often worked with the actor-director Christopher Guest. They have worked together in about 4 movies in which they have co-written the movies and they started this in Waiting for Guffman in 1996.
Eugene is a man of many talents and the fact that the Eugene Levy net worth is so huge and all the awards that he has won, attest to that. Eugene has won a Grammy Award for Best Song Written for Visual Media for A Mighty Wind which is the titular song of a film that Eugene co-wrote.
He has also won awards like Governor General's Performing Arts Award and he has even got the Order of Canada. He even got nominated for the Primetime Emmy Award for Outstanding Lead Actor in a Comedy Series in 2019 and 2020 and even won the award in 2020. He has 4 Primetime Emmy Awards and a Grammy Award to his name.
All these things prove that Eugene truly deserves the huge Eugene Levy net worth that he has earned and that is what is going to be the topic of discussion in this article. I will tell you how Eugene earned his net worth, what all movies and TV shows he has worked in, and also a bit about his personal life. So let us have a look at Eugene's life.
Who Is Eugene Levy?
Understanding the man behind the Eugene Levy net worth is as essential as understanding how it was earned. Eugene was born on the 17th of December in 1946 in Hamilton, Ontario in Canada. He is currently 74 years old and still working because he loves his work with a passion unmatched for anything else.
Eugene was born in a Jewish family. His mother, Rebecca (Kudlacz), used to be a homemaker whereas his father used to work as a foreman at an automobile plant in Ontario. Eugene also has a sibling named Fred.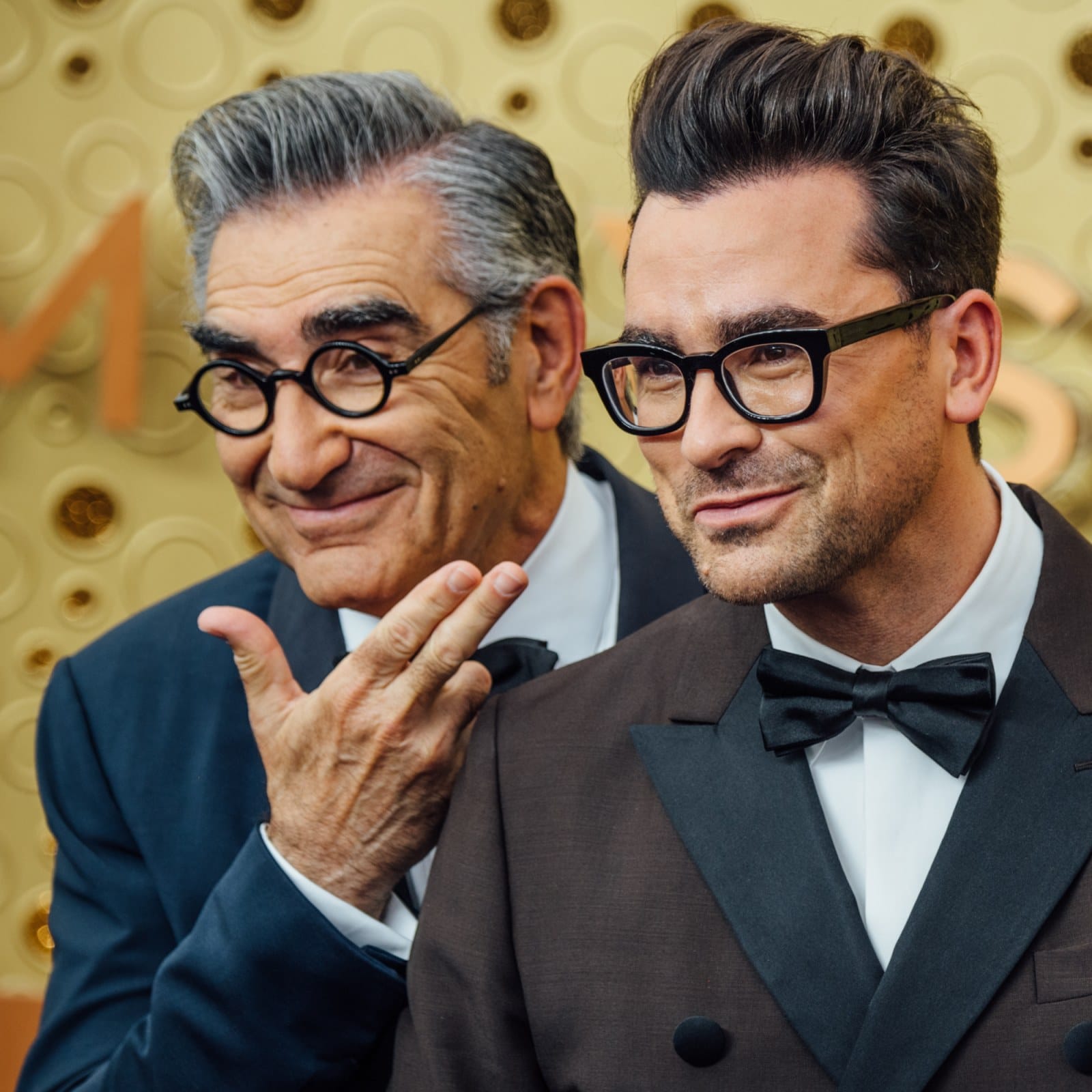 Eugene's mother was born in Glasgow, Scotland to Polish Jewish parents. Her family had moved to Canada before the 1940s. Eugene has attended the Westdale Secondary school, which was a school founded in 1931 in Hamilton, Ontario. He was also the student council president in this school.
After that, he also went on to attend the McMaster University, which is a university spreading for about 121 hectares, situated in Hamilton, Ontario as well. Again in the university, Eugene proved that he was built as a natural leader when he became the vice-president of the McMaster Film Board, which is a student film group.
Eugene participating in this group tells you that he had developed a love for acting and movies pretty early on and that is what led him to the notable Eugene Levy net worth. Eugene even met the moviemaker, Ivan Reitman, because of the McMaster Film Board. Ivan is a Slovak-Canadian-American film and TV director, producer as well as a screenwriter.
The Start Of Eugene's Career
Eugene's career kickstarted in a way that you might not expect. But it was because of this weird incident that we see the Eugene Levy net worth earning so much. The Toronto production of the musical Godspell opened at the Royal Alexandra Theatre and it was supposed to have a few dozen performances for a subscription audience.
Now all that doesn't seem anything extraordinary, does it? The weird thing was, unlike all normal plays that have a touring cast, this play was instead going to be choosing some local actors to play the roles of the play and that is how Eugene rose to popularity, and with him, the Eugene Levy net worth rose as well.
This proved to be an opportunity not just for Eugene but for all the other cast members as well. A lot of actors like Victor Garber, Andrea Martin, Dave Thomas, Martin Short, etc, got a lot of recognition and praise for their performance in the play and the play was responsible for boosting the careers of all these actors. Even the show director, Paul Shaffer, was a local.
The play was very well-received by the audience. All its shows ended at the Royal Alexandra and it moved onto the Bayview Playhouse in Leaside and there it ran until August 1973, which included a total of 488 performances.
Eugene Levy net worth
Talking about the Eugene Levy net worth, it is estimated to be around $20 million by Celebrity Net Worth. Eugene has played a lot of roles in a lot of movies and shows but perhaps, his most famous one would remain the role that he played in the movie series American Pie as the father of Jason Biggs.
Eugene appeared in as many as 8 installments of this movie series which included several installments that were Direct-to-DVD. When you talk about the original cast of the movie series, Eugene is the only one who appears in all the movies of this franchise and that is one of the reasons the Eugene Levy net worth has prospered so much.
Eugene earned as much as $1 million dollars for his role in the first installment of the movie series and later, he went on to earn $3 million dollars for the 2nd installment and $5 million dollars for the 3rd movie.
Eugene definitely earned more than that for the next few installments of American Pie and for good reason as well because he is one of the most likable characters of the show even if sometimes a bit cringy. Because of his spectacular performance in all of the American Pie movies, he kept getting more roles and that is how the Eugene Levy net worth kept on growing.
Eugene landed roles in projects like Cheaper by the Dozen 2, Bringing Down the House, Like Mike, Night at the Museum: Battle of the Smithsonian, Goon, She's Funny That Way, etc. He even worked as a voice actor for the roles of Charlie in the animated movie Finding Dory in the year 2016.
Apart from all that, Eugene has also co-created the TV series Schitt's Creek along with his son Don Levy. The show started in 2015 and it stars Eugene as Johnny Rose and the show went on for a total of 82 episodes spreading over 6 seasons between 2015 to 2020.
The father-son duo were also the writers and executive producers of the show. Fred Levy, Eugene's brother, is also a producer of Schitt's Creek. All these things along with all the other projects that Eugene has worked on have helped in boosting the Eugene Levy net worth.
Eugene's Personal Life
Apart from working on all of his projects to keep adding to the Eugene Levy net worth, Eugene also has a personal life, obviously. He married Deborah Divine in the year 1977 when he was 31 years old.
Deborah has made a career for herself in TV production and the couple has 2 children Dan and Sarah Levy who are both actors and have worked on Schitt's Creek with Eugene. Sarah played the role of Twyla on the show. Deborah and Eugene have had to split their time between L.A., Florida, and Canada because of them working in movies and spending time with the family.
Eugene has always been an advocate for autism awareness and treatment and he is also a member of the Canadian charity Artists Against Racism. He has worked hard to use his influence amongst the people to create awareness against racism and for autism treatment.
He was also very close friends with the late actor John Candy and Catherine O'Hara is also a very close friend to the Levy family. Catherine is a co-star of Eugene from the show Schitt's Creek and they both have been cast in the same movie and TV show projects a number of times over the years.
Eugene's SCTV Fame
Because of his role in this play and also majorly because of his performance in the Second City, Toronto, and the comedy TV sketch series Second City Television, Eugene was getting offered a lot of roles that had nerdish personalities and the nerdish roles were what proved to be making a huge contribution to the Eugene Levy net worth.
One of his best roles on the SCTV show was perhaps when he played the dimwitted Earl Camembert who was a news anchor for the in-show SCTV News and was a parody portrayal of the Canadian newsman Earl Cameron. SCTV was one of the major contributors to the Eugene Levy net worth at that time.
The Eugene Levy net worth earned a lot of its money because Eugene was dedicated to his work and people loved him on SCTV as he played a lot of other celebrities on the show. His impersonations include:
Perry Como

Ricardo Montalban

Alex Trebek

Sean Connery

Howard Cosell

Henry Kissinger

Menachem Begin

Bud Abbott

Milton Berle

John Charles Daly

Gene Shalit

Judd Hirsch

Jack Carter

Muammar al-Gaddafi

Tony Dow
Eugene also played people like Ralph Young, Norman Mailer, Neil Sedaka, Howard McNear, etc. There are a lot of original characters that Eugene played on the show as well. Eugene's original characters that helped him make money and grow the Eugene Levy net worth were:
Bobby Bittman

Dr. Raoul Withers

Brian Johns

Woody Tobias

Leutonian accordionist Stan Schmenge

Raoul Wilson

Lou Jaffe

Sid Dithers

Joel Weiss

Dougal Currie

Stan Kanter

Al Peck

Gus Gustofferson

Phil the Garment King

Rockin' Mel Slirrup
SCTV was really one of Eugene's most prominent works and this was even before he started working in the movies.
More About Eugene's Career And How It Has Helped The Eugene Levy Net Worth
Eugene has played the above title star in only 2 films, namely, Armed and Dangerous and The man but he has been amongst the main cast of a number of movies. Eugene has been a regular part of Christopher Guest's mockumentaries and especially of A Mighty Wind in which he has co-written as well.
He played an emotionally unstable folk singer Mitch Cohen in A Mighty Wind and even gained a lot of praise for the role. He even got a Satellite Award for Best Supporting Actor in a Musical or Comedy along with the New York Film Critics Circle Award for Best Supporting Actor.
The Eugene Levy net worth had not been much in the early 1970s or 1980s but Eugene appeared in a lot of movies and shows during those decades. Some of his prominent works include Splash, National lampoon's vacation, Club paradise, Stay Tuned, multiplicity, Serendipity as well as a lot of other comedy movies and shows.
Eugene was also the creator of the Maniac Mansion. He has won a number of awards like the Grammy Award for Best Song Written for a Motion Picture, Television, or Other visual media for A Mighty Wind.
All the awards that Eugene has, prove that he is a very spectacular actor and that he is loved by his fans very much. Anyone who can go on working in the film industry for more than a few decades has got to have some sort of talent and that is attested by the Eugene Levy net worth.
Cessation
The Eugene Levy net worth is around $20 million dollars and Eugene has worked hard to earn that money. He has worked with passion and dedication for more than 5 decades. You can just look at the fact that Eugene and Deborah bought a home in L.A's Pacific Palisades neighborhood for $2.4 million dollars to see how much he has prospered.
Eugene has made a lot of people smile with his goofy acting and weird and nerdy characterizations and he still continues to do so. I hope that we will see tons of more great performances from him and love him even more for his work.