Ever since Cobra Kai premiered on Netflix, The Karate Kids fan has been having a great time reminiscing about childhood memories. The endless rivalry of Johnny Lawrence(William Zabka) and Daniel LaRusso(Ralph Macchio) divided fans into two groups. It is hard to determine who had it right. Cobra Kai once again gives the fan a chance to be the judge of the character.
What is Cobra Kai all about?
Cobra Kai takes place somewhat 30 years after the All Valley championship. Johnny had a hard time coping up with the atrocities of life after the competition. He still hasn't forgotten The Crane Technique kick that ruled him out of the competition and made Daniel the winner. While Johnny struggles to pay his bills, Daniel has set up an empire. He is the leading automotive salesman in town. No matter where you look, you'll find his name on the billboards.
Unfortunately, both the gentlemen have left Karate for good though at times they get nostalgic. The series shows several flashbacks that give the viewers an idea of what went down. Though LaRusso auto group uses taglines like "kicking the competition" and "chopping prices," Daniel's fighting days are over.
The Return of Cobra Kai
One day in the parking lot, when Johnny was out to get some food, some kids started harassing a batch mate of theirs, Miguel( Xolo Maridueña). They threw away his medicines, kicked and punched him, and in this brawl, Miguel fell on Johnny's car. A scratch on his beautiful Pontiac infuriates him, and he warns those kids. Johnny tries hard to be civil, but a fight breaks out, and Johnny beats down all the teenagers.
An impressed Miguel realises that Johnny might be his only shot against these bullies. They'll harass him once again when the school reopens. Miguel tries hard to convince him to teach him good old karate, but all goes in vain.
That night, Johnny's car gets hit by Samantha(Mary Mouser), Daniel's daughter, and her friends. As fate had it, Johnny's car went to LaRusso's for service. When the old rivals meet after decades, you could expect anticipation and tension among them. Seeing that LaRusso is doing so well and still thinks that the kick was legit, Johnny decides to train Miguel. He decides to bring back Cobra Kai and show everyone the true strength of karate.
Cobra Kai Season 1 analysis
Cobra Kai Season 1 shows how Johnny trains a fragile and weak Miguel into a karate champion. Robby Keene(Tanner Buchanan), Johnny's son, joins LaRusso's ventures to infuriate his father but ends up falling in love with karate. Daniel trains Robby with all his knowledge and brushes up his brute skills. Sam is having a hard time choosing between Miguel and Robby as she finds herself drawn to both of them. Moreover, she also finds herself coming back to her roots, Miyagi Do Karate.
At the All Valley championship, when Miguel and Robby face each other, Johnny has a hard time choosing sides. Though he has always taught " Strike first, Strike Hard, No Mercy", when Johnny sees Miguel hit Robby's injured shoulder, he realises the flaws in his technique. He decides to teach Miguel the difference between No honour and No mercy.
Cobra Kai Season 2 analysis
In the second season, Robby is drawn to Sam. With the inclusion of Tory(Peyton List), the jilt between Sam and Miguel widens and leaves a scar. But, the ex-lovers find it hard to let go of each other. They frequently run into each other which fans both Tory and Robby's jealousy. With Miyagi Do Karate and Daniel opening his own dojo, the fight between Daniel and Johnny strengthens. However, this brawl gets fuelled on a whole other level with the appearance of John Kreese(Martin Kove), Johnny's sensei, who supposedly was dead.
Johnny trusts Kreese once again and lets him back into his life. He is willing to look past all the horrible things Kreese has done and agrees to give him a second chance. But, Kreese intentionally leads the students down a violent and cruel path. He trains them to become ruthless. Under his influence, the innocent kid Eli(John Bertrand) becomes the ruthless Hawk. The bullied becomes the bully, and Hawk makes the life of his best friend, Demetri(Gianni DeCenzo) miserable because he is a member of Miyagi Do Karate.
Kreese teaches Tory to always "finish" your enemies. Under his leadership, the students lose their sense of judgement. By the time Johnny realises his mistake of letting Kreese in, it is too late. Seeing Sam kiss Miguel enrages Tory, and she seeks out to take revenge. She initiates a fight in school that ends up sending Miguel into a comatose situation.
Tory also injures Sam and Robby, who wanted to stop the fight, pushes Miguel off the second-floor balcony. The fight between Cobra Kai and Miyagi Do students leaves a permanent scar in the history of the town. All the students fight and leave each other brutally injured.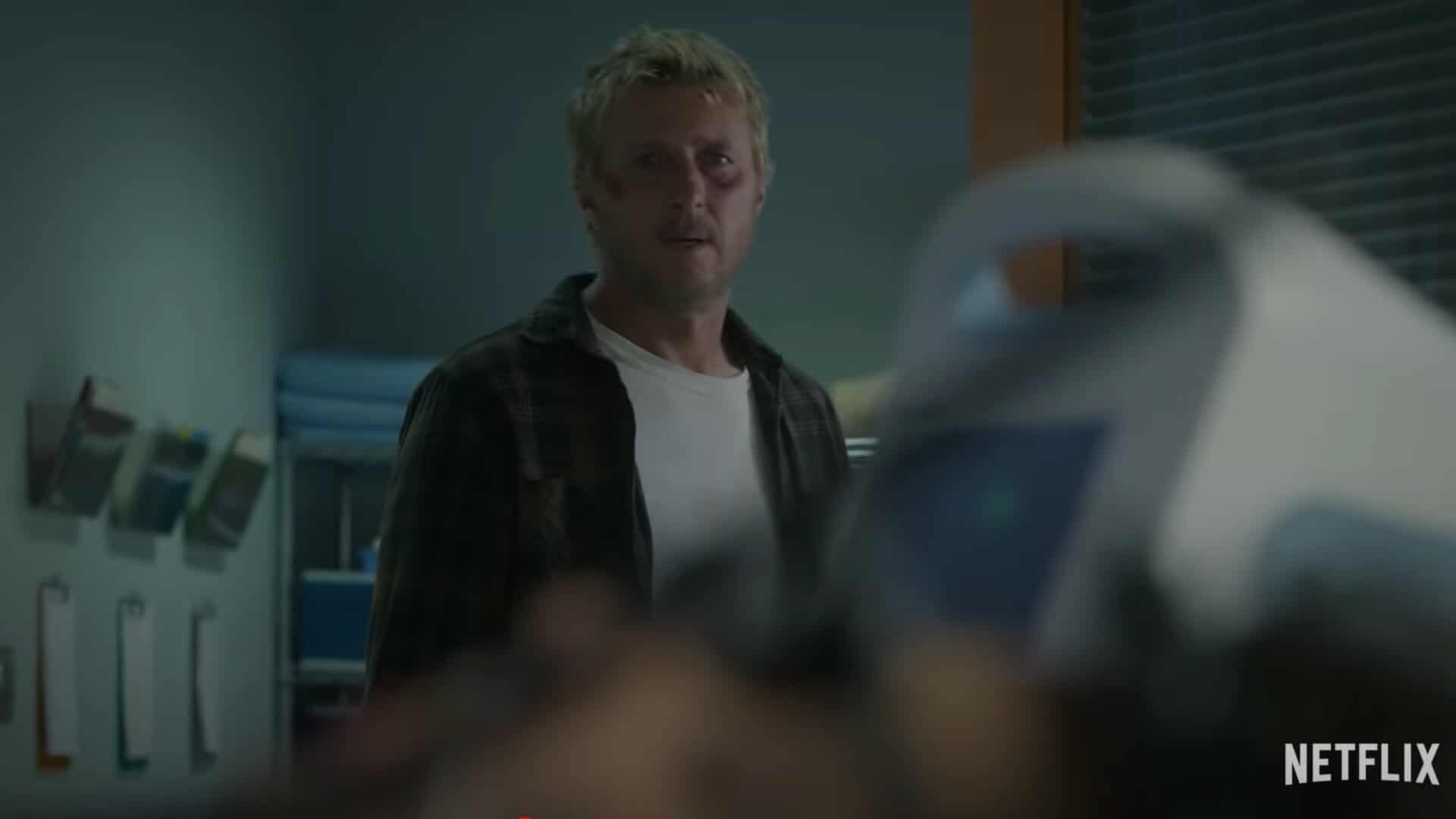 Cobra Kai Season 3 analysis
Season 3 begins with a grim and sombre tone. With Miguel on his deathbed and Robby in a fugitive situation, Johnny is in a worse place than ever. Sam is having nightmares following her fight with Tory. Daniel's business is sinking after Tom Cole pitched Doyona International in. Doyona was the leading manufacturer of the LaRusso's. But, the bigger threat lies elsewhere.
Kreese took over Cobra Kai and filled the students' minds with anger and hatred. He blames Miyagi Do students for what happened with Miguel. He instigates them to take matters into their hands. Hawk, Tory, and others become ruthless, and Hawk even ends up breaking Demetri's arm. Robby is also brainwashed into joining Kreese's side.
Season 3 also showed how much importance Mr. Miyagi had in Daniel's life. Both Daniel and Johnny face crucial turns in their life where they question their past actions and integrity.With matters falling out of hand and frequent fight breakouts, Johnny, Daniel and Kreese decide that if Cobra Kai loses the fight in the All Valley tournament, Kreese will leave the town for good.
Cobra Kai Season 4 Expectations and Release date
Ever since Cobra Kai season 3 aired on 1st January, the fans are gushing over the next season. Season 3 ended with Kreese making a phone call to Terry Silver, the antagonist of Karate Kid Part III. It is very much possible that Terry is returning to end his beef with Daniel. Moreover, now that Daniel and Johnny have merged their dojos, it'll be interesting to see how they train their students.
No matter how much rivalry exists on screen, the cast is very tight off screen. They've a gala time shooting Cobra Kai. Mary and Peyton are often teasing seen posting behind the screen footage. Head over to the cast's personal account to catch some behind the screen moments.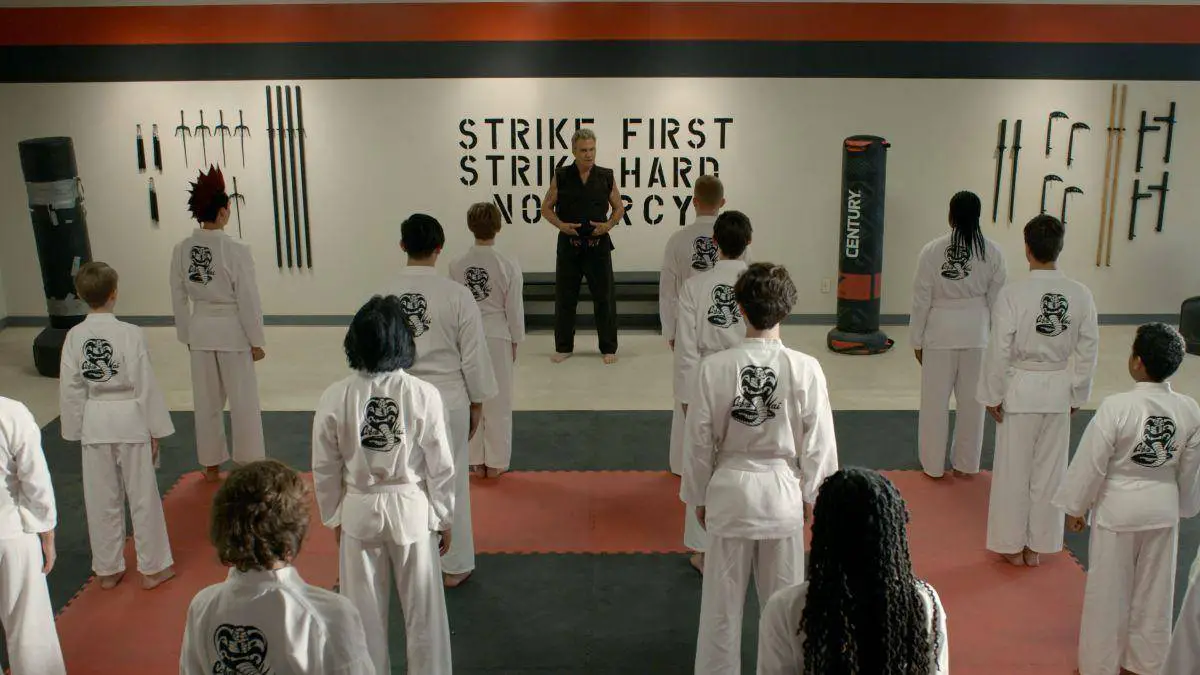 While Miyagi Do is all about defense and mental balance, Eagle Fang karate(Johnny's newly opened karate venture) is all about offense and striking first. An amalgamation of two of the strongest techniques might be beneficial for the students as they've to take on ruthless Cobra Kai students in the tournament. You might also get to see some bittersweet bro-mance moments between Daniel and Johnny.
The script for season 4 has been at work for months, and the cast is getting ready to go back into production.
Cobra Kai writer Jon Hurwitz said,"We're still figuring out some of the specifics, but the intent is for early [2021], to get back on set, with all the COVID protocols in place, and to get back to some karate ass-kicking in the valley," he said in an interview withGamesradar. The next season might air around January 2022.
The writers and directors have a plan to make Cobra Kai a six season series. With the cast gaining so ,much fame and the insurmountable love of the fans for the show, it is definitely possible. The writers are also planning on several spin-offs.
The underlying details
Season 3 of Cobra Kai delved deep into Kreese's past and showed the real story of "No Mercy". Unfortunately, a product of chaos, Kreese can't tolerate peace. He is always looking for ways to brew a war between Daniel and Johnny. Johnny Lawrence, on the other hand, has a different background. Abused and bullied by his stepfather in early childhood, Johnny joined Cobra Kai to defend himself. Unfortunately, Kreese sent him down the wrong path.
The Cobra Kai series showed Johnny has a lot of redeemable qualities. He doesn't want his students to make the same mistake as him. Daniel also realised that he wasn't always right. He made tons of mistakes, and some of his choices were equally questionable. Season 3 also brought back Okinawa, Yuna, Chozen, and most importantly, Ali and treated the fans with pure joy.
It will be interesting to see how Robby pans out in the upcoming season. Will he become the villain that Kreese is moulding him into, or will he return to his Miyagi Do roots? This season also gave Johnny a new love interest, Carmen. How will Miguel react to his mother dating his sensei? The rivalry between Tory and Sam also grabbed a lot of attention. Who will emerge victoriously? Will Miguel return to defend his title? Can Johnny and Robby finally work out their issues?
While you wait for these unanswered questions, check out how the adaptation of The Winx Club is fairing on Netflix – https://sleck.net/fate-the-winx-saga-takes-a-disappointing-turn/