Want to protect your hair from the sweltering heat? Try spring twist hair! While they are perfect protective hairstyles, you can also get spring twists to add a little "twist" to your fashion. Summer is the best time to get spring twist hair and a bunch of styles like knotless box braids, butterfly locks, Marley twists, and many others have blossomed over the years. Spring twist hair is one of the most beautiful and elegant hairstyles out there, so why not try it?
We have seen spring twists and passion twists go hand in hand, but they're very different. Spring twist hair is shorter, mostly shoulder-length which makes them a lot more lightweight than passion twists and you can pull them off easily during summertime. While they might be different in appearance and comfort-giving, spring twists and passion twists are both made with curly braiding hair, making them look curly and springy.
We know how difficult it is to care for our hair in our day-to-day lives. But with spring twists, you don't even have to think about maintaining your hair; yes, your twists will take over your hair and protect them while you're occupied with office work or household chores. Like box braids and other protective styles, these usually last between four to six weeks and you can keep them intact if you have a healthy lifestyle and take good care of them.
So, get spring twists this summer and you'll have your hands out of your hair for a few weeks!
Why should you have spring twist hair (and why you'd love them)?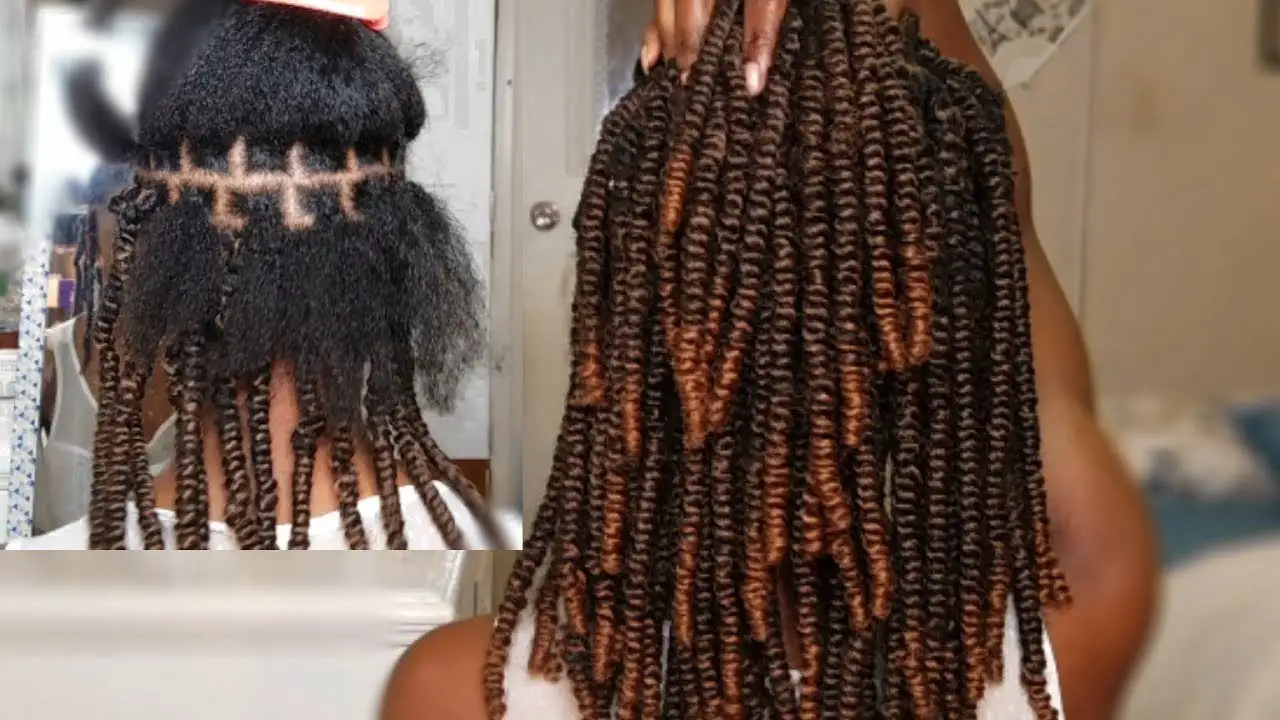 Whether you keep them untied or in a bun, spring twist hair will protect your hair with the least maintenance. Don't we all want to have hair that is beautiful and damage-resistant at the same time? Unleash your beauty queen spirit and style your spring twist hair any way you want because, at the end of the day, it will protect you while giving you the reward of a low-maintenance inspiration.
Here are some reasons you should have spring twist hair:
They are lightweight

: ever felt like your hair is burdensome? Well, with spring twists, you'll get a breezy feeling. They are extremely lightweight and will never make you feel like something is yanking on your scalp.

Gives a natural look

: after all, who doesn't want to look natural, right?

Low maintenance

: while it might take a long time to get the twists, it is a piece of cake to maintain afterward. So, you don't have to maintain them, they'll maintain you!

They last long

: the longevity of spring twist hair depends on your lifestyle but normally, they last for a maximum of six weeks.

Easy styling, elegant look

: you can style your spring twist hair in a lot of ways. Whether it's a simple bun, a half-up half-down, or a chic updo, your spring twists will always make you look appealing!
As the world is caged in a lockdown, we are all getting more and more desperate to visit the salon and get those trendy hairstyles. But fret not, as you can bring the salon to your home! Get your favorite spring twist hair at your home with your skills. Classic and elegant, these twists look natural and have a variety of styles.
Here's why you can never get enough of the spring twist hair trend: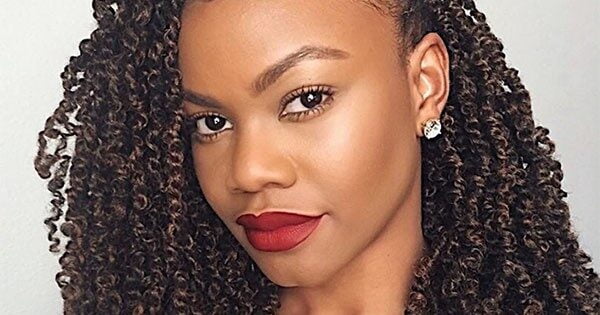 They invigorate the summer spirit
Summer is a very dangerous time for our hair and that's why we need protective styles, and spring twist hair is one of them. Want to go on a summer vacation with a carefree Bohemian look? Try out the spring twist hair! It's the perfect choice for you if you want a laid-back attitude, with its curly and coiled appearance.
While no one is sure whether we'll get to enjoy the outside world as before, it's no harm in styling your hair for its protection, right? Even if you stay inside your house, your hair will be protected from the hot sultry weather and from any other damage you unintentionally cause by daily styling.
Twists are low maintenance
Have we talked about how convenient and easy maintenance spring twist hair is? No worries, we'll say it over a thousand times! Although the setting up might take four to five hours, the after scene of getting spring twist hair is an effortless breathing space from everyday care.
But it doesn't mean it requires no care at all! It's just that it doesn't need a hard uptime as compared to other hairstyles. Once you get your spring twist hair, remember to always keep your scalp moisturized by some light essential oils.
They promote hair growth and length retention
We all know how regular hairstyling can rigorously impact your hair, damaging your hair strands. Also, not to forget the environmental factors that come into play. All these results in hair breakage and root weakening. Protective styling is the most promising gift you can give to your hair. They promote hair growth and help in length retention. One such styling is spring twist hair.
You can go for either a crochet installment or simple braiding, and you'll keep your hair away from all kinds of ailments— artificial and environmental. Give your hair some rest from daily styling by safely twisting and cloistering it away. This will make your hair fuller, livelier and stronger— so, it will restore its true potential if you suffer from low hair growth and development.
They are incredibly flexible
Amongst all other protective hairstyles, spring twists are the most flexible and versatile ones. You'll find them in a pack of different lengths and shades with which you can style your hair in some infamous fashion like buns, ponytails, half up half down, etc. The spring twist hair is a real stunner. Check out some ideas online and get twisting!
Love DIY? Then spring twists are a great match for you!
In this lockdown, have you wanted to try out a DIY protective hairdo? If you have, then think no further and go for the spring twist hair. You'll get the extensions in pre-twisted and springy curled up form (that's where it gets its name from!), fashioning the wiry, flexible nature of hair. All you need to do is, pair up your hair with the extensions, start braiding for about an inch and then twist altogether till the end. Don't worry, you'll get loads of easy, fun tutorials on YouTube.
Spring Twists have decent longevity of more than three weeks
Since the spring twists have a natural texture and an unkempt appearance, they look more natural as time passes. Other protective styles need to be matched with your natural aesthetic and if they don't, you won't get more of a 'lived in' look. That's where spring twist hair comes to the rescue. It will still look natural and immaculate if you leave them for a long time. It gets better with time!
Just remember to maintain your scalp regularly by moisturizing it or you'll create the risk of dirt accumulating in the roots and twists. If you neglect your scalp while the twists are in place, you won't achieve your dream hair goals.
Also Read: Top 10 Knotless Box Braids Hairstyles To Try Out!
Trendy Styles for Spring Twist Hair in 2021
Who doesn't want a hairstyle that doesn't need much styling to cast a spell upon people? We all do. And with these twisted miracles, you have your dream coming true! All you need to do is nourish your scalp daily and you'll have these little glitzes for a long time.
Spring twists are the talk of the internet today! Since you have discovered these beauts that are both super glamorous and easy to maintain, check out this wrap-up of the infamous hairstyle to know what everybody is talking about:
Beware, ladies, your mambo twist braid is ought to give your lady friends a reason to envy! It's an irresistible and fiery look. It makes your hair thick and extends the length. Don't forget to spice it up by adding red shades.
Red hair with spring twists
Amp up your spring twist style by painting it red and stunning everyone! Keep the ends curled and free to get a more unique look. Being the radiant beaut it is, this spring twist hair will make any skin shade pop out.
Give your spring twist hair a vibrant and vivid look by mixing it with a brown shade. It's an incredible and bold look. Also, silver cuffs on the twists catch the eye. Extending till the collar bone, these spring twists give you a wholesome look.
Get these Afro twist braids for a glossy and avant-garde look. The twists are tidy and smooth. With its shoulder-grazing length, Afro spring twists give you a fuller look. Try to pair the twist braids with black hair, to achieve a shiny and neat polish.
Want to go for something trailblazing? Try out these micro spring twists! Keep them long to get a fuller look and red highlights for an elegant finish.
Want to try an exciting hairstyle? Go for the single spring twists. You can get it with thick, medium twist braids or small twist braids. Anything you use, you'll get a single spring twist hair that is simple and thrilling.
The ends are thinner and narrower than the original African twist braid style from the roots. This one is a timeless rendition of the classic African style and is a pride for women of color!
Small black spring twists
Micro braids are widely loved for their small, vibrant twists. We believe your boldness increases as the braids get tinier! Small, condensed twists help keep the moisture locked in, thus making them a great protective hairstyle
These twists are known for their super tight, alluring look. The tightness and thick curling help to keep the hair voluminous and lock moisture throughout the length.
These big spring twists have been in vogue for a long time! Try out this springy coiffure if you have enough patience, dedication, and a yearning for style.
How do you get a spring twist hair?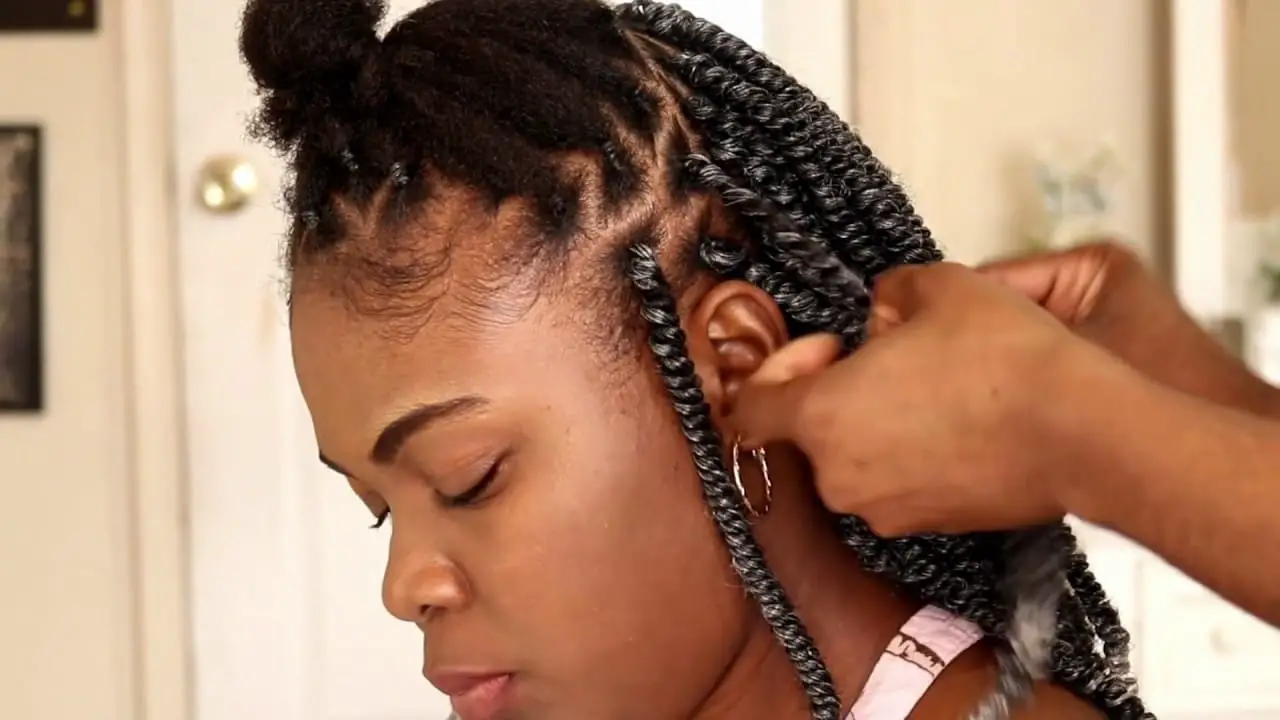 Get the right tools and line up some YouTube tutorials if you haven't done twists before. Be patient, take it slow and the rule is, don't give up if you mess up! Slow and steady wins the race, right? The more you practice, the better you get at twisting! Remember, you can't get frustrated (even if it's your stylist giving you the twists and not yourself). Make sure you have a leave-in conditioner, pomade, and of course, lots of combs and clips.
Step 1: Prepare and section your hair
For effective results, make sure your hair is fresh, deep conditioned, and dry. You'll need a comb, clips, pomade, and your readymade extensions. There are a lot of spring twist hairstyles to choose from and after deciding on one, take your hair, moisturize it and section it into four to six parts before twisting it.
Once it is moisturized and sectioned, make sure you use a hydrating product on the twists. Give them a pomade finishing to make the hair stay in place. Then it's time for pairing it with the extensions!
Step 2: Start braiding at the root
You can braid your hair in a lot of ways depending on the kind of spring twist style you want. Some people start braiding from the root of the hair strand and keep braiding down about an inch or two, then tie the hair with a hook before finishing the full twist. Others would rather braid the spring hair with the root hair for an inch and then start twisting and pairing the extension into their hair. You can go for any method that suits your hair type and your expertise.
Step 3: Get twisting and detangling
After deciding on how you're going to use the extension, start twisting the hair. Twist in a way that the hair stays thick in a double-strand twist. While twisting, you might find light tangles. As much as a problem those snags might create, you can also encounter uneven distribution of hair in the two strands while twisting.
The solution is, to keep detangling the extensions just like you did with your hair as you go on twisting. But if you end up with more hair on one strand than the other in the twist, section your hair as you did at the root and twist all through to the end. Chop off the frizzy ends (if any) and massage them with your fingers to make them intact. You don't need hot water at all as the ends of your spring twists are already curly.
Now, one thing to keep in mind, always ensure twisting in the direction your spring hair is oriented; working down in another direction might give you an unwanted weird and asymmetrical shape.
Also, you can use the crochet method if you have a thin or medium hair consistency and are concerned about getting tugged at the hairline. You'll get tons of videos on Youtube about how to use premade twists to get your dream spring twist hair, so wear your research pants and find out!
How long do spring twists last?
Most experts suggest that you should unravel your protective hairstyle after a maximum of two months as keeping it on for a prolonged period can cause hazards to your hair and scalp— the same goes for the spring twist hair. Make sure you're moisturizing your scalp with light essential oils (like jojoba oils) to avoid itches. Before going to bed, you can also wrap your hair in a silk headdress to prevent the twists from frizzing.
How can you maintain your spring twist hair?
Spring twists are a fun and innovative way to braid your hair. If you have naturally curly hair, then twisting it into this style will be great. This is a very affordable hairstyle and is popular among women and children. With spring twist hair, you can't have any bad hair days. All you have to do is get up and brush your hair without combing it.
You won't believe how attractive it will look on you. But if you want to keep this hairstyle for a long time, you need to follow the right maintenance for your hair.
After you spend time preparing your spring twists, you'd want to protect it, right? You can take a few steps to maintain longevity and here's how you can do it:
Wash and Condition
Wash your spring twists from time to time, depending on the environmental conditions where you live, the amount of product used, and the condition of the skin on your scalp.
Be especially careful when cleaning the spring twists. Tighten the twists to prevent loosening during cleaning. Consider conditioning the spring twists to make them look smooth and shiny.
Keep Your Scalp Moisturized
Your work doesn't end after oiling your scalp once. You have to oil it regularly because no matter what protective style, the more your scalp is exposed to the air, the more it loses moisture.
Choose the oil of your choice for the exposed area. You can do this once or twice a week or whenever your hair feels dry.
Protect Your Hair overnight
Wrap your hair with silk or satin and keep it overnight. This reduces friction and wrinkles between the hair and the cushion and cover.
How Do You Keep Twists from Frizzing?
Most of the people with spring twist hair face the problem of frizzing over time. Fortunately, there are several ways to prevent premature twisting and here they are:
Loosen the twists frequently.

Hair loss syndrome is a major cause of frizzy hair, so you should mask your twists as much as you can. If you keep them open, they'll suffer friction with surrounding elements and wear down.

Although there is no way to get rid of frizz, you can apply the above steps to keep your twists in good shape.
Pros and Cons
Like every other protective hairstyle, spring twists also have certain pros and cons. So, you should learn about them all before deciding to don that look:
Pros
They are beautiful and can adapt to all face shapes.

They can last a long time if given the right maintenance.

They are easy and hassle-free to style.

They protect your hair against all kinds of damage— artificial and environmental.
Cons
Salons have a high price for spring twists if you want to get it professionally done.

It takes time to do it yourself.

Unlike other protective styles, these braids don't last long enough.
Do's and Don'ts
People make a lot of mistakes when prepping, setting up, or preserving their twists. Here are some dos and don'ts for everything you need to know about maintaining spring twist hair:
Do's
Be patient while setting your spring twists to prevent hair breakage and damage.

Before twisting your hair, knit it into three parts. This is to make sure that your hair doesn't loosen out of the braids.

Always use coily extensions for setting up your spring twist hair
Don'ts
It's not a one-time responsibility. Do not neglect your twists or they'll get destroyed. Always rinse your hair and scalp with oil and wrap it up in a soft piece of cloth for the night.

Do not pull the braids too tightly at the roots. If you have to tighten it, you might develop a condition of traction alopecia around the hairline.

Do not try to straighten your twists.
Final thoughts
Who doesn't want to get glammed up while nursing their hair at the same time? It's like shooting two birds with the same arrow! You must already know about protective hairstyles (or have tried them at least once) but if you want some change in your daily style loop, spring twists are a must-try.
The pros of getting them are that they are fine, delicate, and versatile (like seriously, you can put them into buns or ponytails or bobs or just about everything!). Also, while protecting you from the summertime, you will be blessed with a lightweight "summery" feeling. Most importantly, you can get them at home if you can chalk out some time and patience. This will also relieve you of the immense expenditure to get it done professionally.
Whether you're doing it yourself or at a salon with better expertise, you're now ready to have a crack at this stunning hairdo. So, get twisting, ladies!