Hanging Planters- Choose Your Type!
Hanging planters are a perfect solution for those who are looking for ways to showcase their indoor gardens and breathe life into their beautiful house. Hanging planters add lush green beauty to every cranny and nook of the apartment or house. Also, they are in trend and ideal for those living in small spaces since they do not require much floor area to settle in.
Organizing plants into your house can assist in more than just a beautifying purpose. Did you all know that indoor planters produce more oxygen, helps as a humidifier naturally, and decrease levels of some harmful pollutants, such as nitrogen dioxide and benzene?
They also help decrease airborne dust and carbon dioxide levels to improve your and your family's respiratory health and breathe better.
You may also start growing your own indoor safe and edible garden, with excellent herbs such as rosemary, thyme, oregano, curry, or bay leaf, etc to add distinct flavor and taste to every meal.
One of the most amazing things about having hanging planters in the house is that they're a remarkably easy and affordable DIY design that anyone can effortlessly create. Check out our unique and outstanding DIY hanging planter designs to start building your indoor garden today itself!
Hanging Planter Ideas
Designing a hanging planter is quite simple. All you really require is a vessel or container capable of accommodating potting soil with some plants, and a spot in your beautiful house to hang the finalized product. It is common to place your hanging planters by either an entryway or beneath the eaves of a porch, but you can also be more creative with your presentation location. Reconsider putting a series of hanging planters along your wall or fence line or adding hooks to an artifact wall or the front of your house.
1. Wonderful Wood Slat wall Of Hanging Planters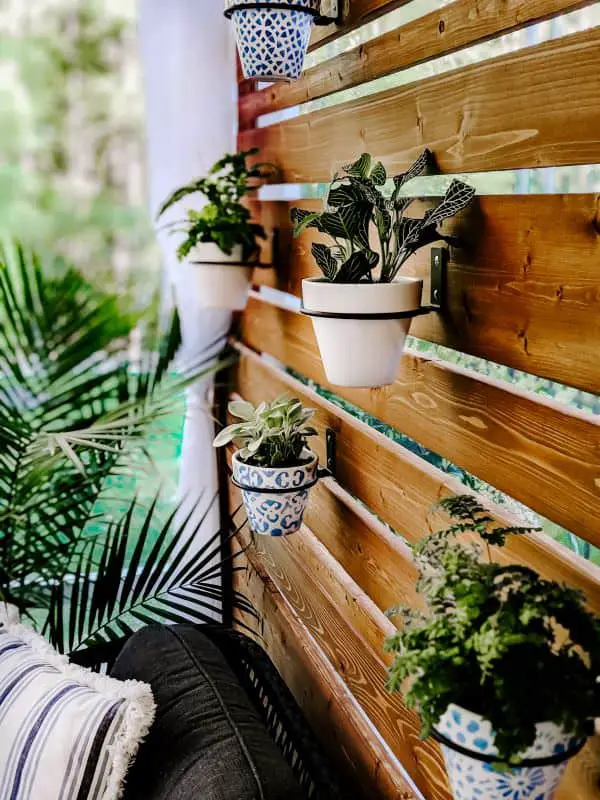 Take your hanging planters game up to another level with the whole wall completely dedicated to their eternal grace and beauty! This slatted fence wall looks marvelous as a statement wall just behind your sofa, adjacent to your entryway hall, or on your rear patio space. With metal containers tightened to the slats, your hanging planters are easy to turn in and out as required for obtaining a new design or simply for watering.
2. DIY Hanging Shelf Garden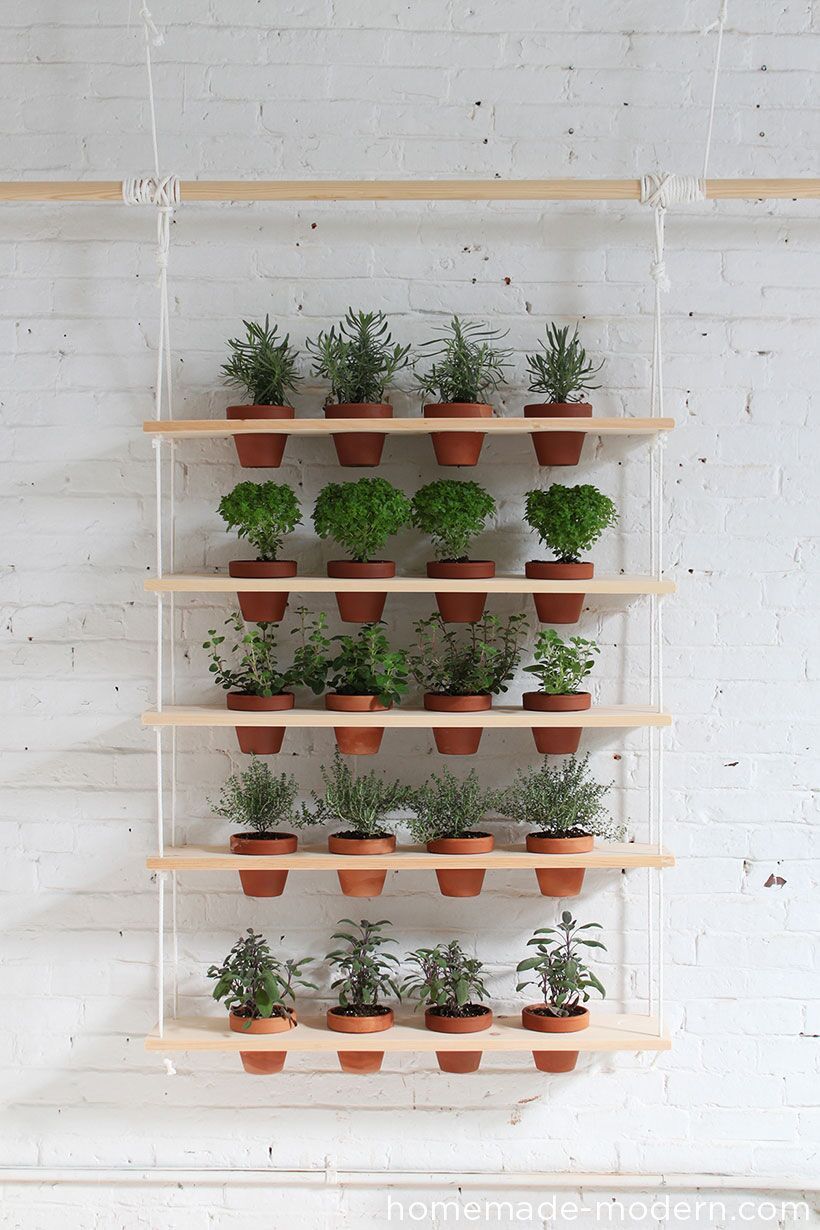 This simple hanging planter is indeed beautiful. You can also create the same using simple materials like blocks of wood and a rope to tie them. Use this hanging planter idea to dress up your sunny window to make sure the herbs you have grown to soak up plenty of light from the sun and grow like magic.
3. Ladder hanging planter idea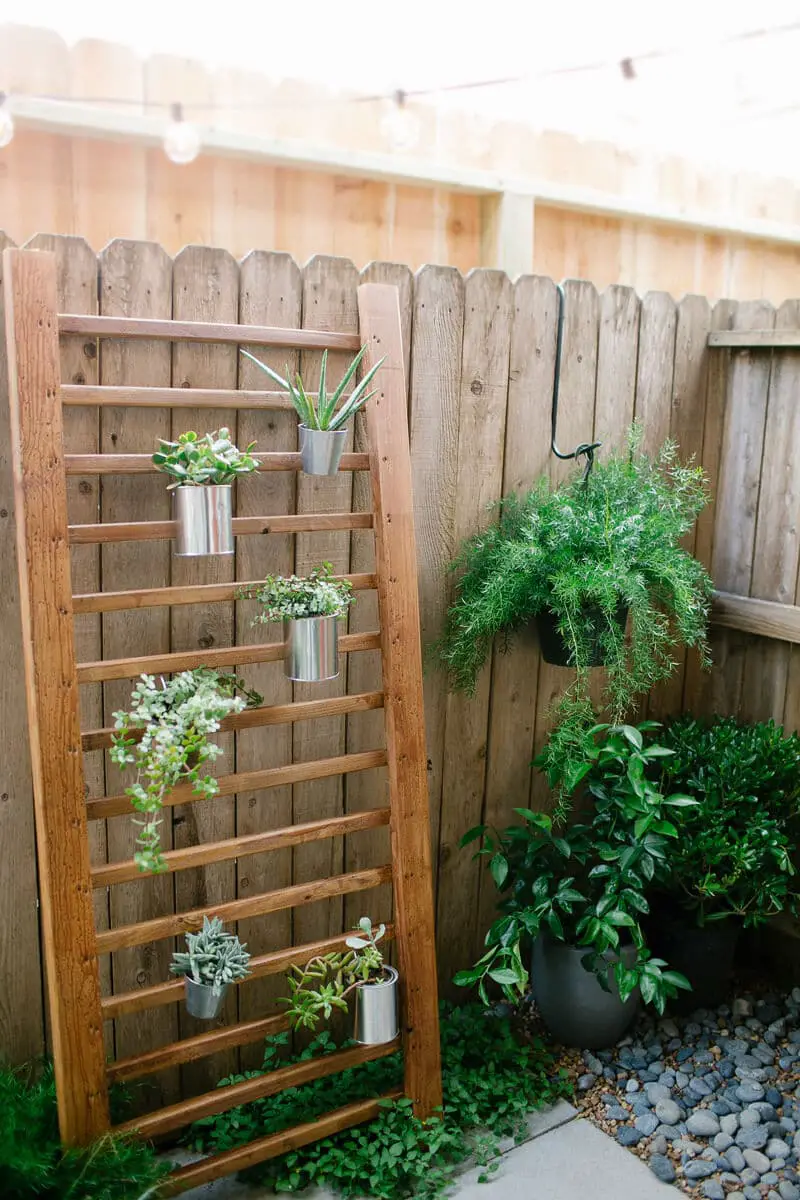 If you have a small space that is generating problems for your developing plant addiction, do not bother! you must think outside the box sometimes and create up-the-wall spaces to give your young and fresh beauties the place and love they truly deserve.
Just give them a blanket ladder that works phenomenal in your internal space, your outside-placed succulent ladder is the absolute haven for all of the tin pot-planted youthful green-leaf friends. You will know the more the merrier as you will fill up the bars with your cherished collection of these succulent gems.
4. Black leather hanging planters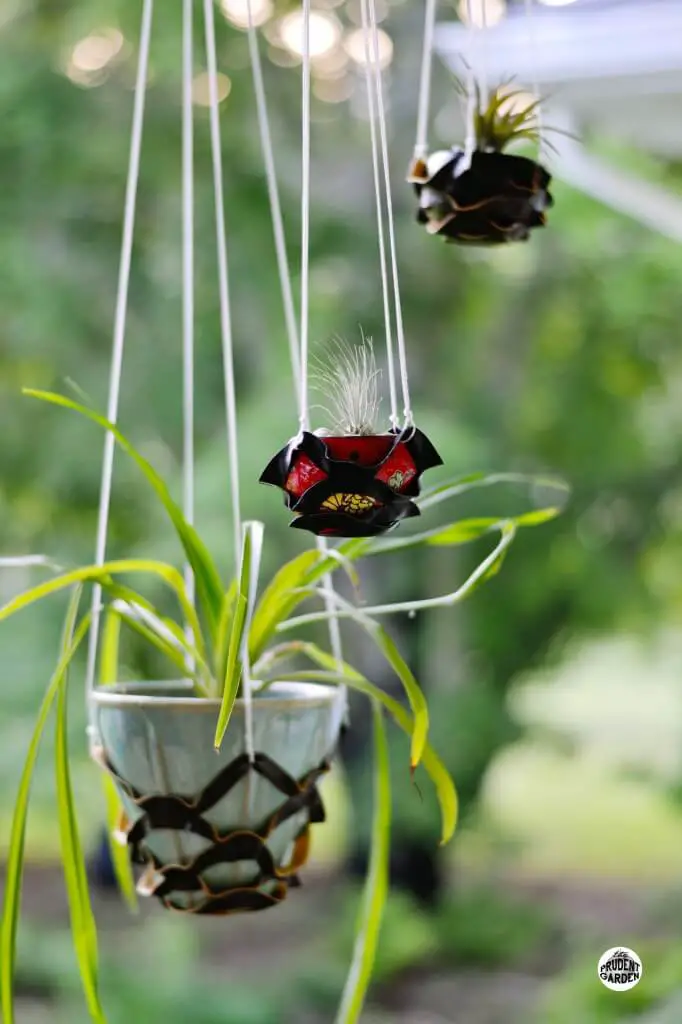 The holders you use for your plants play an important role in determining how the overall look appears.
Let the charm and texture of genuine leather mosey onto the picture or display as a distinct and embellishing plant hanger. This set simply creates an unusual look with its open design detailing that tenderly encompasses the small planter. Hang them across your front porch for an exciting curb interest or appeal update or you may also spread them around your garden oasis from your gazebo or pergola.
5. Simple Pendant Hanging Planters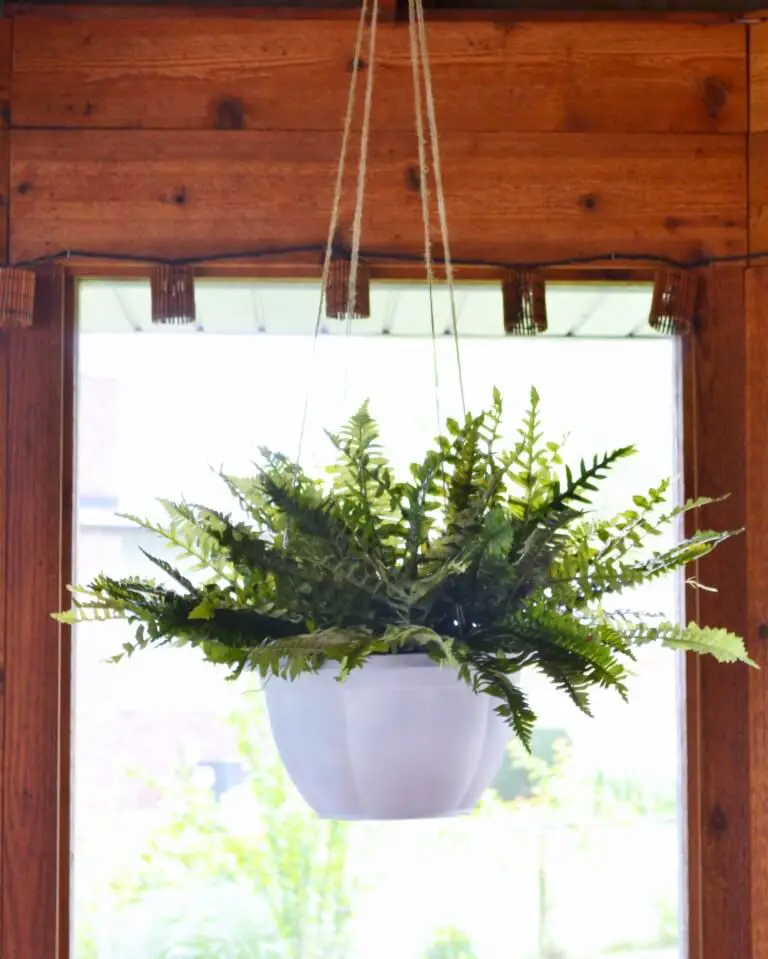 You just cannot go wrong with classic white simple pendant hangers for your planters. These are just perfect to be used for your indoor or outdoor plants, this vintage pendant planter holds the frolicking plant adjacent to your window or in your outdoor terrace space. You may see it anywhere you are. Dangled from a simplistic jute string, this planter allows the green beauty inside remain in the limelight. Use it to decorate and keep your favorite planters from ferns to a series of pearls.
6. Tin planter with metal chain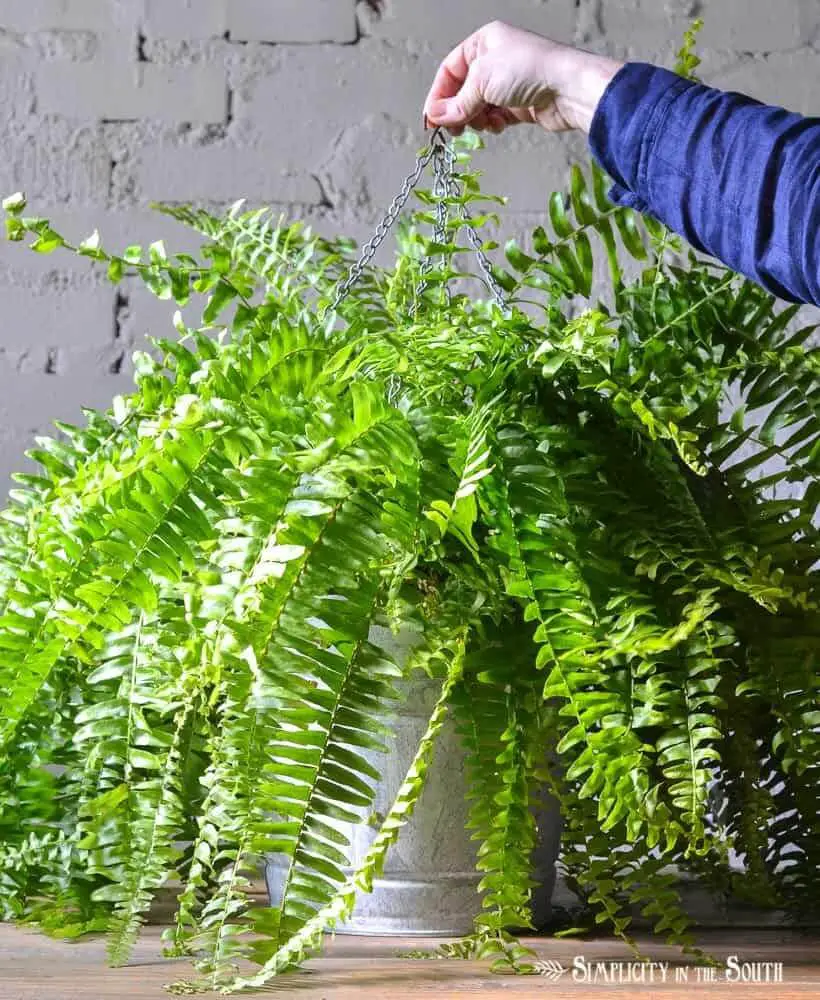 Infuse some modern chic within your outdoor plant display with this smooth and stylish silver bracelet kind of chain and pot set. The string allows your ample fern to surrender its green goodness as it drops over this fabulous tin can pot. Sometimes putting it simply is the best way to go because you have heard it-less is more when it comes to presenting the beauty of your astounding green-thumbed bounty.
7. Bohemian hanging planters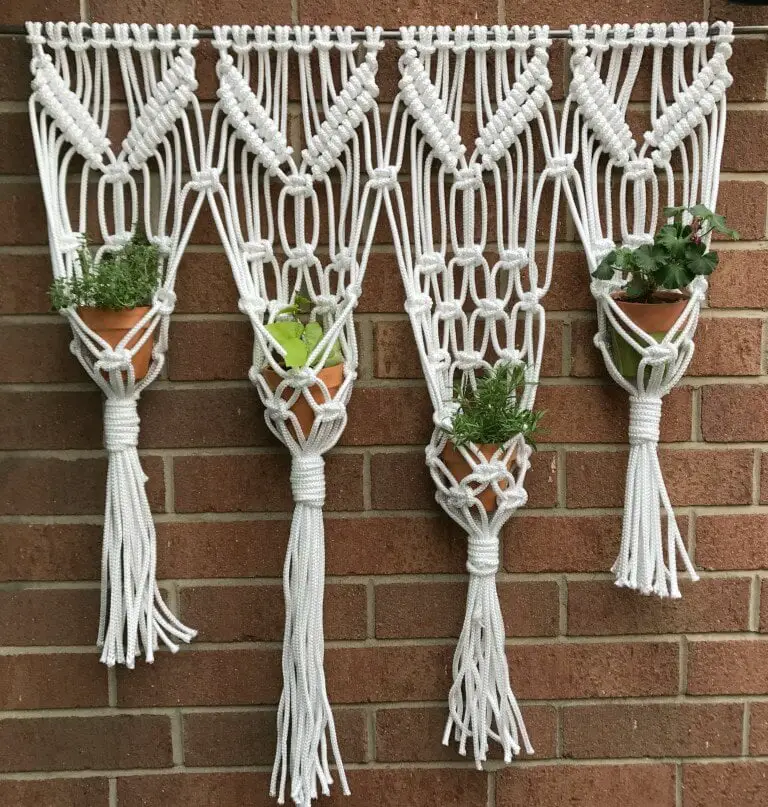 Just take look at the impressive detailing in this woven huge plant hanging arrangement! The four individual macrame-styled plant containers add so much personality and appeal to create a flawless and incomparable bohemian vibe to the outdoor or indoor spaces of your house.
Designed in basic white, the plant containers would create an absolutely original herb garden grouping in your kitchen. If you already have a bohemian vibe going on in your house, this is the one you can pick.
8. Repurposed glass-bottled plant hangers
Repurpose or recycle your used wine bottles into this astonishing and usable outdoor luster. The bottles are used to add a smooth contrast to the rough metal base which operates well in complementing the delicate beauty of the flowers settled within them. You can also put some of your personal styles and ideas into your lattice space by incorporating this repurposed outdoor chandelier in the midst of it. Isn't it a great idea to go for?…
9. Rustic hanging planters
Put some pedal energy on your doorstep by using hanging planters made out of these rustic rectangular boxes beyond your railing.
Not only do these hanging planters attach a lot of grace and class to your porch as you pack them with pansies and petunias, but these are also out of the way relieving some more porch space for your chairs and tea-time conversation. Acknowledge this as an alternative to window cartons or boxes that add more hindrance and draws the eye up to carry in all of the elegance from carpet to ceiling.
10. Porch welcome stand with a cute hanging planter basket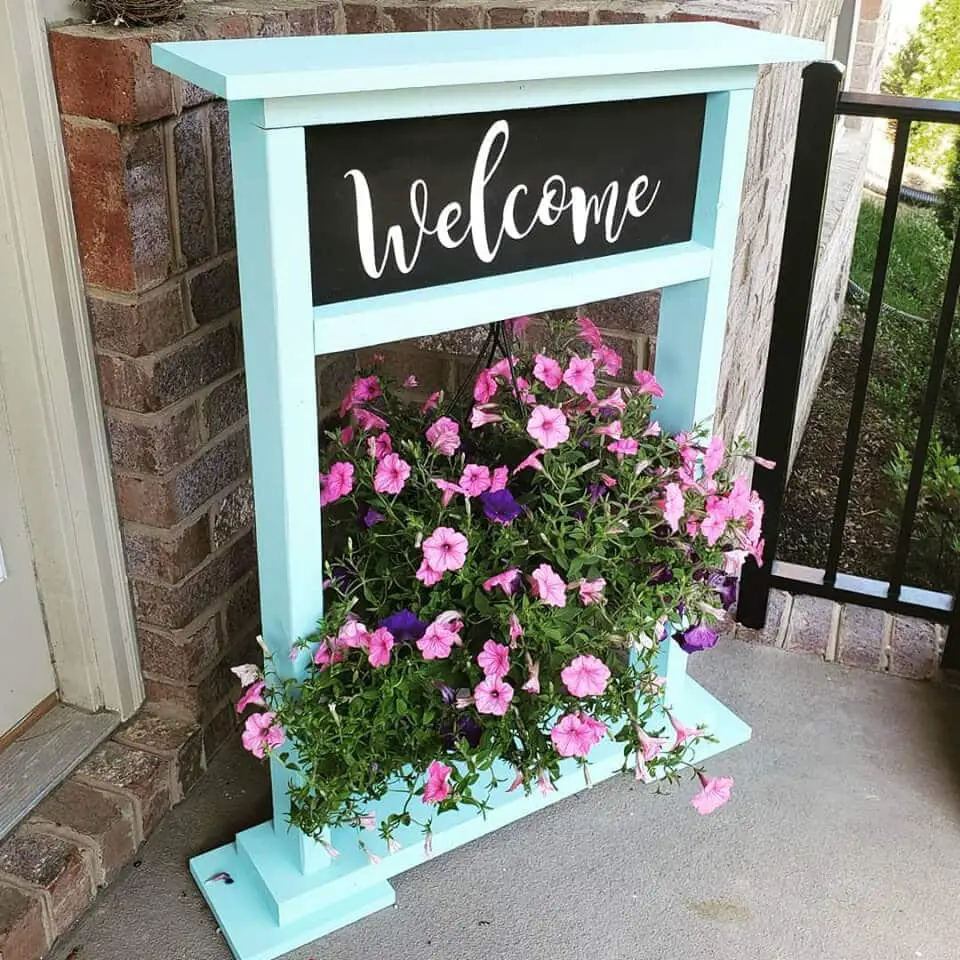 Review two things off your record with this delightful turquoise porch stand that together holds your elegant hanging basket and greets all of your visitors! (especially the one with the same taste) It's a definite solution for people who have a friendly and large patio, without any hanging potentialities.
Situated just next to your main door, this has all the spotlight that takes up minimal yet cute space while still making quite the impression. Mothers of all generations would relish receiving this as a present this Mother's Day. Don't you think?
11. Trio chain hanging baskets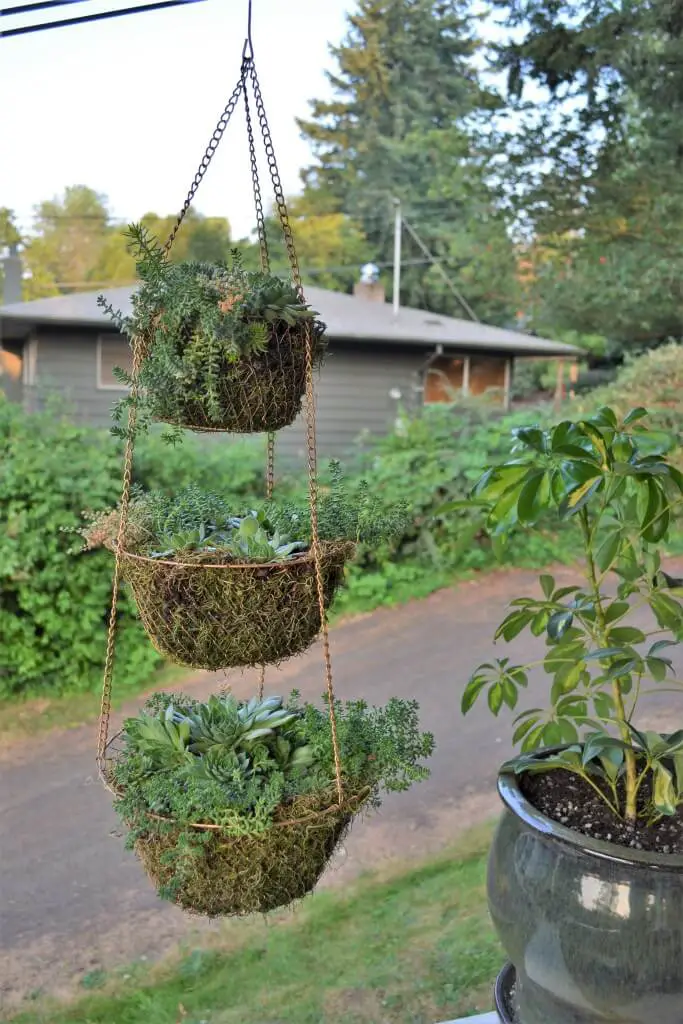 This one kind of has a throw-back touch of yesterday, just take a closer look and you'll agree more. These tiered hanging baskets are definitely showing nostalgia for the outdoor l spaces.
The three levels used here present lots of plant space so that you can accommodate all of your favorite picks in just one hang-out. Metal chains are used here to attach a textural component to converse with the soft appeal of these plants. Rich and waxy plants make a great variety for planting in this trio for a fearless pop of green. If you love something bold yet subtle, this can be a good pick for you.
12. Repurposed colander hanging basket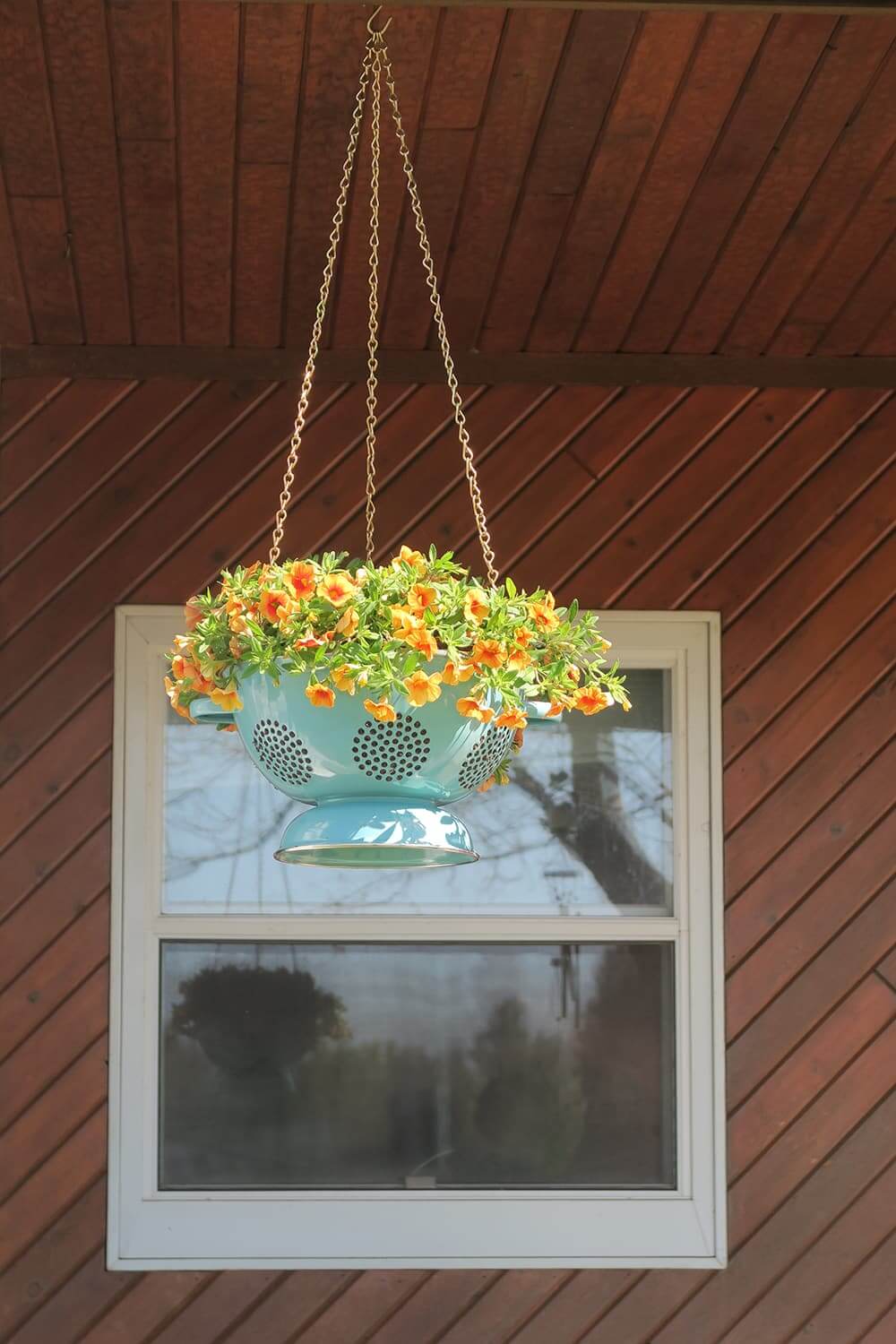 You just cannot go wrong by recycling materials to form amazing hanging planters, right? If you are not much of a cook in your kitchen, why don't you still utilize some of the pantry objects?
Reimagine the metal turquoise colander as an entertaining way to showcase your houseplants on a suspended chain for a pop of color on the frontal porch. When loaded with warm yellow, blue, and orange petals, the turquoise polish and finish is a fabulous contrast to create the overall look and add unusual extra curb charm to your already beautiful home. What say?
13. Overflowing flower hanging basket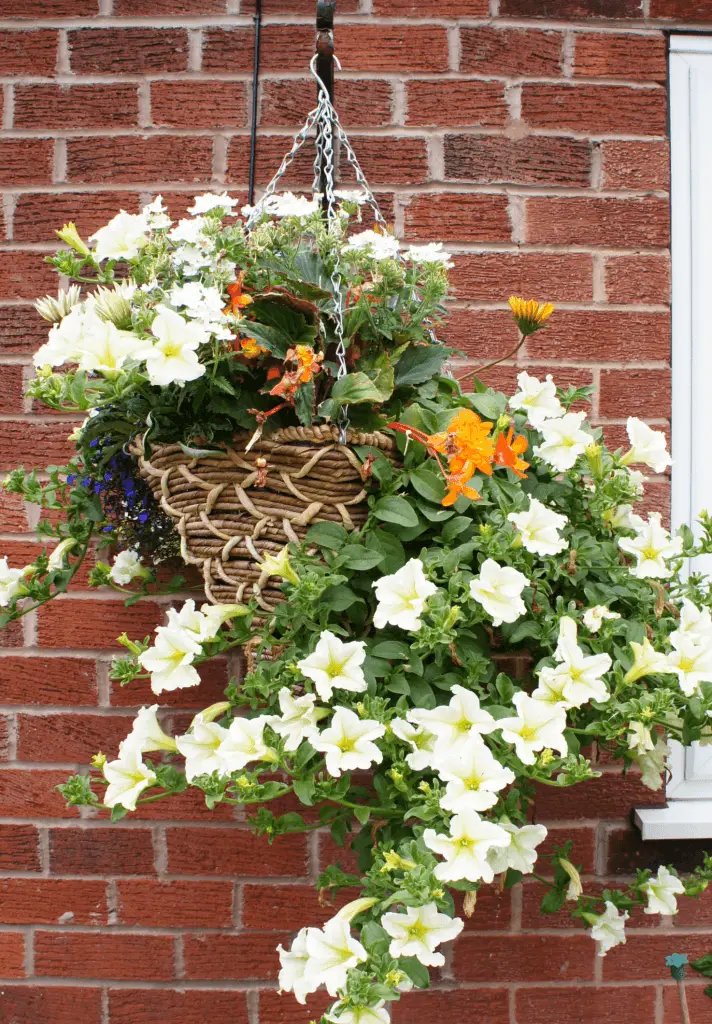 Take some time to orderly pleasantly arrange your favorite flowers to guarantee the hanging basket seems magnanimous all summer long. An interwoven basket presents a great planter to sustain a wide variety of planters hanging from a chain to supports the scope for growth. Mixing an overabundance of plants generates a more unusual and exciting home as they hang from the ceiling of your front porch.
14. Tin cylinder trio hanging planter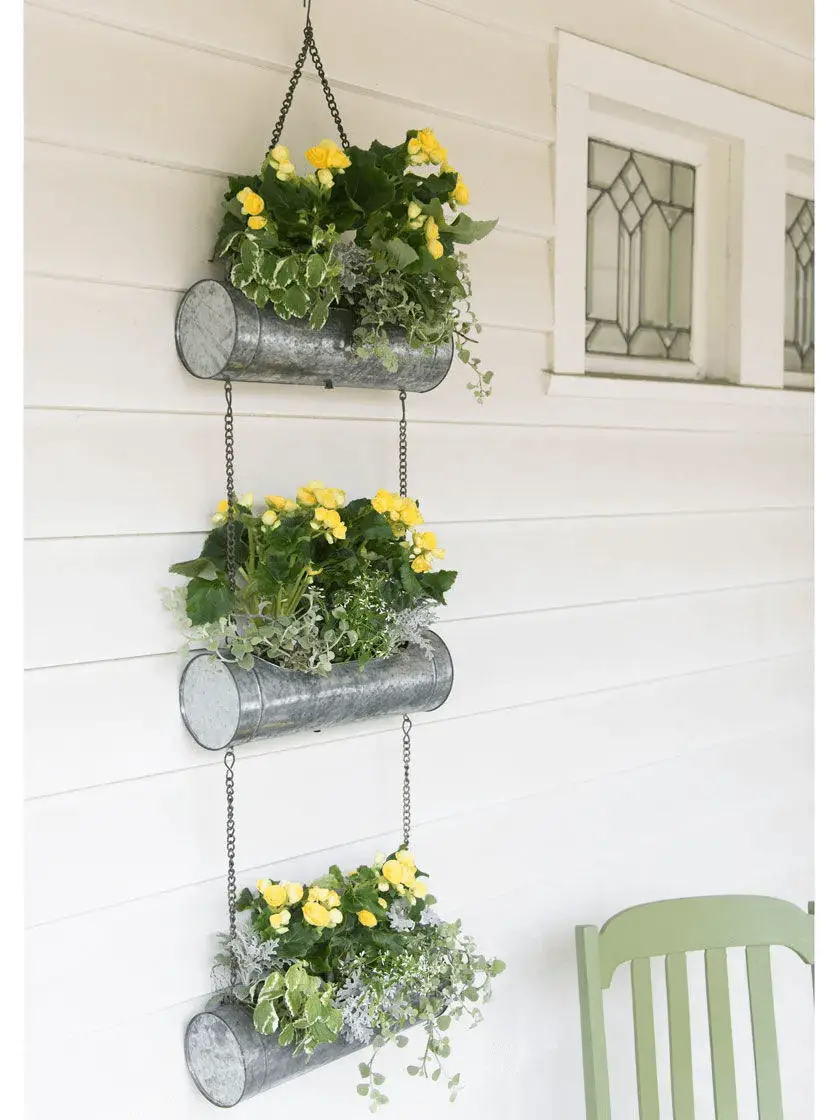 What's not to admire about this inventive take on these simple tiered hanging planters? It uses up insignificant space, yet gives the most impact on your design. The tin cylinder used here presents an ideal hollow base for covering your choice of marvelous planters on three-tiered levels. Create a bold declaration on the front porch or in the rear patio space of your garden to add some natural beauty and attraction to your home.
15. Natural jute diamond hanging planter idea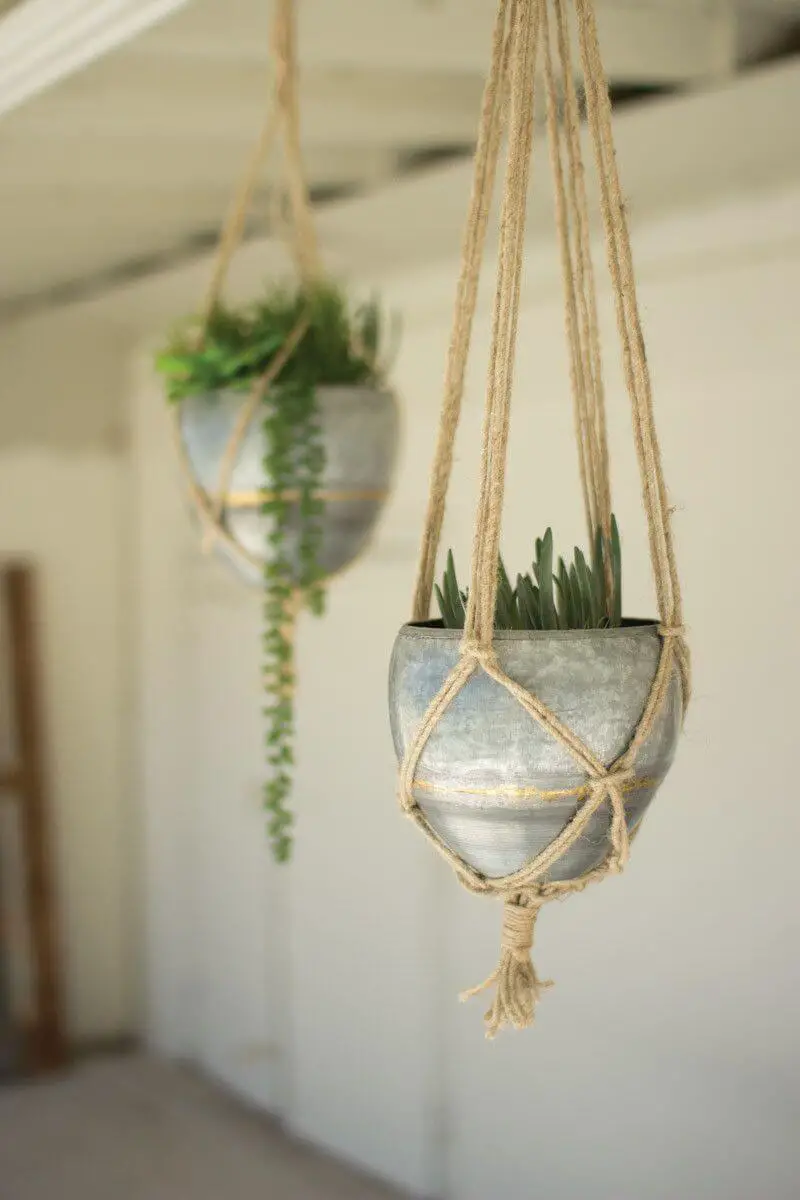 Combining the original jute material of the given plant hanger with the charming yet rustic and earthy stone utensil makes for a remarkable outdoor planting design. Keep the floor area open by checking your plant buddies overhead and apart from foot traffic. The beautiful subtle lines present in the stone pottery continue to add much-needed fashion to your outdoor place this summer. you can also add your personal desired trellising plant to achieve a great look overall.
16. Two pot hanging planet (wooden)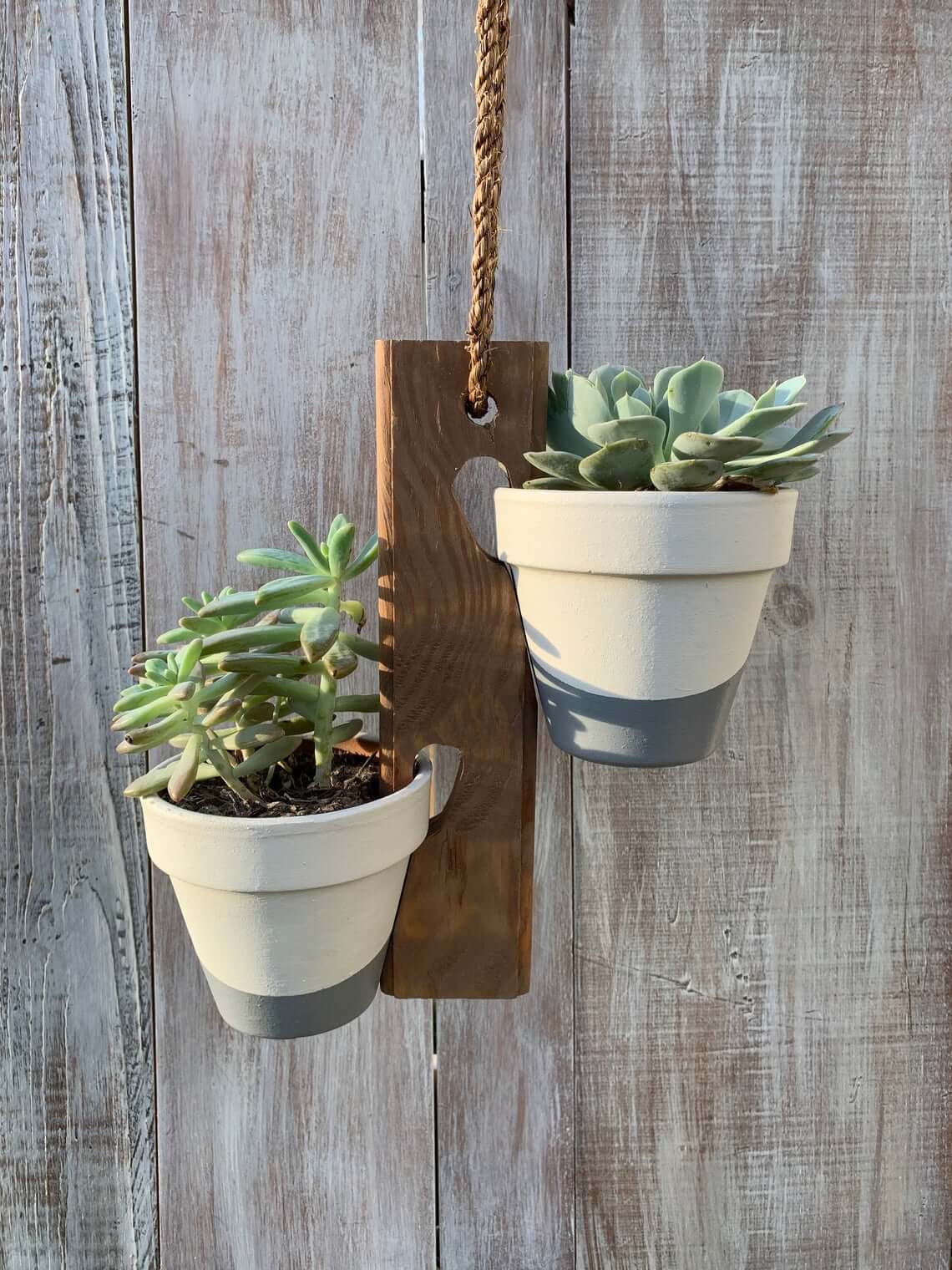 With a slight hint of nostalgia in this retro pattern that imitates an old-fashioned pulley arrangement, this two-pot hanging planter made out of fine wood exudes personality from top to bottom. With the presence of a rivet on either side, this wooden theme snuggly accommodates two small pots balancing each other out. Flaunt your Jade or succulent cactus plants in this lovely display that includes some nature and charm. Suspend this near your door for all your guests and housemates to enjoy.
17.Grapevine and moss spheres holder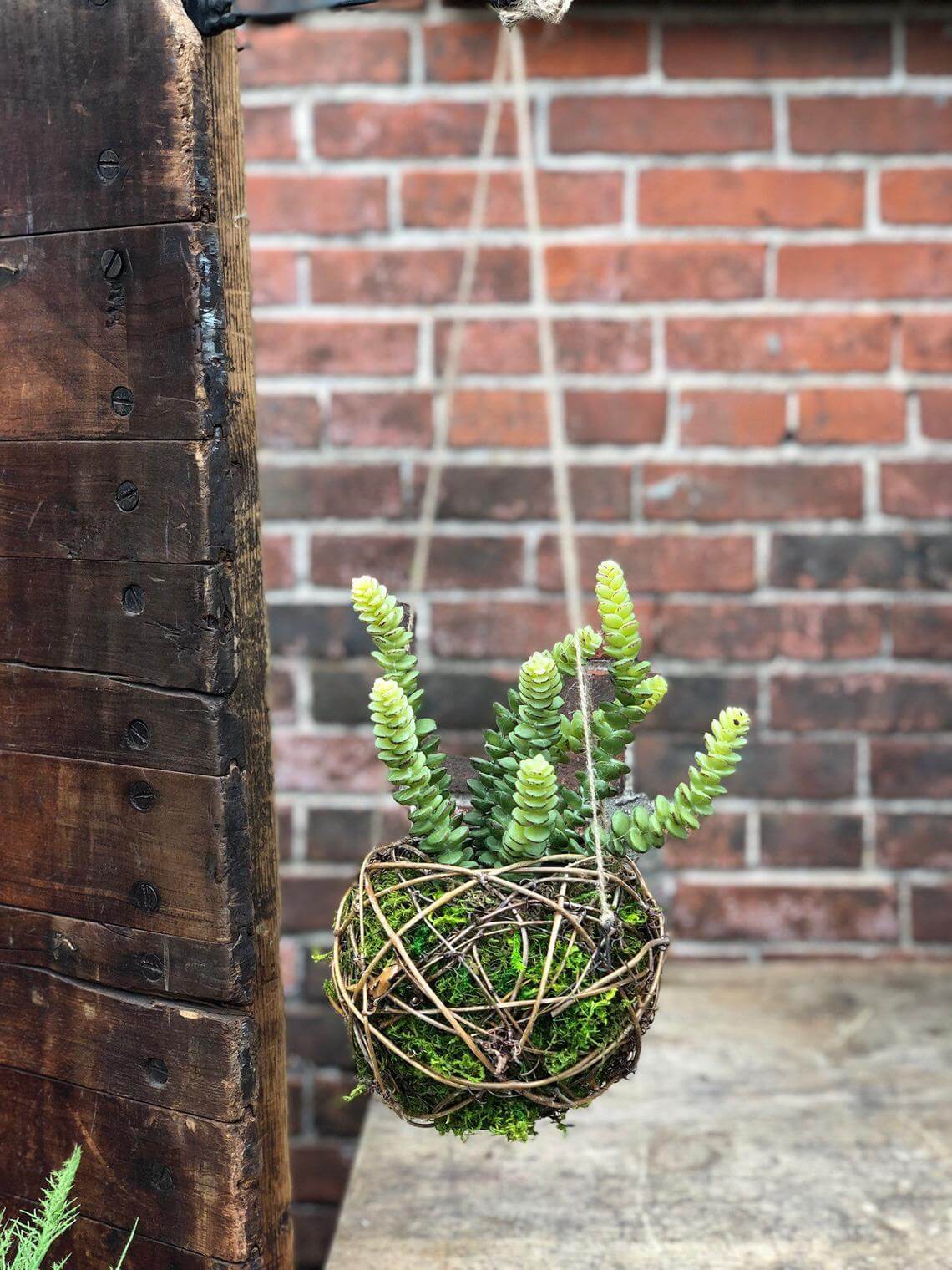 If you are a nature lover deeply and thoroughly, have a look at the idea of this hanging planter. Bring the most desirable of the forest into your yard with this generous plump of mother nature. The winding of the grapevine forms a stunning shape to carry some lush moss that toils as the base for some of your favorite plant buddies.
Hung from overhead, these hanging planters attaches a lot of natural curiosity to your back porch design. Systematize a collection of these balls for a more exciting effect or simply place them in individual sets around your entire backyard habitat. The choice is yours.
18. Sloth succulent planter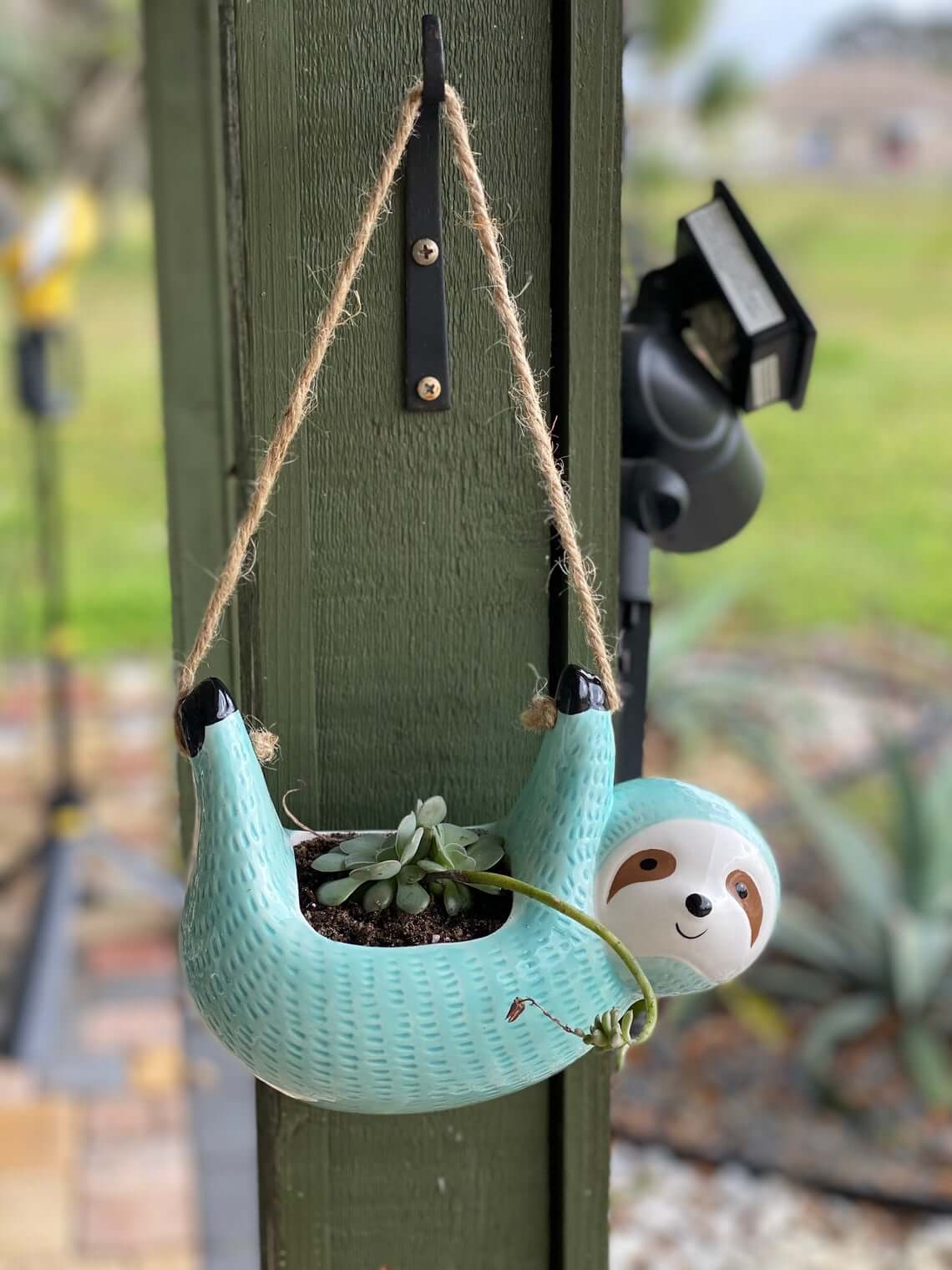 Combine your admiration of sloths and plants with this dainty and adorable miniature planter. The modest size grants it to fit into all or any space and its brief turquoise color introduce some brand-new life into your design. Cradle some of your favorite planters into the belly of this little sloth to introduce some extra enchantment to your front porch. It would also become a loving attachment to your child's room hanging from the curtain rods. What's your take on such hanging planters?
19. Cedar box hanging planter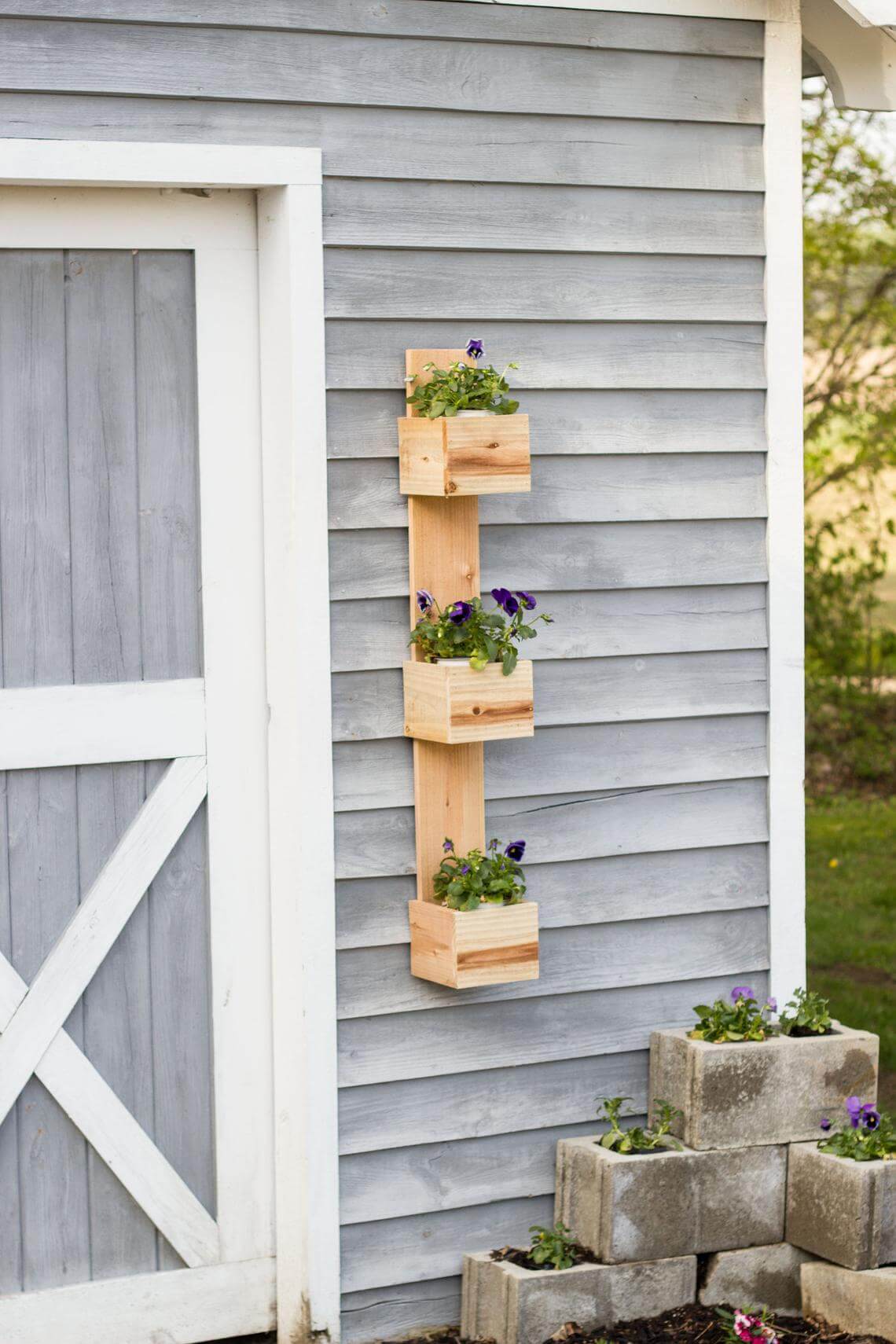 Choose the three most-loved plants you want to grow in this tiered cedar planter box. Swinging just outside the backdoor or inside your mudroom, this sturdy and rustic box planter is an excellent way to make your little herb garden compatible with your style. With the abundance of room to expand, each herb you pick will delight in the intimate hub dedicated to it. The natural wood further continues to add a rustic touch to your gardening environment.
20. Long tassels macrame planter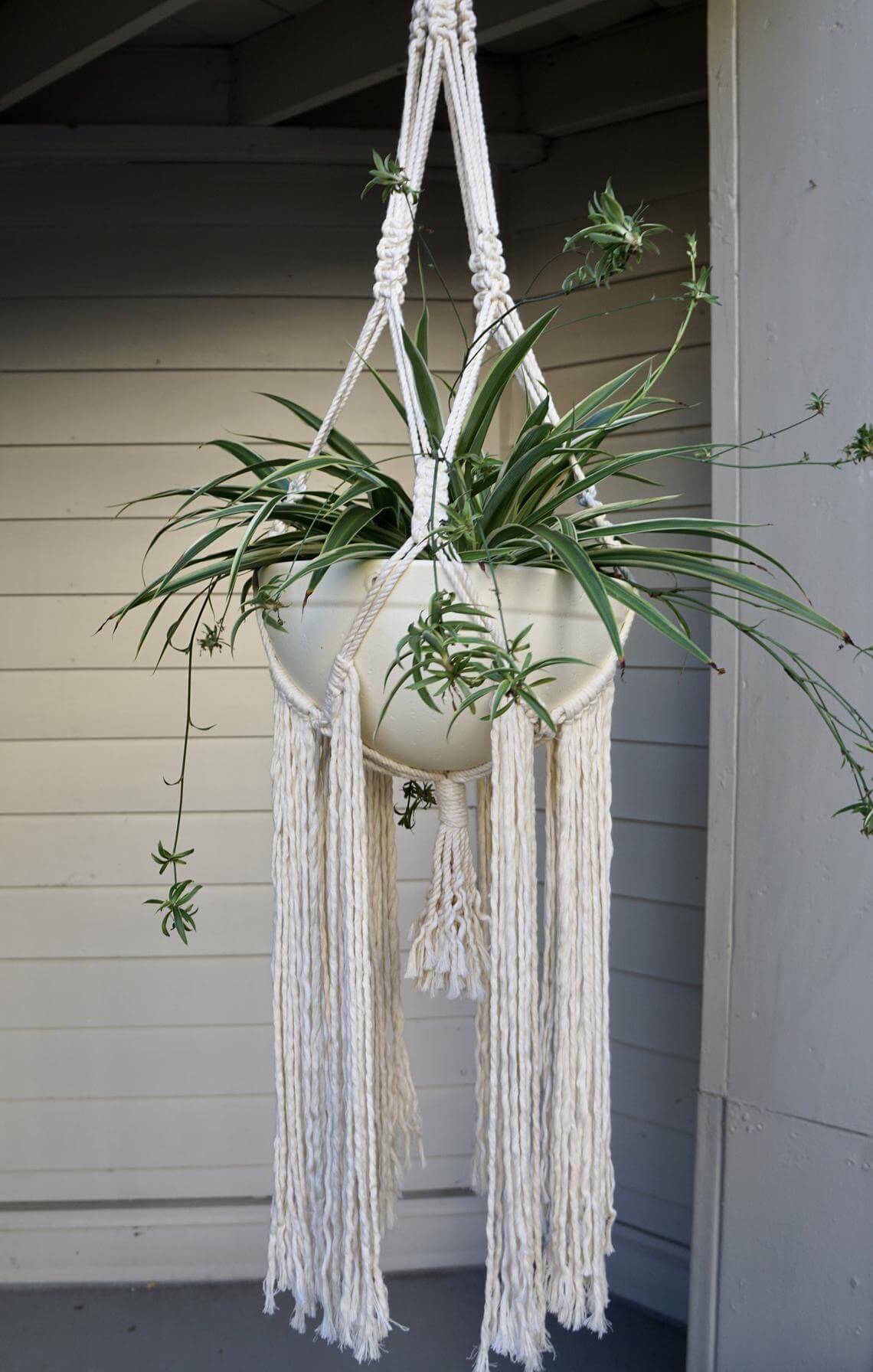 Again, a bohemian vibe most of you all are searching for. Routing the bohemian spell of the '70s, this generous macrame hanging planter continues to add a lot of vogue to your plant arrangements. Highlighting extra-long tassels, the charm extends almost two feet below the original plant.
Any spider plant and pothos would savor in winding its tendrils under the path of beautiful macrame strands. Locate this in a corner of your house or porch for extra texture and attractiveness. Know that where you keep your hanging planters is as important as the DIYs or designs you are looking for…
21. Bold Bohemian Plant Holder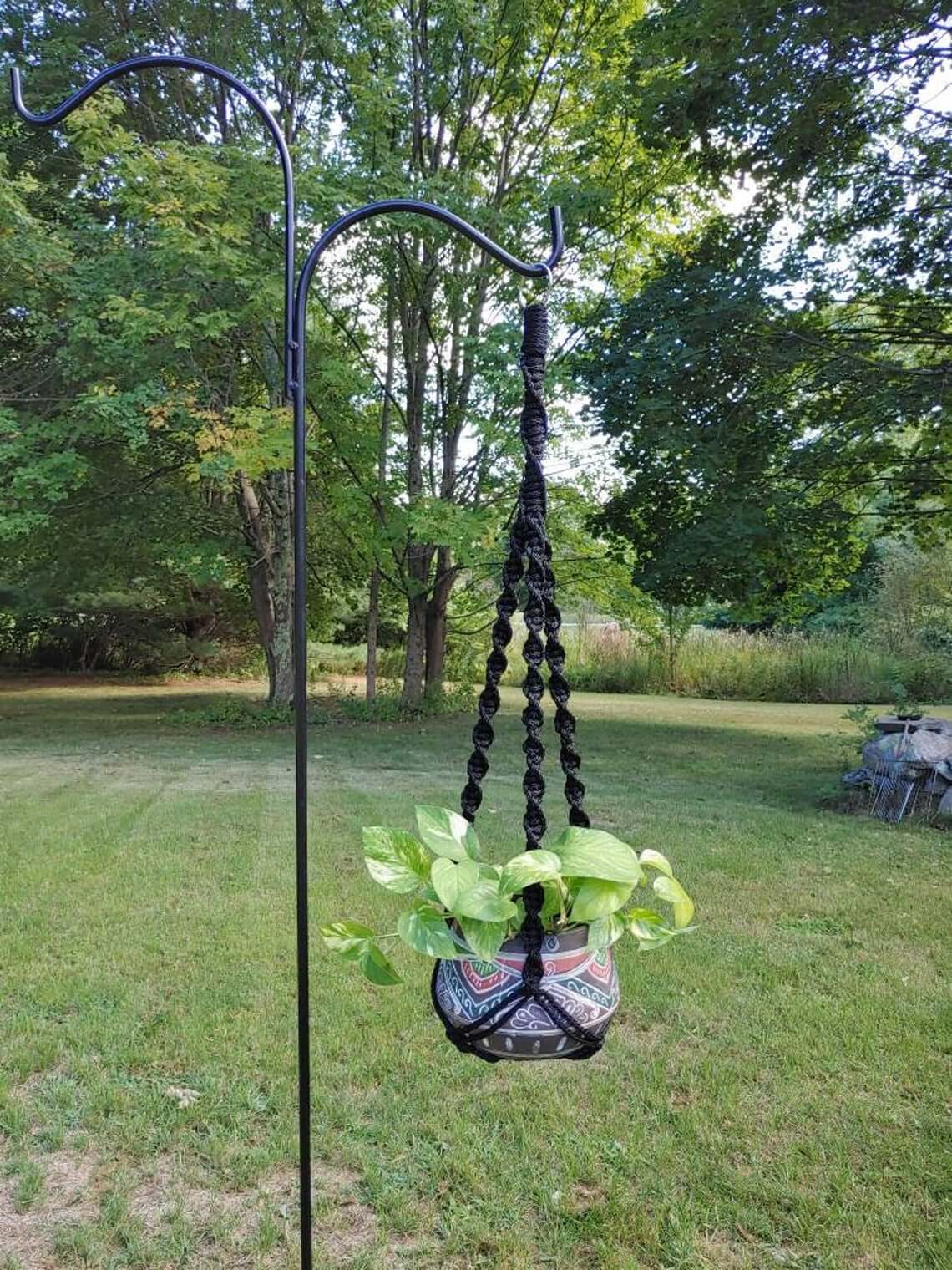 To all the bohemian vibe admirers, if you do not wish to stick to the old bohemian era, here's a modern revolution on a traditional throwback plant holder. This macrame piece is made in a rich black hue to present it with an up-to-date edge over its rich and creamy hippie counterparts.
You can also use it inside the house near windows or outdoors based upon your requirements. It looks incredible filled with a vining pothos plant or handling a delicate and beautiful string of pearls. This would be a specially thoughtful present for any contemporary minimalist plant enthusiast too.
22. Bonsai hanging planters pots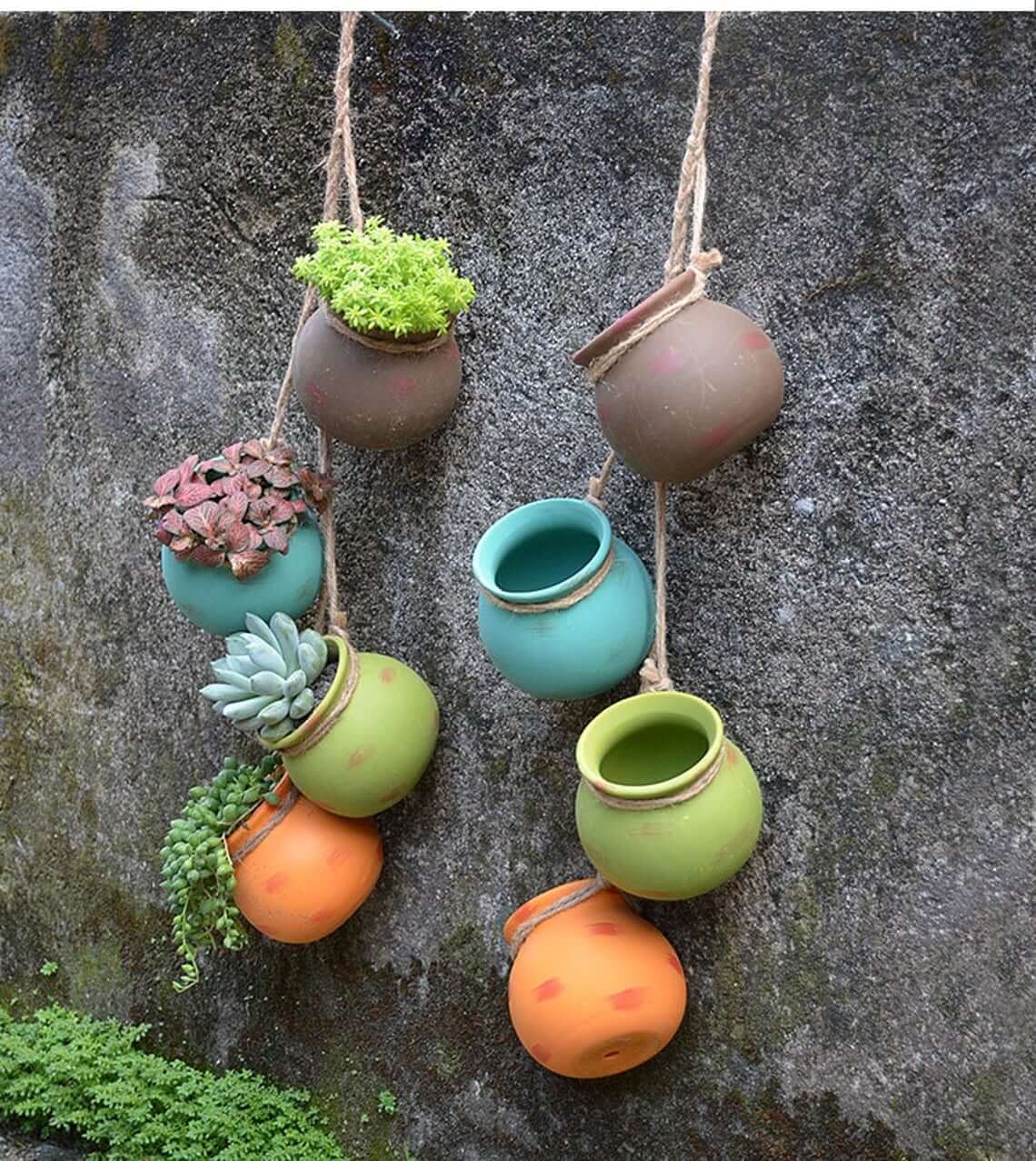 Swirling down the walls, you will definitely enjoy this four-piece tiny pot set that is filled with easy-to-grow and maintain plants. Each planter bowl comes in a contrasting earthy hue and serves to showcase your running succulent arrangement. Provide and allow this set to hang alongside your kitchen window or maybe seemingly float underneath the post of your doorstep. You just cannot go wrong with this upright version of a plant garden for your house.
23. Repurposed vintage hanging planters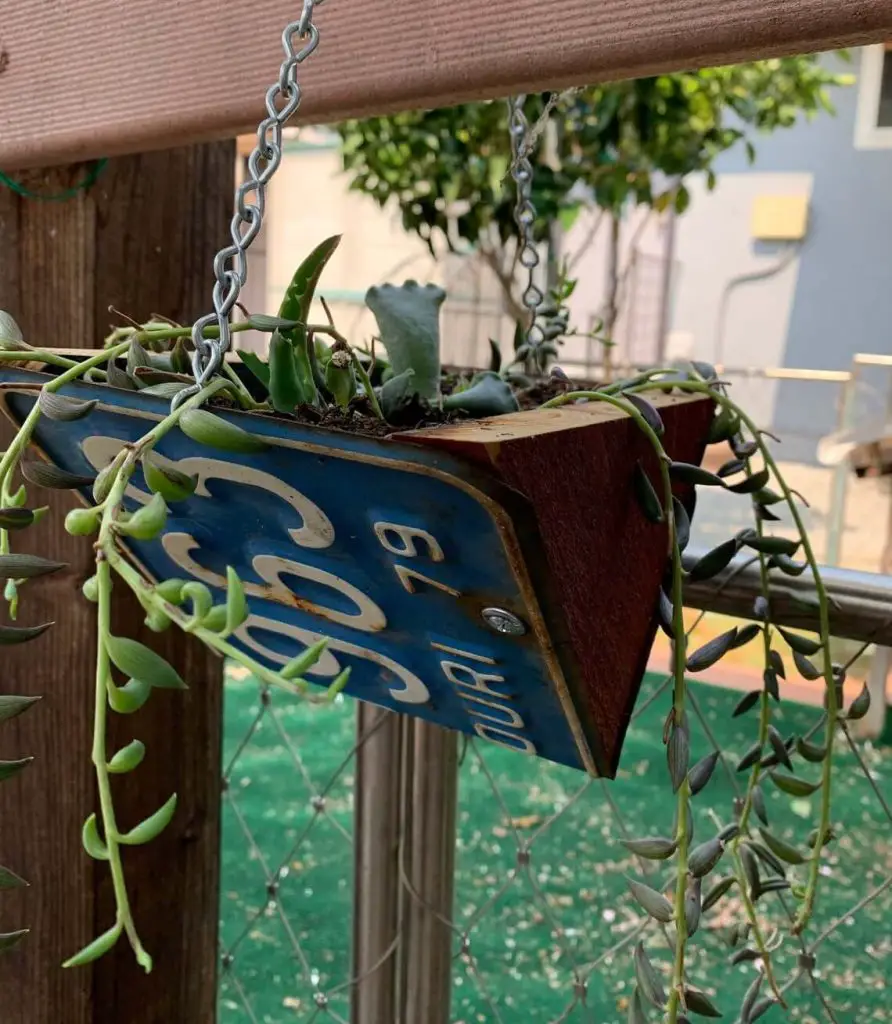 The agave planters will be excited to call this unique hanging planter their home. Present a new life to the old license bases by changing them into this triangular product or craft of art. It delivers a fun gift to a grandpa who still has his original set of plates. Or you may survey a flea market to discover a plate from your preferred vacation destination, don't you think? You can also make this planter as intimate as you like by using the license plate cover you pick.
24. Coffee can strings of hanging planters
From east to west, your garden will come into life with a twist of coffee can planters! Reimagined in fascinating bright and bold hues and patterns, these coffee containers have been given another chance at life as some of the most uncommon hanging planters in the planting and gardening world. A plain string slides a collection of these across your garden fence to surround your special oasis in grace.
25. Metal plant hangers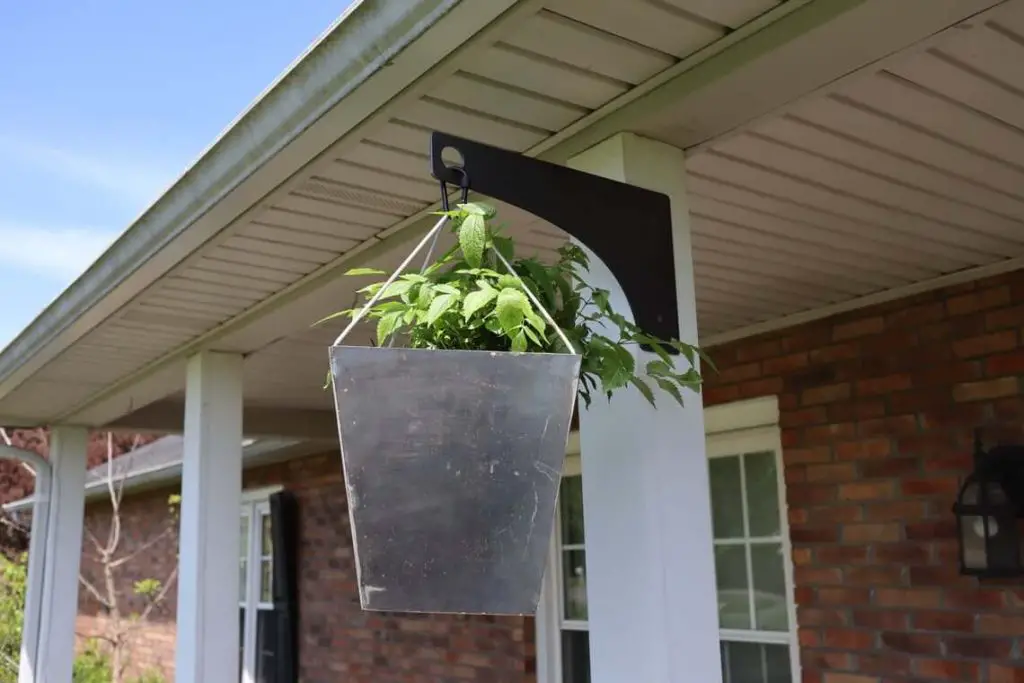 Strong enough to get the assignment done while maintaining a sleek outline, this metal plant hanger is a fabulous addition to your doorstep this season. It provides hanging any of the flower baskets a wind since it securely holds them next to your porch pillar. Place one on each pillar for a classic and dramatic look. They are likewise also great as an accomplice to your arbor as a close escort to your climbing roses.
26. Birdcage hanging planters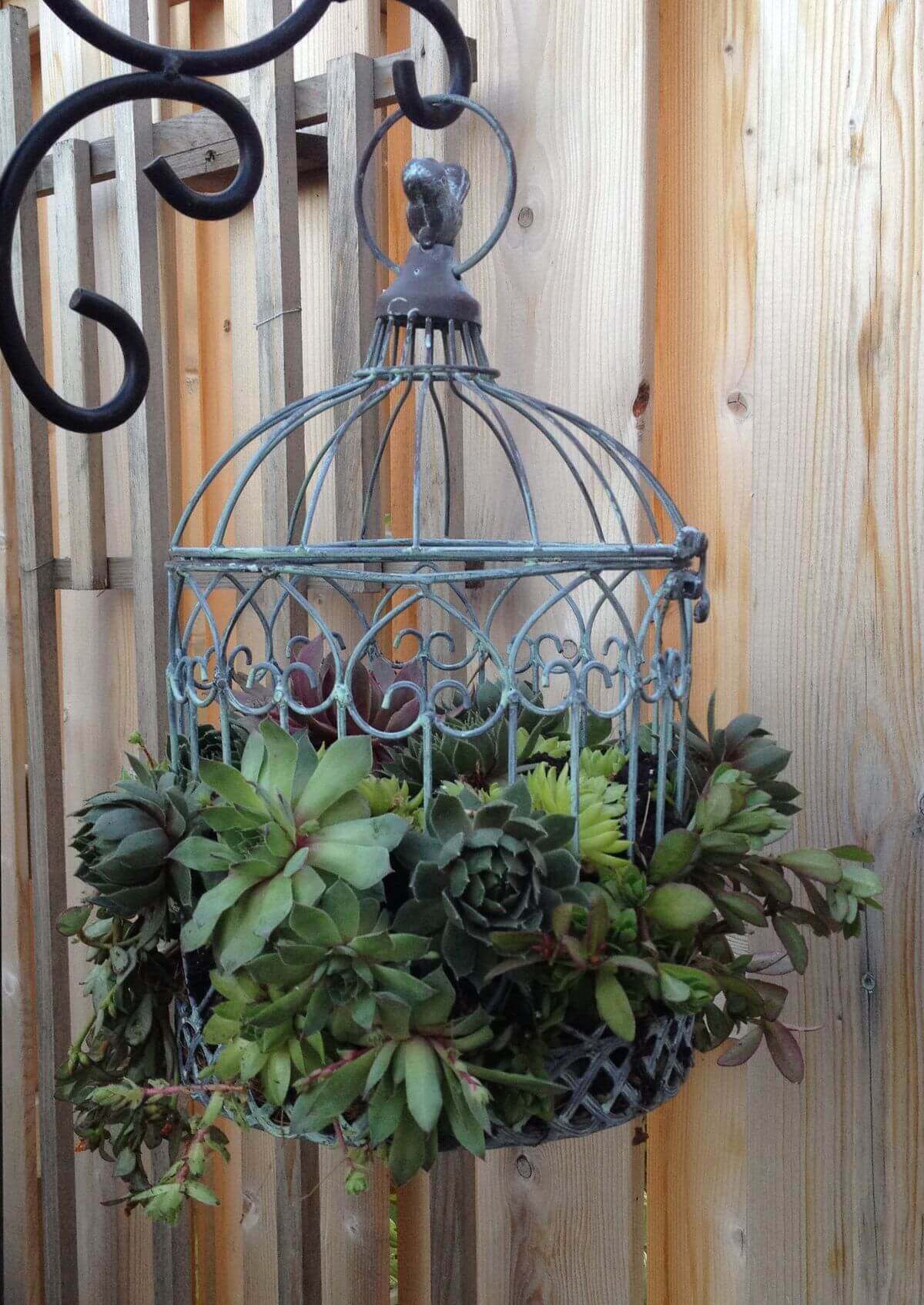 If you love birds and want something more reliable that reminds you of birds, this can be a great choice. These are usually made of metal which makes them excellent as they wouldn't require a replacement easily. You may use your favorite colors to color the metal strings and form an alluring design for your hanging planters.
26. Tropical toucan hanging planters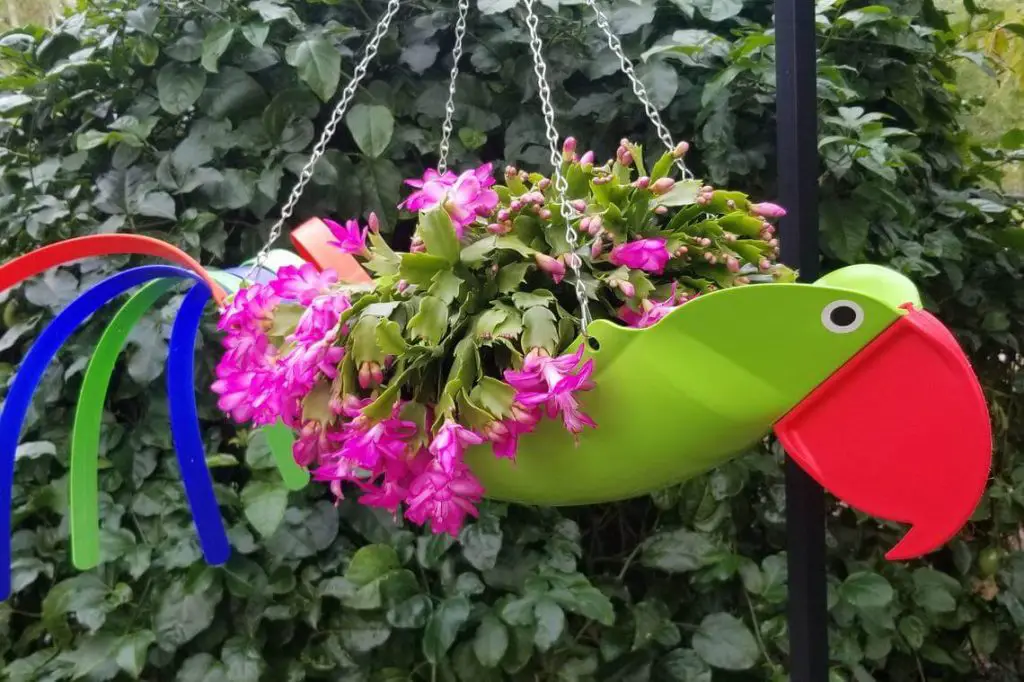 Spruce up the outdoor area for summer with amazing vibrant tropical fever! This unusual, cute, and interesting bird friend takes inspiration in powering your pleasant garden scape by working as a one-of-a-kind hanging planter. Pack it with your preferred green ivy or tropical-appearing flowers to create your garden feel like a weekend getaway. After all, who doesn't want to?
27. Brown leather chevron plant holder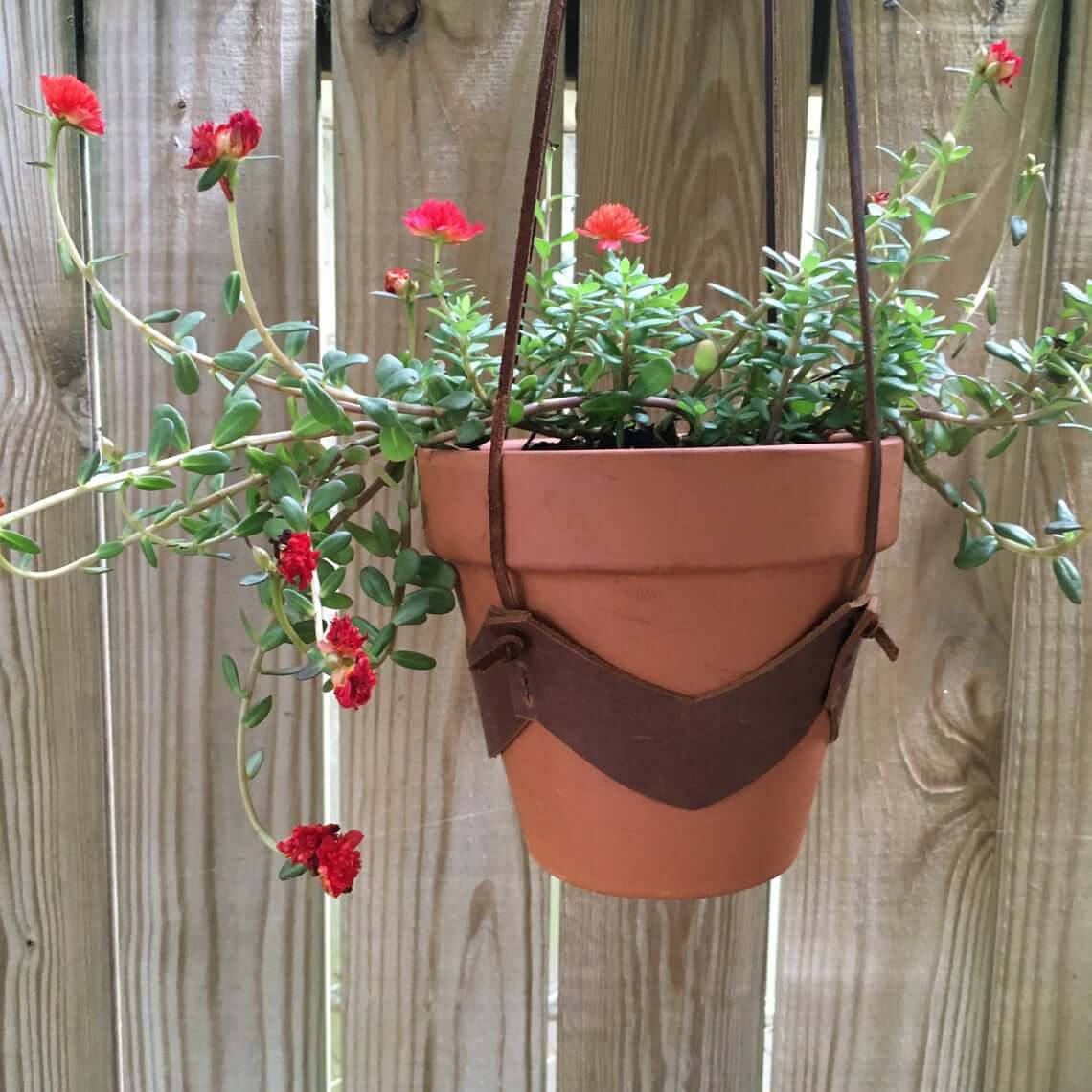 Add the abundance of leather to your plant scene at your house with this pretty chevron-patterned hanging container. The terracotta pot will seem protected as it rests inside the support of the cuddling chevrons encircling it. This would be a delightful addition to a farmhouse or southwestern design. Embellish your privacy fencing with a tiny leather as you showcase your moss rose blossoms.
28. Over-the-top flower basket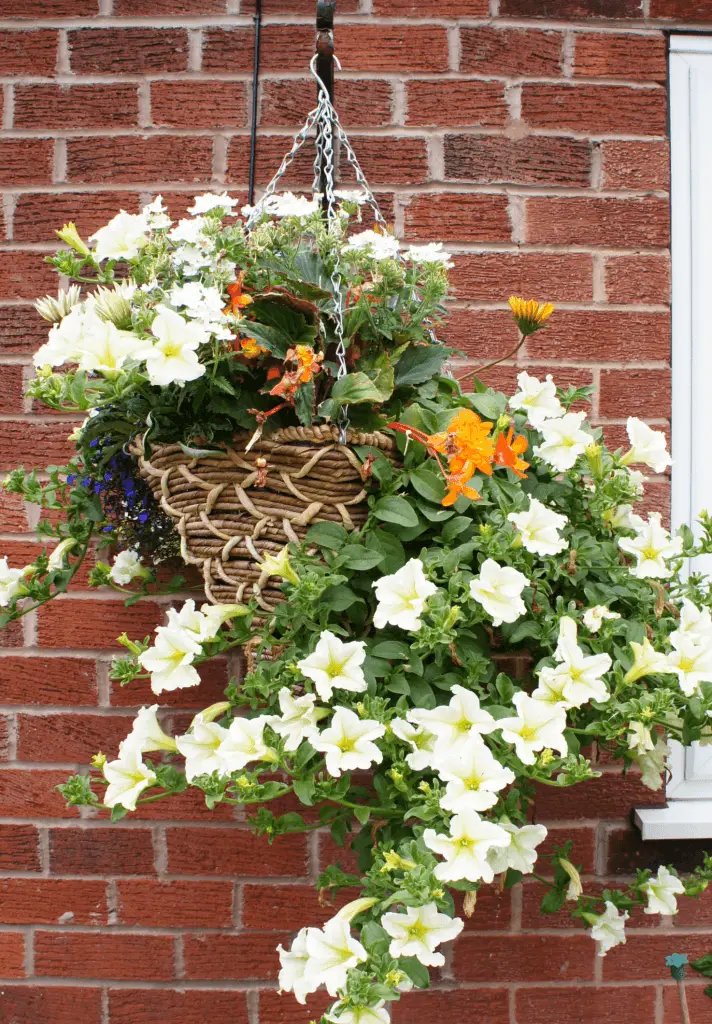 Saddle up for some fun using this over-the-top swinging planter. With leather pockets cascading underneath both sides, you have lots of places to stash your delightful petal partners. Wrap this over any tree branch or maybe on the ledge of your gallery railing where the young and fresh beauties can be observed in all of their brilliance from a 360-degree view.
29. Cafe style hanging planters
You might have visited many cafeterias where hanging planters are hung from one end to another in a delightful manner. It appears so soothing and fresh to have your daily cup of coffee sitting beside such areas, right?
If you love such designs and ever imagined creating mini-cafe hanging planters in your house, this is the time. Use contrasting color hues and beautiful flowers to update the old dull area in your garden and create this stunning space to look at.
30. Cone-shaped pretty petunia hanging planters
If you already had some round, square, netted, or some other designs of hanging planter that you are bored with, you can opt for another shape like a triangular cone-shaped hanging planter for your favorite plants. Whatever shape you desire, hanging planters in a row of 3 to 4 distinct hues and succulents can never go wrong and appears breathtakingly beautiful for your house.
These were 30 incredible ideas for your outdoor and indoor gardens. They help you save space and create beautiful gardens with fresh air.