For everyone out there who shaves or waxes body hair, it is a dream to get the hair removed all at once and not having to bother about it ever again for a long time or permanently. Well, laser hair removal is the way in which you wouldn't have to bother shaving or waxing once you get your hair removed for a long time.
In this article, we will talk about the laser hair removal cost and everything you need to know about it. Before undergoing any surgery even if it is just hair removal, it is important that you are well aware of the surgery and the cost of the same.
The laser hair removal technique is becoming quite common these days as everyone wishes to get rid of the hassle of waxing or shaving on a weekly basis. It may not come to your surprise but, over time even males are interested in this surgery just as females are.
You can get your hair removed from any part of your body you want to. This technique or surgery is especially helpful for those people who have excessive hair due to any given reason. Anyways, none of us would like the excessive amount of hair on our face, hands, or even legs.
So, let's get started with the laser hair removal cost. I will be talking about laser hair removal costs in the USA, factors that determine the cost, and a little about laser hair removal surgery.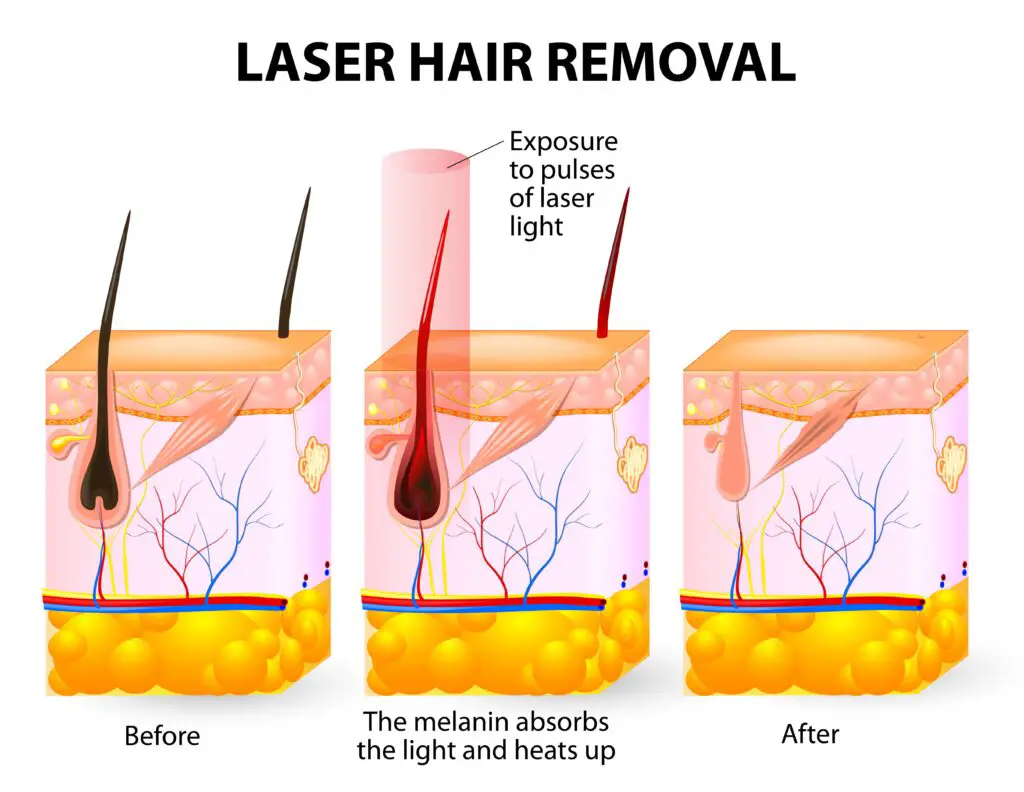 What Is Laser Hair Removal?
Laser hair removal is a technique or surgery in which an effervescent beam of light is used in order to remove the hair. During this surgery, the laser which is used emits a light to be absorbed by the melanin in the hair.
Once the light energy is absorbed by the pigment, the light energy is converted into heat energy and this causes damage to the hair follicles where hair is produced. As there is damage in the hair producing section, future hair growth is delayed or impeded almost forever.
Undergoing laser hair removal surgery will surely delay your hair growth for a good amount of time. However, it may not result in permanent removal of hair. Maintenance after laser hair removal is important. This technique is most effective for people with light skin and dark hair.
How Much Is The Laser Hair Removal Cost?
Below mentioned is a price range for your reference based on different areas of treatment for per session cost.
| | |
| --- | --- |
| Area Of Treatment | Price Range Per Session |
| Arms | $250 to $650 |
| Legs | $250 to $650 |
| Full Face | $250 to $650 |
| Chin | $100 to $300 |
| Bikini Line | $150 to $500 |
| Buttocks | $250 to $400 |
| Chest | $150 to $450 |
| Underarms | $150to $250 |
| Abdomen | $150 to $400 |
| Upper Lip | $100 to $300 |
| Back | $300 to $800 |
Note: These prices are an estimated price range that can change with respect to its factors and not to be taken as a legitimate price.
The table above describes the laser hair removal cost per session for the different treatment areas. However, if you wish to know what would be the cost if you were to go for a whole package, then worry not, I've got that covered too. Below I am mentioning the estimated average price range for packages according to treatment areas.
Small areas like bikini like, underarms, upper lip, and chin can cost from $200 to $800 for a package of 5 to 6 sessions. While it may cost from $900 to $1200 for a package of about 8 sessions.

Medium areas like the neck, face, buttocks, and half legs or arms can cost from $550 to $1500 for a package of 5 to 6 sessions. Whereas, it may cost from $900 to $2200 for a package of about 8 sessions.

Large areas like the back, abdomen, legs, arms, and chest may cost from $1250 to $2400 for a package of 5 to 6 sessions and it can cost from $2200 to $3500 for a package of about 8 sessions.
It is important to know that these price ranges may change from time to time based on certain factors and also the place where you may get the treatment done. It is highly possible that the price range in NYC may vary when compared to some other place. So, I am mentioning the factors which affect the laser hair removal cost for your better understanding.
Factors Affecting The Laser Hair Removal Cost
Now, as you know the laser hair removal cost, let us look at the factors that affect it. As we know that laser hair removal is done in many parts of the body, the laser hair removal cost may differ accordingly. The laser hair removal cost also differs with respect to the area of skin treatment, type of skin and hair, type of laser, and also the number of sessions.
Area Of Skin Treatment
The area of the skin that one wants to get hair removed from is one of the important factors that determine the laser hair removal cost. The dimension of the skin area is taken into consideration when the cost is decided.
Larger skin areas like legs, hands, and back cost a lot more than the face and bikini area. It is simple math, more the area more will be the cost for the same. There is this difference as the time required for each area differs with respect to dimensions.
Type Of Skin & Hair
Now, people have different skins and hair. Everyone's skin tone and hair thickness are different and so even that counts as a factor for determining the hair removal cost. The density of hair, skin shade, length of hair, etc. may not directly affect the cost but do play an important role in determining the overall cost of the treatment.
Type Of Laser Method
Well, there are five types of different laser hair removal techniques in the know. I will brief you about all of these and since they are different and use various components, the cost differs accordingly.
Ruby Laser Hair Removal
The ruby laser hair removal was one of the initial laser techniques to be developed. The fact that this method is so old and also has potential side effects, it is now slowly becoming obsolete over time. This method is not that effective for darker skin and coarse hair but is used for lighter skins.
As I mentioned side effects, this method may cause swelling, numbness, soreness, redness, or sunburn feeling on the treated area. However, these side effects are not permanent and last only for a short period of time.
Alexandrite Laser Hair Removal
This is one of the most common types of laser hair removal technique which is said to be best suited for light skin tone. The Alexandrite laser is said to hurt less than any other type of laser removal out there. The wavelengths that are used are short which means they do not penetrate deep into the skin and this is why it hurts less than other methods.
As the wavelengths used are shorter this method requires more sessions to achieve permanent hair removal. However, even if permanent hair removal takes time, one session removes hair for a long and considerate period of time.
Diode Laser Hair Removal
The Diode lasers are often compared to Alexandrite. In this type of laser hair removal, the wavelengths used are longer and penetrate deeper into the skin. Now, one may think that this would cause pain, but thanks to advancing technology the treatment is enhanced such that the procedure can be rather painless.
This type of treatment is best suited for medium dark skin tone and coarse hair. The sessions required for this method are less compared to Alexandrite. However, the number of sessions will obviously also depend on the type of skin and hair of each individual.
Nd and LP Nd: YAG
The Nd and LP Nd: YAG is the method that is best for darker skin and thicker hair. The wavelengths used in this type of treatment are much longer and said to penetrate deepest in the skin.
As the wavelength is long and it penetrates too deep, this method is uncomfortable compared to others. This type of laser will have your hair removed permanently after several sessions as the light travels to the very root of the hair and impairs growth.
Intense Pulsed Light
The Intense Pulsed Light is mentioned with other laser methods but it is not really a laser beam. As the name indicates, intense pulsed light is used for hair removal. This light acts in a similar manner as the laser by damaging the roots of the hair to impair hair growth.
This type of method is preferred by many as this offers easy customization. The levels of intensity and wavelengths can be adjusted according to an individual's requirements. Just like any other laser removal method, after a certain amount of sessions hair can be removed permanently.
Number Of Sessions
While talking about the types of lasers, you must have realized that the number of sessions also plays an important role in price determination. As everyone has different skin and hair types, the number of sessions may vary from individual to individual.
Generally, the cost of the entire treatment is bifurcated into different sessions over time which may be priced differently. Usually, 5-6 sessions are conducted but it may vary depending on the laser method and most importantly individual's hair and skin type.
Things To Keep In Mind To Avoid Unnecessary High Prices
There are a few things that you can keep in mind when you go for a laser hair removal treatment so that you don't unnecessarily pinch your pocket for the treatment.
Firstly, you need to visit a certified clinic that carries out these treatments appropriately. There you need to figure out your skin type, hair type, what kind of laser method will be used, and how many sessions will be required. It is important to know all this as the laser hair removal cost depends on the quality of service and trained medical practitioners.
The next thing you have to be careful with is picking the right package. Most places offer an option where you can pay per session until your treatment is completed. Make sure to ask about any extra or hidden fees that may be charged. Usually, doctors provide pre and post-treatment for free but there may be a few who may charge you so be sure of that beforehand.
You may even find a few clinics that offer discounts if you choose to treat many areas at once. So, be sure to ask for this if your clinic offers the same. Being aware of these small things will help you keep the laser hair removal cost legitimate and reasonable.
As I have even mentioned earlier, this treatment requires maintenance for the best results. Some may require more sessions while some may just need a few to get the hair permanently removed.
Lastly, it is important to remember that these treatments are costly because trained professionals and high-tech equipment are used. So, do not make the mistake of falling for huge discounts and low laser hair removal costs as they may not assure quality and the results may be compromised.
To Sum Up | Laser Hair Removal Cost
Well, to conclude everything that is stated so far, laser hair removal seems to be one of the best methods to get your unwanted hair removed forever. I agree that the laser hair removal cost is high but it is just like a one time investment as you won't have to worry about waxing or shaving ever again.
Lastly, I hope that I have answered all your questions regarding the laser hair removal cost. If you have any suggestions or queries do mention them in the comments section below.