All You Need to Know About Bangles and How to Style your Bangles elegantly
To an Indian heart, our ethnicity and ornaments form an integral part of what we call heritage. The enriched legacy of gold ornaments remains as bountiful as ever, especially when it comes to heirloom classics, like a Kamar bandh or maybe, a bangle! Now bangles, have always been fascinating to me, and as an Indian jewellery admirer, I've come across quite a range of styles, every single one of them as enchanting as they come! Knowing how to style bangles is an integral part of our society.
To married women, wearing bangles hold a remark-worthy meaning as it's a sign for her suhaag and she completely knows how to style bangles. This intimate bonding blending in with the richness of Indian legacy is what prompted me to create ornaments in the first place. Bangles are still as adored and loved as they were millennial years ago by women.
These precious pieces give your attire an enthralling charm and a look you always fantasized about. The dazzling designs attach a marvellous and alluring persona to your entire look be it bridal, party, or other inherited ceremonies and festivity that India is known for.
Now, since we are talking bangles and how to style your bangles with the tradition it beholds, let me take you back to the days in early civilizations when our prominent culture first encountered this beautiful accessory-
Ancient Indian history of bangles, bracelets, and their significance in society
The popular and loved bangles are noted as the first instance of accessory worn by women back in Harappa civilization. There are other shreds of evidence of bangles made of stone discovered in Siberia around 40,000 years ago. Truly astonishing right? We wonder how they styled them back then.
A women's love for ornaments is indescribable when it comes to words. We ladies look for ceremonies and parties to escalate our jewellery closet. But today, we are keeping everything aside to talk about only one accessory- BANGLES!
Now there are several intricate designs of bangles and bracelets that changed according to trends, keeping in mind the comfort of our pretty ladies. Various bangle types over the years changed from antique bangles, detachable bangles, and Kundan bangles to hollow form, stone stacked, meenakari, and more. Since there are a lot of varieties of bangles, let see how to style your bangles based on occasions.
How to Choose a and style your Bangle Based on the Occasion?
India is infamous for its festivities and occasions. Be it temple visits or grandiloquent parties, we don't shy away from flaunting some bling! So here goes a quick guide to styling your occasions right-
Terrific Temple Bangles (how to style your bangles)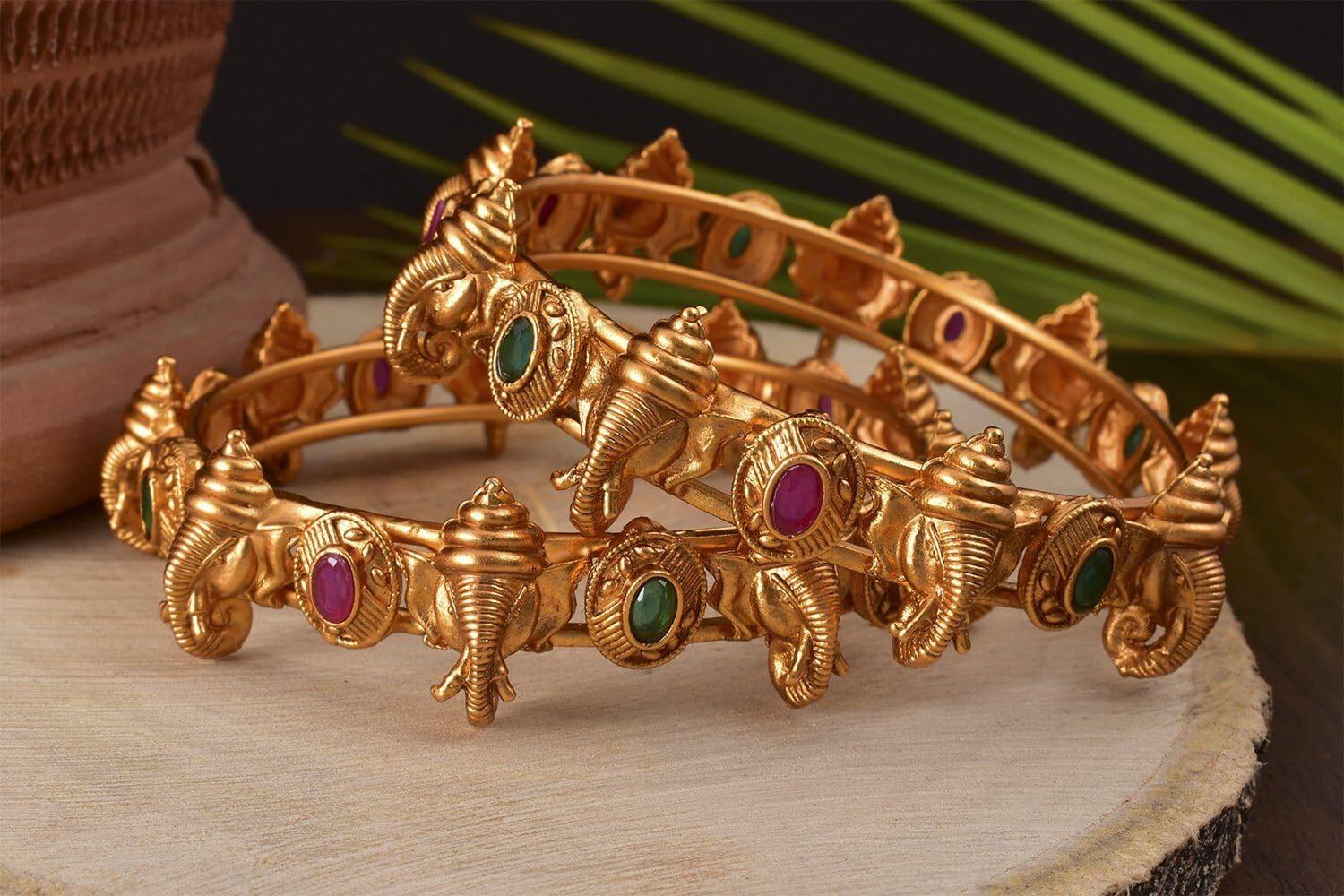 We have an endless heritage of temples and spiritual places. If you're looking for something that would be perfect for temple visit occasions and fond of precious gold detail you can style your bangles with golden hints. Temple bangles have a perfect gold micron finish with gorgeous white pearl.
There is no better combination than silk thread work and Kundan, And if you have your heart set on Kundan, A Kundan bracelet is the perfect way to style your bangles. These soothing masterpieces are made of exquisite meenakari gold and hydro Kundan Polki handiwork with elegant red silk thread work. Isn't it a perfect bracelet for sangeet and receptions?
Perfect Party Collection
We prefer wearing Indo-western outfits at parties. On these occasions, it is a great preference to style your bangles creatively. It is a perfect blend of beauty, grace, and minimalism. Designer fluoride tumble and gold-plated carved beads augment the aesthetics of the whole attire keeping it minimalist yet alluring
This is yet another breathtaking masterpiece that would look elegant worn with Rajputi Poshak. It resembles a staple that you might have seen in your family heirloom. It is an elegant red silk thread bracelet with gold plated beads. It is specially designed to give a royal demeanor to your attire becoming the best way to style your bangle with a Poshak.
Keeping it Simple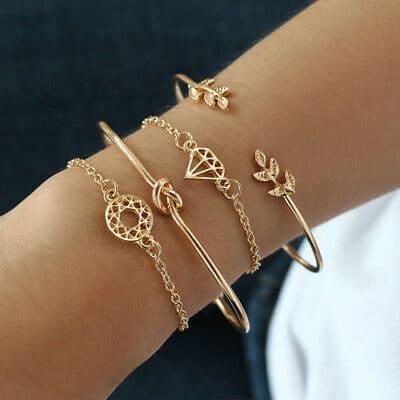 Some women prefer effortlessly chic and lightweight accessories over heavy outfits and make-up and for those pretty ladies, this type is an exceptional choice. The intricately precision handiwork fashioned out of elegant meenakari gold with Kundan work is glimmering with white shell pearls.
Love Kundan To The Core?
A women's love for Kundan is immeasurable. There are various options for Kundan attached bangles available like this piece to style your bangles.
Again bringing you the above Kundan Polki gold bracelet with glimmering pair of glazed agate beads with vibrant colors that add to the intricate design on this beautiful piece, a beautiful minakari gold bracelet in hydro Kundan Polki handiwork with red agate beads and white shell pearls.
How to Style Bangles?
Now that we know our occasions well, let us take a walk down the ensemble path, with a little tit-bit on how to pair your bangles- style to style, outfit to outfit!
A single Kada/ bracelet
a Kada is a single large bangle that adds charm to your wrist all alone. Kadas can be of gold, minakari, Kundan, stones, etc. Kadas are usually free sized with detachable ends. Now, this usually goes with anything you wear including a saree, casual look, suit, Kurtis, etc. This single bracelet curls up your wrist like a dream
Pair bangles
Imagine, paired bangles gorgeously embedded with stones and gold beads- a must-have in a women's bangle collection, isn't it? Now imagine, a pair of antique design gold bangles, an exquisite gold-plated carved bangle.
Kundan bracelet
Is it possible to complete your bangle collection without a Kundan bracelet or bangle set? We think, NOT. Kundan is a heritage and traditional form of our Indian gemstone jewelry. Apart from adding a royal look to your attire, it is also perfect for wedding outfits and temple visits alike. Wondering how to style your bangles of this type? These bracelets can be worn on small festivals and pooja's with Kurtis or saree.
A bangle bracelet can be used to accessorize any outfit be it ethnic, indo-western, or western. Available in stunning and gorgeous designs, these are appealing to the eyes and adds an effortless grace to your all finery without doing much. A gorgeous bangle bracelet is something I would suggest you go to add extra charm to your entire attire.