Stuffed Mushroom Recipe- Easy Recipes To Try This Weekend At Home
The stuffed mushroom recipe is my favorite to try every weekend. Everyone ends up loving these recipes so much that every weekend we feel like making another stuffed mushroom recipe with few changes with the stuffings that taste delicious.
The stuffed mushroom recipe is great for any party, even a small get-together you have and you are thinking too hard about what to make, you can easily try stuffed mushroom recipes. They are healthy and can be eaten by anyone due to the low calories they have.
You may also consider mushrooms to be amazing food agents to deliver delicious charcuterie or cheese. This Stuffed mushroom recipe will help to add tons of new flavors to your spicy tooth and also minimize excessive calories. Mushrooms are naturally rich in vitamin B and vitamin D. They are raw, healthy, and form a great substitute for our vegetarian buddies.
The recipes provided below offers earthy and delicious dishes having stuffings ranging from cheese, seafood, meat, and fillings of breadcrumbs. Let's see how to make each stuffed mushroom recipe that tastes utterly delicious.
Stuffed Mushroom Recipes
1. Grilled Stuffed Mushroom Recipe
If you are looking for a stuffed mushroom recipe to serve your vegetarians niggas, this one is the best to try out. These make an excellent option at your next summer cookout. Just 28 minutes of delicious hard work and your recipe is ready to be served. Let's see how to prepare this one.
Stuffed mushrooms are quite easy to prepare on the grills. These mushroom sliders are the best and you will need medium-sized portabella caps for this recipe to turn out great or crimini mushrooms as a substitute.
Let's have a clear picture of the ingredients you will require along with steps to prepare this stuffed mushroom recipe.
Ingredients Needed
Portabella mushrooms- 6 medium-sized and about 3-4 inches in diameter
Sofetend package of cream cheese
Shredded parmesan- 1/3 cup
Crumbled blue cheese- 1/4 cup
Chopped pimentos- 2 tablespoons
Chopped fresh chives- 1 tablespoon
Minced clove garlic- 1 in large size
Onion Powder- 1/4 teaspoon
Salt- 1/4 teaspoon (you may adjust as per your taste)
Black pepper- 1/4 teaspoon
Pretzel bun sliders- 6
Baby arugula- 2.5 cups
White wine vinegar- 1 tablespoon
Olive oil- 2 teaspoons
How To Prepare
Using a small spoon or any object of small side, just scrap away all the dark brown gills present on the underside of portabella mushrooms you have taken. It is not that you cannot eat this portion, it is perfectly edible but removing this is important so that more cheese can be stuffed inside our mushrooms and the filling becomes tastier. This process is a bit messy, try to do it closer to your sink so that you can scrape away the part.
You need to clean off the surface of all the portabella mushrooms. For this use, a fresh paper towel dipped in lukewarm water. Make sure you are not getting the mushrooms too wet using this towel. You need to ensure that the paper towel is not too wet but has enough amount of moisture in it to remove any sort of dirt or debris clogged on the mushrooms. Use a cutting board or large plate to set aside these cleaned mushrooms.
On medium to high heat, you have to preheat the grill before doing anything with mushrooms. Oil the grill grates nicely just before you are placing all the stuffed mushrooms on top of that grill. You can easily achieve this by using large pairs of outdoor oil, cooking tongs, and paper towels that are folded.
To create a good non-stick surface, fold the paper towel, grasp it using tongs, dip it inside the oil, and keep rubbing it across the grates at least 4 to 5 times. This is important.
Now, take a bowl medium-sized, and add the ingredients- softened cream cheese, blue cheese crumbles, shredded parmesan, chopped pimentos, onion powder, minced garlic, chopped chives, black pepper, and salt to taste. If you feel that the cream cheese is still not soft enough, place it inside your microwave for just 10 seconds. Stir the mixture you have prepared and taste it for seasoning. You may add more of any ingredients you need after tasting it once.
Just take the mushrooms and scoop either 1 1/2 of the filling or 2 tablespoons of this tasty stuffing we have created inside each portabella mushroom cap. Try not to overfill this stuffing in any mushroom, while you like the idea of overfilling for it to taste better but overfilling just creates a mess on the grill once the melting of cheese occurs.
Once your mushroom is ready with stuffed ingredients, place them on the grill such that they are filled side up. Cook them not more than 8 minutes. Until the cheese is warm and melts completely, keep cooking the mushrooms. You have to avoid overcooking because once overcooked, the portabella mushrooms become very mushy.
Once you feel they are cooked after keeping them on the grill for 6 to 8 minutes, remove them and place them on any large plate. You need to keep them warm so take an aluminum foil and loosely tent them.
Now, take another large bowl to prepare a mixture of white wine vinegar along with olive oil. A little vinegar is enough as it goes long way. Just use any salad spinner to wash and spin the baby arugula you have. If there is no salad spinner right now, just wash it simply and lay it on the paper towels to remove excess water. Gently blot it to dry faster. Add it to the bowl and toss it as nicely as you can to coat it with the olive oil and vinegar mixture you created.
Here comes the last step of this stuffed mushroom recipe. You need to assemble the sliders now. Place the portion of the healthy arugula mix you made previously on the bottom bun. Top this with the stuffed mushroom recipe you made and cover the bun before serving your delicious recipe. You may use pretzel slide buns if you have access to them, if you don't, just use a prepared dinner roll or any other slider bun to serve them.
2. Parmesan Stuffed Mushroom Recipe With Bread Crumbs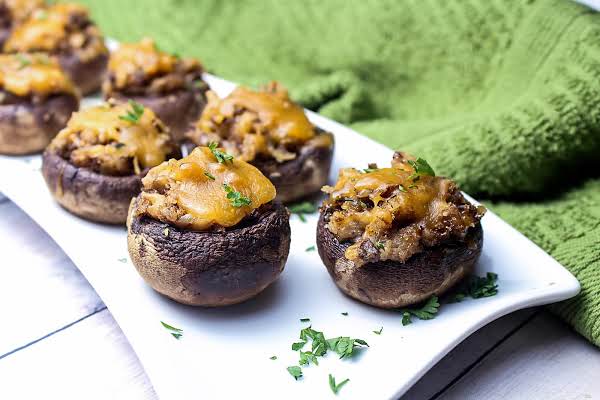 Sometimes mushrooms are overlooked by many people as just a side vegetable having amazing health benefits. We just end up having mushrooms, broccoli, or sometimes carrots to fulfill nutritional needs and nothing else. This stuffed mushroom recipe is a great appetizer for your dinner parties. You will witness a delicious mushroom recipe filled with toothsome bread crumbs, chopped pepper, onions, parmesan cheese. If you feel the necessity to add anything else other than the provided ingredients, you may do so.
Let's see what are the different ingredients that can be used to prepare our parmesan stuffed mushroom recipe.
Ingredients Required
Fresh large white mushroom- 12 ( as per the gathering or your family members)
Melted or divided butter- 1/2 cup
Finely chopped green bell peppers- 3 tablespoons
Fresh Breadcrumbs- 1/2 cup
Salt- 1/2 teaspoon or as per your taste
Dash black paper- 1
Dash cayenne pepper- 1
Freshly shredded or grated parmesan cheese- 1/2 cup
How To Prepare
Gather all these ingredients from the supermarket if you do not have any.
Preheat your oven to 325 F. You have to butter a narrow baking dish that is large enough to keep or hold the mushroom caps in one layer or single layer.
Use a wet paper towel to clean the mushrooms so that any dirt or debris accumulated on them vanishes. Remove the stems of all the mushrooms keeping the caps whole.
You have to chop all the mushroom stems finely.
The next step involves sauteeing the caps of the mushroom using 3 tablespoons of melted butter until it becomes tender. Transfer this to a plate and set them aside for a while.
Then comes sauteeing green pepper, stems, chopped onion, etc in the remaining tablespoons of butter you have. Keep heating until the color of your onions becomes lighter and translucent.
It is time to add some more ingredients like breadcrumbs, cayenne pepper, bell pepper, and pepper mixture to the onion mix. Stir this well so that all the ingredients get blended with one another to form a stuffing and remove the heat once you are done.
Fill all the mushroom caps with the mixture of breadcrumbs and sprinkle all the caps using freshly shredded parmesan cheese.
Arrange all the mushroom caps you have filled with stuffing into the baking dish you had prepared.
Keep them in the oven to bake them for 15 or 20 minutes. Wait for the cheese to melt and the fillings to turn brown. This way you receive crunchy brown mushrooms that taste amazingly well.
Your stuffed mushroom recipe is ready to be served. This recipe will be loved by kids and adults. To make it even more healthy, you can also add yeast to the filling as it has tremendous nutritional value. Instead of parmesan cheese, you may use grated cashews as per your taste and likings.
3. Blue Cheese Stuffed Mushroom Recipe
A low-carb mushroom recipe you will end up falling in love with. To all those who are highly cautious of carbs and calorie counting, or if you want to remain in a calorie deficit, this one is the one to try out. The calories are nearly 100 with 3g protein, 9g fat, and 3g carbs.
You don't require bread crumbs or fillers to fill the stuffing, the blue cheese stuffed mushrooms are delicious and healthy. Let's see how to prepare this stuffed mushroom recipe and the ingredients you require to prepare this one.
Ingredients Required
Medium-sized mushrooms- 2 pounds or 3 dozen
Butter- 6 tablespoons
A packet of soft cream cheese- 1 package or 8 ounces
Crumbled blue cheese- 1/2 cup
Finely chopped green onion- 2 tablespoons.
How To Make
You have to line a baking sheet using foils.
As we always do before proceeding with the recipes, remove any stems from the mushrooms. Chop it and keep it aside.
Over medium heat using a skillet, melt half of the butter. After the butter has melted, cook about half of the mushrooms you have and keep stirring it in the butter for 5 minutes straight. Drain off the fat and then repeat the same with the remaining butter and the rest of the mushrooms caps.
In a medium-sized bowl, combine blue cheese along with cream cheese to form a mix. Keep mixing these cheese until you see a uniform blended cheese quality. Stir it in the reserved chopped white mushroom stems along with green chopped onions.
You have to preheat the boiler at 500F. After preheating adjust the oven rack over the upper region or position. You have to make sure that the mushroom caps are 4 inches from the source of heat.
Here comes the usage of the baking sheets. Place all the mushroom caps on a foil-lined baking sheet that you left aside and fill all of them using the cheese mixture prepared.
Cook these mushrooms until the tops become golden brown.
You may also use sharp cheddar cheese instead of using blue cheese. If you wish to enhance the taste of your stuffed mushroom recipe you may also add crumbled cooked bacon inside the mixture of cheese prepared.
4. Sausage Stuffed Mushroom Recipe
This recipe including sausage in stuffed mushrooms is tasty and simple to make. Making a fabulous appetizer for any party or get-together. This recipe is simplest of all because you only require four ingredients to prepare this.
Remember that it is not limited to 4 ingredients, if you wish to make it more toothsome, you can add flavors of your choice by adding green onions, or finely chopped onions to the stuffing you prepare.
Ingredients Required
Large mushrooms- 1 or 1 1/2 pounds.
Pork sausage- 8 ounces
Finely dried bread crumbs- 1/4 cups
Shredded mozzarella cheese- 1/2 cup (add more as a topping if needed)
How To Prepare
Gather all the ingredients required (extra ingredients if you wish to add)
Preheat your oven to 450 F.
As usual, remove all the stems from the mushrooms you have selected and chop them to keep them aside.
Put these sausages in a skillet over the medium flame of heat. Cook these sausages while breaking and stirring them until they are cooked completely. Remove the cooked sausages in any bowl and leave 2 tablespoons of drippings in that skillet pan.
In the leftover drippings, cook the caps of mushrooms that you chopped finely for 10 minutes until they are cooked fully. You can remove them once they become tender and brown in color. Once you are done, remove the pan from heat.
Keep stirring the mushroom pieces you have cooked into the bowl along with the sausage.
Add the crumbs of bread you have along with shredded cheese and blend the mixture thoroughly.
Once the mixture is ready, fill mushroom caps using the sausage mixture prepared.
Bake the caps in preheated oven for 15 minutes until the color changes slightly.
If you love cheese, you can top the stuffing with more shredded cheese, and eventually, it will melt. Your delicious sausage stuffed mushroom recipe is ready to be served and you can enjoy it thoroughly with your family members or guests.
As a variation to the above-mentioned recipe, you may add finely chopped onions with sausage while stirring them and saute the mixture. Also, you can add minced bell pepper to the skillet with onions and sausage.
5. Vegan Sausage Stuffed Mushroom Recipe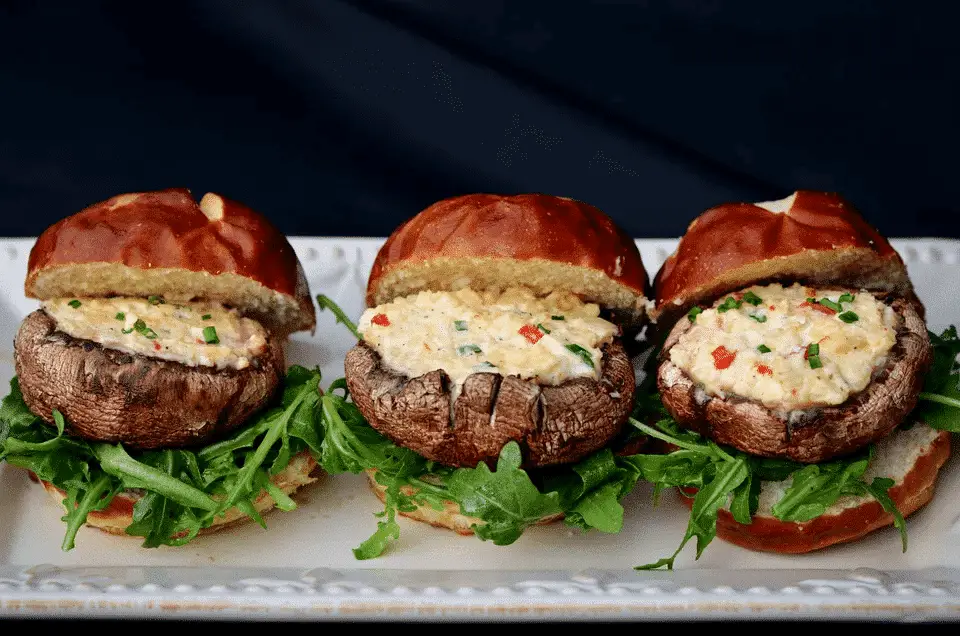 Looking for a vegan appetizer idea for your brunch? You will love how these vegetarian stuffed mushrooms stuffed with vegetarian sausage turn out.
You have to use button mushrooms in this delicious vegan and vegetarian appetizer recipe. The stuffing includes vegetarian sausage, bell peppers, fresh herbs, and toothsome breadcrumbs.
While visiting the market to buy breadcrumbs, make sure you are checking if they are daily free and vegan for use. If you are not emphasizing highly on a vegan diet, you may skip this step and take any form of bread crumbs instead. You may also use breadcrumbs that ate gluten-free to lower the calories.
Ingredients Required
Vegetarian sausage substitute- 4 oz.
Button mushrooms- 16
Olive oil- 2 tablespoons
Minced Onion- 1/2 cup
Green bell pepper- 1/3 cup (diced small)
Red bell pepper (diced small)- 1/3 cup
Minced Clove garlic- 1
Italian style breadcrumbs- 3 tablespoons.
Flat-leaf and chopped fresh Italian parsley- 1 tablespoon.
Pepper and salt to taste
Fresh lemon wedges- optional
How To Prepare
Gather all the ingredients you require.
Preheat the oven first at a temperature of 400 F. Lightly coat the baking sheet using the non-stick spray or any homemade oil-based ingredients or spray you have.
Arrange all the mushroom caps and top them down over the baking sheets. Spray it using a light layer of spray used in cooking. Bake it in the oven until it is slightly softened from the exterior for about 15 minutes of time. Remove them from the oven and set everything aside.
Heat the oil (1 tbsp) in medium-high heat in a skillet pan. Saute the vegetarian sausages till the time they completely get separated and resembles loose sausage that is cooked properly for nearly 4 minutes.
You have to use a spoon made up of wood for breaking these. You have to transfer the vegetarian sausages after they have completely cooked to a bowl and then set them aside for completing other procedures.
Keep heating the leftover oil and saute the onions in a skillet with pepper and garlic. Keep stirring for 5 to 6 minutes until they become soft. Just remove the pan from heat flames and mix parsley and breadcrumbs inside the cooked sausage. Sprinkle bits of black pepper and salt inside it.
Form one tbsp of the sausages and the filling of onion inside a ball. Place the filling inside the mushroom caps. Press all the stuffing firmly into the mushroom. Make sure to mound it generously. In the same way, fill all the mushroom caps. Arrange all the stuffed mushrooms after filling them on the baking sheet.
Bake these stuffed mushrooms until you see that the filing turns light brown for 12 to 15 minutes. You can also squeeze a bit of lemon juice just before serving onto all the mushrooms.
Enjoy the delicious stuffed mushroom recipe and feed everyone.
You can also store them by wrapping in foil paper and storing them to freeze. Once required take them out and preheat at a temperature of 350 F and your delicious recipe is ready to be served.
6. Stuffed Mushroom Recipe With Clams Appetizer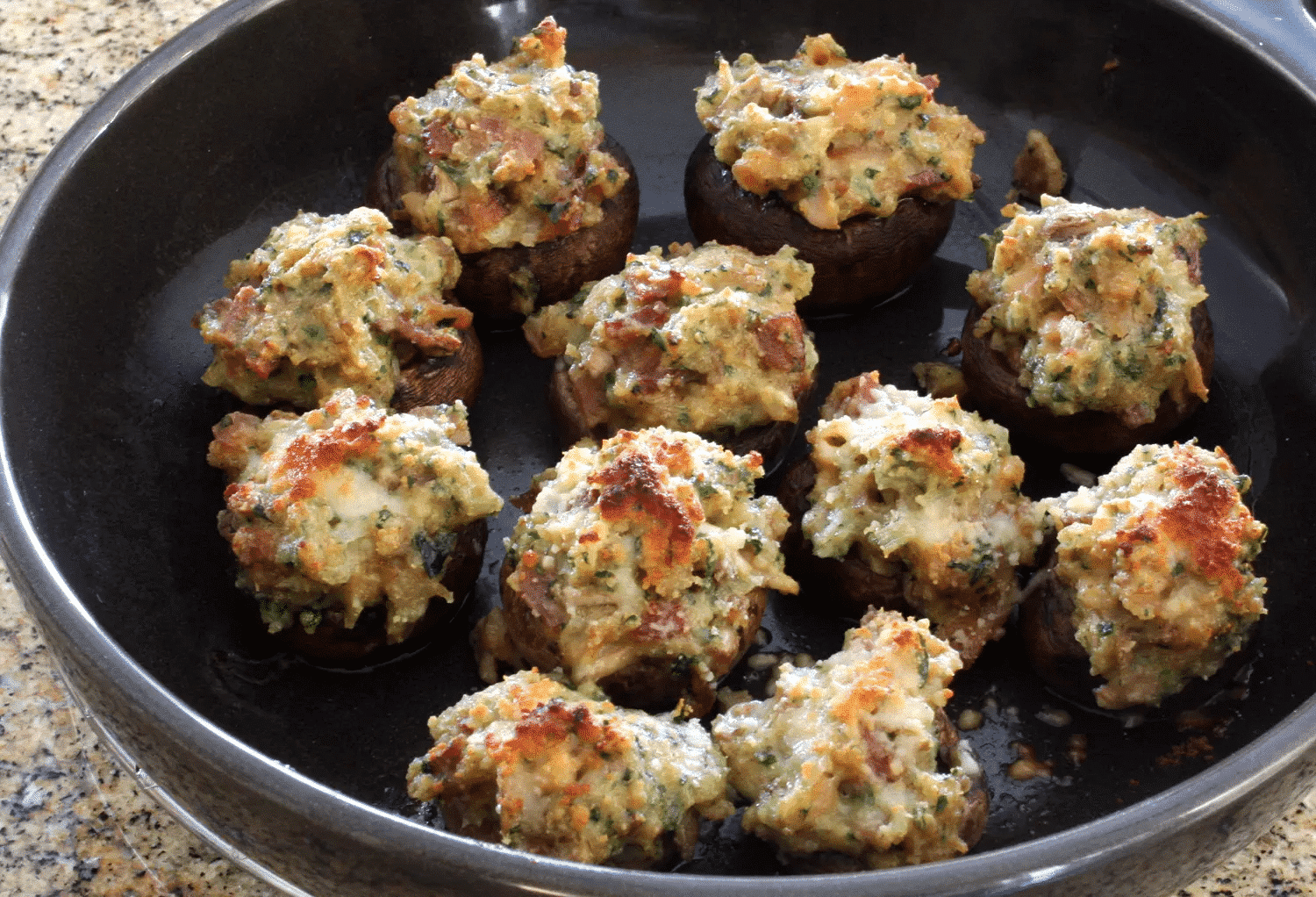 This toothsome stuffed mushroom recipe is all we need this weekend with calls of clams, breadcrumbs, basic seasoning, and garlic. All the new flavors are ready to be stuffed inside mushroom caps. Let's see how to prepare this one and the ingredients you require to get going with this stuffed mushroom recipe.
Ingredients Required
Medium mushrooms- 3 dozen or 2 pounds
Minced clams- 1 can or 6.5 ounces
Butter- 1/2 cup
Finely minced clove garlic- 1
Breadcrumbs- 1/2 cup
Freshly chopped parsley- 1/4 cup
Salt- 3/4 tablespoon or as per your taste
Black pepper- 1/4 tbsp.
How To Prepare
Gather all the ingredients you require to prepare this delicious stuffed mushroom recipe.
Remove the stems from your mushrooms and mince the stems before keeping them aside. Place these mushroom caps on a rack lightly oiled in a cooking pan rounded side down. Set this aside for a while.
Drain all the clams and reserve the liquid
Over medium heat, keep a large skillet and melt butter on it.
Brush some of the butter leftovers on all the mushroom caps
In the remaining butter in the skillet, simmer all the minced garlic, stems, and the reserved liquid we got from clams until the mushroom stems become tender. This should be done anywhere between 4 to 6 minutes.
Stir the remaining ingredients in clams and spoon the mixture prepared in mushroom cups until they are filled nicely.
Move this pan inside an oven and cook the mushrooms for 8 to 9 minutes until the color of mushrooms become visible light brown and they become tender.
Make sure you are not using glass bakeware for cooking mushrooms as it may explode or the glass might break. Take all the safety precautions if you are new to cooking.
7. Bacon And Spinach Stuffed Mushroom Recipe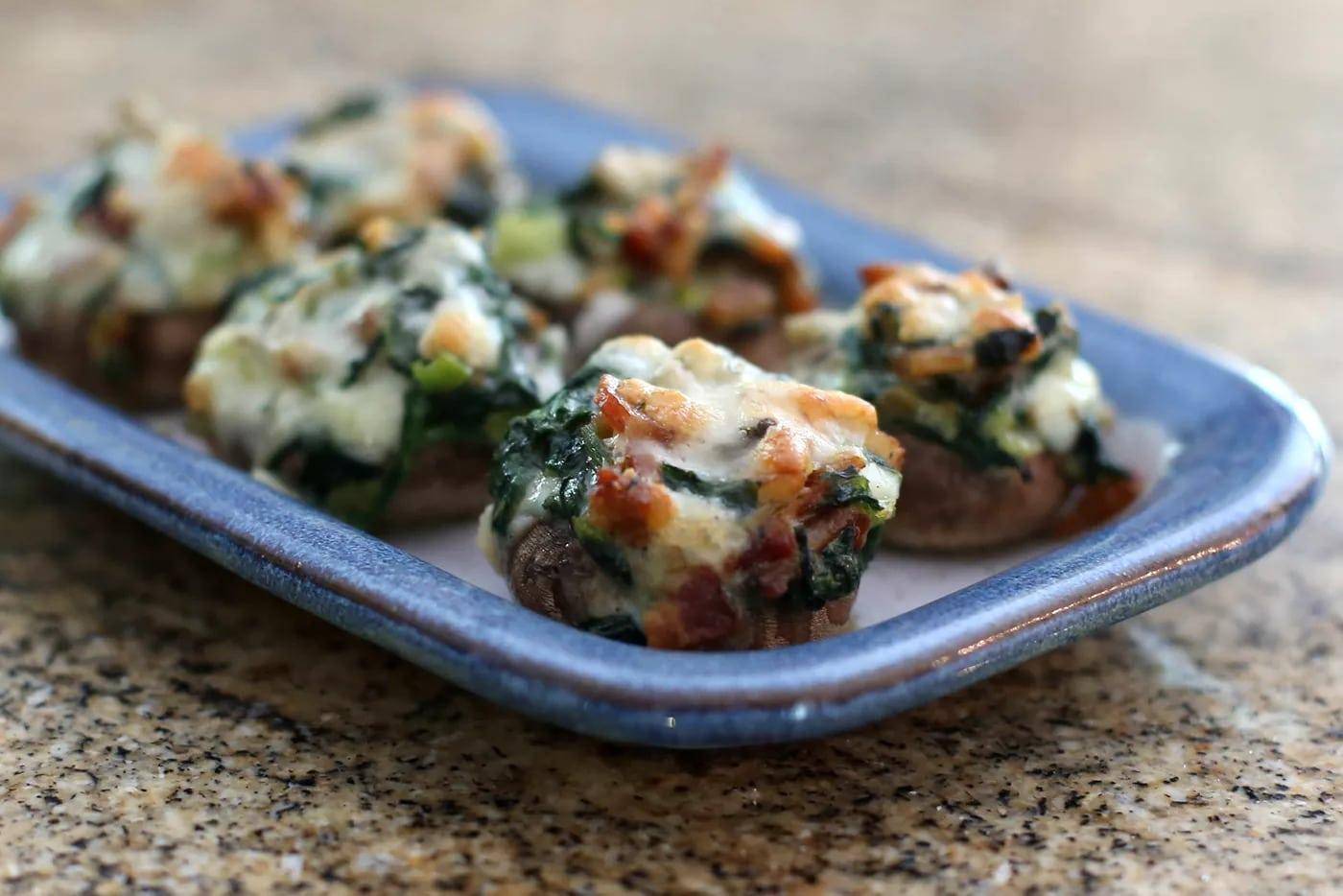 Imagine the taste of melted fontina cheese spread throughout on healthy spinach and bacon stuffing of mushrooms, doesn't it sound amazing and extremely toothsome? Being the perfect appetizer for gluten-free diets, here comes another stuffed mushroom recipe. Everyone will praise you once you make it. Let's see what are ingredients you need and how to prepare this recipe.
Ingredients Required
Large mushrooms- 18
Diced strips bacon- 4
Butter- 2 tablespoons
Finely chopped onion- 2 tablespoons
Coarsely chopped baby spinach leaves- 5 ounces
Shredded or divided fontina cheese- 3/4 cup
Kosher salt- as per your taste
Ground black pepper- To taste
How To Prepare
Preheat the oven to 400 F, Line a baking sheet using parchment paper. The baking sheet should be rimmed. Gather all the ingredients mentioned for this stuffed mushroom recipe.
Wash all the mushrooms first and pat dry so that they get rid of any accumulated dirt or debris particles. Place these mushroom caps rounded side down. Chop the stems at this step and set them aside for a while to be used later.
Fry the diced bacon you have on a saute pan keeping the flame on medium heat. Keep broiling until they become crispy. You have to leave 1 tablespoon of the bacon drippings inside the skillet pan.
Add nearly 2 tablespoons of butter to this bacon dripping and again place this pan over medium flames. Add all the reserved chopped mushroom stems along with green onion or chopped onions. Keep stirring them until the color turns whitish or translucent. This will require 3 minutes.
Now you have to add the chopped spinach to the pan and keep cooking until you see that the spinach has wilted. This will take 2 or 3 minutes. Drain all the excess juices from this pan and transfer the mixture of spinach you have made to any bowl so that it cools down slightly.
Add some bacon and 1/2 cup of fontina cheese to this slightly cooked and cooled mixture of spinach you have. Keep stirring to form a uniform blend of tall the ingredients added.
Taste a little bit and add kosher salt along with fresh black pepper for enhancing the taste of this delicious stuffed mushroom recipe.
Mound nearly 2 or 3 teaspoons of this mixture in each mushroom cap. Once you are done with the stuffing, top all the mushroom caps using fontina cheese.
Bake in the oven for 15 minutes. Keep baking until you notice that the cheese has melted completely and mushroom caps have turned slightly brown in color. Your delicious mushroom stuffed recipe is ready to serve. Enjoy every bite of it.
8. Spinach And Ham Stuffed Mushroom Recipe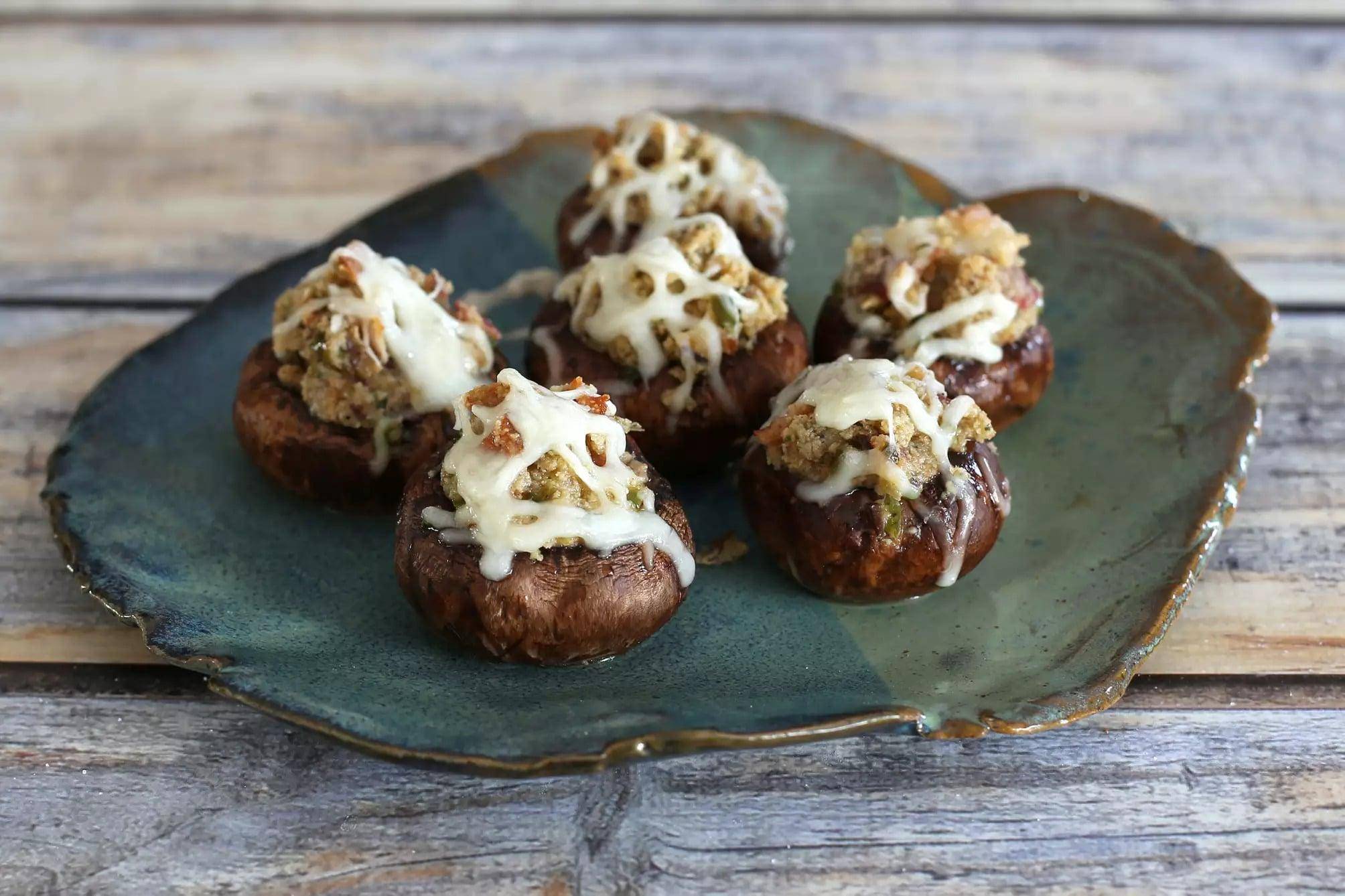 An amazing way to use leftover ham. this recipe is loved by many people. The combination of mozzarella cheese along with spinach is absolutely delightful and delicious to try out with this stuffed mushroom recipe.
If you do not like ham or you do not have it right now at your house, you can use pancetta, crumbled bacon, and diced smoked sausage instead of ham in this stuffed mushroom recipe.
Ingredient Required
Large mushrooms- 1 pound or 12 to 24 in number.
Butter- 4 tbsp With some more for greasing the pan.
Trimmed green onions- 4
Finely minced ham- 1/2 cup
Finely minced clove garlic- 1
Coarsely chopped baby spinach- 2 cups
Fresh bread crumbs- 1 cup
Salt- 1/4 teaspoon.
Pepper- 1/4 teaspoon
Mozzarella cheese- 1/2 cup.
How To Prepare
The first step as always includes collecting all the ingredients required for making this delicious stuffed mushroom recipe.
Trim and wash all the stem ends using water from all the mushrooms. Pop-out the remaining stems. Chop these stems and keep them aside for a while. In a pan melt two tbsp of butter and then brush it over the mushroom caps. Spray on a shallow baking dish using a butter-flavored spray or simply grease it using butter.
Heat all the remaining butter in a skillet pan and then chop green onions. After chopping the ingredients, mix ham, onions reserved chopped mushrooms, and garlic in a pan. Add this mixture inside a skillet along with spinach. Saute the mixture until it becomes tender.
Add all the pepper and bread crumbs to the filling you have made. Stir the entire mixture very well. You may add a little cream to it if you wish to soften it.
Now take the mushroom caps and fill each one with this toothsome filling or stuffing. After you have filled every mushroom, sprinkle mozzarella cheese on it in shredded form.
Keep them in a baking tray and put them inside the oven at 350 F for 20 minutes. Keep them in the oven until the cheese has completely melted and the mushroom caps have become tender.
9. Bacon Stuffed Mushroom Recipe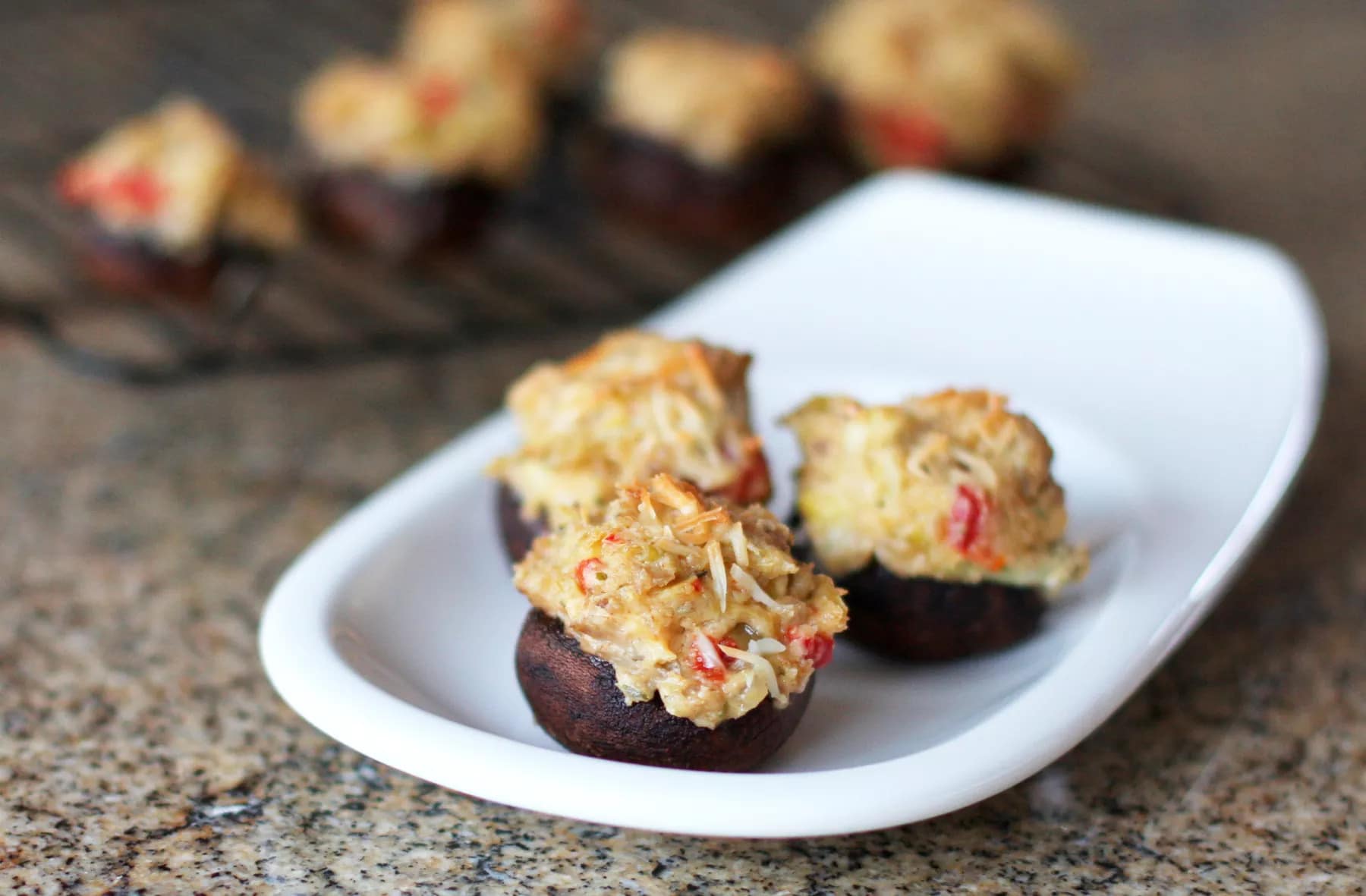 This savory stuffed mushroom recipe is filled with delicious cream cheese, bacon, and breadcrumbs. The bacon is basically the star of our recipe and cream cheese brings all the ingredients together. You mat use cheddar, mozzarella, and parmesan cheese for topping this toothsome dish.
Let's see what are the different ingredients required to make this healthy and amazing recipe along with the steps of baking it.
Ingredients Required
Medium fresh mushrooms- 1 pound
Diced bacon- 4
Minced onions- 1/2 cup
Fresh green and minced bell peppers- 2 tablespoon
Salt- as per taste
Pepper- to taste
Cream cheese- 3 ounces
Dried bread crumbs- 1/2 cup
Hot water- 1/2 cup
Shredded cheese for topping.
How To Prepare
Gather all the ingredients mentioned.
Clean the mushrooms using a paper towel. Remove and chop all the stems to set them aside for a while as you did in previous recipes while making one.
Use a heavy skillet for baking the bacon or frying it. Using a spatula or any slotted spoon, remove the bacon for during and removing moisture or oil using the paper towels.
In the leftover bacon drippings, you have to saute green pepper, chopped onions, and the chopped mushrooms until they acquire a tender form. Drain the mixture well and then ass salt or pepper as per your taste.
Heat your oven at a temperature of 325 F.
Take a bowl to mix the softened cream cheese with the bacon stuffing you made. Mix them well by constant stirring and then fill all the mushroom caps using this delicious stuffing.
Take a small bowl and place all the breadcrumbs side it. Take mushrooms one by one to tilt their head onto the breadcrumbs so that a coating of these breadcrumbs is created on top of all the mushrooms.
Place them in a baking pan and then put 1/4 cup of water in a pan to bake it for a while.
If you wish to do so, you can add any sort of cheese on top of each mushroom. Once the cheese melts completely and the color turns brownish, your stuffed mushroom recipe is ready to eat.
10. Paleo Stuffed Mushroom Recipe With Turkey Stuffings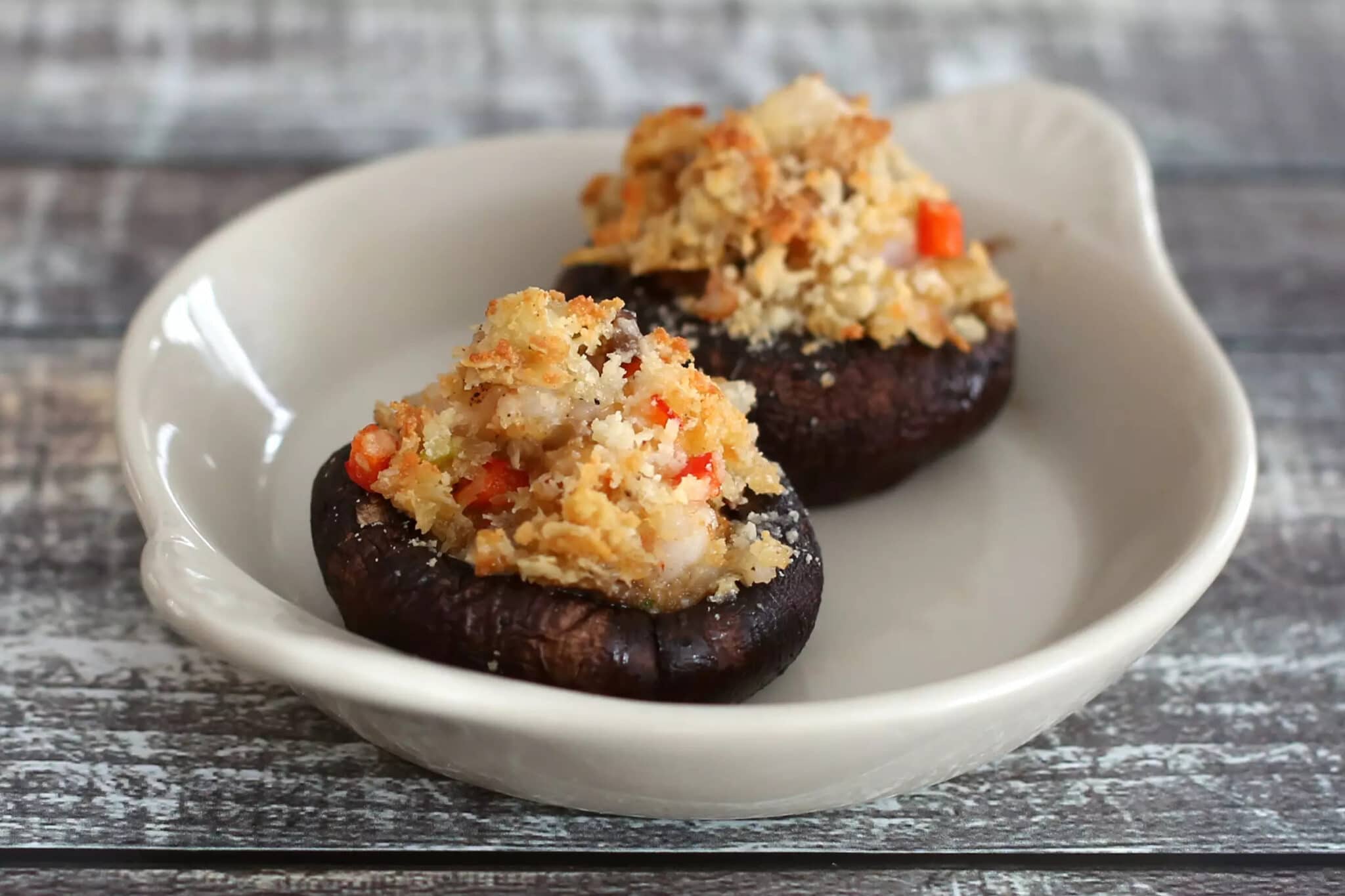 Cooking for all the family members is quite difficult because the choices of eating differ. If you feel you need to prepare a stuffed mushroom recipe that will be loved by all, you can make this one.
These mushrooms are filled with ground turkey and have leafy fresh parsley for an amazing taste. Instead of using rich and heavy saice, you may make a paleo mayo at home to be used.
You will be immensely glad to have chosen this stuffed mushroom recipe, let's see how to prepare it along with the ingredients required.
Ingredients Required
Crimini mushrooms- 1 package (the one in which stems are removed and washed properly)
Ground turkey- 1 pound
Clove garlic- 1
Finely chopped Water chestnuts- 1/2 can.
Paleo mayo- 1/4 cup or you can use mayo from fun foods if you don't have time to prepare at home.
Finely chopped parsley- 2 tbsp.
Ground or crushed fennel seeds- 1 teaspoon
Salt and black pepper as per your taste.
How To Prepare
Gather all the ingredients needed to make this stuffed mushroom recipe
Preheat your oven to 350 F.
Take a rimmed baking dish or maybe a large casserole to lay all the mushrooms separately.
Till the time the oven is preheating, take a mixing bowl to medium size and combine all the other ingredients that are needed for the ground turkey recipe.
After mixing, use a spoon to scoop all the ingredients into mushroom caps. Keep filling to use all the mixture.
Once the oven is in the desired condition, put all the mushroom caps inside it and let it bake for 30 to 35 minutes. After 30 minutes, have a look at the recipe, is it is ready or not.
Remove them from the oven and allow them to cool for some time.
Serve and enjoy your turkey stuffed mushroom recipe.
These were 10 amazing stuffed mushroom recipes that you easily try at home for your loved one or during much-awaited get-togethers this year.
Willing to make tasty dumplings at home to complement your stuffed mushroom recipe, try out these amazing and delicious recipes.