The slow cooked beef curry is a dish that has stood the test of time. It is one of the recipes passed down from our grandmothers—filling up your kitchen with a nostalgic aroma, the slow cooked beef curry, when well-cooked, is sure to leave your stomachs and hearts full.
The preparation of this main course dish takes some time, but it is super simple to cook and is so delicious that it will leave your family wanting more. If you find Indian food too spicy, do not worry, as you can easily adjust the level of spice based on your preference and liking, and the dish will taste just as delicious.
Using a slow cooking method to prepare your beef curry means to let it simmer for a long time to enhance the flavor. As you take that first bite, you will feel the burst of flavor that elevates the whole experience altogether.
Keep reading to find the best recipe of slow cooked beef curry ever.
Warning: The dish contains common allergens like dairy and meat. Please note this before you proceed to cook it.
Choosing the type (cut) of beef to use in the slow cooked beef curry
Who doesn't like their beef to be tender? The top chefs and restaurants have great beef curries because they skilfully pick the cuts.
The preparation of our dish calls for an elongated cooking time, and hence, the beef you choose should be cut to ensure that higher levels of connective tissues are retained. This will give you delicious, tender beef. Avoid making too lean cuts so that you are not left with dry and overcooked beef.
The best option for slow cooking is using the braising Steak which includes the chuck, skirt, leg, and flank.
Nutritional Value
One serving of the slow cooked beef curry provides 334kcal calorie content.
This includes 33gm protein, 16.5gm fat (including 5gm saturated fats), 12gm carbohydrates (including 10gm sugar), 2gm fiber.
Ingredients
Olive oil – 1 tbsp
Braising steak (trimmed of fat and cut into cubes of 2.5cm or 1inch) – 400gm
Onions/shallots (diced) – 170gm
Garlic cloves (crushed) – 3 pieces
Ginger (peeled and grated) – 1 tbsp
Chilli flakes or chili powder – 1 tsp
*Garam Masala – 2 tbsp
Curry powder – 2 tbsp
Sea salt – a pinch
Black pepper (ground) – a pinch
**Tomatoes (chopped) – 400gm
Tomato puree – 2 tbsp
Beef stock pot – 1
Fresh coriander (finely chopped) – 20gm
Spinach – 60gm
Coconut milk – 2 tbsp (optional)
* DIY Garam Masala – Toast cinnamon, nutmeg, black peppercorns, coriander seeds, cumin seeds, and cardamom pods in a pan and then grind them together into a powder.
** You can even use canned tomatoes.
Method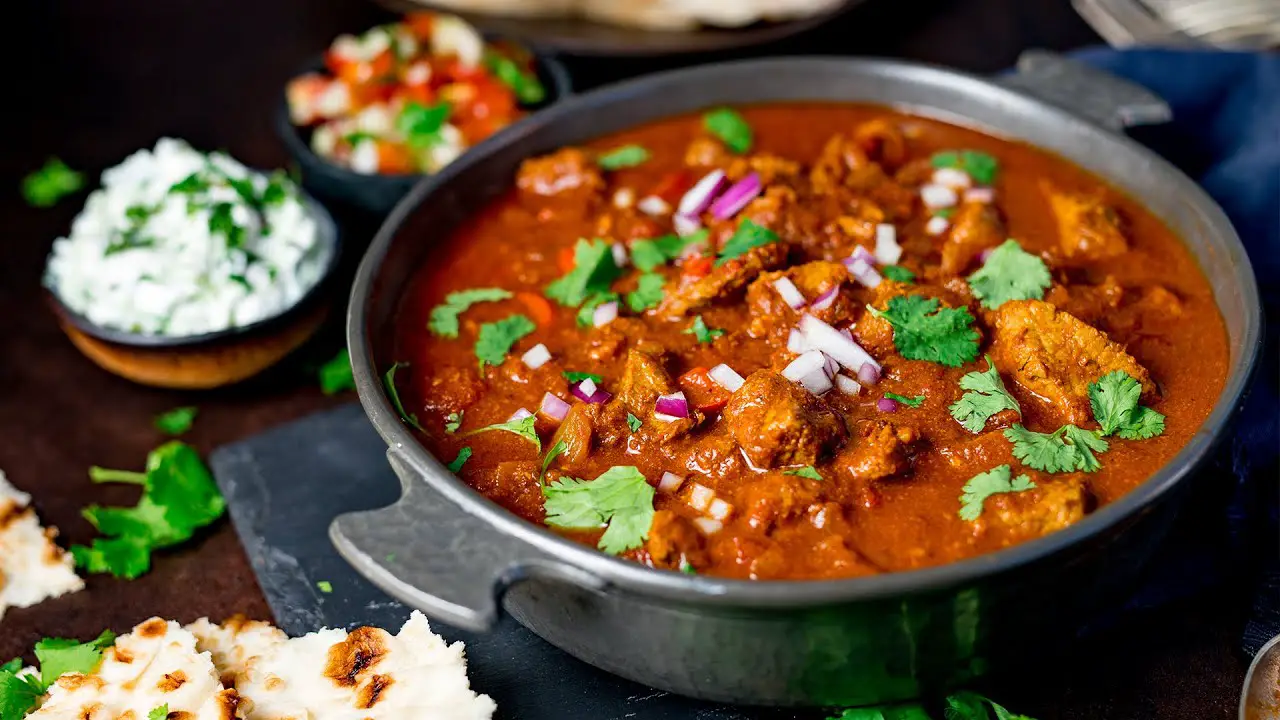 Preheat your slow cooker on the 'low' setting.
In a frying pan, heat the oil over a high flame. Add the beef chunks to the frying pan and brown them for 2-3 minutes. Once browned, transfer the browned steak to the slow cooker pot. Browning the beef in batches and on all sides will yield better results and taste.
Add the diced onion (caramelizing the onions will add a depth of flavor to the dish), crushed garlic, grated ginger to the frying pan. Mix these.
Add your spices – chili flakes, garam masala, curry powder, salt, and pepper. Mix well and cook over low heat for 2 minutes. If you do not have curry powder, use 1 tsp coriander powder, 1 tsp cumin powder, 1 tsp paprika, 1 tsp turmeric powder instead.
(For a spicier curry, increase the number of chili flakes or chili powder. However, if you want to reduce the level of spice in the curry, reduce or skip the chili flakes. Another alternative is to add some yogurt which will reduce the spiciness level. Make sure the yogurt has not gone sour and does not have any lumps).
Transfer this mixture to the slow cooker pot that already has the beef chunks.
Add the tomatoes, tomato purée, and stock to the slow cooker pot. (Using canned tomatoes will prevent your dish from becoming more watery than desired). Mix everything well and cook this on the 'high' setting for 4 hours or the 'low' setting for 8 hours. The latter (cooking it on 'low' for longer) will give you a vastly superior taste. Add some water if you feel the mixture is getting too thick and might burn at the bottom.
Once the curry is cooked, add the spinach and chopped coriander and mix until the spinach has wilted because of the existing heat in the cooker.
If you are using frozen spinach, remember to defrost it beforehand. Take it out in a separate pan or microwave, and then drain it before adding it to the curry.
If you are adding the coconut milk, turn off the heat and uncover the lid. Stir in the coconut milk and let it sit for 30 minutes.
If you want a thicker sauce, remove the lid of the slow cooker 45 minutes before being done. You can even add a cornflour slurry towards the end. The slurry is prepared separately by mixing 1 tsp of cornflour and 1 tsp water together.
Before serving the dish, you can even use some coriander for garnishing. This will make your slow cooked beef curry look as appetizing as it tastes.
Frequently Asked Questions (FAQs)
What are good accompaniments for the slow cooked beef curry?
Warm naans or chapatis go best with the slow cooked beef curry. You can even pair it with rice which balances out the sweet-spicy flavor of the curry excellently. Either option will provide you with a wholesome meal. Fried or roasted poppadoms also form a unique accompaniment to the slow cooked beef curry.
Do you need to use individual spices for the curry?
Not compulsorily. If you can find a good ready-to-use spice mix for Indian or Asian food to substitute the individual spices, you can opt for that. It will not only give a balanced flavor to your dish but also save up a lot of time.
Is it compulsory to brown the beef?
Browning the beef before slow cooking enhances the flavor to a great extent. This is because seared meat retains the juices and causes the outer layer to caramelize, which means richer and bolder flavor! However, it is not an absolute compulsion. If you need a quick fix and do not mind compromising on the taste a little bit, you can also make beef curry without browned beef.
Can you store your beef curry?
Yes, you can easily store the leftover curry in an airtight container in the fridge and enjoy it again the next day. There's always an added pleasure if you can cook something once and eat it twice! You can freeze it if you want it to last you for more than a day or two. Once it has cooled down, store it in individual portions using freezer bags.
Can the beef curry be made without a slow cooker?
Yes, you can also use a stove for making this dish. Just fry the onion, garlic, and ginger, add the spices and browned beef to a pan on a stovetop. Add the rest of the ingredients and simmer everything together for 20 minutes.
You can even prepare this in an oven at 170C for 3 hours. Keep checking it at intervals to prevent burning your food.
Conclusion
"Good things take time." This saying could not be any truer in the case of this dish. It takes time for the gravy to absorb the flavor and for the melt-in-your-mouth flavor to build in the slow cooked beef curry.
The base of onion, garlic, ginger, coriander, garam masala, black pepper, and chillis gives several layers to the flavor of the curry.
If you have the time, definitely cook this freezer-friendly dish which has the power to make many generations a fan of your cooking. After all, the comfort in this dish is unparalleled and will keep bringing you back in the kitchen to make fresh batches.
To top it off, one must try out the orange cake recipe available at Sleck.