Decorate your Home with Elegant Scarecrow Ideas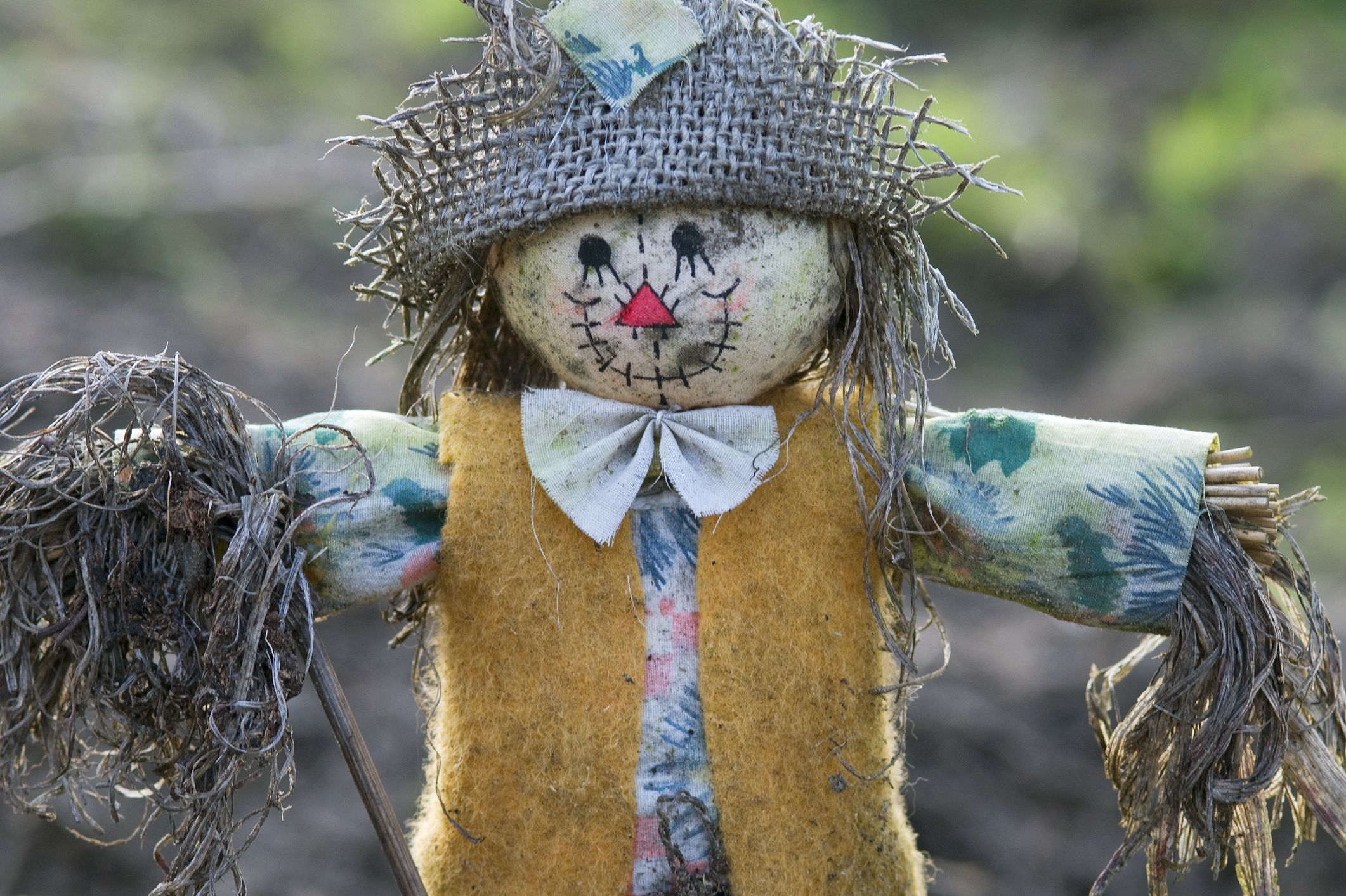 Autumn is not only about the freshly harvested apples, pumpkins, and bright leaves. There is another staple sign of autumn– the scarecrow. Yes, it is as important as the fruits, veggies, and crops you harvest on autumn days.
After all, when you grow the foods on your land, you must protect the newly seeded lands from the birds. So, a scarecrow is a crucial factor for that. Anyways, these days, agriculture is modernized. You may not need the strawmen, in other words, scarecrow.
It is now used often for decor's sake. The internet is flooded with many amazing scarecrow ideas to spruce up your creative mind. Pick up any of them and start crafting your DIY scarecrow.
Want some exclusive ideas? Ok! I would love to share some of them.
Here, I will mention a few scarecrow ideas that can help you craft interesting scarecrows and decorate your desk during the festive autumn season.
Top 11 Scarecrow Ideas to Try at Home
Let's talk about a few interesting scarecrow ideas you can use in fall decorations, Halloween parties, and thanksgiving get-togethers.
Your kid's favorite cartoon character:
If you are planning to celebrate your fall days with some interesting scarecrow ideas, try crafting a beautiful Micki-Mini duo. Or, what about a Mikie Mouse and Donald Duck duo?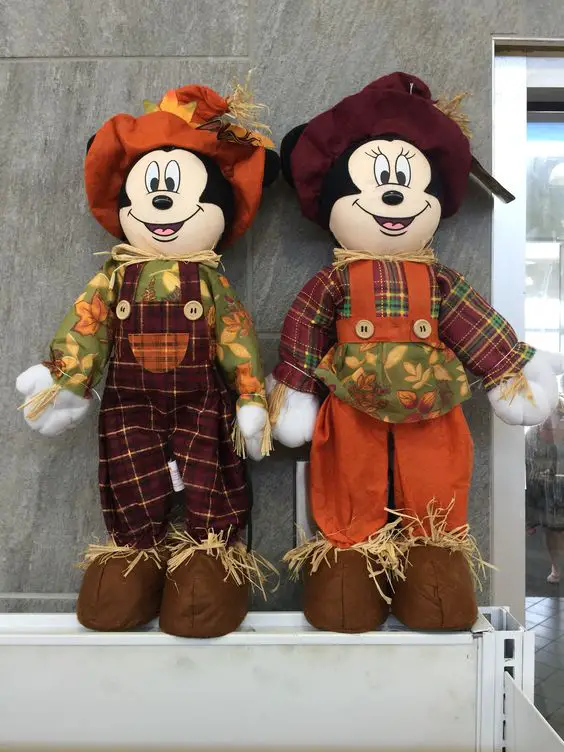 Also, you can create scarecrows inspired by batman, superman, and other comic characters.
Use regular fabric, hay stalks, and color pallets for this. Try to make the scarecrows look like the characters as much as possible. Do not worry! You can do that. Sketching the characters is not tough. So is preparing the scarecrows inspired by the characters!
Joker:
Well, a joker is not always the Joker, the tragic villain from "The Dark Knight"!
You can craft a simple joker-like structure for your scarecrow decor. All you have to do is first design a joker on a piece of paper. Then, you have to arrange the pieces of stuff accordingly.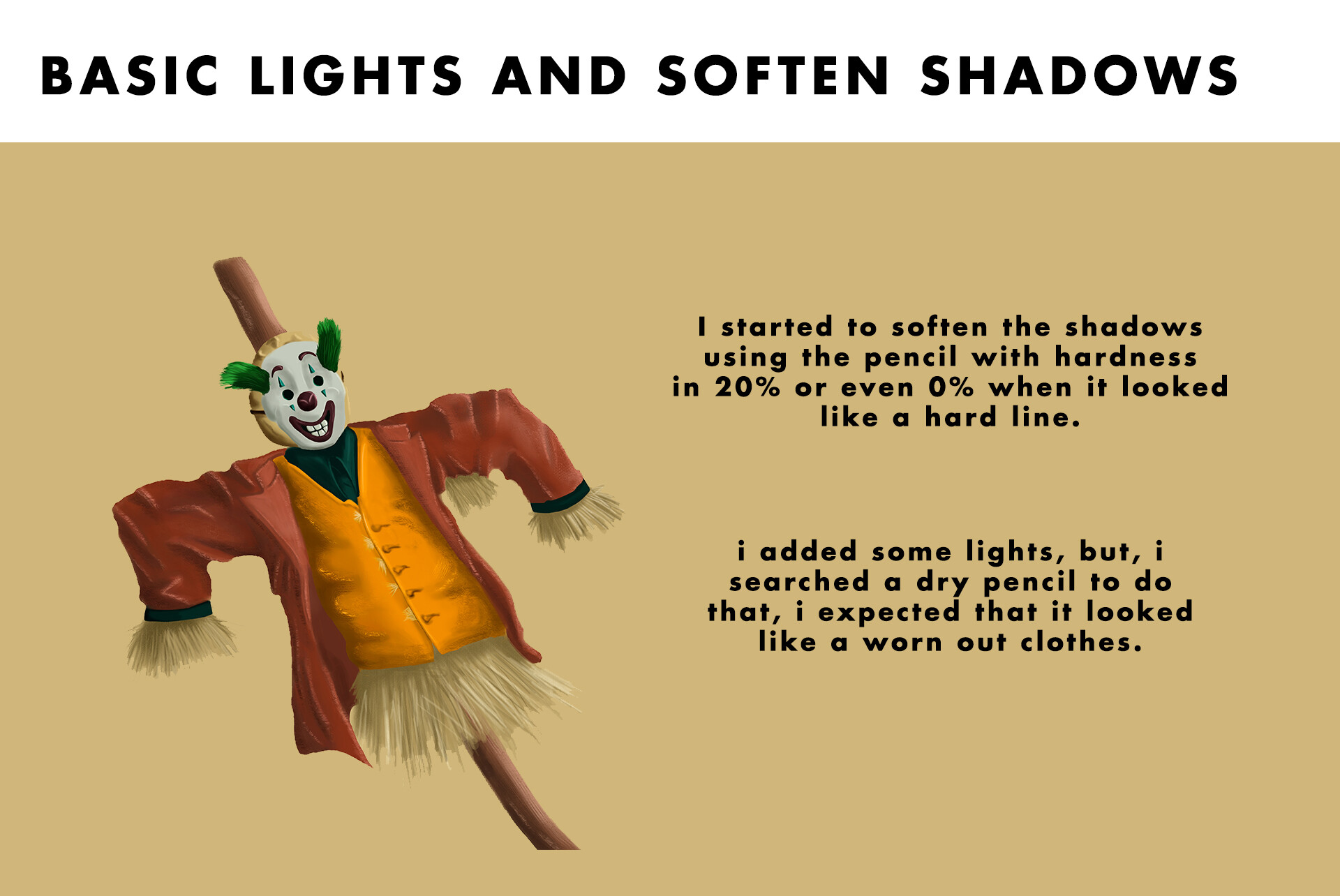 Usually, jute-made fabric, stuffing elements like hay, dry grasses, etc., are needed to prepare this type of scarecrows. You can use a broomstick to hold the spine of the joker. Do not forget to paint the face in a special joker style and put a coat over its body.
Faces on the jar:
It does not need too many items. A simple jar, some hay stalks, jute bag pieces, and a palette of acrylic colors are enough. It is best to use glass jars or hard plastic jars! You must clean the jar well, dry it, and paint it in a scarecrow style.
Being one of the best Halloween decors, this scarecrow idea gives you enough liberty to explore your creative talent.
You can draw comical eyes, noses, and mouths with different expressions on the body of the jars. Once done, close the lids with stuffing materials, including hay stalks and jute bag pieces.
Small bamboo scarecrow:
Craft a series of three or five small scarecrows. Yeah, they technically cannot scare the crows in the field. But, they are the best scarecrow ideas for fall decor. A few small scarecrows packed with freshly harvested pumpkins are the best fall treat!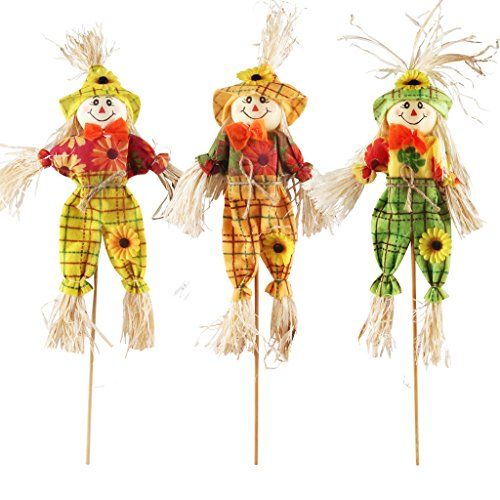 Fall is a time to decorate your house in an exceptional way. From apples and autumn leaves to scarecrows- all can be used as home decor pieces. This small scarecrow is one of the most popular ideas among various scarecrow ideas. These are often made of bamboo.
Couple scarecrow:
Who does not love to see sweet, gentle couples as scarecrow designs? A couple-scarecrow is one of the most interesting scarecrow ideas that many homeowners opt for. Especially newly married couples can try this to welcome their guests at home during the fall.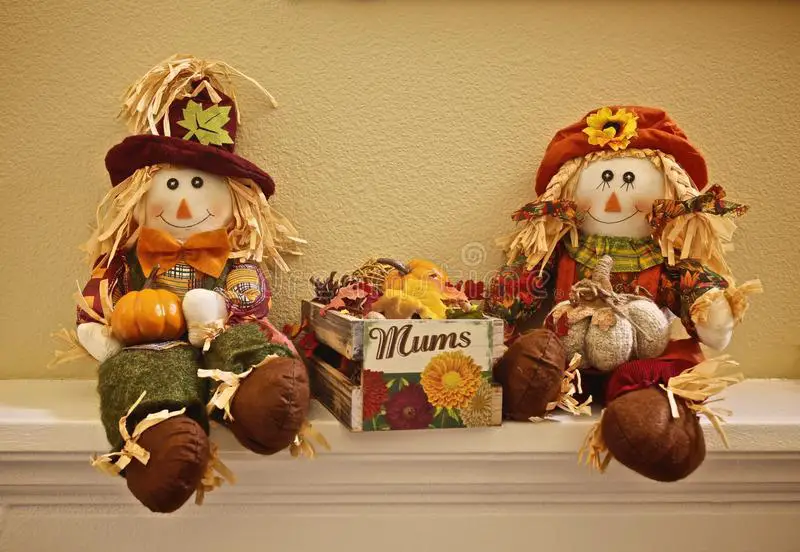 Simple regular hay stalks and jute bags are used to craft this piece of decor. Also, to make them more loving and unique, you can place some artificial pumpkins and apples where you place them. Well, another way to incorporate this scarecrow idea is here!
If you want to enjoy a romantic date with your bae, you can go for a couple-scarecrow make-up during your Halloween party!
Paper-made scarecrow:
It is a popular kid's craft. Do they disturb you when you have to do household chores? Or do they have to prepare some interesting school projects this fall? You can opt for paper-made scarecrow ideas.
These scarecrows are attractive and easy to make. All you need is a bunch of paper, glue, and color. To make it easier than usual, one can use colorful paper. You can combine the cartoon scarecrow ideas with the diverse paper scarecrow ideas.
Claypot scarecrow:
Small, medium, and large- a wide variety of clay pots are available. You can paint them and prepare unique kinds of scarecrows out of them. You can use a series of small clay pots or put large and small pots together.
Claypots are ideal for helping you get some eco-friendly scarecrow ideas. Instead of harmful polythene, chemicals, synthetic fabric, and colors, one can use environment-friendly clay pots, natural colors, hay stalks, dry grasses, leaves, etc.
Pumpkin scarecrow:
How can we forget pumpkin in fall? Well, a pumpkin can be added to the accessories of a scarecrow. We often do that. But what about using a pumpkin to make a scarecrow? It's a wonderful idea. Trust me!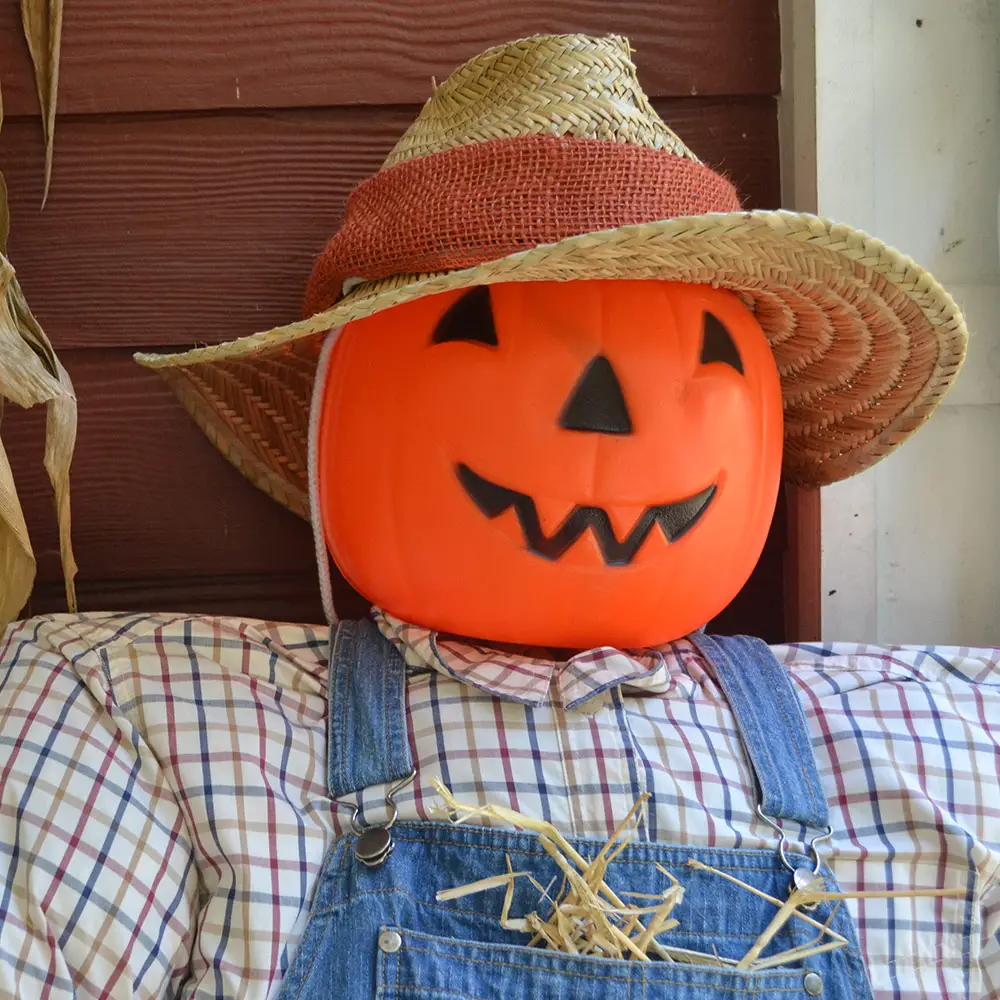 You can use the pumpkin as the head of the scarecrow structure. Run a cross' head portion through the pumpkin and make it wear a cloth. You can put a shirt on it with a hat on the pumpkin head. Do not forget to draw eyes and nose on the pumpkin.
To make it more interesting and culturally inclusive, you can dress it up with Asian attires. That looks awesome!
Scarecrow fruit basket:
You would love to treat your fall guests at home with freshly harvested fruits. Isn't it? Let's do it in a unique way. Combine your scarecrow ideas with a fruit basket. Let's prepare it in such a way that the scarecrow seems to hold the fruit basket with lots of seasonal fruits.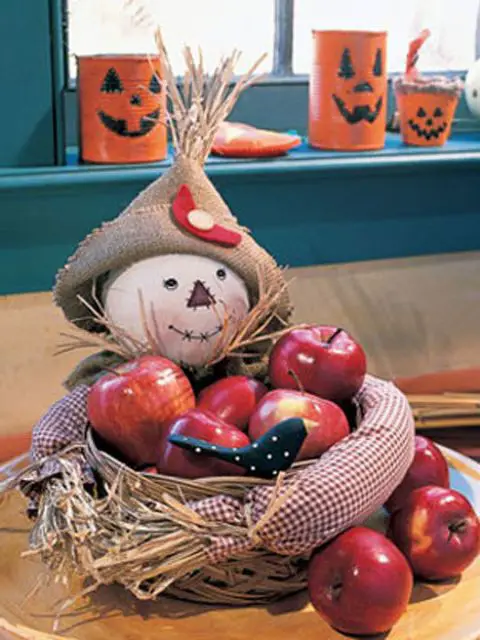 You can either showcase it at your home or restaurant as fall decor or gift it to your loved ones. A perfect thanksgiving gift idea! Do you love it? Let us know in the comments.
Popsicle stick scarecrow:
When it comes to art, including school crafts, and others, popsicle sticks always nails it. It is one of the popular items to craft different types of items. Ranging from baskets and flower vases to many other things- all can be prepared with popsicle sticks.
With this popular craft item, you can prepare scarecrows as well.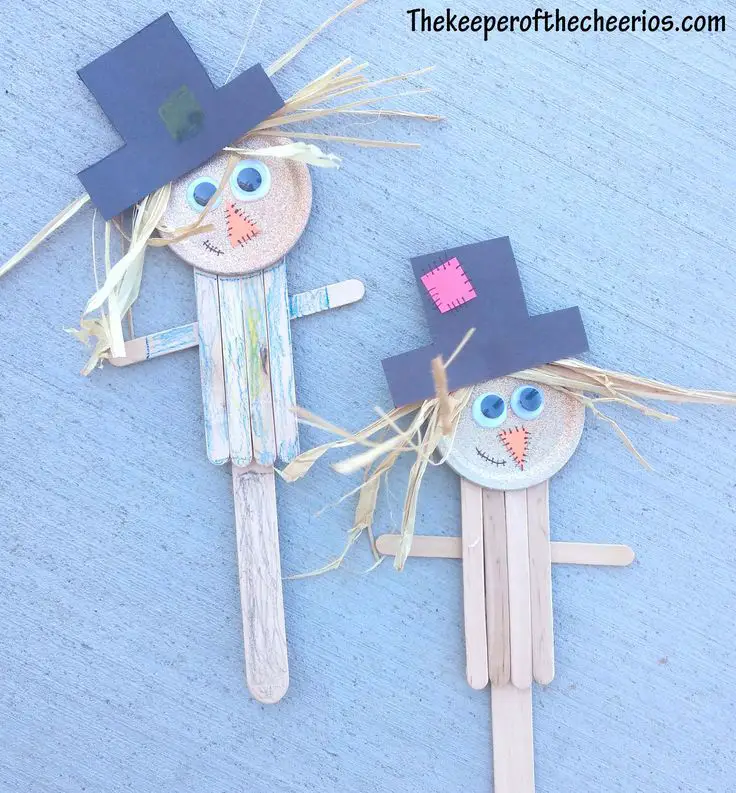 You need to come up with some exclusive scarecrow ideas that combine innovation and effort because preparing a craft out of popsicles is not an easy task. Make sure to plan the idea and chalk it in your mind before you start making it.
Tin can scarecrow:
As you can prepare beautiful scarecrows with popsicles, the everyday-use tin cans are not far behind. A plethora of scarecrow ideas is there to try with tin cans. You can use cans of different sizes or cans of the same sizes.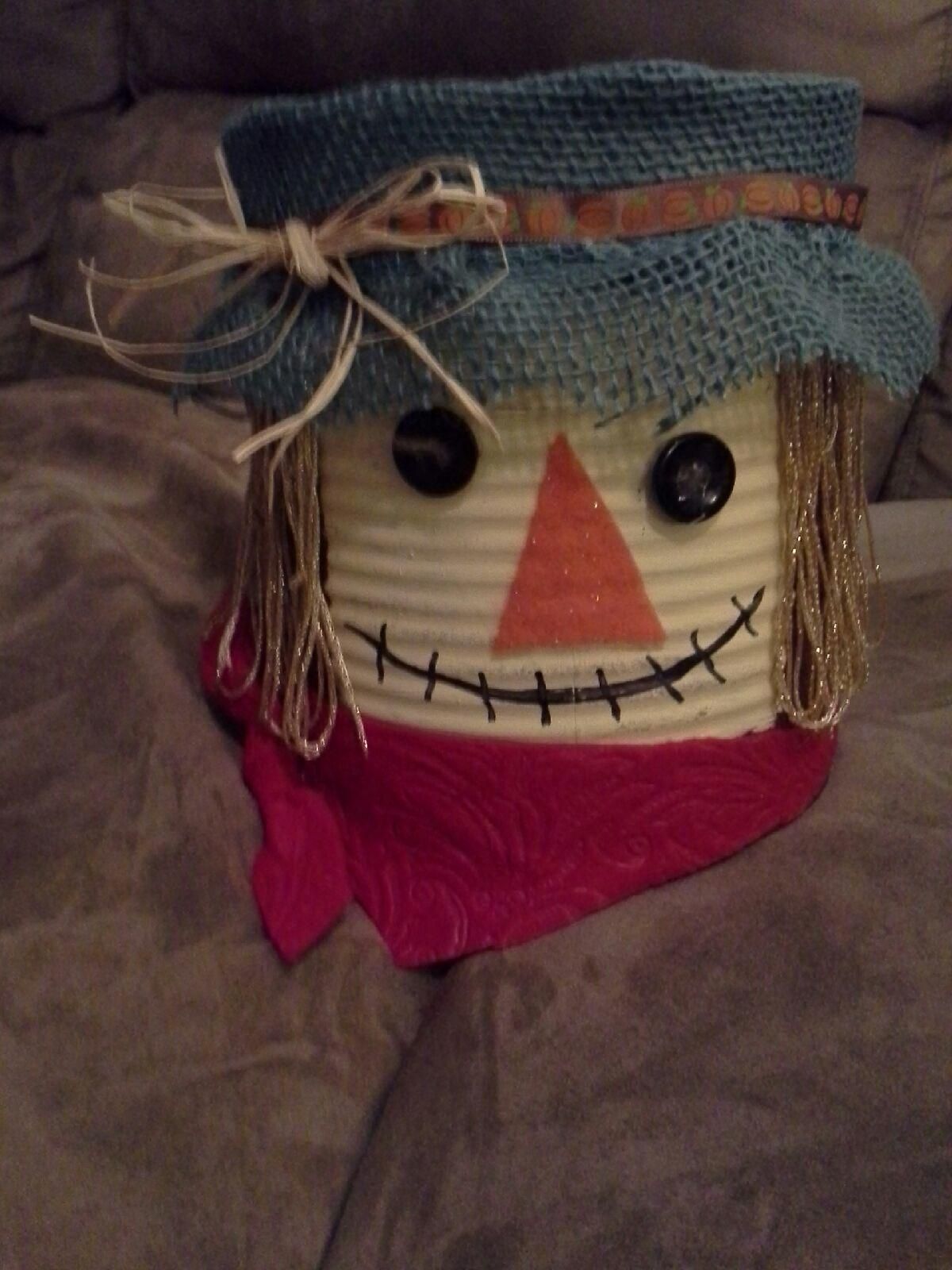 Attach the cans in the shape of a human being and draw eyes, nose, and mouth. To make it look rusty and attractive, use hay stalks to prepare the hair. Put a cap to hold the hair properly. Or you can use a plate to cover the hair and head.
Man with a cap:
It is one of the most-used scarecrow ideas since the time when scarecrows used to be a major factor in agriculture. Even today, many people use it to protect their seeding lands. Using these interesting age-old scarecrow ideas, you may see the homeowners who grow cabbages and cauliflower in their personal gardens.
And the best part of it is that if you do it right, it can be highly effective in scaring the crows. Since they look exactly like real humans, you can drive the birds and rodents away with these scarecrows.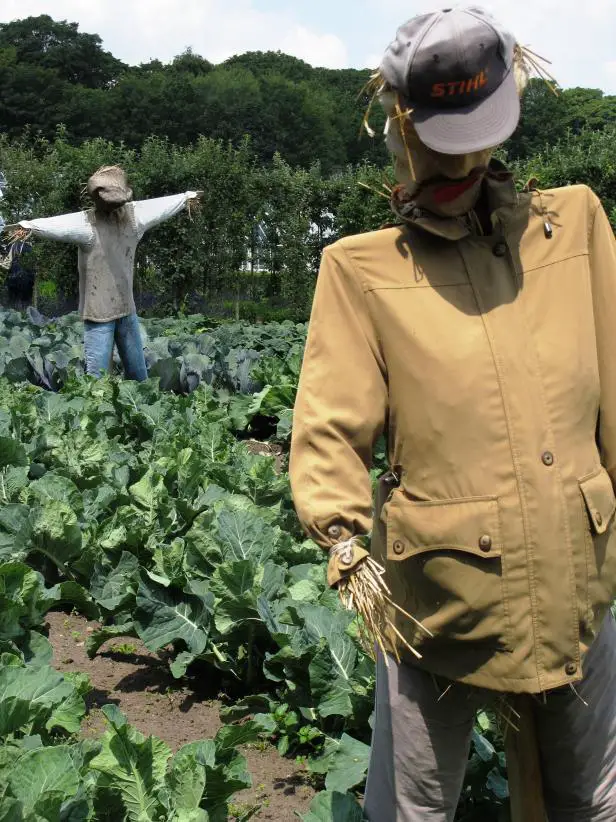 Learn Unique Ways to Use the Scarecrow Ideas: 
We have learned a handful of scarecrow ideas to use in your fall decor and for its actual purpose- driving the crows away from your seeding land. Now, let's go with these scarecrow ideas in a different way.
Here, I will mention some unique ways that incorporate scarecrow designs. Undoubtedly, your kids will love it; your guests will be mesmerized by them. Have a look at them.
Scarecrow cookies:
Is there any child who does not like cookies? is there even any adult with such a taste? NO! So, baking some scarecrow cookies can make you your neighborhood's favorite girl or boy! You can use regular items for cookies.
To make it look like a scarecrow, you can design the eyes, nose, and mouth. Also, you can grow your scarecrow's hair with hardened caramel or other similar items. Give your creative juices a little spice, and enjoy making scarecrow cookies!
Scarecrow sandwich:
After cookies, the next favorite item at home is a sandwich. Whether a busy office goer or a kid with an evening snack craving- a sandwich always steals the show. It is easy to prepare and a tasty-healthy treat for all.
Use veggies and fruits on the sandwich in a way that takes the shape of a scarecrow face. Or you can use different vegetables to make a scarecrow-style structure. I once prepared one with carrots, potatoes, and greens.
Needless to say, the potato was used for the head and chest, while carrots were used to make hands and legs. The greens were looking beautiful as the hair of the scarecrow.
Chalkboard scarecrow art:
People often look for different types of fall chalkboard ideas. You can try drawing scarecrow sketches there.
Your fall chalkboard will look awesome with the unique scarecrow art. You can draw simple scarecrows or draw a combination of veggies and scarecrows.
Scarecrow vegetable tray:
Running out of hay stalks, clay pots, and other items often used for making scarecrows? No Worries! Bring the veggies from the freeze. Cut them and decorate them to make scarecrow designs.
Vegetable platter scarecrow ideas are quite different than regular ideas. Often, the scarecrow does not stand on its feet like other tin-made or popsicle-made designs. Usually, it is spread on a plate depicting a human figure.
Scarecrow dress:
Now, the final feather on the crown! Keep all other scarecrow ideas aside and focus on it once! You can simply design scarecrow dresses if you do not have time to make different scarecrow decor.
From kids' versions to adult dresses- all are available nowadays. You can either customize the dress or buy readymade ones from online stores. You can opt for it as a perfect dress theme for fall get-together parties.
Frequently-Asked Questions:
How do you make a scarecrow unique?
If you want to make your scarecrow look unique, you have to incorporate unique themes. Deviate from the regular scarecrow ideas like a man with a cap or a funny man with a cauldron on his head!
You can use unique themes like army men, fire professionals, aged couples, etc. And while preparing scarecrows, use different types of leaves instead of only hay stalks.
What is the best thing to stuff a scarecrow with? 
You can use items like hay, grasses, wood chips, leaves, etc. Sometimes, people use newspapers. It can make your scarecrow look bad during rainfall. So, it is better to avoid it.
How do you put pants on a scarecrow? 
First, you have o cut a hole in the pant's crotch. And let it go through the vertical post. Tuck it under the shirt. Use pins to make them stable. Button the shirts and look at your well-designed scarecrow structure.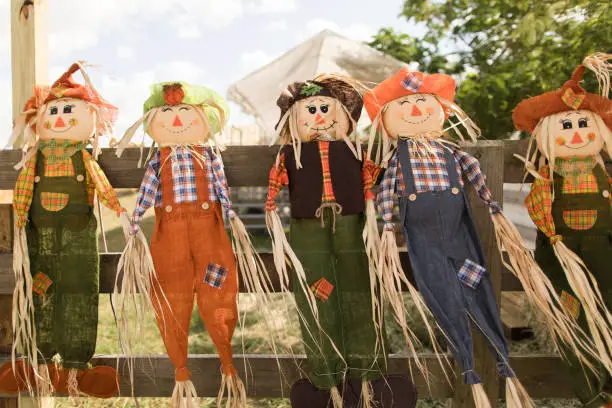 Let's Conclude!
Do you have any more scarecrow ideas? You can always share with us; we will help you get personalized attention and prepare the scarecrow flawlessly. What are you waiting for? Write down your scarecrow ideas below in the comments.