Have you ever tried a dish made of squid? Are you a seafood lover? Haven't you tasted salt and pepper squid yet? Ohh! then let me tell you, you have missed the tastiest dish that became famous today. Squid is a popular seafood and is extensively used today in cooking. It's such a versatile food that can go with anything.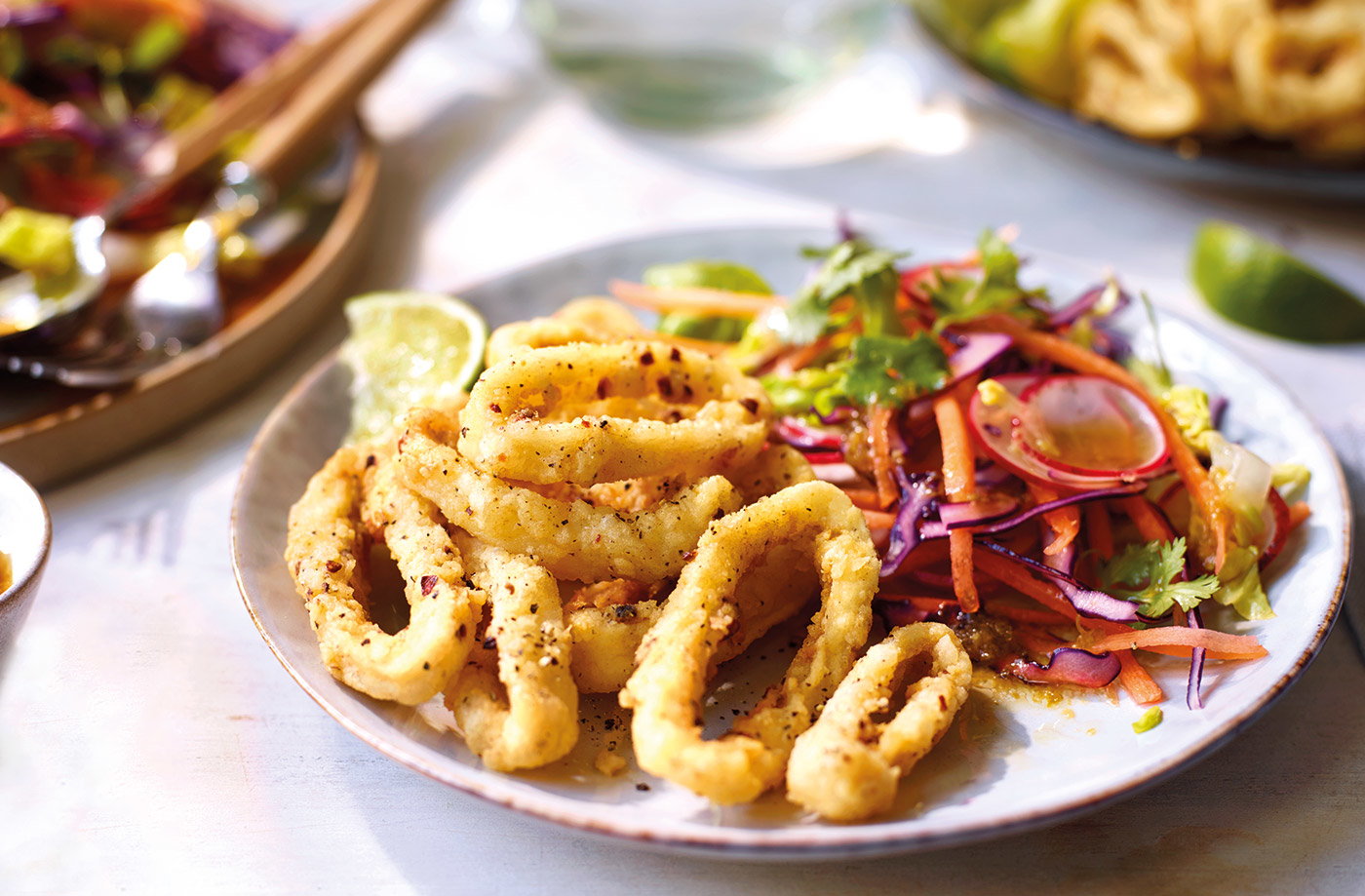 You can make snacks for the main curry using squid. Being tasty, it's even healthy. So you can even make squid snacks for your children. Shallow fry squid and saute it with some veggies and spices; your children would love to have them. One more premium recipe for squid is salt and pepper squid. Here let's discuss the salt and pepper squid recipe.
Salt and pepper squid is a simple and delectable recipe. Any squid lover would love it. Have you tasted fried squids? Then surely you would like this recipe of ours. Salt and pepper squid is a popular appetizer ordered in the restaurant. Salt and pepper squid is a deep-fried crispy aromatic appetizer. It's a simple recipe but needs to be cooked with some tricks to get the perfect taste. You need not be a chef to cook it. But yes, having some cooking knowledge is excellent.
So in this article, we will discuss the ingredients process and share tips on how to cook the perfect salt and pepper squid recipe. Hope you enjoy this recipe while you cook for your family. Have a thorough look at this recipe to prepare a perfect squid dish. Many dishes can be made with squid, but we will discuss the salt and pepper squid recipe in this article.
Salt and Pepper Squid Recipe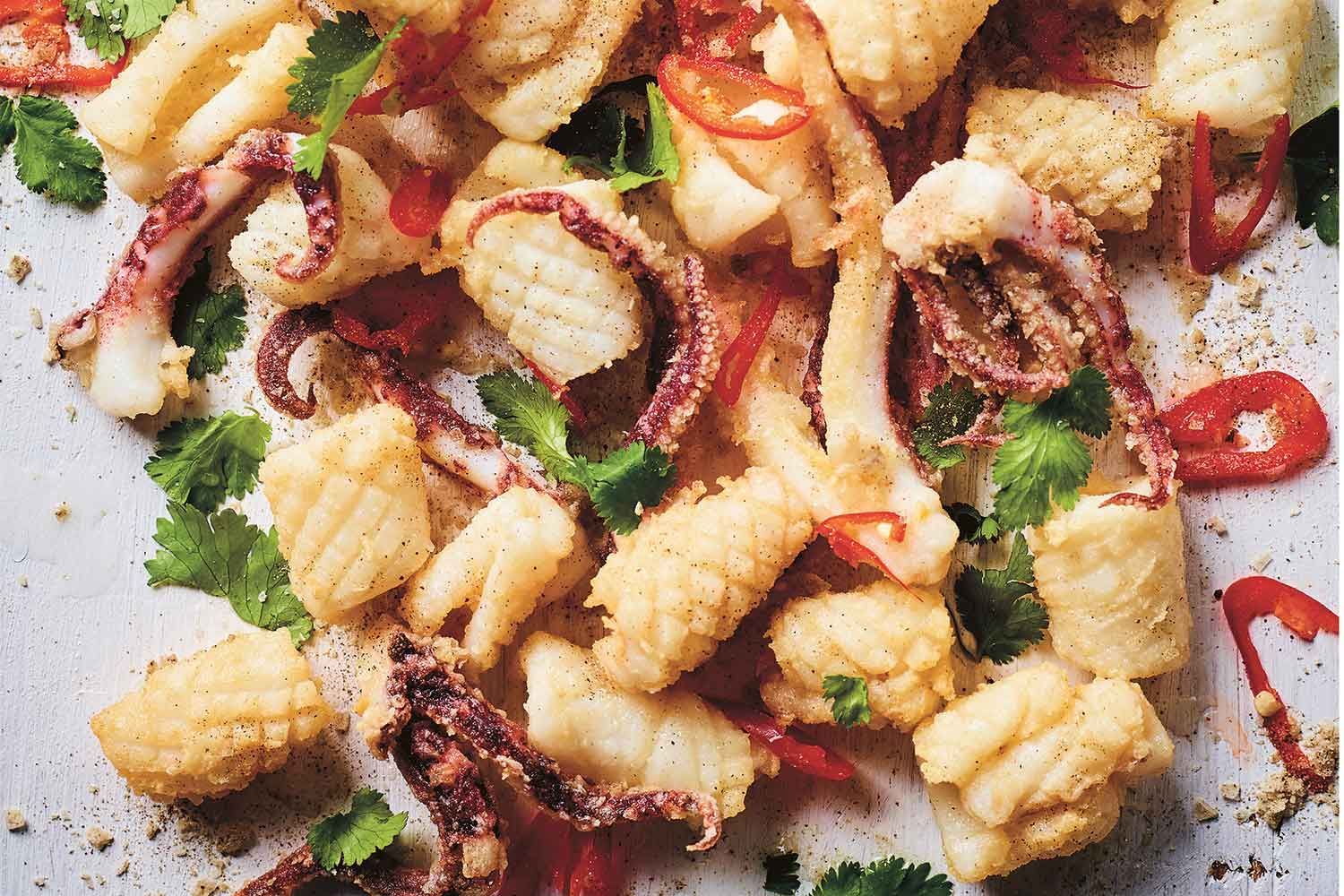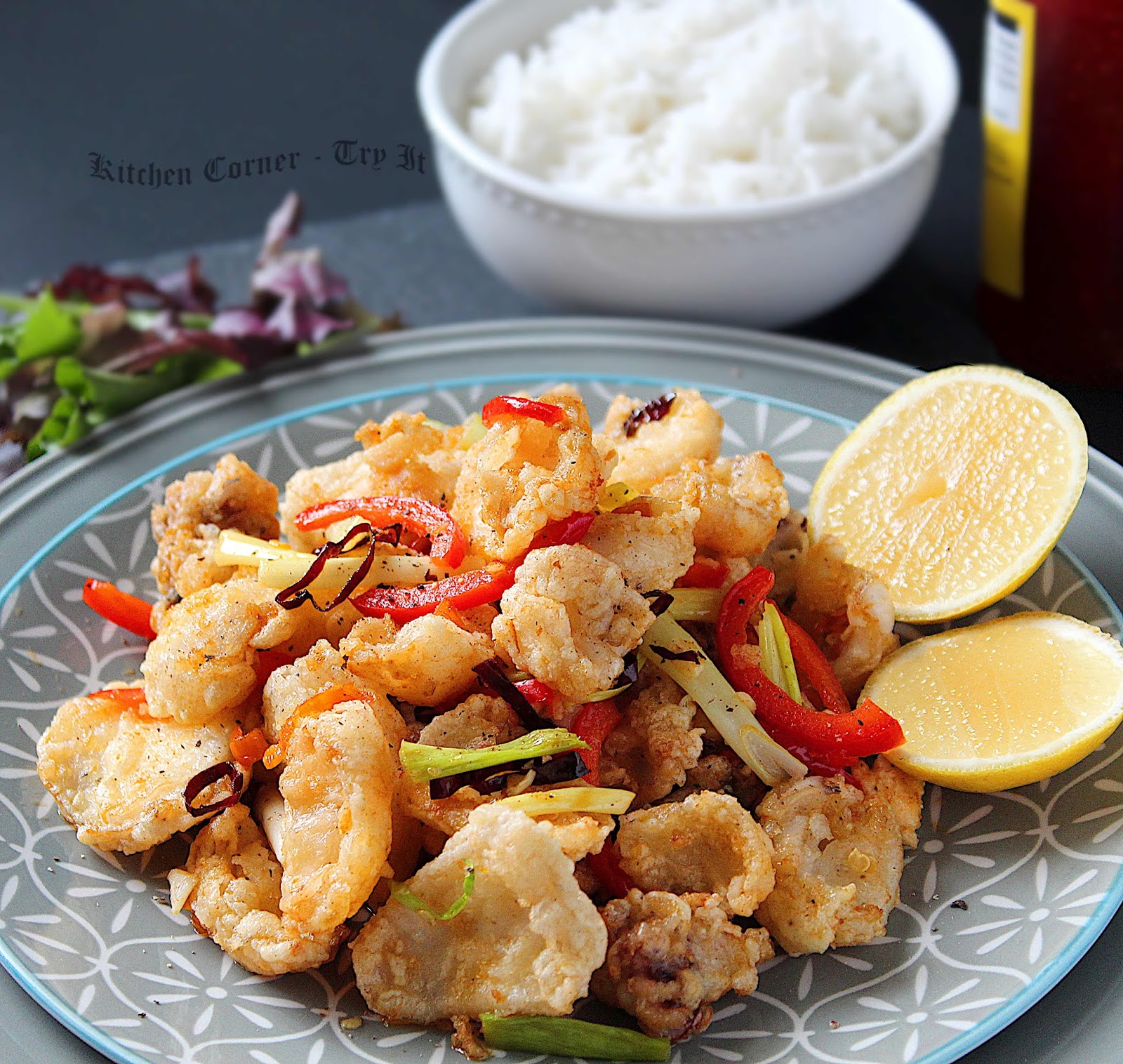 Before going to the procedure to make the mouthwatering recipe of salt and pepper squid, let's make a list of its ingredients. For preparing any recipe, ingredients should be in proper quantity to give the dish the perfect taste and appearance. The ingredients needed for salt and pepper squid.
Ingredients:
Squid – 1 kg
Ginger paste – 1 tsp
Shaoxing wine 1 tbsp
Salt and pepper to taste.
For mixing the flour:
All-purpose flour- 3 tbsp
starch – 3 tbsp
Rice flour – 1 tbsp
Egg – ½ egg ( For the gluten-free recipe, you may use corn starch and rice flour instead of all-purpose flour)
To stir fry:
Garlic pods – 5
Salt as per taste
Sugar – ½ tsp
Pepper powder- ½ tsp
Chinese five-spice powder – ⅓ tsp
To garnish
Green onions,
Thai hot red chilly
Dry red chili
Parsley leaves
Follow the step-by-step process to make restaurant-style salt and pepper squid. Let's start the process.
First, cut the squid into small-sized pieces. Then wash it with cold water and completely dry it. Add a pinch of salt and pepper, a tablespoon of Shaoxing wine, ginger paste, and then mix it well. Leave it for 5-6 minutes to let it marinate. Marination must be done properly so that each piece of squid has the full flavor of the spices.
2. Then, make a batter in a large bowl. Add corn starch, rice flour (gluten-free recipe), all-purpose flour, and mix well. Leave one tbsp of mixed flour for later use. Add the marinated squids to this flour bowl and give a good mix. Whisk half egg and then mix it with the squid pieces.
3. Sprinkle the remaining flour and then toss well. Make sure to remove any excess flour. Shake the pieces and remove excess flour from them.
4. In a pan, heat oil and check its temperature. If it reaches 325° F, it's ready to fry. Put the squid in batches, don't put all pieces at once, or they wouldn't turn out nicely. Turn and fry the squid with a slotted spoon for at least two-three minutes. When it changes color to golden, remove it from oil. Drain them on paper napkins. Fry the remaining squids in the same way.
5. In another pan, add one tablespoon of oil. Add finely crushed garlic and saute it lightly till the raw aroma of garlic disappears. Then add the finely chopped green onions, Thai red chilly, and dry red chili. Saute for a minute. Now comes the time to add the fried squid. Sprinkle salt, pepper, and the five-spice powder. Give it a good mix.
Your salt and pepper squid is ready to serve.
Squeeze a lemon in it before serving if you like the sour taste. But it's up to you. Serve it hot with a few parsley leaves on it. It's completely optional.
Salt and Pepper Squid Recipe – Pro Tips 
There are some tips you must follow while making salt and pepper squid. To get the crunchy, spicy taste of squid, do keep in mind to follow some tips given below.
You may use frozen or fresh squid. It depends on the availability. But try to use fresh squid if it's available. Fresh squid turns crispy after frying, while frozen squid becomes soggy due to water.
2. You can even stir fry grill the squid while cooking salt and pepper squid. It depends on your choice of eating.
3. Prefer using baby squid as its meat is very tender.
4. You can cut squids lengthwise or may even cut them in a round shape. Nothing will affect its taste.
5. Eggs and rice flour give a crunchy, chewy coating. Keep in mind to use them while preparing salt and pepper squid.
6. Don't skip the five-spice powder. These are mainly required for the aromatic flavor and even add extra taste to the recipe. If you want more pepper flavor, you may add more quantity of Sichuan pepper.
7. Thai chili is completely optional. If you don't want something spicier, you may avoid it.
Frequently Asked Questions (FAQs) 
Q1. How can salt and pepper squid taste better?
Add olive oil to the squid while beginning the marination process. It gives an extra taste, and more quantity of spices added, adding strong flavor to it. You can also add Italian seasoning, oregano, and fresh parsley to give your dish a fresh aroma and taste.
Q2. How do you make squid tender?
To tenderize your squid, soak the squid in lemon juice or kiwi fruit juice for at least half an hour before cooking. The acidity helps break down the texture. You can even dip squid in milk, cover it and keep it in the refrigerator overnight.
Q3. Is squid healthy to eat?
Squid is a good source of protein, omega-three fatty acids, calcium, vitamin C, and iron. The squid is healthy because of Omega 3 fatty acids that help maintain heart health, pregnancy health, healthy hair, skin, nails.
Q4. What temperature is needed to cook a squid?
Your oil needs to be heated up to 350 to 365 degrees Fahrenheit. If the oil temperature is low, there are chances of the squid absorbing more oil while frying. In this way, they would become chewy or soggy.
Q5. Can salt and squid be cooked before the party still would taste crunchy?
Yes, you can cook salt and squid before any party or function. Just make sure to reheat it in the microwave before serving your guest. Heating in the microwave brings back the crunchiness in the squid.
Conclusion
Salt and pepper squid is a healthy and tasty dish. It is becoming more popular as it's easy to cook at home. You don't require a chef degree to cook salt and pepper squid. It's becoming popular seafood found in every street restaurant. Here are just a few tips to follow, and you will get the best recipe to eat. Just make sure to use the ingredients in proper measurement and quantity to make a good dish. Every dish is incomplete without proper ingredients.
Above mentioned are all the ingredients needed to make salt and pepper squid. Following the step-by-step process, it's sure you would surely make good salt and pepper squid. Squid is versatile, and multiple recipes can be made out of it. But salt and pepper squid is among the top squid dishes.
The key for perfectly cooked squid is frying them in high oil for two to three minutes. Rice flour and cornstarch add crunchiness to the squid. A proper quantity of salt should be added depending on your taste. If you want an extra spicy, add more pepper to it. This is an impressive dish, perfect for an evening snack. You must give this dish a try. The best thing to top it off is an orange cake that rejuvenates in your mouth. Check out this recipe.
You would surely love its taste. You may even have it with some sauce if you want. If you prefer a healthy option, you may grill the squid instead of deep-frying them. Do not skip five spices, as salt and pepper squid is incomplete and tasteless without it. Hope you liked the recipe shared above and would surely try once. Enjoy the salt and pepper squid with the recipe given above.