How to wear an oversized outfit? This question has been asked several times. The women's oversized Blazer Outfit has gained popularity and has been trending since last year. If you are someone who loves oversized Blazers as well but doesn't know how to style your outfit, then this article is for you.
Various ways are using which you can style your Oversized Blazer Outfit. Whether you prefer wearing your oversized blazer to your workplace, on a date night, or for a casual outing, all your needs will be fulfilled. In this article, we have provided you with the best-oversized Blazer Outfit Ideas! Let's find out about them one by one.
12 Best Oversized Blazer Outfit Ideas for Women.
1- Oversized Blazers with jeans and Heels.
You will find a lot of oversized boyfriend blazers online. If you are fond of your boyfriend's blazers, you can style yours. You can pair your loose blazer with normal jeans or loose-fit jeans.
Moreover, you can add heels to enhance your look with an Oversized Blazer Outfit. Ankle strap heels will make your outfit look sexier!
2- Oversized Blazers with a skirt set or dress.
This option is for you if you prefer wearing a matching set. You can prefer wearing a coordinating skirt set or dress in an oversized blazer.
This oversized blazer outfit is not for shy women who feel uncomfortable wearing shorts or dresses. If you are bold, then this stylish outfit will surely captivate your attention.
3- Oversized Blazer with a Bodycon dress.
This is the most adorable way to wear an oversized blazer. This Oversized Blazer Outfit is all about wearing two different clothing pieces and seeing how they look great with each other.
Bodycon dresses look very sexy, and almost every woman prefers wearing bodycon dresses as casual or party wears outfits. Adding an oversized blazer to your bodycon dress is enough to make you look chic and cool.
4- Oversized Blazer Outfit with Bike Shorts.
The bike shorts trend is rising daily and will surely last for a long time. So, you must give it a try with your oversized blazer outfit.
You could go for an oversized blazer along with combat boots. You can even go for strappy heels in case of a date night. An oversized yellow blazer with black bike shorts would make a great combination. So don't think too much; go for it.
5- Oversized Blazer with a Turtle neck top and short skirts.
Turtleneck looks classic, and every woman must have it in her wardrobe. You should go for a turtleneck top with oversized blazers, but if you prefer not to limit yourself to full-coverage clothing pieces, you can add a short skirt for a sexy vibe!
Finally, complete your oversized blazer outfit with a pair of shoes as per your choice. You can also go for high-knee boots as well as strappy heels.
6- Oversized Blazer with a crop top.
You can prefer wearing an oversized blazer, decent jeans, and a crop top. This simple oversized blazer outfit looks very decent and leaves a great impact!
Moreover, just adding one accessory would transform you from a boring girl to a chic. Just add a statement bag and complete your look.
7- Oversized Blazer with shoes.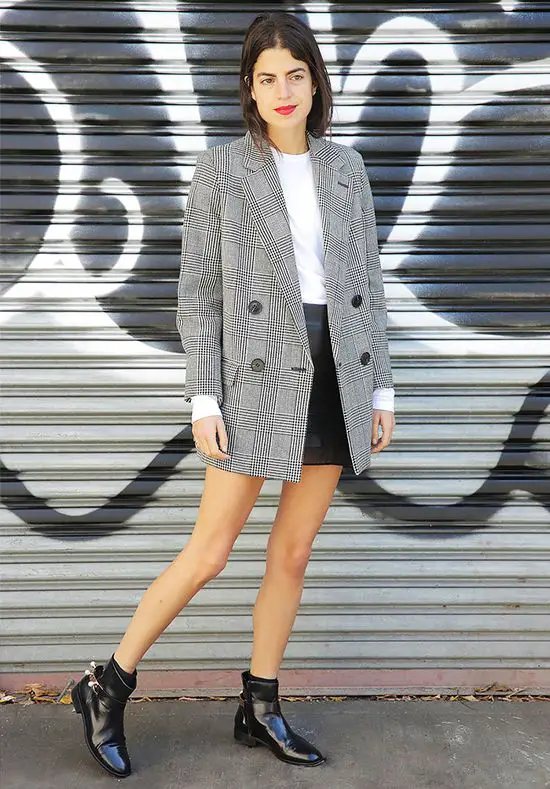 It's not mandatory that you need to look too stylish; a decent look is really good as well. So, let your shoes make the noise.
Wear your oversized blazer with shoes or statement boots, and try to keep the rest of your outfit simple and decent, and you will be ready with your oversized blazer outfit.
8- Oversized Blazer in a casual business style.
People always think dressing for a workplace is boring, but that is not true. You can make your business look cool and attractive as numerous oversized blazers are available with work prints and fits.
You could prefer wearing oversized boyfriend blazers of neutral color, fitted pants, and a matching sweater for a business casual look. You will be all set with your oversized blazer outfit.
9- Oversized Blazer with shorts.
This oversized blazer outfit is another county look. You must prefer wearing your favorite boyfriend's oversized blazer with denim shorts and knee-high boots to look elegant.
Moreover, you can add a few accessories like your favorite necklace and belt to enhance your oversized blazer outfit.
10- Oversized Blazer dress.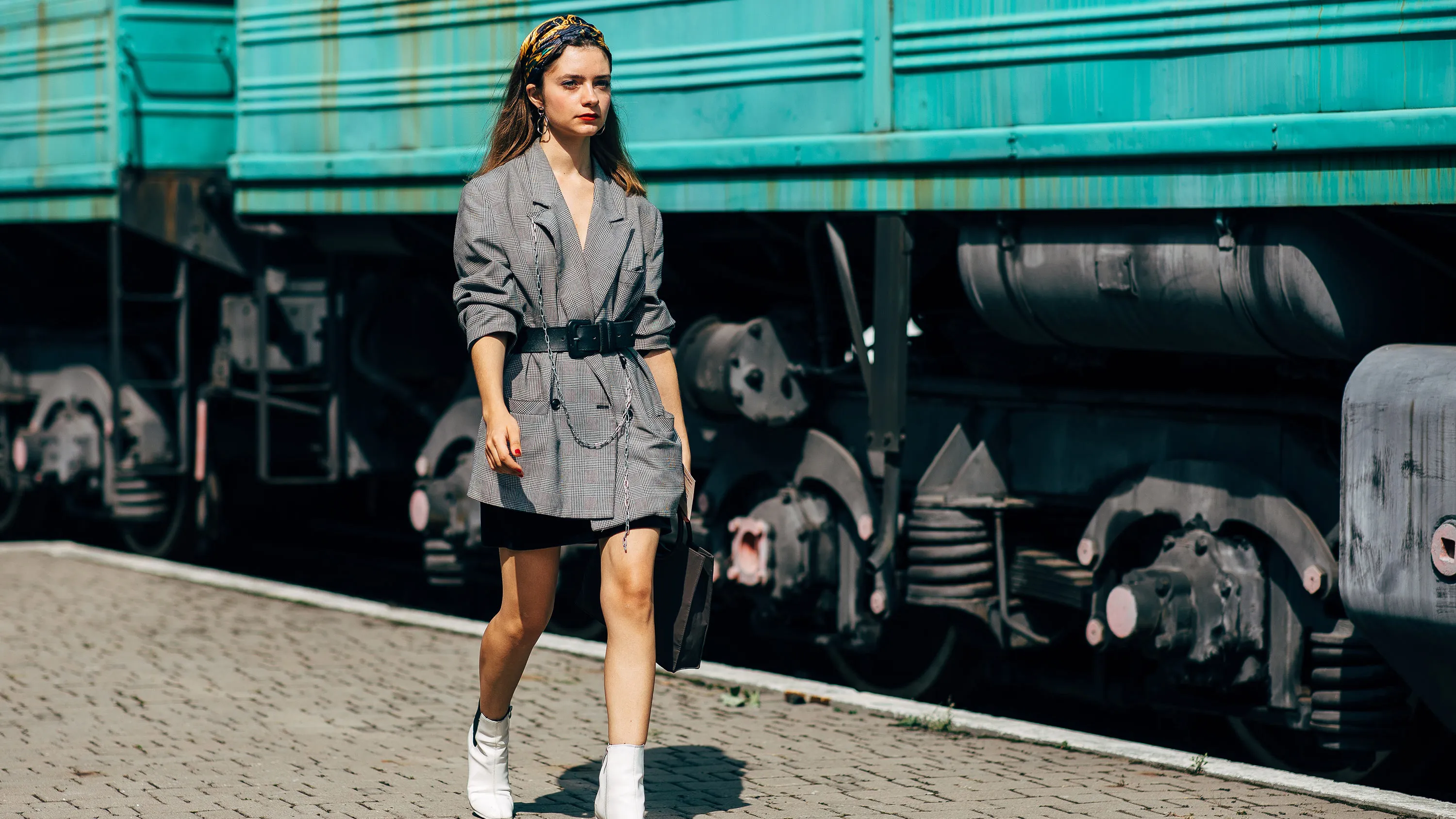 The oversized Blazer dress is another fashion trend. If you wear an Oversized Blazer dress, you will need nothing else. You will feel comfortable wearing this dress, adding to your confidence.
You can also wear an oversized blazer outfit dress as a traditional dress by simply using one of your belts as per your choice.
11- Oversized Blazer Suit.
The oversized Blazer looks perfect as a suit. To make your oversized blazer outfit more versatile, you can go for accessories to add a fun element to your style and make it appear modern.
You can even go for the latest fashion shoes to give a modern look to your outfit. Also, try to tie a belt on your trousers or pants if your outfit has become baggy.
12- Oversized Blazer with baggy jeans.
This trend would surely become everyone's favorite. You must try wearing your oversized blazer with baggy jeans. This oversized blazer outfit would be a great option, especially for skinny girls.
Oversized Blazers look great with baggy jeans. But you must be aware of your proportions. So, try this trendy outfit to look all modern and cool.
CONCLUSION
Oversized Blazers can turn your laziest outfits to be all cool and effortless. The oversized blazer trend is continuously rising daily, and wearing them is much easier and quicker than you would think. 
You can wear these blazers in different ways throughout the year, and you will feel relaxed and comfortable. If you find it difficult to style your oversized blazer outfit, we have provided you with some great ideas and tips that will surely help you to begin. I hope this article proved useful to you.