Old School Tattoos- Best Ideas To Try Out!
Traditional tattoos or Old school tattoos have long been popular, with good reason. The old school tattoo style has developed gradually over time while also adhering to its roots. A tattoo is meant to be on your body forever, so it is no astonishment pioneer artists used deep symbolism as the foundation of their designs. By obtaining old school tattoos, you are honoring the art form's past and earning a piece with profound symbolic significance.
Old School Tattoos are tattoo designs that utilize very few color pallets. This comprises primary colors such as red, yellow, and blue. Later on, Purple, Black, and Green were also introduced to it.
Well-known tattoo artist Norman Keith Collins (widely popular as Sailor Jerry) formed the old-school tattoo styles trendy. Sailor Jerry passed away in 1973, but his tattoo designs were so prevalent that even 50 years following his death, people still get tattoos with his designs.
One beautiful fact regarding old school tattoos is that these formats always appear bold and adorable. Old school tattoos are referred to as timeless. While these tattoo designs are trendy among older men, you will find them often inked on by younger people.
This article sheds light on various popular Old school tattoos and their meaning or significance. You will also learn about different old school tattoo types.
Popular Old School Tattoo Designs
Old school tattoos can have various meanings associated with similar tattoos, and that will be based on the design's context. However, one Popular significance of all old-school tattoos will be that they cherish art. Numerous tattoo artists approve that old-school tattooing is the most authentic art of tattooing as it flawlessly balances the implementation of tattoo needles and the hand pricking strategy.
There are a few old-school tattoos that you can attempt. Some of the most popular tattoos are:
1. Old School tattoos on sleeves– Full sleeve tattoos grew incredibly popular during world war two. It was primarily inked on Sailors stationed on faraway remote islands. Sailors those days would spend a lot of time on literature and art while spending the tedious time at sea. They inked their arms using different tattoos that would usually result from the loneliness they experienced at sea.
This led to full sleeve tattoos that grew immensely popular among the general public once they got to know war heroes inked with them. As the tattoo artist on the ship had restricted options for inking a tattoo, they essentially and primarily used fewer colors. This is where the old school tattoos developed and the art popularized.
2. Old School Flower Tattoos – Flowers are prevalent tattoo arts from ancient times. However, it was an old school catch on the flower tattoos that provided them solely new popularity status. People like trying old school tattoos with roses and lilies.
3. Old School Jaguar Tattoos – tattoos with the Wild animal have always been famous. When discussing wild animals, people usually stick to tiger, lion, leopard, or elephant tattoos. Nevertheless, this is not the situation for old-school tattoos designs. Sailor jerry gave rise to the old-school jaguar tattoo s new direction and made it so famous that people barely pick other wild animals in old-school style.
4. Old School Compass tattoos – as the lineage of Old school tattoos are from the sailors or navy, it was evident to have old school tattoos, including compasses. Compass is among the most crucial devices that benefit the sailor in navigating through the rough sea.
5. Old School Clock tattoos – Time was essential while withstanding enormous at sea. A Clock tattoo Suggests that the individual honors the time and loves every second of their life to the maximum potential for eternity.
6. Old School Pin-Up Girl Tattoos- Kudos to Rita Hayworth, better Davis, Marilyn Monroe, and Jayne Mansfield for diving us the pin-up girl moment in Hollywood. This arose in the famous pin-up girl tattoos, prominent even for the next eight decades of their origin in the tattooing town.
Most people love to have pin-up girl tattoos, and when people look for designs online, they usually find the tattoos inked in old school designs. This is because pin-up girl tattoos exemplify Hollywood's black and white period. Thus, such art looks more significant when done in the old school style.
7. Old School biker Tattoos – Biker tattoos are popular and have undergone many transitions. You will now see biker tattoos done in almost all styles possible, but none of them will look as graceful as the old-school version.
Classic Old School Tattoos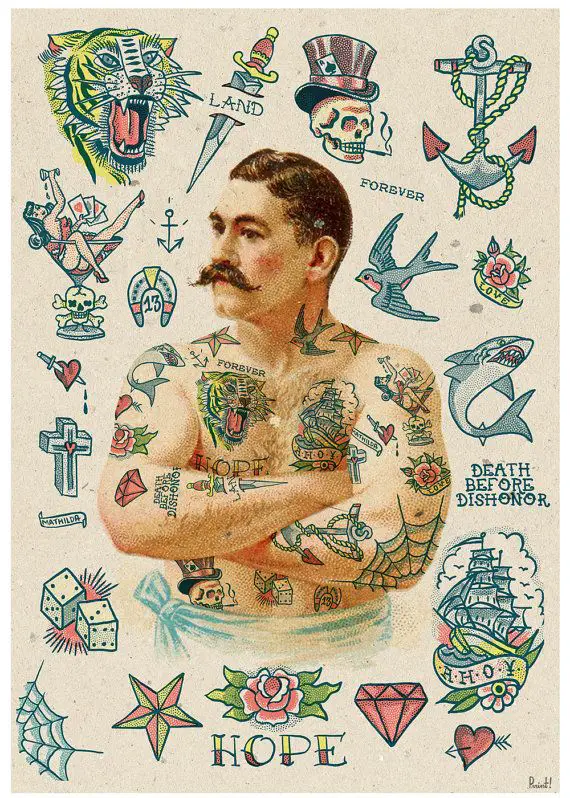 Here are a few of the classic old school tattoo styles, the ones you surely want to know before you jump into tattoo design. If you are looking for the ideal tattoo design, you might not utilize the exact terminology of what you desire. Still, in all probability, you'll have any of these in a sense already. Wondering how exactly you wish your ideal tattoo to look is tough, but these classic old school tattoos below will help you eliminate some of the options.
Here are the most popular, classic old school tattoos:
8. Classic Americana Old School Tattoos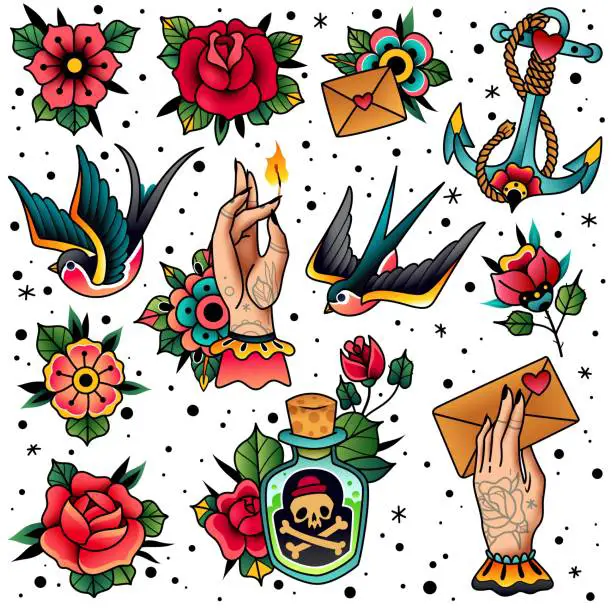 These might be the only type of tattoo you imagine of, an old-school style characterized by bold outlines and the usage of identical colors and imagery. They are tied closely to the sea and marine imagery, fierce predatory animals, female pinup figures, or a combination of hearts, daggers, and roses. This tattoo design was also popularized by Norman Collins in the 1930s but is a constant favorite today.
9. New school
New School tattoos are similar to a crazy comic book inked on your body. Jesse Smith's take is quite popular in this category, representing extraordinary imagined worlds filled with chaos and repeatedly caricatured creatures in striking colors.
10. Japanese Old School tattoos
There are centuries of records for tattooing art all over the globe. One that has preserved its popularity and vogue is the Japanese-style Irezumi. Various tattoo artists still construct classic and new takes on these traditional masterpieces. And is a genre popular for broad images enfolding the legs, arms, and back?
11. Black and grey
Black and grey pictures are not restricted by subject issue, displaying everything realistically in different shades of grey, initially done by wetting down black ink to form a different spectrum of shades.
12. Portraiture
Shane O'Neill shows how realistic a person can get with tattoos inking his portraiture, a substitute-set of the original genre (which is simply like it sounds—realistic manifests of imagery). In the absence of the black outlines of classic styles, artists can achieve eerily authentic renditions of individuals both in color and grey and black.
13. Stick and poke Old School Tattoos
Artist Slowerblack has displayed the probabilities of stick-n-poke, in which the artist uses only one needle to form simple designs. Newly known for DIY tattoo-ers, with the help of a professional, this art will lead to magical levels, marked by thick and bold stripes, most often in simple black with small decorative patterns.
14. Realism
Realistic tattoos can illustrate everything from stunning scenery to animals and humans. Whether multicolored or in black and white, such classic old school tattoos are ideal if there is anything particular you wish to display. Realistic tattoos are difficult to get flawlessly suitable, and it requires a skilled tattoo artist or professional tattoo designer to form a realistic-looking tattoo with tremendous visual impact.
15. Blackwork Old School Tattoos
Blackwork is another tattoo style initially emanated from the earliest tribal tattoos, inked using thick and fierce black lines in a combination of geometric shapes. But artists are still taking this genre to entirely levels, mixing vivid patterns and imagery from all sorts of bases into fascinating pieces stirring in different forms throughout the body.
16. Biomechanical
Usually freehanded, Biomechanical tattoos adjust to the remarkable flow of an individual's body, indicated to imitate machinery that may be concealed within the skin. It's challenging to forget Roman Abrego's name when you talk about these bad boys—his mechanical-inspired and alien image often covers the legs and arms of the clients.
17. Geometric Old School tattoos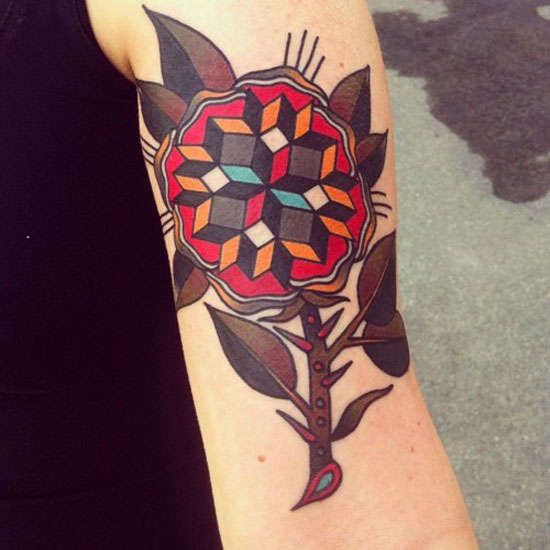 Geometric tattoos are prevalent right now and can be genuinely timeless when inked right. They usually show geometric details only or a combination of organic (often flower-patterned or natural)  and geometric elements. The difference between the clear, sharp lines of such old school tattoos and the body's bends helps them stand out magnificently.
18. Realistic Trash Polka
Realistic Trash Polka was formed by Germany's famous Buena Vista Tattoo Club. It is started by Volko Merschky and Simone Plaff. It can be immediately identified for a collage-like structure, detailed and sampling from printed fabrics—from paint splashes to type-writing and photography to hand-writing.
19. Surrealism Old school Tattoos
The skill genre of surrealism provides an artist with loads of ideas and material to work with. The creative style may differ, the subject may shift, but as long as the spectator comes out of the adventure with that sensation of sublime fantasy, the tattoo artist has fulfilled their goal.
Traditional Old School Tattoos
Traditional old school tattoos have long been prevalent, with great reason. The traditional old tattoos have evolved naturally over time while adhering to their roots. A tattoo is intended to be on you permanently, so it's no surprise pioneer artists tried symbolism as the foundation of their designs. By inking a traditional tattoo, you are not just honoring the past of the tattoo art form, but you are also inking a piece with solid symbolic value to your body.
20. Sleeve Old School Tattoos
A traditional old-school sleeve is a compilation of separate traditional styled components that cover an entire limb of your body. This kind of sleeve is known as a 'patchwork' sleeve. It has a similar concept to the quilting tradition, where a few small pieces come together to make up a more significant piece of skill. This is where the title comes from. Typically, there will be tiny voids of space (skin) in a standard sleeve. It possesses designs of several different sizing's from hand-sized to small pieces or  'filler.'
Contrasting to different tattoo sleeves is that a patchwork sleeve is not limited to a single tattoo design or artist. In contrast, like Japanese, different styles are usually achieved by the same tattoo artist and are one enormous design that needs a background.
21. Flash Old School Tattoos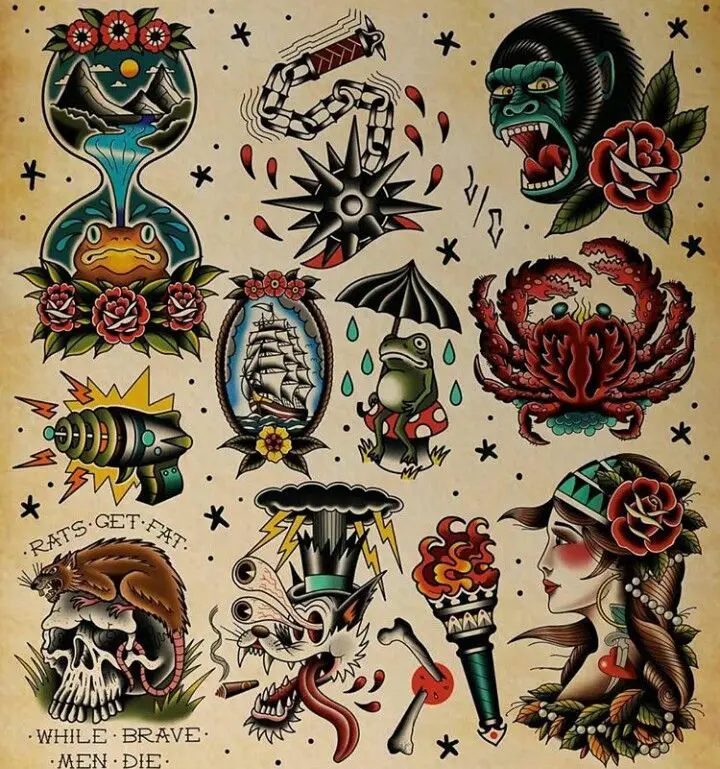 Traditional tattoo flashes are usually inspired by legendary tattoo artists such as Sailor Jerry, Bert Grimm, George Burchett. Intentionally designed to decorate the walls of the tattoo shops, flash designs are usually done in sheets of a few hand-painted creations and act as an outlet for tattoo artists to pull the pieces they would like to ink the most. More frequently than not, tattoo flash can likewise deliver inspiration to the clients walking in off the street and guide them in the correct direction on what looks like a tattoo.
Each year, we have a goodwill flash day to honor our birthday. This is one day where all artists will create tattoo flash sheets, and clients will walk down, select the sheet, and have their bodies tattooed. All returns from the day are delivered to the charity of your choice. It's the ideal chance to get your part of custom flash (for a little less cost while sustaining a good cause). Keep your eyes on your social media to determine when the next charity flash will be held and save the date for your social cause.
22. Swallow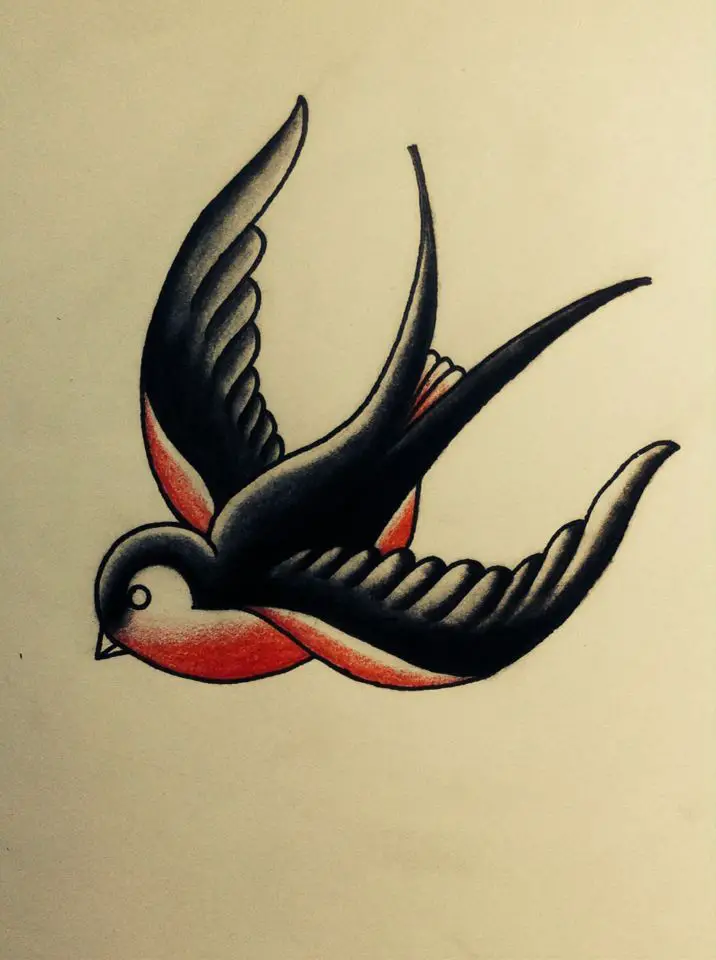 Sailors and swallows have so much in common. Swallows, not like other birds, manage to come back to the same nesting area consistently after journeying extended areas in harsh conditions, just like a sailor at sea. Usually seen in pairs, it is believed that sailors will get a single swallow tattoo to denote setting sail and would ink the other after their return home.
Likewise, inking one or more swallow tattoos was observed to reflect a person's sailing victory. Each tattoo achieved was a contemplation of the drastic distances the sailor had crossed. Not only this swallow tattoo was seen as an illustration of one's success at sea, but there was also a legend that if the sailor were to surge on the journey if they got the tattoo, the swallow would lift their spirit to heaven.
23. Shark Old School Tattoos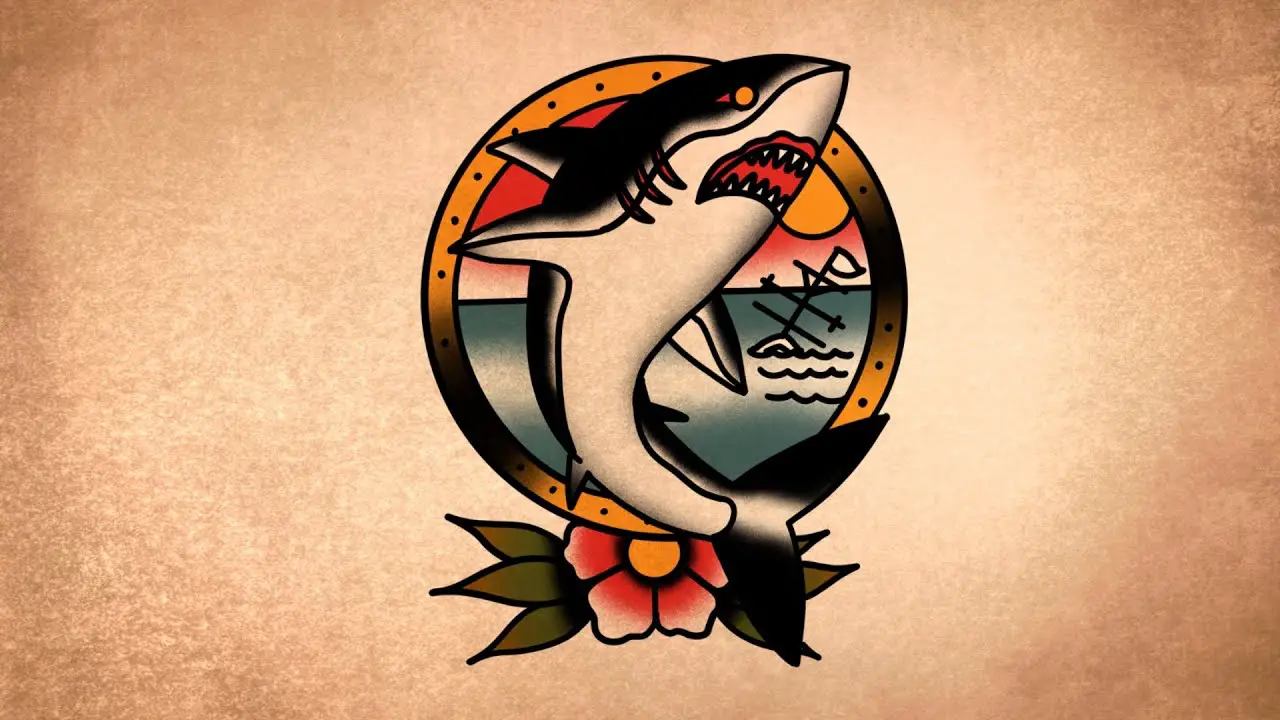 Sailors were frequently revealed to sharks on their journeys at sea. By inking a shark tattoo, it was presumed to shield you from the dangers of the sea. Sharks do not have any biological predators, which illustrates an unwillingness to oppress others. Sharks have a powerful sense of calm, yet they are frequently on the move or rarely rest. This illustrates undying determination and an ' always keep moving forward' perspective for life and the continuing challenges one might encounter. Whether it is inked to motivate you or to represent a strong person in life, the shark is a pretty squelchy tattoo to get accomplished!
24. Ship Old School Tattoos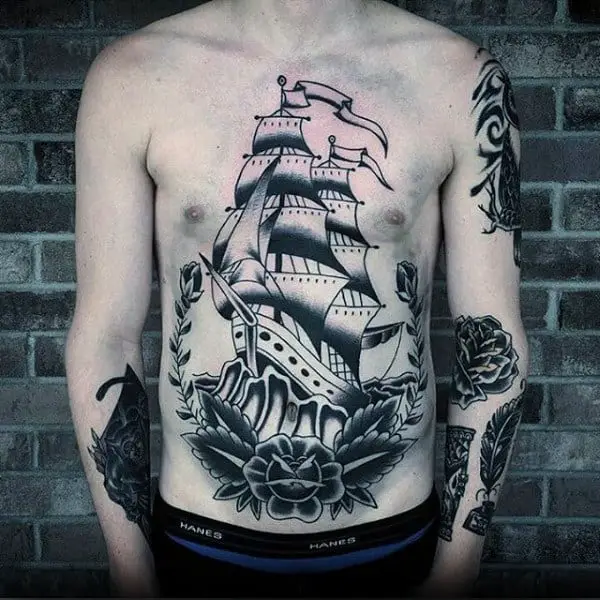 Also dropping within the Maritime harmony is the imagery of a yacht or ship. This, of course, is a large portion of a sailor's life as it symbolizes freedom. Once they set sail, no limitations are holding you back. As sailors are explorers, nothing can represent adventure more than the enormous tool utilized to accomplish their discoveries and explorations.
Likewise, ships also possess a homely nature associated with them. This vessel illustrated one's home away from land, and a means to get back home when the time arrived.
While illustrating their close association and individuality towards their house, this tattoo's significance also reveals a love for visiting places. It exhibits the wanderlust spirit of the wearer.
25. Anchor Old School Tattoos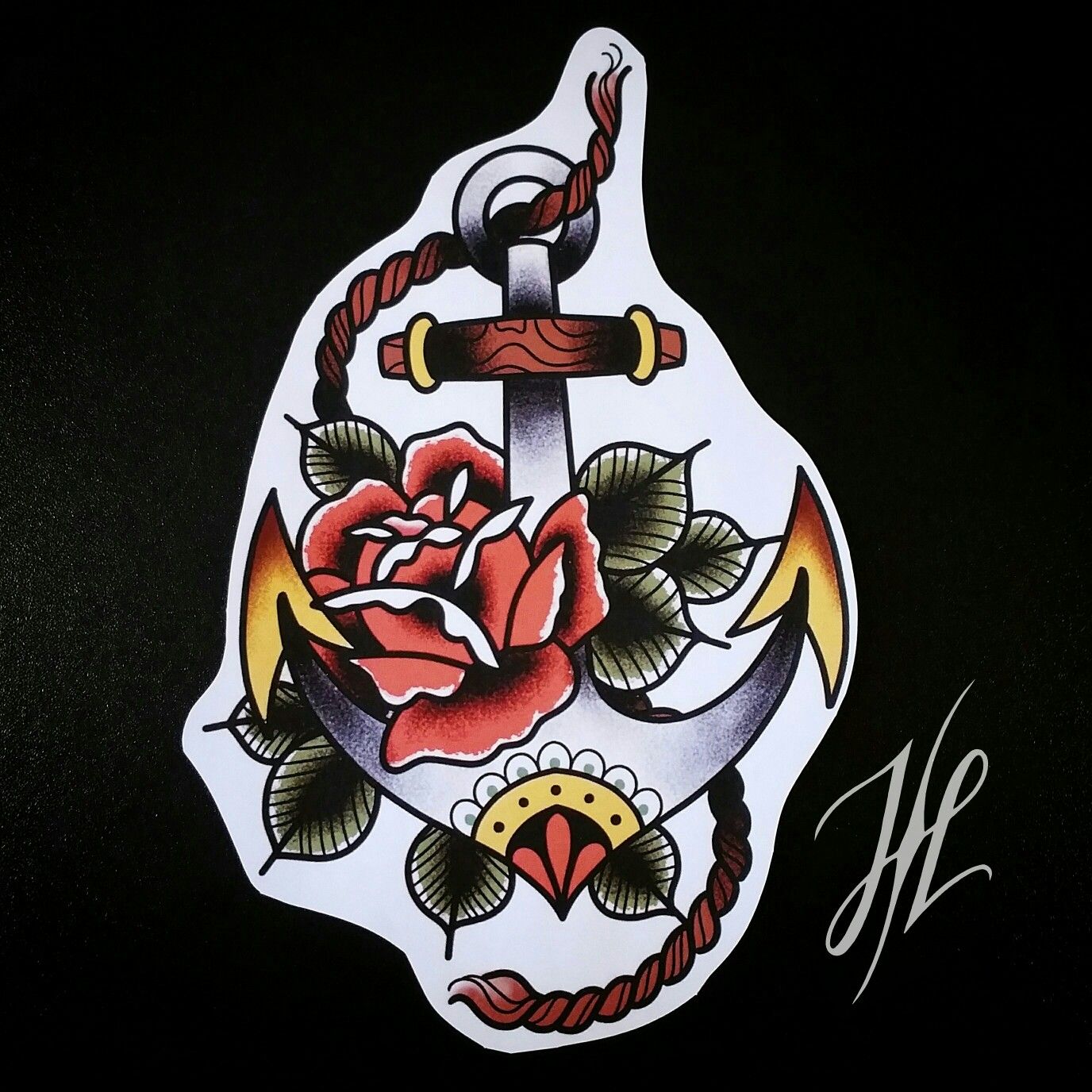 The anchor's significance is one of the most thought-about in tattoo designs. As the anchor stops a ship from sinking or drifting away, it describes stability and the leveled nature of one's character. This might be something that someone notices when they have it tattooed, or like a person they wish their tattoo to show.
Standard anchor designs usually have sections reading the name of a treasured one, are mentioned within a scene, or are matched with another standard motif to build contrast.
26. Heart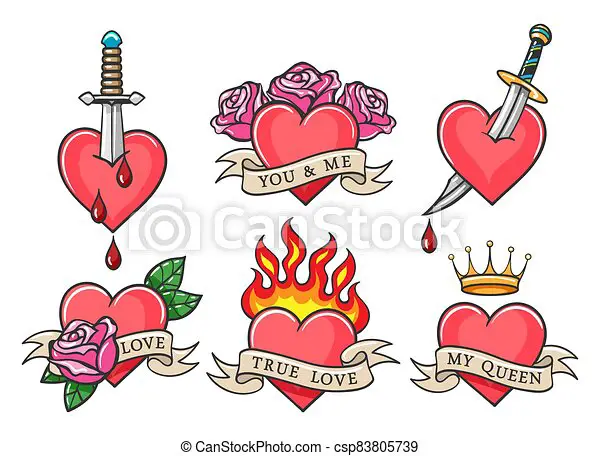 You are more inclined to see the layout of a love heart shape in traditional old school tattoos imagery, as this is highly symbolic of the sentiment instead of the anatomical organ.
The heart was also emanated from the sailors. There was constantly a risk that you might not make it home when you got on a voyage. Usually away from home for months at a time, a heart tattoo meant to keep people you looked after about most with you in the most challenging times. Occasionally titled using banners and different times on their own, this layout takes the impression of wearing the heart on your sleeve rather directly.
Often you will notice the tattoo design of a crying heart, which is usually a reflection to show a broken heart. Heart's imagery with daggers is also suggestive of this. Although you do not have to be broken or sad to get this stunning image tattooed on your hand, it can also remind you to make it through heartbreak and emerge out stronger on the different side.
27. Dagger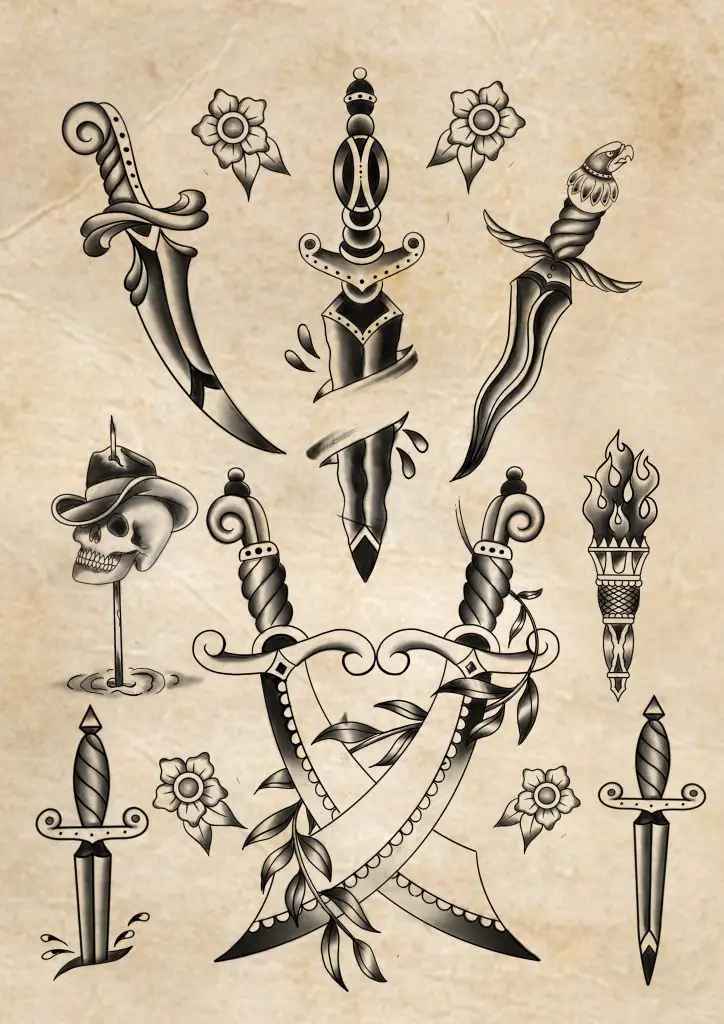 The significance of Traditional old school tattoos with daggers is the one wearing the piece. On its own, a dagger might demonstrate both positive and negative experiences and qualities. This is seen via the meaning of feeling deceived or suffering loss. However, a dagger may also be seen to indicate the personal aspect of bravery or inking it as 'protection.'
Much similar to other Traditional tattoo arts, it can s based on what's inked with them to discover their significance. When inked with other images, the dagger juxtaposes the bad and good that we confront in life. For instance, you will see different traditional layouts of a rose inked with a dagger, which shows both beauty and suffering or affection and hate.
28. Skull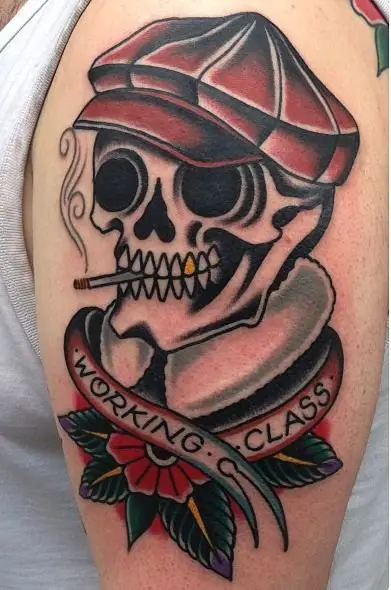 opposite to what one might reckon, the skull indicates something a bit less gloomy than a curiosity in the dead. It will be on your body for life when you ink a tattoo. You have devoted to this design till you perish, so it is no surprise that skulls are often tattooed to depict a tattoo's belief alone.
Inking old school tattoos with skull imagery accentuates the 'you only live once' mood and the capability to overcome one of the most massive fears of all, loss or death.
Likewise, skulls can be viewed as a tribute to the loop of life and its eternal nature – for each death, and there is a new life to appear.
29. Snake Old School Tattoos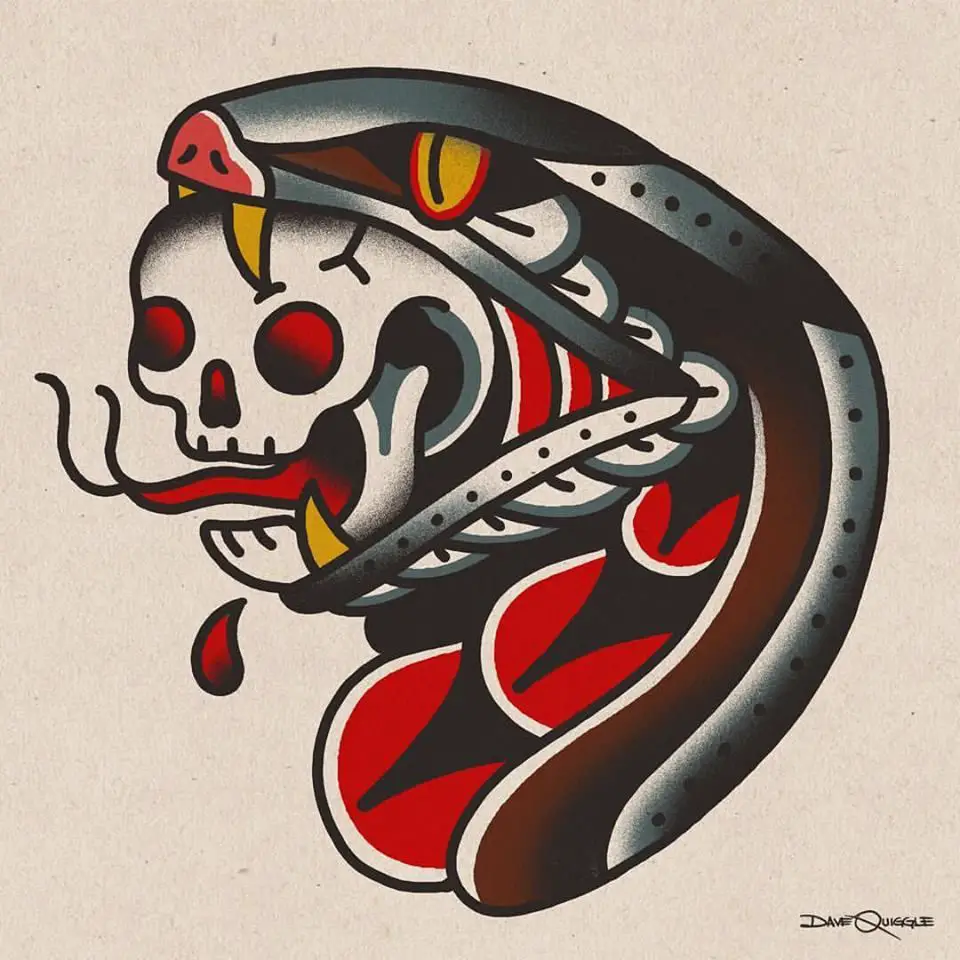 The snake as a creature is highly flexible and vital. Usually taking on a target a lot larger than itself, the snake's endurance comes in its brainpower (and venom). When viewed on their own, Snake tattoos are usually drawn in a spiral position indicating a "do not mess with me" kind of attitude. This is because of the idea that when touched by others, they can strike at any time.
When inked with other animals, they are inked more of a fighting position in a war depicting wit vs. brawn and the possibility that cunningness can overcome after all.
Snakes are also inclined to shed and arise with new skin. This can be viewed as a symbol of rebirth. The impression that something, in essence, can reflect our attitudes or experiences is a fresh theme when it comes to tattooing subject matter.
30. Butterfly Old School tattoos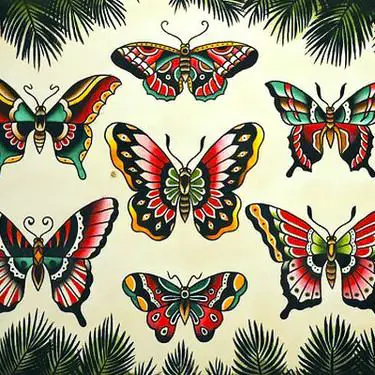 As tattoo layouts are usually inspired by the world surrounding you, it is no surprise why this bright and gorgeous insect found its spot in the famous traditional old school tattoos list. Along with the magnificence being essential in its own right, the butterfly's metamorphosis also makes them unique symbolically. As butterflies go through metamorphosis (caterpillar – cocoon – butterfly), this tattoo can indicate one getting into their shape and having a personality of reinvention.
A butterfly tattoo can also indicate having a new start and being led free, whether from a problematic relationship.
31. Eagle Old School Tattoos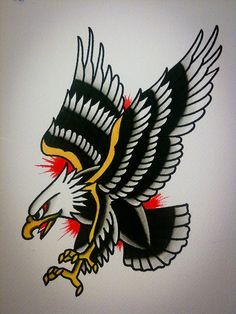 As one of the Primary symbols of America, eagle old school tattoos were initially seen as a symbol of travel or patriotism. As a land of the free and chance, a tattoo of an eagle can showcase everything you can achieve whatever you set your mind to.
Also, an eagle raids its prey from above the sky, is very smart, and is seen as the 'king of the skies.' By inking an eagle tattoo, you may be exemplifying these kinds of characteristics that you view in yourself.
Eagles are ethical and spiritual and have hidden meaning within original American culture. You usually see them pop up in various forms of imagery throughout the world's history which shows that this tattoo will be a classic for eternity!
32. Wolf Old School Tattoos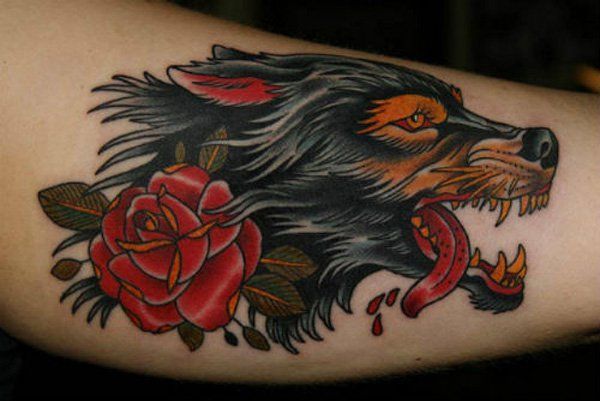 Wolves are known to travel in packs and are highly loyal as animals. They are intense, work jointly and depict a 'no man left behind' personality. A wolf tattoo can signify one has a powerful family organization and are highly protective of their beloved ones.
Wolves also possess a powerful preponderance in Native American culture, where they were believed to as guiding spirits on which path to walk on to next. This is the symbolism of us longing a leadership and hierarchy. By inking a tattoo of a wolf, it will showcase someone valuable to you or who you look up to.
33. Owl Old School tattoos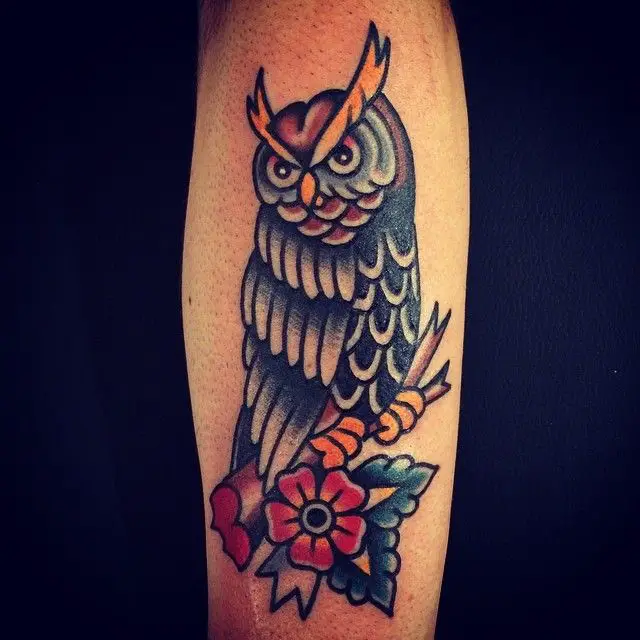 The owl unfailingly pops up amongst diverse cultures throughout the globe and holds uniform symbolic significance throughout history. As a raw watcher, the owl is believed to be the 'wisest' creature in the animal kingdom. This is reflected in someone who aspires to absorb knowledge, is trained, and is a great listener. Whether inking an owl tattoo indicates this or is a reminder for you to do so often, it will invariably reveal a  hunger or craving to learn.
Owls are nocturnal animals in nature, and numerous people uncover commonalities in this with their resting behavior and patterns. So if you are a wise 'night owl,' this may be the ideal tattoo for you.
34. Gypsy Old School Tattoos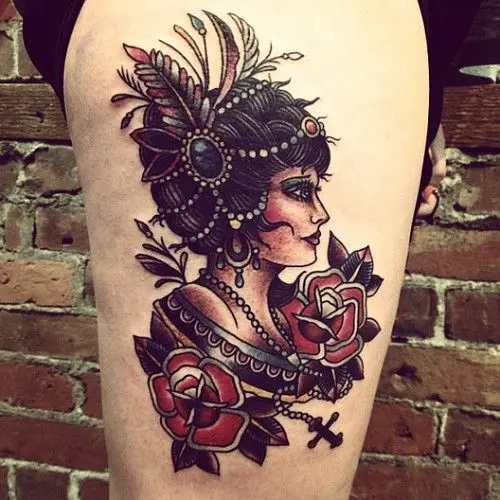 Gypsy women are usually seen in standard tattoo flash, which is usually to showcase their aspects more than anything else. Gypsies are generally free spirits and nomads. The women especially have a stature for being tough-willed and gorgeous. Some were also believed to possess the capability to see the future and suggest spirituality.
By inking a piece of a gypsy, it can be symbolic of having a robust, bold lady in your life, getting in touch with the spiritual side, or simply typically having a wanderlust essence.
35. Panther Old School Tattoos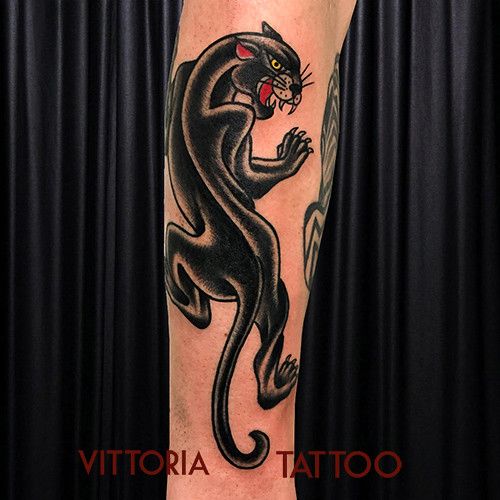 A panther is for any giant cat with a melanic black coat not concerning the species. They are pretty unusual in the natural realm, and each is extraordinary. The panther is a highly famous tattoo design as it exemplifies someone who possesses a fierce and strong character. Whether that's what you notice in yourself or who you crave to become, such panther tattoos can invariably be a symbol of having stability and power. As creatures, they constantly protect their young, which can exemplify the factor of owning guarding instincts and being near to who you respect and adore the most.
Panthers entrust themselves flawlessly to cover-ups because of their shape and density, which is probably why you see so many aged geezers positioned on the granddad place (outer forearm), which was a widespread placement of cell tattoos.
36. Flower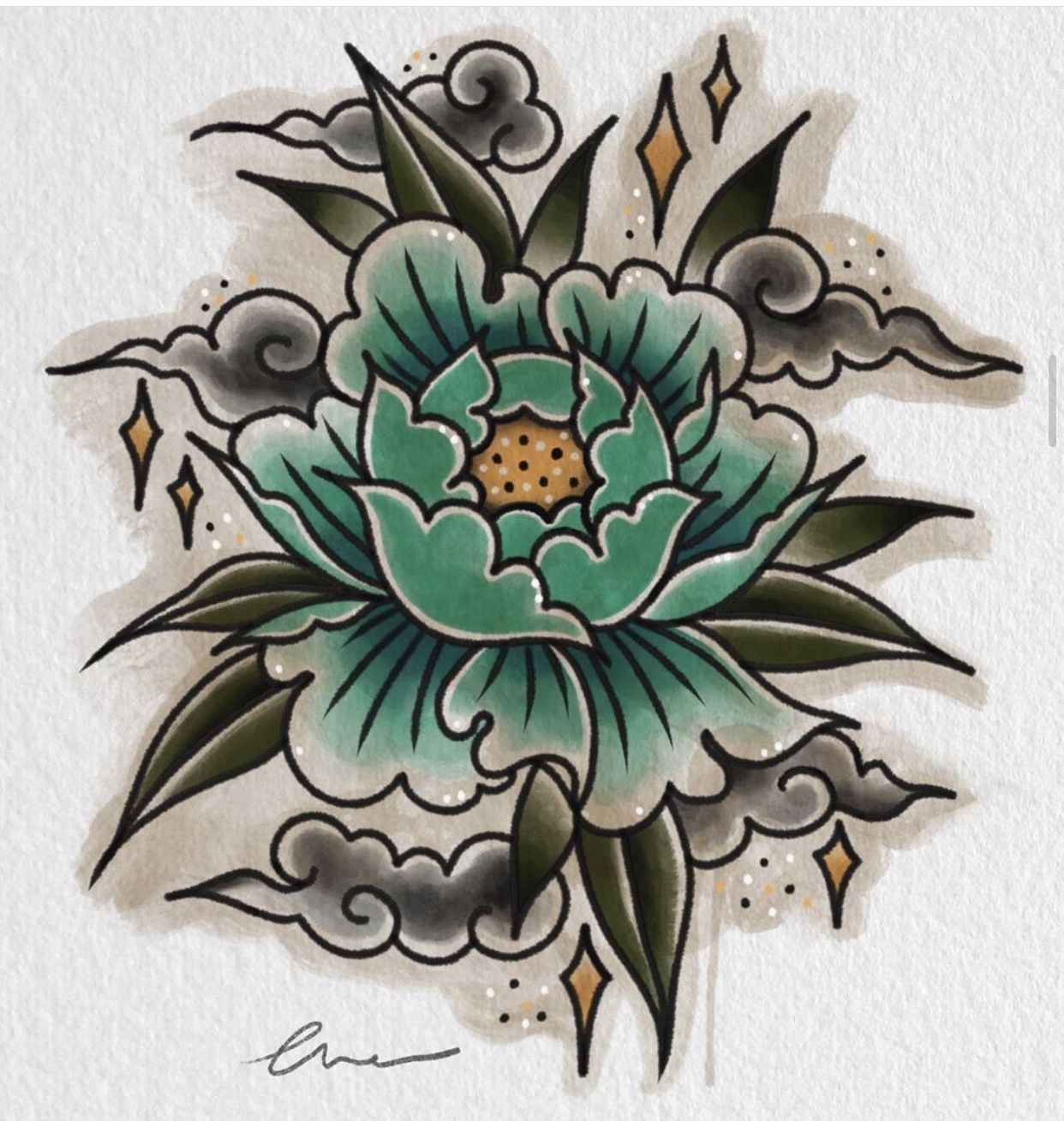 Flowers are contained in various traditional tattoo layouts to crown them off or give a slight difference and juxtaposition to what it is tattooed with. They are always formulated relatively modest and generic in old school tattoos designs.
However, when flowers are tattooed to be the show's celebrity, they are constantly seen in a flower bouquet, inside a flower vase, or having an arrow or hand-holding them. Such tattoo designs do not only appear charming, but they also represent a lot more.
More On Old School Tattoos
The diverse technique of traditional tattooing expanded during the late 18th to 20th centuries. The tattooing process was pulled up from aboriginal civilizations across the globe by sailors, explorers, and similar kinds. The voyagers set their spin on conventional tattooing, with the outcome being the origin of the western classical tattoo style.
There are infinite flash designs that motivate earlier sailors' bits of knowledge. You will heed a vast majority of conventional tattoos are of different animals, sexualized women, and definitely, anything that subsides within the marine theme. It was not very long before the rage of traditional tattoos was boosted, and it was not only sailors who used this method of design.
For a duration of time, tattoos were usually associated with fugitives and people working in the circus. However, there is important information to aid that their rage reached those of the higher class. This apex that many liked old-school tattoos, irrespective of the people s background and demographic. There has been a significant shift in belief towards tattoos over time. Significantly, the diversity of subject matter and what it exemplifies are now bidding to a broader society category. However, there is nonetheless growth to be made.
More prominent than ever, established artists nowadays use attempted and experimented methods to make pieces that are implied to last (which you can also detect from one mile away!). Usually, based on old flash layouts from the mythologies of the field, conventional tattoo designs portray modest imagery with neat, bold line work and utilize an insufficient color palette.
By inking a conventional tattoo, you pay tribute to the art form and maintain belief Alive. Each motif has various significance, and these have lived the test of time.
Old school tattoos demonstrate an idea of development, enlightenment, and magnificence.