The coming age comedy-drama show by Mindy Kaling, Never Have I Ever is a heartwarming series. The 10 episodes issued by Netflix for the first season deals with an Indian American girl, Devi Vishwakumar ( Maitreyi Ramakrishnan) who tries to deal with life as a teenager after the sudden demise of her father. All the characters in the show struggle with themselves as they try to face society and live up to their expectations.
Based on Mindy Kaling's life, Never Have I Ever is a mixture of certain stereotypes, a good narrative, occasional humour, and tinges of emotion. The entire tale is narrated by John McEnroe and Andy Samberg. We've compiled a list of 5 solid reasons why this show is worthy of your time and attention.
1.Diverse Culture
Even though the show is dipped in stereotypes like an angry Indian mother scared that her daughter might lose her virginity any day, or the portrayal of Indians with a weird accent, Never Have I Ever also brings in diversity.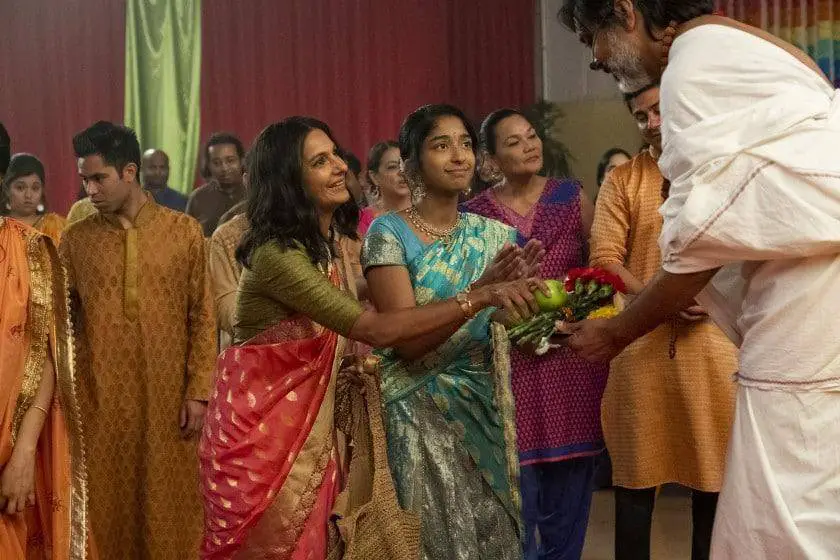 Maitreyi Ramakrishnan made her debut as Devi. Mindy Kaling put up an Instagram post about the audition and she got hired from there. The show-runners wanted to cast actors of Indian origin for the major roles. Richa Moorjani as Kamala, Devi's cousin, and Poorna Jagannathan as Dr. Nalini perfectly bring out all the flavours of being an Indian. Kamala is pursuing a PhD to avoid marriage talks and Nalini too at times adhere to the stereotypes. But together, the three of them capture the essence of the mother-daughter relationship and the importance of relatives in Indian culture.
The portrayal of Ganesh Puja, Anjali before the lords, ladies draped in beautiful sarees, and men in kurta will give you a positive vibe of the Indian culture. The struggles of an Indian American teen is undeniable as she tries to establish her identity. Darren Barnet as Paxton Hall Yoshida enriches the cast with his Asian heritage.
2.Character Growth
Even though Devi comes across as naive, her character graph is extremely impressive. From struggling to express her sadness after her father's death to weeping her heart out in front of her mother, she grew up remarkably. Paxton started as a typical popular guy of the school but with time, the show manages to reflect his humane side.
Ben Gross ( Jaren Lewison) starts as a narcissist topper and Devi's main competitor but with time, he became her shoulder to lean on. He struggled to communicate his feelings after living in years of parental negligence but he evolved in the end. Nalini, who couldn't talk to Devi without fighting every time, understood her pain and worked out their differences. Eleanor Wong (Ramona Young) realised that you can't always get the support and love of your parents to grow in life.
3.LGBTQ+ Community
Fabiola Torres (Lee Rodriguez) was living in her own shadow. Every time Devi was lusting over Paxton or Eleanor over some hot guy, she pretended to be interested in men. Her heart knew what she desired. After years of struggle and confinement, she accepted her sexuality. Her coming out to her parents is one of the most beautiful episodes of the entire series. It'll melt your heart with love and compassion.
Everyone deserves to be happy by being who they are. Netflix beautifully brings out the struggle of a 16-year-old lesbian, trying to fight the norms of society.
4.Compelling Narrative
Mindy Kaling has successfully recreated her struggles in Devi as a brown girl, in a society trying hard to dissent her existence. The entire narrative brings out how Devi can barely accept the fact that her father, her biggest supporter, is no more with her. Her emotional conflict, her struggles as a teenager, her internal pain is incorporated into the narrative with finesse and ease.
Devi holds back so much of her pain that even in front of her therapist, she loses words to describe her emotions. She couldn't walk for months after her father died. Her pain made her numb to all other feelings except anger. Nalini too struggles as a single mother. She finds it hard to talk with her own child, a thing which her husband did with extreme ease and comfort.
Eleanor realises that her mother lived a few miles away yet she never contacted her. Ben's parents are filthy rich yet they never have time to talk with Ben. Paxton tries to put up this image of a macho guy to protect his sister from getting bullied. The narratives bring out all the emotions and struggles of our daily lives. It makes you smile, cry, laugh, weep, and fills your heart with warmth.
5.Humour
The humour in the show is incredible. The writers didn't include any part that felt forced. The natural flow of the story and compelling acting and dialogue deliverance will put a smile on your face. Kaling is already known for her humorous quotient. In this show too, she has flawlessly told a narrative that will genuinely make you laugh. If you're in a mood to watch some light-hearted comedy shows, definitely watch Never Have I Ever.
Never Have I Ever Season 2 Announcement
After the show's immense success, Netflix has already put up a green signal for a new season. The cast has already begun filming maintaining all the protocols of Covid 19. The show is supposed to air in the latter half of this year.
In the meantime, check out how We Can Be Heroes performed on screen and got a sequel renews within 10 days of its release – https://sleck.net/we-can-be-heroes-an-entertaining-but-childish-simple-superhero-movie/