Cook Massaman Curry at Home: Ingredients, Steps, and More…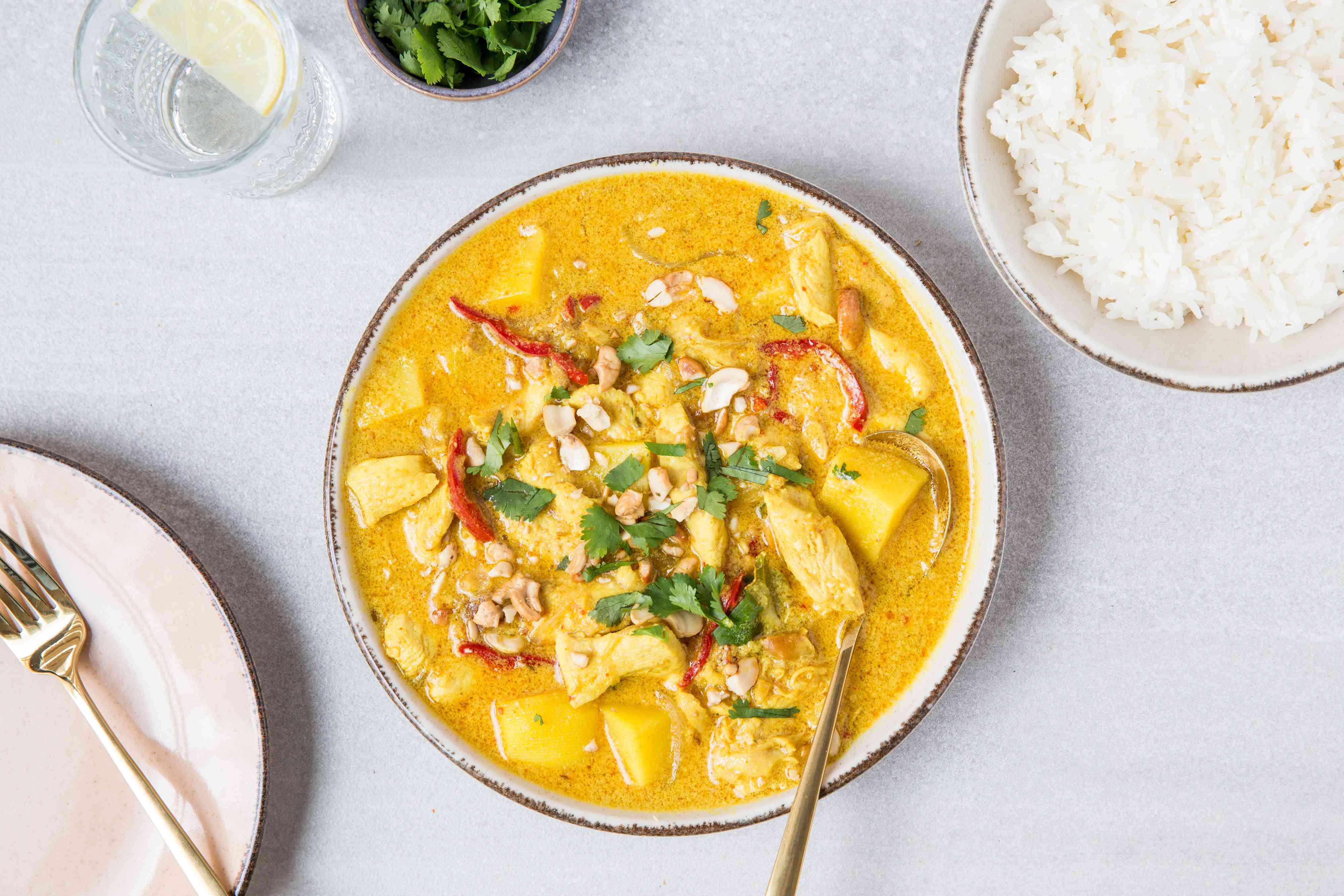 With ingredients found in the Indian subcontinent, Persia, and Malay islands, some of the native Thai ingredients were combined! Thus, Massaman curry was born. The Indian and Malay influences combined with Thai details make the dish popular worldwide.
This rich, yet milder than other similar dishes, delicacy can be cooked in many ways. While most people prefer to cook it with non-vegetarian elements, the vegetarian version is available too.
Talking about non-veg options, you can use chicken, beef, or any other meat you like. However, we will here discuss different recipes for the massaman curry. Alongside the recipes, you will learn some effective tips to cook it better.
If you are more interested in the dish, you can scroll through the frequently asked questions about the massaman curry mentioned at the end.
Let's first begin with the recipes.
Massaman Curry Recipes: Steps, Ingredients, and More
Nonveg recipes:
As non-veg options are more popular than the veg ones, let's first proceed with the non-vegetarian one.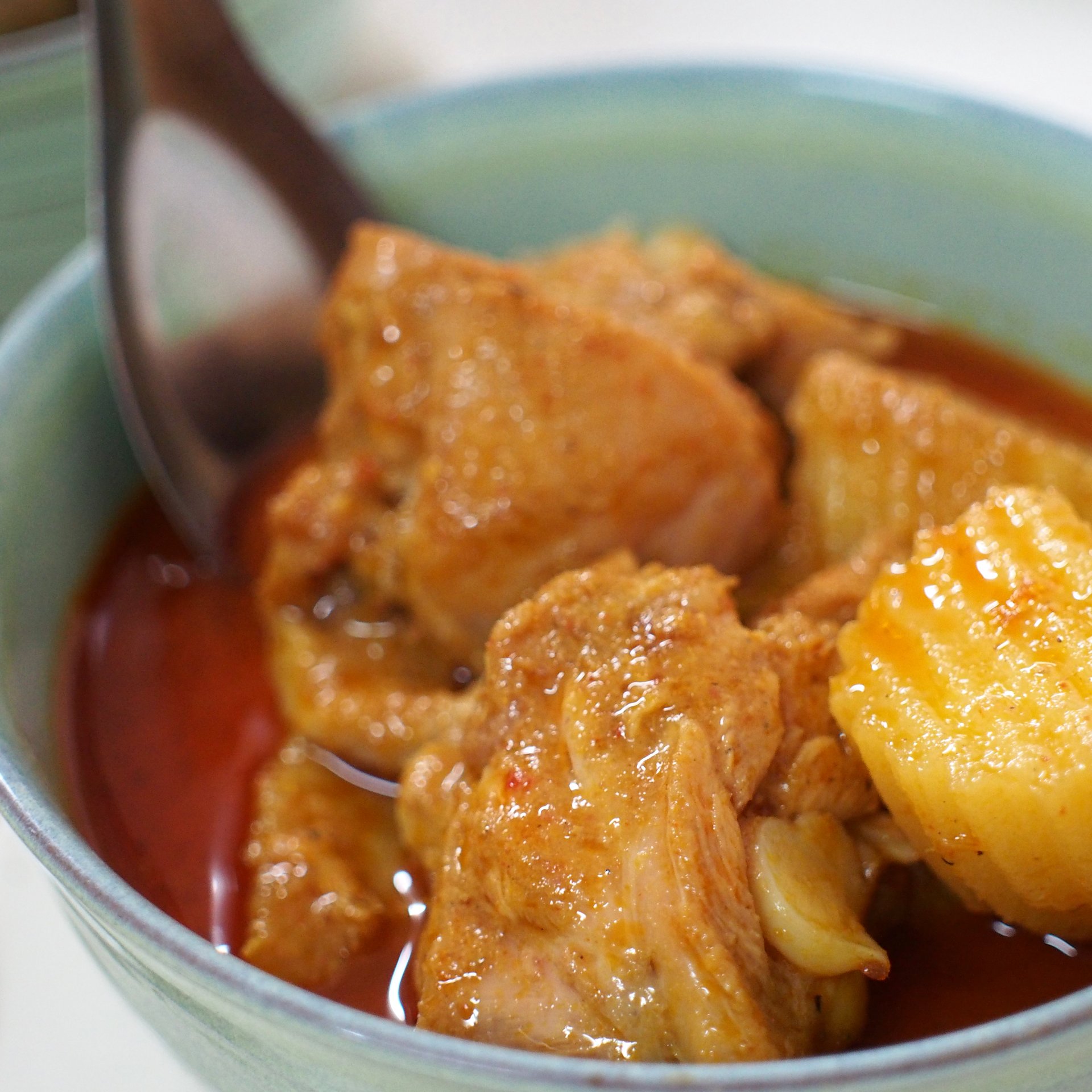 Chicken Massaman Curry:
Ingredients you need: 
vegetable oil (3-4 tablespoons)
ginger, sliced and minced( 2 inches)
skinless, boneless chicken breast meat, cubed (500 gms)
curry paste (3 and 1/2 tablespoons)
sugar and salt (as per taste)
fish sauce (3 tablespoons)
tamarind paste( 2 tbsp)
peanut butter (1 tbsp)
cubed potatoes, peeled (2 large ones)
coconut milk (1 can)
fresh lime juice (3 tbsp)
Steps to Follow: 
Heat vegetable oil in a large pan. Stir in sliced and minced ginger and curry paste for 2 minutes.
Pour chicken breasts and cook until it becomes tender and well-cooked.
Stir in sugar, salt, tamarind paste, peanut butter, fish sauce, and coconut milk.
Add potatoes to it. Cook until the potatoes are soft and all ingredients are mixed.
Add a little water if required. Bring it to a boil.
Cook for 5 minutes in simmering. Sprinkle lime juice and cook for 2-3 minutes.
Serve with white or brown rice.
When you plan to cook it with other types of meat, replace chicken with that meat. For example, beef massaman curry will include beef instead of chicken. Also, you can add your preferred vegetables to the dish.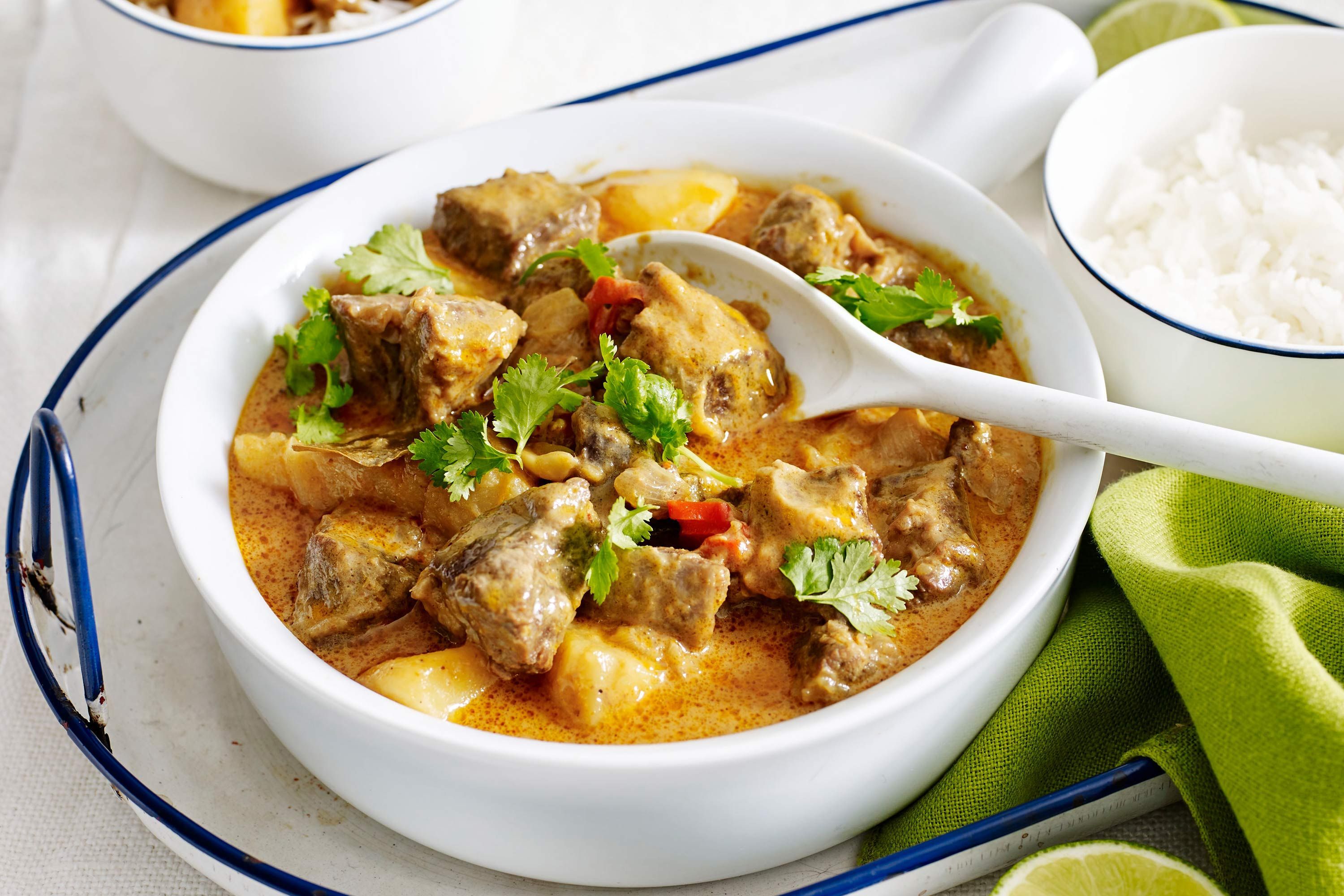 Make sure to add them right after you add the potatoes. However, we have prepared the dish light. You can add spices to it. You can use coriander powder, cumin powder, chili powder, etc.
Vegetarian Massaman Curry: 
As it will be a veg dish, we will add a little more spices than we added in the non-veg version. It will taste delicious this way. So, here are the details below for vegetarian Massaman curry.
Ingredients: 
vegetable oil (3-4 tablespoons)
ginger, sliced and minced (2 inches)
garlic, minced (3-4 cloves)
onion, sliced in rings, (1 large)
tofu, cubed (500 gms)
curry paste (3 and 1/2 tablespoons)
sugar and salt (as per taste)
chili sauce (3 tablespoons)
tamarind paste( 2 tbsp)
peanut butter (1 tbsp)
cubed potatoes, peeled (2 large ones)
brocolli, cut into florets, (5-10 small florets)
coriander powder (2 tbsp)
cumin powder (2 tbsp)
green chili (2-3 large)
coconut milk (1 can)
fresh lime juice (3 tbsp)
Steps to follow:
Stir fry the veggies first. Add little salt while stirring.
Once the vegetables are cooked well, add the spices and stir well.
After a few minutes, add tamarind paste, peanut butter, chili sauce, and coconut milk.
Add a little water to adjust the consistency.
Add tofu to it and cook well. Add the green chilies.
Add lemon juice when the dish seems to be cooked well. Cook for 5-10 minutes and bring it down from the flame.
Tips to Cook it Better
So, it was all about cooking massaman curry. Although we are not going to participate in master chef programs, we can definitely try to make it more delicious and make our loved ones happy and satisfied.
So, here are a few tips for it.
Make sure the vegetables are well-cooked.
Add light coconut milk.
Adjust the consistency before adding lemon juice.
It is better if you add freshly ground powders.
You can make the curry paste at home and refrigerate it for one or two days.
You can use palm sugar for a better taste.
Jasmine rice goes well with the veg massaman curry.
Frequently asked questions about Massaman Curry
People have numerous questions about curry. Whether it is a veg option or an option with meat, their doubts are never solved. Probably, you, too, have many questions in mind. Let's know about them here.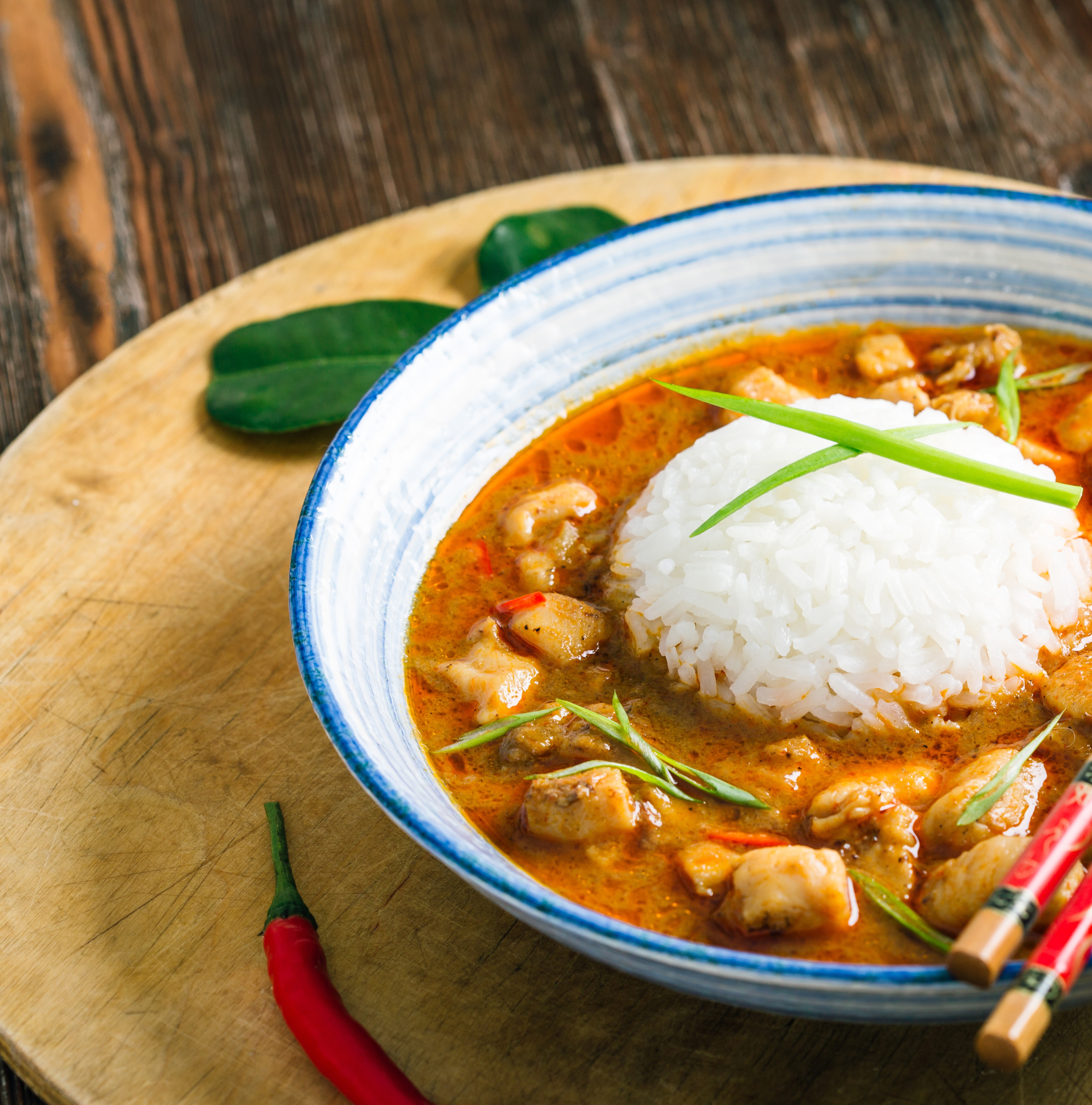 What does massaman curry taste like? 
According to most people fond of this curry, the curry has a tangy-spicy flavor. The amount of spiciness depends on how much spices you add.
No matter how much spice you put into it, the tanginess balances it. So thus, it becomes less spicy than other Thai dishes.
What is massaman curry sauce made of? 
Although you can use simple fish sauce or chili sauce in it, some of you may prefer to add special massaman curry sauce to it.
It includes different spices like cumin powder, chili powder, coriander powder, etc. Indian influence brings nutmeg to the list.
What makes massaman curry different? 
It is not just a simple Thai curry. The wide variety of spices and other ingredients ensures the fusion of multiple cuisines. Indian influence is prominent here.
What is the difference between red and massaman curry? 
While the first one is heavily spicy, the second one is less spicy. So, people often opt for the massaman curry to ensure good stomach health.
What curry is similar to massaman? 
Panang curry is quite similar to the massaman curry. The second one is light, while Panang curry is usually rich in taste and flavor.
The Takeaway: Do not Miss the Dessert: 
Massaman curry is always delicious, whether a veg option or a non-veg option. We have shared detailed recipes for it. Have a look, and do not wait to cook it for your loved ones. Someone has indeed said that if you want someone to make happy, cook good food for them.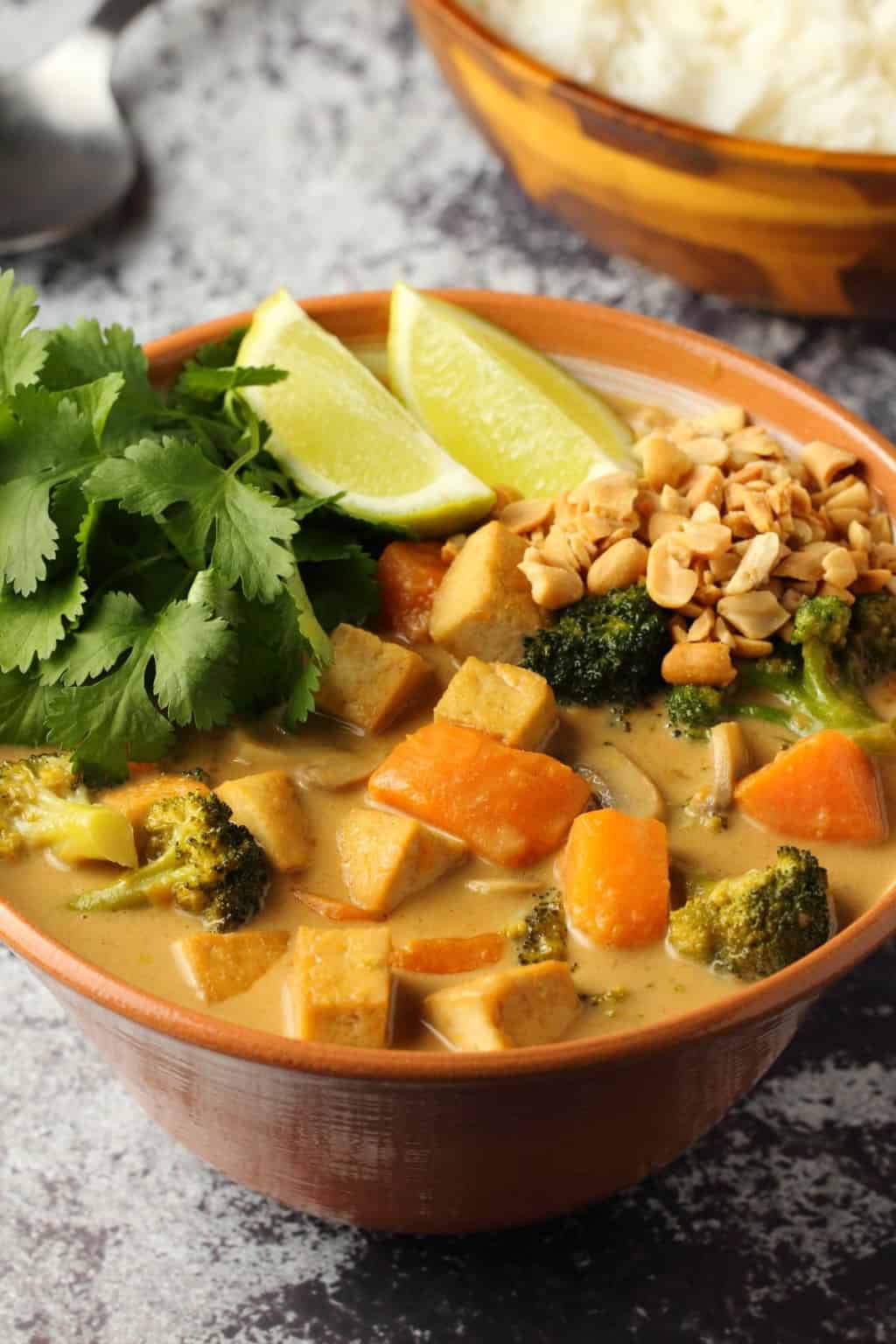 So, why not give the massaman curry a try this time? Let us know how you cooked it. Also, we are eager to know if you have some more unique tips for cooking it.
Want to try the curry with tartar sauce? Check out the recipe here.