Jeff Gordon is a professional former American stock car racing driver. Currently, he is working as an announcer for FOX NASCAR and also a top executive for Hendrick Motorsports.
He had a very successful career and received huge achievements which took him to the great height of success. Currently, in 2021, Jeff Gordon net worth stands at $200 million, according to Celebrity Net Worth.
This huge amount also makes him one of the wealthiest NASCAR drivers. As per the list published by Rookie Road, Gordon is considered 2nd richest NASCAR driver.
However, if you want to know more about Jeff Gordon's life, keep reading…
Jeff Gordon Early Life At a Glance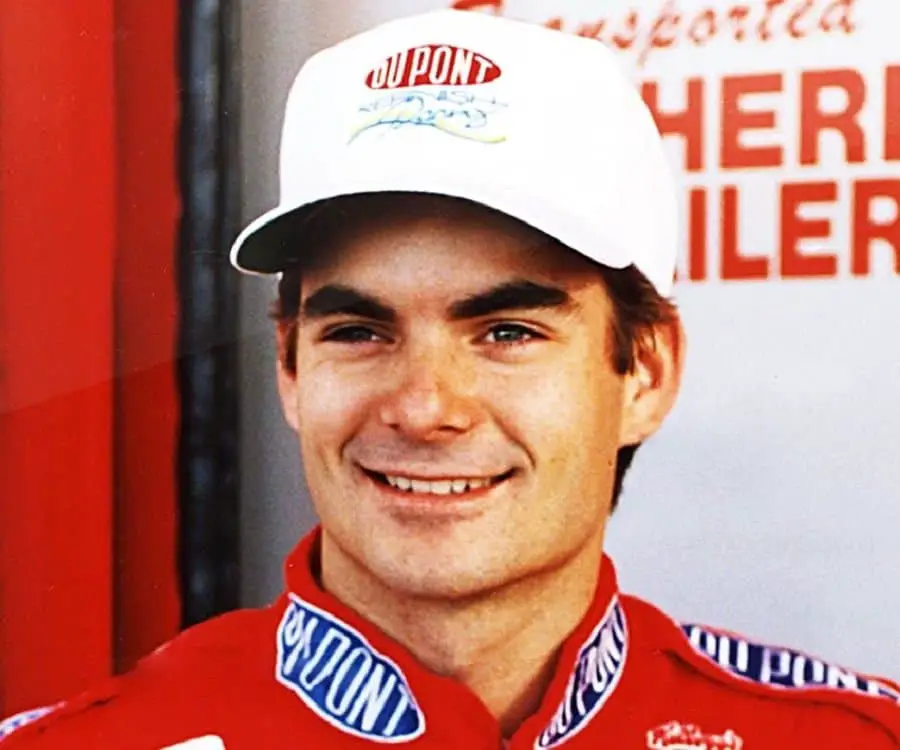 The Jeff Gordon we know today was born on 4 August 1971 in Vallejo California. He had an older sister named Kim. His Father's name is William Grinnel Gordon and his mother's name is Carol Ann Bickford Housten. Unluckily, Jeff's mom and dad divorced when he was around 6 months old.
He got into the field of racing at a very young age. At the age of five, he first performed laps in the makeshift racetrack. However, this was just the beginning.
His interest in racing turned into a passion when his stepfather 'John Bickford' gifted him a BMX bike. With that bike, he started racing just at the age of 5. And with time Jeff accomplished lots of major achievements, which includes:
At the age of six, Gordon won about 35 main events. He also set 5 track records at that time.
When he reached the age of 8, he won 51 races, pretty huge, isn't it? Also, he used to take part in the Quarter Midget Championship.
After about three years, when he was 11 years old, he won another 25 races. After winning all the races in a constant flow, Gordon got slightly bored which made him take part in waterskiing. But it didn't last for a very long time. He was into waterskiing for only one year.
Later he got interested in sprint cars and again he won many races. And the interesting thing here is that his parents were fully supporting him. They happily shifted from Vallejo to Pittsboro, Indiana so that Gordon can pursue his passion without any kind of hurdles.
When Gordon reached the age of 18, he already had some big achievements in his pocket such as winning numerous short-track races. Also, in 1989, he won the USAC Midget Car Racing Rookie of the year awards.
At the age of 20, Gordon won the season championship. He was the youngest American driver who won the USAC silver crown. He also took part in the 40 midget car event and he secured his position in the top 3 in 22 events.
Jeff Gordon Professional Career
From the beginning, Gordon was doing great in whatever race he participates in. The same continues when he started his professional career.
Gordon won Winston Cup many times (now it is known as Sprint Cup) in 1995, 1997, 1998, and 2001.
In 1995, he defeated Dale Earnhardt who has been the 7 times champion of the NASCAR Winston Cup.
He had a great performance in the NASCAR Sprint Cup Series as he finished in the top tens more than 400 times and won around 90 times. Not only this, but he also participated in the nationwide series. And there he finished in the top 10 for 32 times and had five wins under his name.
In 1999, Gordon built Gordon/Evernham Motorsports with the help of his crew chief, Evernehm. They had great success in this but it didn't last very long. By the time, its name was changed to JG Motorsports. Also, they were sponsored by one of the biggest companies named Pepsi.
In 1995, 1997, and 2005 Gordon was the winner of the Daytona 500. In 2008 and 2009, he won the Texas Motor Speedway Championship.
From the year of 2010 to 2013, Gordon was considered a runner-up in the Subway Fresh fit 600. At the 2011 Aron's 499, he won his 70th pole.
In 2012, the season took off a rocky start. But Gordon moved up the race track very soon in the Toyota Mart 350. There he reached a great milestone of his career in which he completed 23,000 laps, pretty impressive, right?
Because of his great performance, Jeff Gordon is known to be one of the greatest NASCAR drivers. After having a great career, he announced that in 2015, he will have the last season as a full-time driver.
However, he didn't retire completely from his career. In 2016, he was performing as a substitute for the driver for the Earnheardt jr. Also, in 2017, he was considered the overall winner of the 2017 Rolex 24 at the Daytona.
So, this great career brought lots of fame and money to Gordon. Also, Jeff Gordon net worth was built because of this tremendous career that he had.
Jeff Gordon Net Worth and Earnings
Jeff Gordon net worth is $200 million as of 17 August 2021. Gordon's most of net worth is built with help of his professional career. However, he also had some other sources of income that generated a very decent amount of money.
Gordon endorsed some of the big companies like Gillette, Pepsi, DuPont, and many more which were great contributors to Jeff Gordon net worth.
From the cup series, he successfully made around $100 million and he also holds an equity stake in his racing team.
Jeff Gordon Personal Information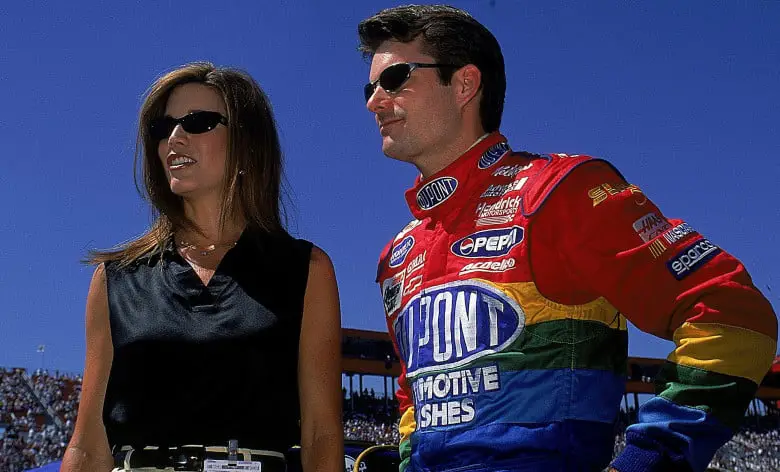 Jeff Gordon had two marriages in his lifetime. He had his first marriage with Brooke Sealey. She was a model at the Winston Cup at the Daytona speedway. They married on 24 November 1994. But their marriage didn't last for a very long time and they divorced in June 2003.
The very next year after the divorce, Gordon started dating Ingrid Vandebosch, and they married on 7 November 2006. In 2007, they welcomed a daughter as their first child who was named Ella Sofia. In 2010, they welcomed a boy as their second child who was named Leo Benjamin.
Awards and Some Major Achievements Of Jeff Gordon
In 2009, he was inducted into the National Midget Auto Racing Hall Of Fame.
In 1993, Gordon won the Winston Cup Series.
In 1998, he was into the NASCAR's 50 greatest drivers.
Jeff Gordon was also granted the Heisman Humanitarian Award.
In 2009, he won the Silver Buffalo Award.
Jeff Gordon Social Media Accounts
Gordon is active on almost every popular social media platform like Facebook, Youtube, Instagram, and Twitter.
He has 1 Million followers on his Facebook account.
He has more than 400k followers on his Instagram account.
He has around 20k subscribers on his YouTube channel.
He has 1.2 million followers on his Twitter account.
Summary | Jeff Gordan Net Worth
So, Jeff Gordon was a great stock car racing driver. He developed an interest in this field from a very young age. He started accumulating lots of achievements from the age of 5.
He had a great career which helped him to build a huge amount of net worth which is $200 million.
Because of his face value, he got the chance to endorse many huge companies like Pepsi, DuPont, Gillette, etc. And no doubt, this was one of the greatest contributors to Jeff Gordon net worth.
Gordon had two marriages in his lifetime. First, he married a model named Brooke Sealey. But their marriage didn't last very long and they divorced after some years.
After that, Gordon married Ingrid Vandebosch in 2007 and they had two kids together. Now they are living a happy and peaceful life together.
Check Out More: