How to make jello shots with vodka – Jello shots are colorful boozy little treats that are always a great party hit. Also known as "jelly" shots, they are easy to make and very delicious. They are available as small shooters, and you can make them in various gelatine flavors. Vodka and rum are mainly used to spike the jello shots, but you can also use other liquor varieties. If you have a limited party budget, use budget-friendly vodka bottles as the recipe works just as fine with it. Gelatin has a sweet flavor that balances out the vodka very well.
The main ingredients of any jello shots are gelatine and vodka. These are mixed and poured into cups to be chilled in the fridge until firm. They are a fun addition to a party and add diversity to the already present punches like pineapple punch (with rum), champagne punch, and many more. They are a classic party offering, and you can make them in a variety of colors. You can also make rainbow shots to experiment!
The recipe described by us is used to make 16 one-ounce shots. You can scale up this recipe to create shots for a larger gathering or make bigger shots. We recommend a turkey baster or pitcher that has a thin spout to pour the shots quickly. You can also use the same recipe to make a spiked gelatine tray if you want to branch out from jello shots. Use a baking pan with sides instead of cups or a glass pie dish. After the gelatine has been set, you can leave it as it is or cut them into portions to make it easier to distribute.
How to make Jello Shots with Vodka?
Jello shots are one of the easiest cocktails to exist to date. They require only three ingredients- alcohol, jello powder, and water. Lets us walk you through the process of making these shots for your next super hit party.
The first step is to gather your ingredients and supplies, including a measuring cup, a whisk, a gas stove or induction (something to boil water on), and small plastic cups. Also, get hold of jello, vodka, and water.
Step 1 – Dissolve the Jello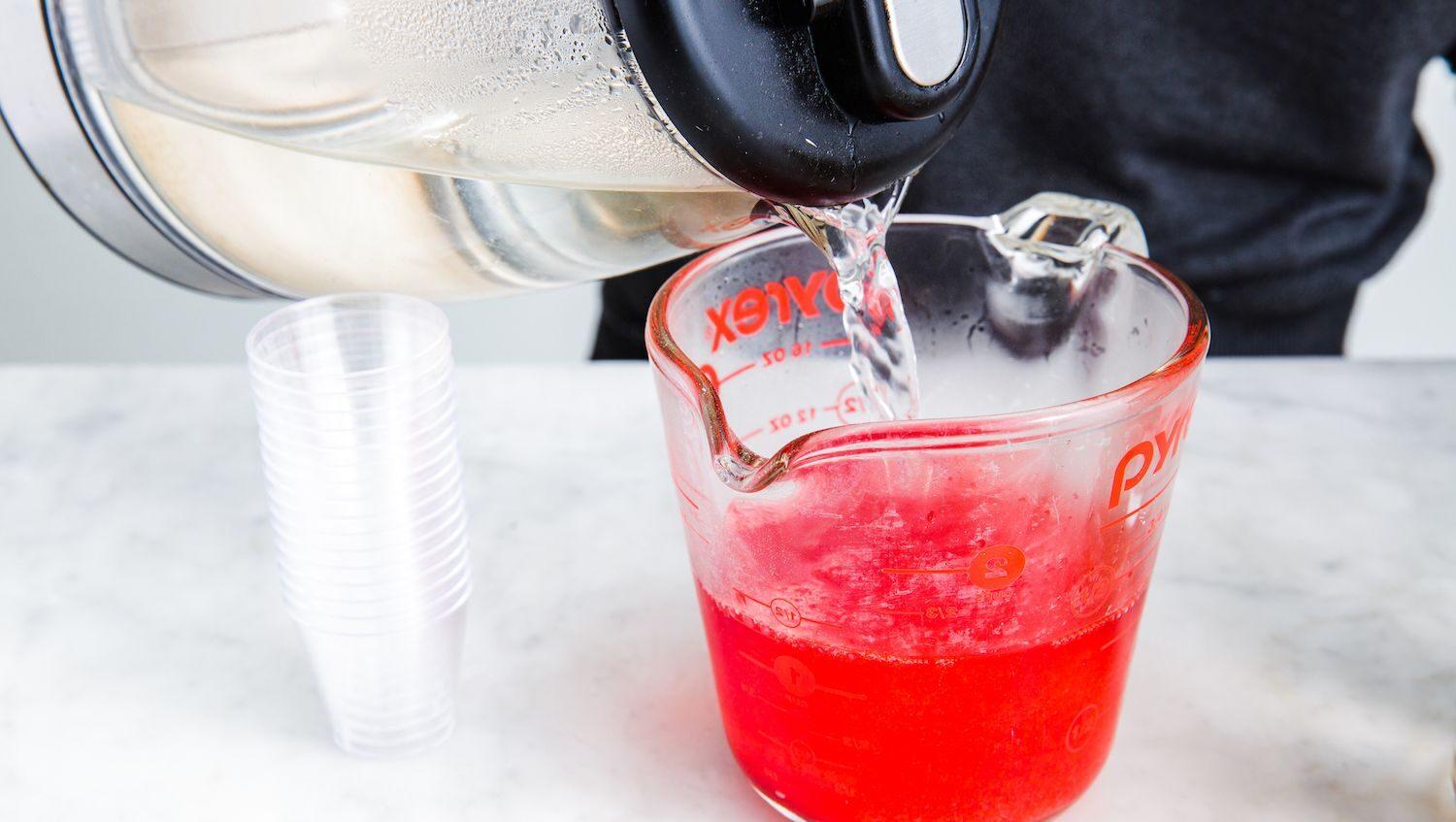 We start with dissolving the jello. Take your measuring cup and pour 1 cup of boiling water into it. Then add 3 ounces of jello powder to it. Whisk the mixture together till all the jello has completely dissolved.
Step 2 – Add Vodka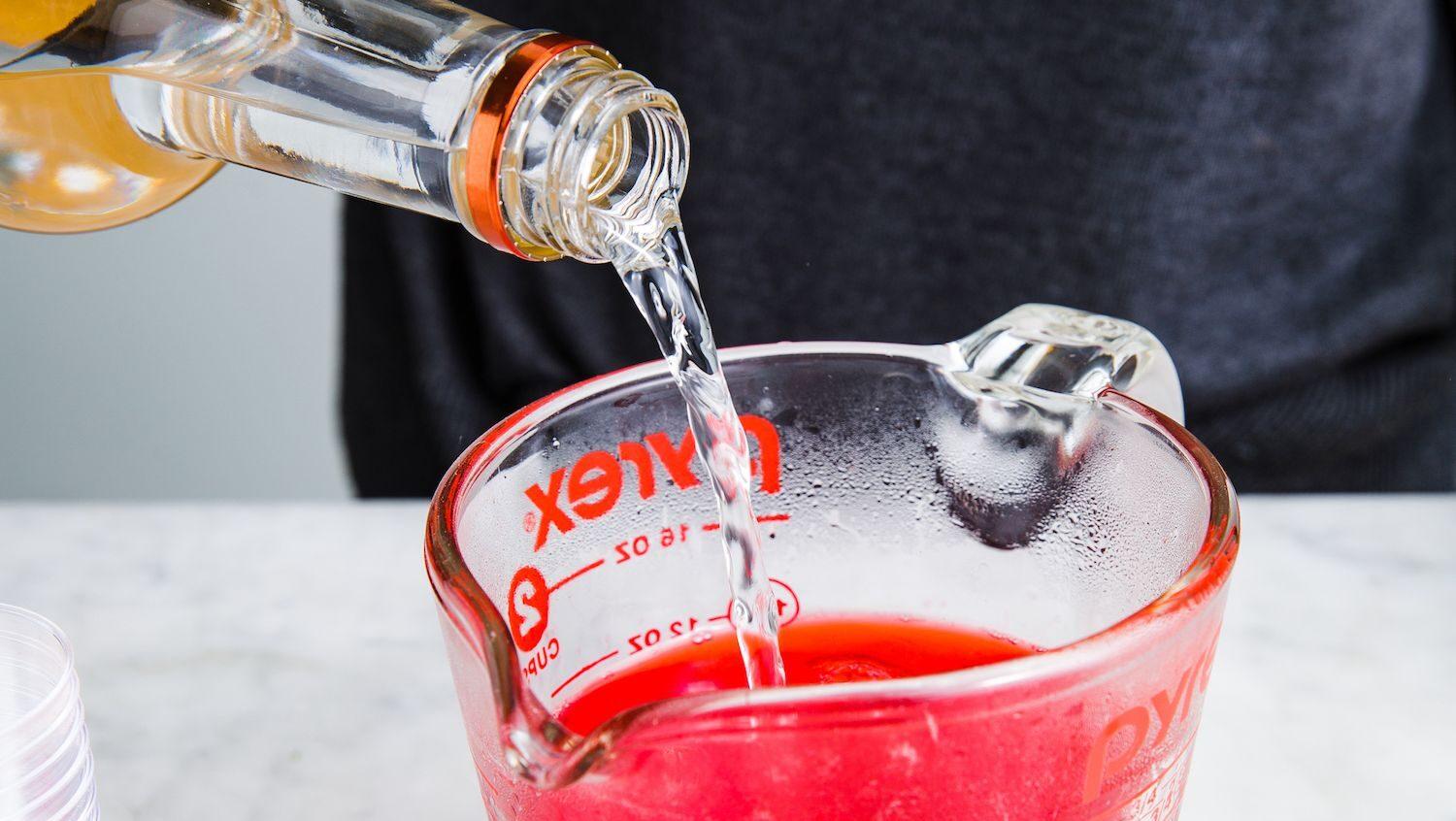 Now we need to add the vodka (1/2 cup) along with ½ cup cold water. Make sure never to add the boiling water and vodka together overheat. First, you need to cool the jello mixture to ensure that the alcohol doesn't burn off. Add the alcohol off-heat using a large measuring glass to protect it and measure it correctly.
Step 3 – Into the Cups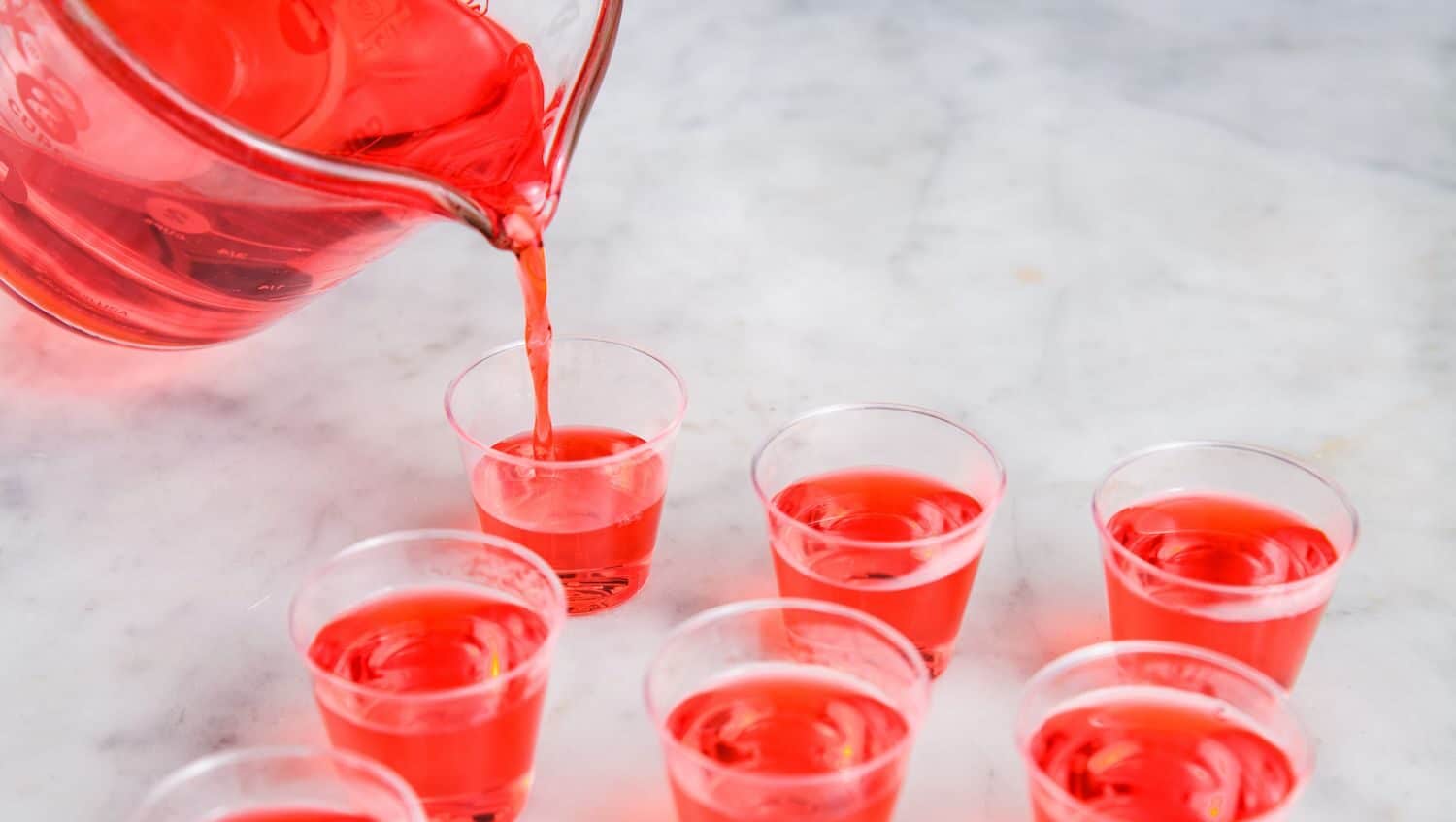 Whisk the alcohol properly and then proceed to pour them into glasses or cups. You can either opt for plastic or glass shot glasses, but you need an entire collection of shot glasses for a huge party. They are other methods to serve them, like in syringes or pickles. Now refrigerate it for 3 to 4 hours before serving them!
FAQs – How to Make Jello Shots with Vodka
Q1 Can one get drunk off jello shots?
Though jello shots have a big alcoholic taste, they do not contain much in each shot. 4 shots of jello combine to give the effect of one shot of booze. So the answer to your question is eventually, maybe you can get drunk.
Q2 How do you take jello shots?
It entirely depends on the type of cup you are using to serve the jello shot. In some cups, you can run your finger around its edge and suck the shot directly out of the cup. Squeezable jello shot cups are new in which help avoid getting your finger dirty. They are easy to squeeze, and you do not have to fight with plastic to get to your shot.
You can also use jello shot syringes and add spice to your party. Imagine a Halloween bonanza with people carrying syringes in their hands. The syringes are pretty big (2 ounces each) but contain the same jello amount as the little cups. Smaller syringes are also available, but you will need much more of them before you even start to feel a buzz.
Q3 Which is the best vodka for jello shots?
You have to choose which flavor jello shot you like the best (a challenging task indeed); you also have to find the perfect vodka to go in the recipe. You do not need a high-end $35 bottle of vodka as you do for vodka soda and martinis, but a $12 bottle will work just fine. You can look for an Absolut or Smirnoff in this price range. Don't select big plastic bottles of vodka placed at the bottom of the shelf. They come through in the shots and do not provide a smooth flavor to your jello shots.
Q4 How long does it take to make jello shots?
The recipe is relatively easy if you have the ingredients on hand. The complete mixing and pouring process will only take about five minutes. But the time-consuming part of the process of making jello shots is the time it takes to set in the refrigerator.
Q4 How long do jello shots take to set?
Most of your party crowd wouldn't prefer a runny or waters down jello shot. So you need to prepare the mixture well beforehand and give it at least 1.5 to 2 hours to set in the refrigerator.
Q5 How long are jello shots good for?
The jello shots do not have a great shelf life. You must eat your shots within a week or max to max two weeks. After this period, gelatin starts to break down and gives the shot a grainy texture. Neither does the shot taste good anymore.
Q6 What are a few vodka and gelatine pairing ideas?
Vodka is a neutral spirit and mostly does not come as good flavours, but a few particular ones can make exciting jello shots combined with the well-flavoured gelatine. A few such ideas are:
Peach gelatine with vanilla vodka- to make a mean peach cobbler

Pineapple gelatine with coconut vodka for the perfect tropical-punch

Strawberry gelatine along with cake vodka to make the best batch of strawberry shortcakes

Cherry gelatine with lime vodka for cherry limeades

Lemon gelatin and whipped vodka for lemon meringue pies
Conclusion
Jello shots are an easy addition to a party. They are fun to make and consume while providing a light buzz to each individual. You can make them in various flavors and colors and also experiment with rainbow variations. Make sure to give this easy recipe a try at your next get-together!
Also, check out the best option to replace tartar in a cake.