No matter how tiresome your day has been, a cup of strong coffee can steal away all your stress and refresh you instantly. Moreover, if it's a cup of Irish coffee, then you need not give it a second thought.
Brewing a great cup of coffee needs minimal effort, it's done the right way. Good beans accompanied with the right roasting method can bring you up an amazing cup of coffee.
Are you one of those coffee lovers who are always eager to experience the best coffee sips? Then let me ask you something. Have you ever tried Irish coffee? Do you know how to make an Irish coffee? If not then what are you waiting for? Do it today. While the usual coffee is fine to keep up day to day, a cup of Irish coffee can be a game-changer once in a while.
You might be thinking that preparing an Irish coffee is not under everyone's grasp.This might be a tough choice. These thoughts might be gathering your mind just because you have never tried it. Let me remind you that where there is a will there's a way.
Irish coffee — there's something worth a toast. It may sound tough but when it comes to action, it's just the opposite. One of the most chilling and soothing drinks you would ever experience.
How is Irish Coffee different from other coffee?
So you might be thinking that coffee is coffee. What is so special and exciting about Irish coffee? If that is the question striking your mind, then hold on to your patience and continue reading to know how to make an Irish coffee. I hope I will soon be able to make you realize the difference.
Irish coffee- the name itself smells a bit curious. Isn't it? Should be. Because this is not the normal homemade coffee you have almost all the time.
Starting from the ingredient till the end of the complete recipe, each and every part includes a bit of twist. Be it the type of mug used, be it the cream or be it the serving process. Every part is a little more challenging in its own way.
Ingredients Required to Make Irish Coffee
The ingredients used in this coffee preparation differ widely from your regular coffee ingredients. Before progressing with how to make Irish coffee there are some primary ingredients you need to arrange for. The basic ingredients required to prepare an Irish coffee are mentioned as follows:
1 to 2 teaspoons maple syrup, to taste or (1 teaspoon granulated sugar and 1 teaspoon packed brown sugar)
6 ounces hot freshly brewed coffee
Whipped cream (not necessarily home-made), for topping
Nutmegs, for serving a purpose
How to Make Irish Coffee?
Classic Irish Coffee, a very famous worldwide recipe. Yet do you have any idea about how to make Irish coffee with a classic Accenture? What are the primary things you should look after during this preparation? It is of course not possible for many of you to know the exact recipe of Irish coffee. Now, let us tell you how to make Irish coffee, and help you with the recipe.
Firstly, you have to heat a kettle of water which plight is employed to preheat a glass. Then measure and keep aside 1.5 ounces of whipping cream. The measured quantity of cream is whipped lightly for 15-20 seconds. The cream may be whipped at home or it may be brought directly from the market. This depends on your personal preference. If you have decided to whip the cream at home then let me remind you over whipping or under whipping is not at all suggested as this is often to be kept in liquid form. Later you have to keep this whipped cream within the refrigerator.
In the meantime, you can brew the coffee. Now there must be a balance between the coffee and the cream. In this context, I must tell you that brewing 5-6 ounces of strong coffee is ideal to balance 1.5 ounces of light whipping cream.
While the coffee is being brewed, 1.5 ounces of Irish Whisky along with one spoon of normal and refined sugar is set aside. You can always use 2 spoons of maple syrup instead of sugar and I always prefer syrup to sugar or the recipe for how to make Irish coffee.
As soon as the coffee is prepared it is time to assemble. Next, the preheated glass is emptied, and also the syrup together with the whiskey is poured into it. Halfway through the glass is crammed with hot coffee. Then it's stirred till the sugar dissolves fully. And this is the final stirring of the whole recipe.
Later, it is topped with some more hot coffee. The chilled ice cream is then slowly poured over the preparation. Now here comes a twist. You need to make sure that the whipped cream is kept floating on the top of the glass. Now sprinkle your coffee with some nutmeg. Finally, it is ready to be served. Thus, it was the recipe of how to make Irish Coffee.
How to Make Irish Coffee with Variations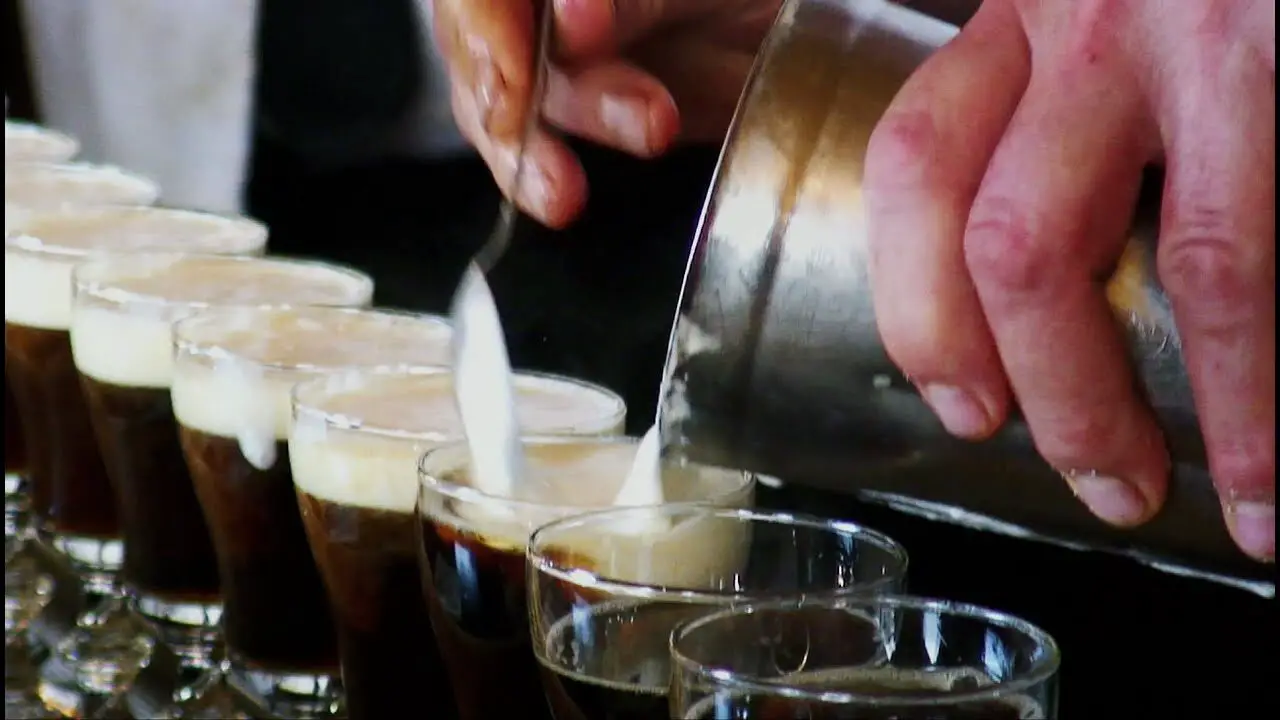 A few popular variations on Irish Coffee are mentioned in the following ways:
Buena Vista Irish Coffee- Uses two sugar cubes and it demands the cream be lightly whipped and then poured over the back of a spoon.
Irish Cream Coffee- Uses half Irish whiskey along with half Bailey's. Then it is topped with a Maraschino cherry.
Bailey's Irish Coffee- Only uses Bailey's whiskey instead of Irish whiskey. This version is sweeter due to the use of Bailey's. This is fuller-bodied than the traditional.
Though having classic Irish coffee is always the best choice, trying something different can be fun. So, know how to make Irish coffee in a different way. Here is how I have tried to try something new by changing the ingredients a bit:
Add a garnish- Sprinkle a pinch of ground cinnamon or nutmegs on the top of the coffee. If you are a chocolate lover, then you can always try sprinkling some chocolate shavings.
Serve it on ice- Pour cold brew coffee over a mug that is already filled with ice. This time I will tell you to skip the whipped cream.
Lighten it up- You can make up a less boozy drink by simply easing up the whiskey.
Make it quick- To make the recipe within a short span of time, skip the homemade whipped cream. Just add a splash of half and half instead.
Make it extra creamy and rich- Substitute your drink with Irish cream by eliminating the whipped cream.
Tips On How to Make Irish Coffee
There are some techniques that you need to follow to know how to make Irish coffee Here are some of the extraordinary tips from my side which I would suggest you try to fire the taste of your Irish coffee a bit more.
Add some maple syrup- Adding some maple syrup will make your coffee a little sweeter. Though many prefer black coffee, a little bit of sweetness on the edge of the whisky can be marvelous. Of course, you can always use brown sugar or normal sugar but maple syrup blends in more easily and tastes better.
Brew your favorite coffee- Freshly brewed coffee is the ultimate option to expect the best one.
Add Irish whisky to a mug- You are suggested to use Jameson which is perhaps the best quality whiskey according to me. Though you can also use Bushmill which is a less expensive option.
Add a splash of coffee- Gently stir to blend. Leaving about ½ inches at the top for the whipped cream, fill the mug with coffee.
What type of Glass to Use for Irish Coffee?
Special coffee needs a special glass, right? Of course a yes. Come let's see how to make Irish coffee with the glass that best suits it. Technically, glass is not an ingredient. But the glass you choose does make a variation in the preparation. Most cafes and restaurants serve Irish coffee in a pedestal mug.
First of all, choose a thick glass preferably one with a handle. Tulip-shaped glass is preferable for the preparation of Irish coffee. This prevents an oversized pour of coffee and helps in maintaining the balance of the ingredients.
Stemmed glass is required that is primarily shaped to show off a snowcap of whipped cream. Always preheat the glass by filling it with hot water. Let it sit until warm. This keeps the coveted cocktail steaming hot.
What type of Sugar to Use for Irish Coffee?
If you want to know how to make Irish coffee in the best way, then you must also know what type of sugar to add. Any normal sugar or brown sugar shall work. But since this coffee is far more different from the normal coffee so yes there comes a question? Cubes or syrup?
I prefer ¾ ounces of Demerara syrup over sugar cubes. Syrup will put up a hike in the taste whereas sugar would be a normal approach.
What type of Coffee to Use for Irish Coffee?
So, the primary item-coffee. Don't you think this also has to be something which does not follow the normal path? Yes, has to be the one.
The hot drink's temperature might get plunged because of the cold cream and room temperature whiskey. So you need the coffee hotter. This is true that the coffee complements the drink. But keep in mind it should not stand out.
What type of Whiskey to Use for Irish Coffee?
How to make Irish coffee and with which whiskey? Don't you think Irish coffee itself is different from normal coffee? Obviously. Has to be. After all, you are adding nothing but whiskey to it. The ultimate ingredient which makes Irish coffee one of its kind is the addition of whiskey into it. This unexpected unique mixing brought revolution.
The right amount of whiskey and you are going to experience the best category of Irish coffee. 1 ⅓ ounce is regarded as the right amount.
What type of Cream to Use for Irish Coffee?
Do you know how important the cream is for the recipe, how to make Irish coffee? If not then let me tell you that it proves to be the ruling factor in the making of Irish coffee.
The crisp white collar of whipped cream that floats above each glass of Irish Coffee is the most difficult ingredient to perfect. It requires an ample amount of practice for you to find a sweet spot for the cream. Since the cream needs to float on the top so under or over whipping can cause the cream to drop through the coffee.
The cream should be pourable but not too thin or too thick. For beginners, it is suggested to use the cream having more than 36% fat. Once you have got the right consistency you can always whip the cream at home.
How Much Sugar to Use for Irish Coffee?
Only knowing how to make Irish coffee is not enough. It may happen that you are a sugar lover. I am sure many of you can relate. You might have been searching for some tips which would be helpful if you are preferring sugar to syrup. So, for the ones who are switching for sugar rather than syrup, I would love to provide you with a secret tip.
A combination of granulated sugar and brown sugar is perfect to balance the sweetness. Just a single teaspoon of each of the categories is perfect. Use unsweetened whipped cream to keep the sweetness contained in the coffee. Try to avoid a sugar hangover later in the day.
Why is it important to use Irish Whiskey for Irish Coffee?
Preparing Irish coffee? Don't know which of the whiskeys to use? Don't ask. Just close your eyes and opt for Irish whiskey. Trust me or else you will regret it.
It's sweet, smooth and just a touch spicy. Moreover, it's not too expensive and will save you money. If you've already got a whiskey collection at home then choose something in the mid-range with a mild and sweet finish to counter the bitter taste of the coffee.
How Do You Get the Cream of Irish Coffee to Float?
Now comes one of the most important and frequently asked questions in the segment of this recipe. This is always the most challenging period. If you can get through this, the rest will be nothing to you.
One mistake and your coffee will no longer be called the Irish one. Not trying to worry you. This is a small attempt just to fuel up your confidence. You need to learn how to make Irish coffee with the cream floating on top. Let's see how I can help you out with the answer.
If you are using lightly whipped cream then pour it slowly over a warm spoon onto the coffee. Be careful enough so that you do not break the coffee's surface. This takes a pinch of practice. You are going to get adopted in due course.
A foolproof way to not break the surface is to whip the cream a bit more and later dollop it gently on top. Congrats! You are done with it. Now enjoy the drink while it's hot!
Do We Need to Stir Irish Coffee?
Are you thinking about whether to stir an Irish coffee or not? It's a straightforward no. You just need to add the cream on the top. That's all. Now serve it without stirring. The difference in temperature between the cream and the hot coffee can be managed out of the experience.
Health Benefits Of Irish Coffee
Okay, so now you know how to make Irish coffee that too in a number of ways. You must have heard the famous proverb- 'Health is Wealth'. Health is something we all are concerned about. You may not know but Irish coffee is not only something to chill about but also has some beneficial impacts on our health. Regardless of how it is served and what type of whiskey you have used, it will always provide many excellent benefits.
Some of the major health benefits caused by Irish coffee are mentioned in the following ways:
Reduced risk of heart disease- One of the biggest benefits of drinking Irish coffee is that it can truly reduce your risk of heart disease. It may surprise you how alcohol, when consumed in healthy moderation, can have such a benefit.
This is because alcohol improves the blood flow to the heart and general circulation. Thus, in this way, Irish coffee or two when taken on a regular account can actually make your heart much healthier and stronger.
I will of course not suggest you drink an Irish coffee every single morning, but a few a week will not harm your heart rather it may actually help to improve it. Just make sure that you are not consuming more alcohol. Just have as it is recommended for your age, gender and weight. Therefore, knowing how to make Irish coffee can be beneficial even for your heart.
Reduced risk of diabetes- Now gets ready for another big surprise. Consuming Irish coffee could reduce your risk of developing type II diabetes.
Recent researches have proved that, when you drink coffee in moderation, it can increase your plasma levels, thereby inhibiting the biological responses that can cause and/or lead to type II diabetes.
Coffee consumption can help in reducing appetite. In this way, drinking an Irish coffee can cut your appetite. Thus, it helps you to cut your risk of overeating and finally reduces the likelihood that you will put on weight.
And, as we all know, excess weight can lead to the development of type II diabetes. If coffee helps you to eat less and lose weight, though, it could prevent this serious health issue from ever popping up.
In these two ways, an Irish coffee on a semi-regular basis could help you to never have to contend with the health nightmare that is type II diabetes.
Reduced risk of stroke-Having a stroke is a massive fear of many people. Fortunately, though, this major health risk could be less likely to come into play in your life if you are enjoying an Irish coffee in your daily routine.
Thanks to the caffeine of this drink and the alcohol content. Thus, learning how to make Irish coffee has shown to cure in unblocking the arteries. Since, artery blockage is often what leads to reduced blood flow increases the chance of a stroke, consuming one glass of this drink can end up having a positive effect on your stroke risk.
Reduced risk of Parkinson's disease- Parkinson's Disease is a serious medical condition that causes extreme shaking and other severe health and neurological problems.
Again to our amazement, the consumption of coffee, especially if it is the Irish coffee on your list, has the potential to greatly reduce the risk of a person contracting Parkinson's Disease.
Reduced risk of liver disease- Finally, researchers assure that drinking coffee on a regular basis can reduce the risk of liver disease.
Researchers are not quite sure exactly which ingredient in coffee fights against liver problems. However, they have found that regular coffee drinkers are a lot less prone to suffer from both liver cancer and liver disease. This is especially true when it comes to alcohol-related liver conditions.
Obviously, Irish coffee can have health benefits that you would not have expected. But as proven by the researchers it might just help your health!
Is Irish Coffee actually Irish?
Knowing how to make Irish coffee was a frequent search. But some others also came up with a very natural question. Questions may pop up why Irish coffee is named so. Why not something else? Were they originally invented in Ireland? Or are there any hidden secrets behind such a name? So, this is a yes!
Irish coffee is a recipe that actually belongs to Ireland. These days, there are several variations made on the traditional Irish coffee recipe. But do you know how it was originally invented? The original Irish coffee was created at the flying boat terminal in Foynes, Ireland. This was solely invented all of a sudden by an airbase chef to chill his passengers and came out with this revolutionary coffee recipe with whiskey mixed into it.
Takeaway
Try a bold coffee brewed in a French press for a single coffee. If you are planning to make more than one, consider the Sowden Oskar Softbrew or the Eva Solo.
Go for cocktail sugar or Demerara sugar as they give an additional dimension of flavor to Irish Coffee.
It is preferable to choose a blended Irish whiskey aged for at least three years.
You must choose freshly whipped cream as fresh cream is the gold standard.
Finally, you know all the rules of how to make Irish coffee–just go on following them! An amazing glass of superior Irish coffee is waiting for you.