All you Need to Know about How to Clean White Vans
The elegance of white vans always looks royal. A pair of pure milky white appearance steals the show always. But along with the attractive appearance comes a struggle to clean it. Yes, it is likely to get dirty quickly. Even if you skip the mud on the roads or the sand dunes found there, they will get dirty by wearing the vans.
So, to maintain it well, we must learn how to clean white vans. Often, we see people taking concern about the cleanliness of the item and the right way to maintain it. Looking at their doubts and dilemmas, we are here to discuss how to clean white vans.
This article will talk about the general methods of cleaning white van shoes. It will also include diverse types of these shoes. Also, we will look into if there is any difference in the cleaning process of these types.
So, without further delay, let's begin with the methods for how to clean white vans.
How to Clean White Van Shoes: Methods You can Try
Cleaning the shoes, as we said, is definitely a task of precision. However, when things are essential, you have to do it in any way. So, if you are here to know how to clean white vans, here are three methods that you can try.
Wash with your hands
Put in the washing machine
Clean to Remove Stains and Scuffs
Let's start with the first method.
Wash with your hands:
When nothing is available, your very own hands are enough to clean the dust and dirt from the shoes. The ingredients you need for the task are-
a washcloth or soft-bristled scrubber
a sleek tooth-brush
dishwasher soap
water
Step 1: Mix the detergent into the water with a 1:3 ratio if the dirt is mild. The ratio will be 1:2 if there are hard stains.
Step 2: Dip the washcloth or scrubber into the detergent mix.
Step 3: Apply the mix on the shoes and rub it well with the washcloth or scrubber. Do it gently yet steadily.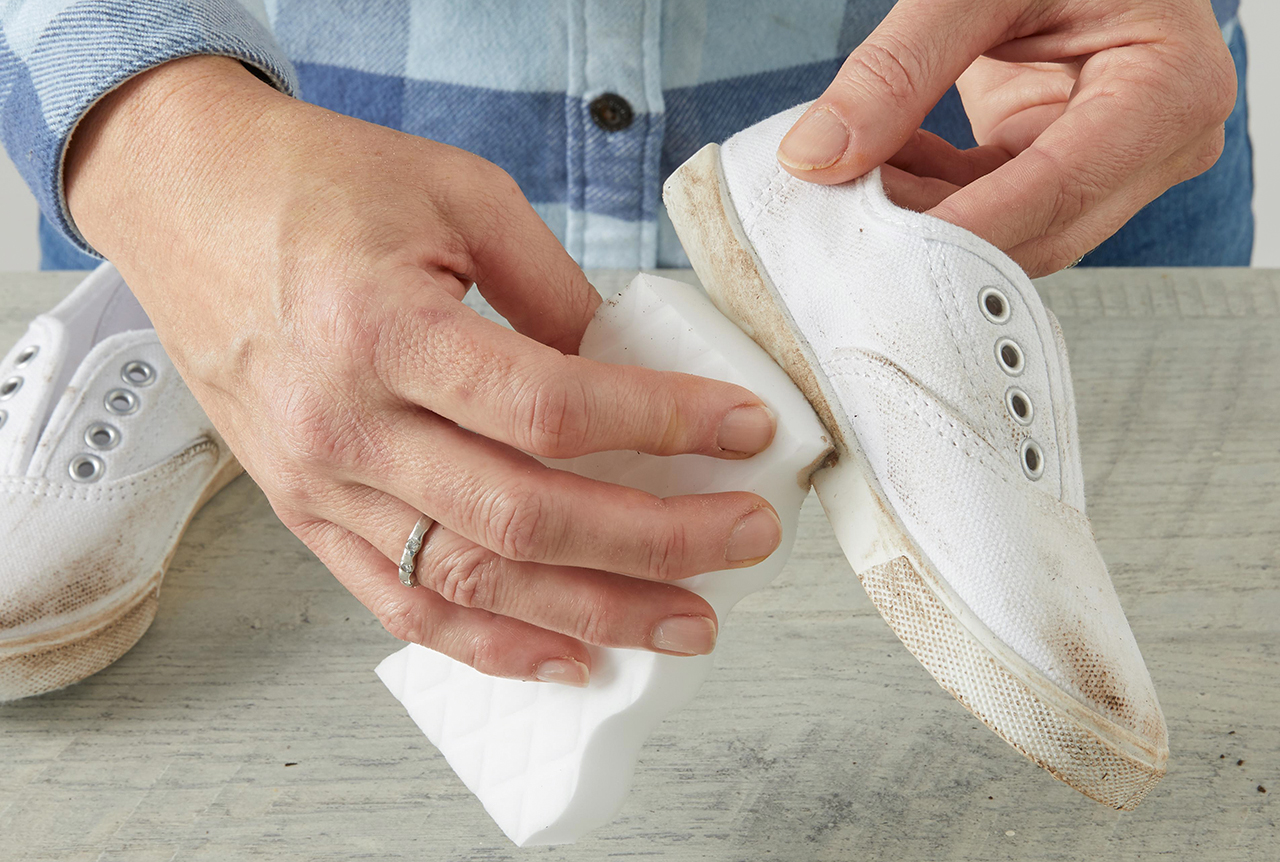 Step 4: When the body of the shoes is clean, turn it over and reach the rubber parts.
Step 5: Dip the toothbrush into the dishwasher detergent and clean the rubber parts with it.
Step 6: Once the white is restored fully, wash the shoes with plain water. Do not use hot water at all. It may ruin the appearance of the shoes.
Step 7: Keep it aside to dry.
Now, coming to the following method, let's know how to clean white vans with a washing machine.
Put it into Washing Machine: 
If washing by hands is not your cup of tea, you can take the help of a washing machine. To clean your vans in this way, you need to gather a few ingredients. They are-
washing machine-friendly detergent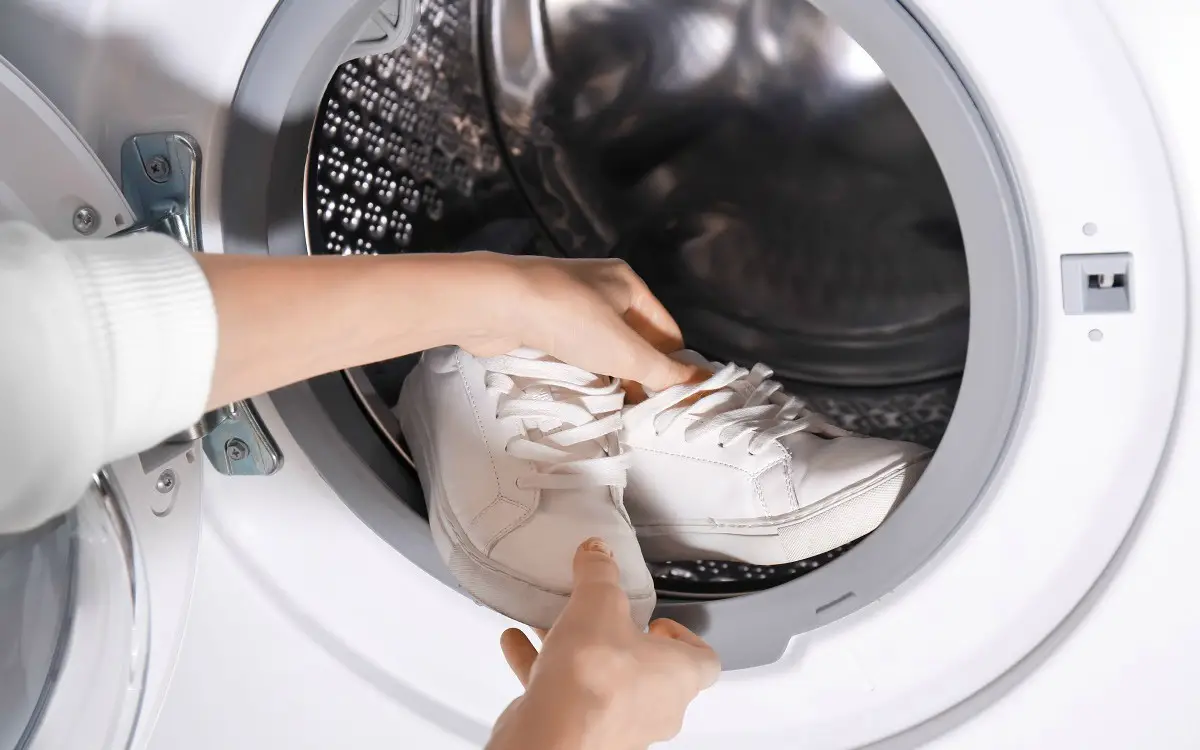 Step 1: Remove the laces and soles from the shoes.
Step 2: Put the shoes into a cloth bag.
Step 3: Add an amount of detergent that you use for a small pile of clothes.
Step 4: Tie the bag well so that the shoes do not come out while washing them.
Step 5: Now, clean the shoes with a gentle cleaning circle. Do not use hot water at all. Instead, use warm water to keep the glue intact.
Step 6: Once they are clean, keep them aside. And let them dry.
So thus, you can save manual labor and clean the shoes with the help of a washing machine.
Clean to Remove Stains and Scuffs: 
Are you looking for a way to remove hard stains? Try these options mentioned here.
Use rubbing alcohol- It is a valuable solution that you can use for cleaning purposes. Whether it is a van shoe or any other appliance at home, it always helps. So, take a little amount of it on a microfiber cloth and rub it gently on the shoes.
Use cleansing eraser: You can find a magic eraser that comes with cleaning solutions. Rub the shoes with them and clean the stains.
Use stain remover: The best way to remove stains from white van shoes is to use stain removing solutions. Follow the instructions mentioned on the package label. Apply the solution and wait for some time. Then, clean the stains gently with a microfiber cloth pieces.
Use Baking Soda: You can mix baking soda with a hydrogen peroxide solution. It is a perfect cleaning mix for your van shoes. It can remove the hard stains and revive the milky white color of the shoes.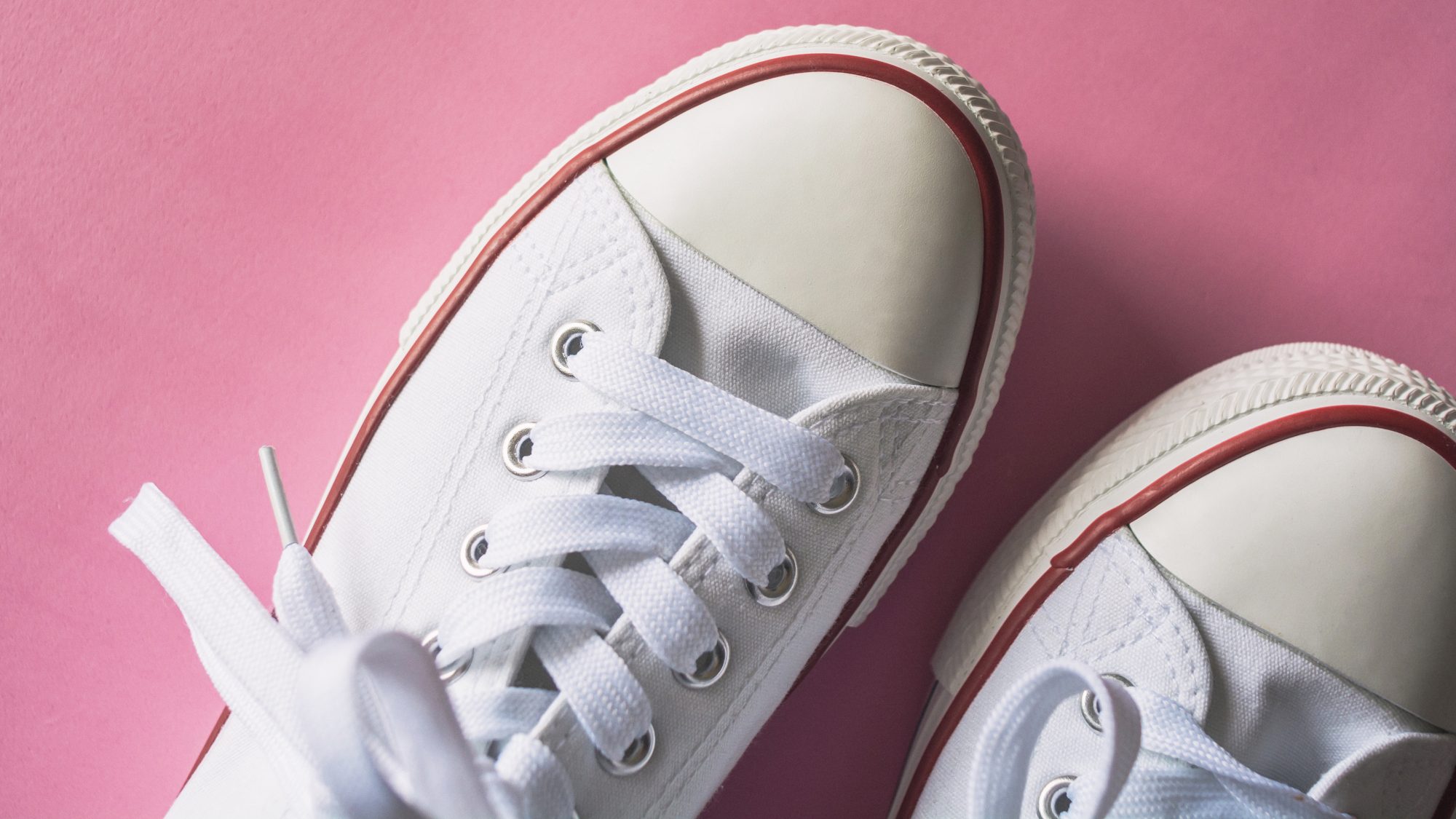 So, this is all about how to clean white vans. Now, things do not end here. To ensure proper cleanliness, you must learn the details. So, here are some more details about van shoes.
Types of White Van Shoes:
Although the cleaning processes are almost similar, the types of these shoes are different from each other. They are-
White Canvas Shoes
White Leather Vans
White Suede Vans
While canvas shoes can withstand all cleaning methods, leather and suede variations are not recommended to be washed in machines.
How to Clean White Vans: Tips to Keep in Mind: 
So, you have learned the methods of cleaning white vans. You know how to clean white vans well. Before we end our talk, to ensure proper cleanliness, here are a few tips on how to clean white vans easily and effectively.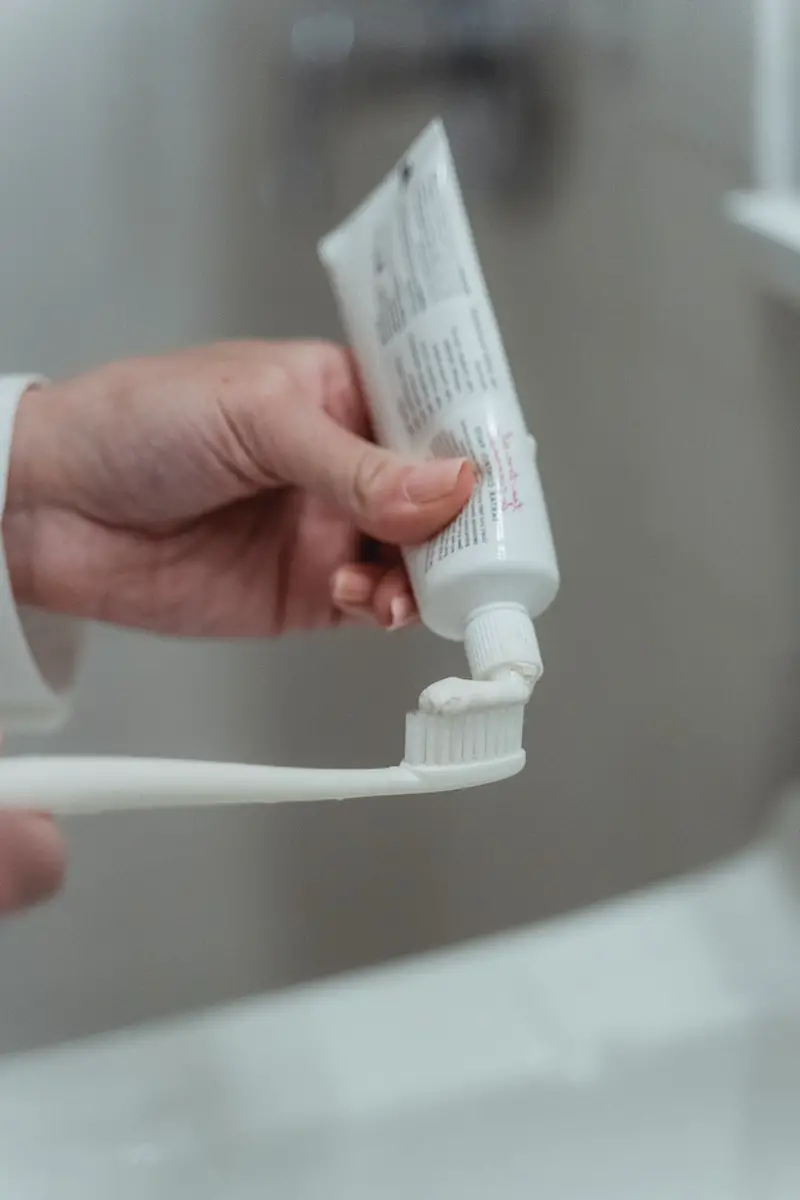 Make sure to remove the sole and laces while washing the vans into the machine.
You can use newspaper to put into the shoes while drying them.
While using baking soda solution, let it sit on the shoes for at least 30 minutes.
Instead of baking soda solution, you can use lemon juice and water mix in a 1:4 ratio.
If you use bleach, use beach and water in a 1:5 ratio.
For a quick call, you can smudge one or two drops of toothpaste on the stains to hide them.
You can use white vinegar and baking soda mix to clean white vans.
Do not use baking powder as it contains many other ingredients, including baking soda.
Do not use two cleaning methods like toothpaste and baking soda, etc. It may develop yellow stains on the shoes permanently.
You can use lemon juice to remove coke stains.
Avoid using any colorful cloth bag while washing the shoes in the washing machine. The color will transfer into the shoes.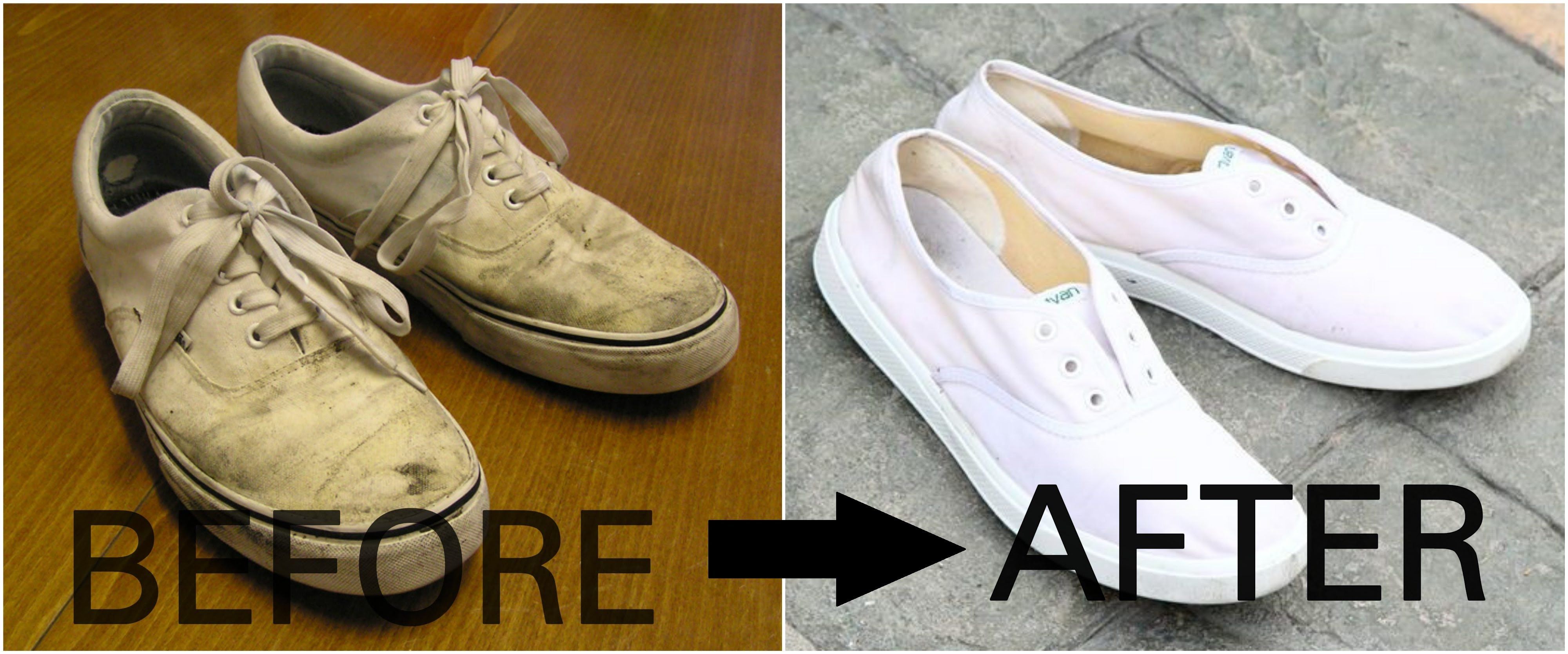 Before You Go
We hope now you have a fair idea about how to clean white vans. If you have any other doubts, welcome to the comment box. Nonetheless, if you have some more time, you may have a look at a few cleaning and maintenance hacks. Click here to learn how to clean retainers. Also, let's learn how to clean thermal paste off the CPU here.