Matching outfits look too cute! Nowadays, couples wear matching outfits to look pretty and show their love. But the only issue is that, more often than not, couples don't do it right. Couples can match their outfits in different ways, like casual and formal suits that match each other.
Many couples try to set their goals with the help of their outfit. In this article, we have provided you with His and Hers Outfits ideas which will help you to tell the entire world that you belong to your partner.
12 Best "His and Hers Outfits" ideas for couples.
1- Monochrome.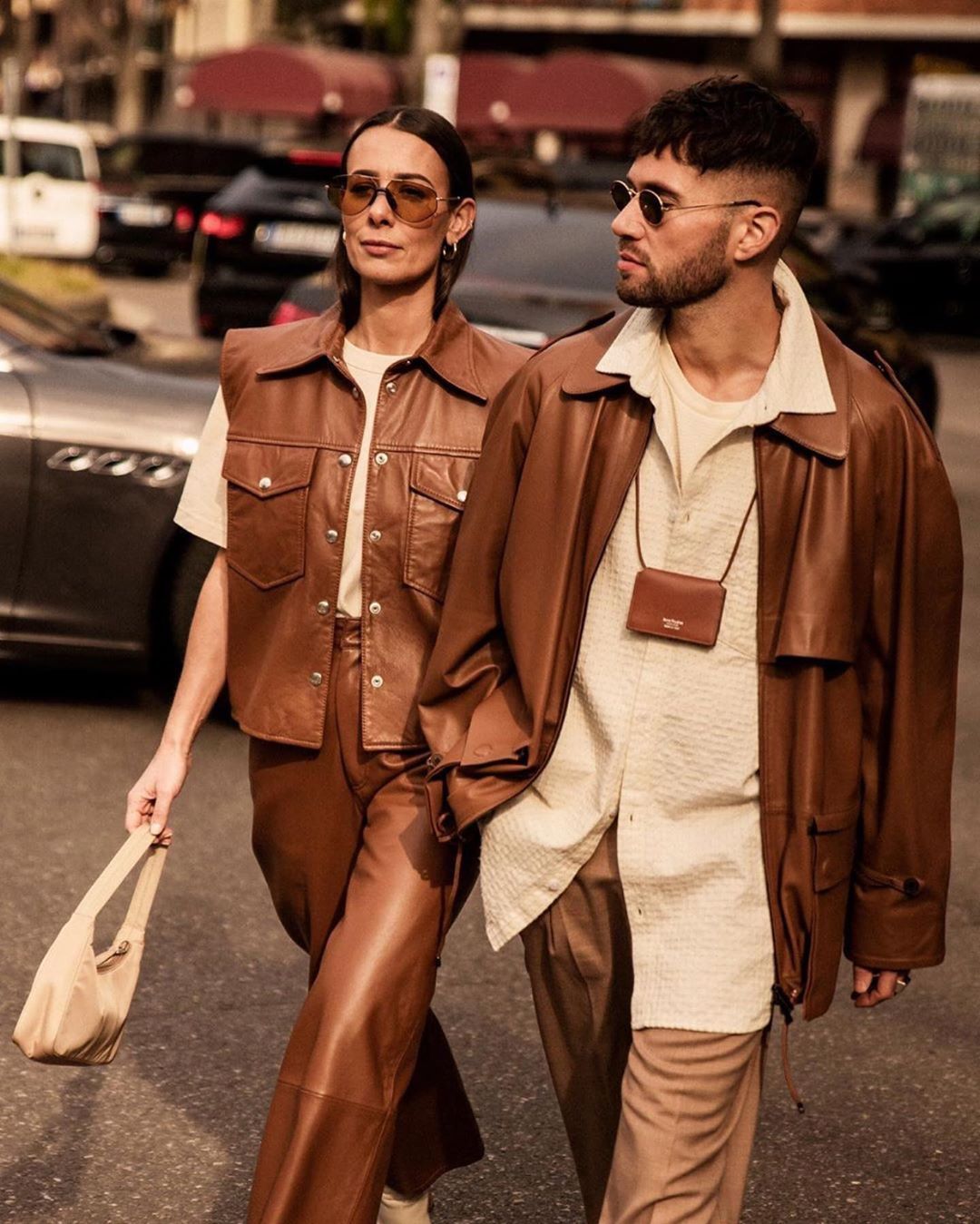 Monochrome is the easiest way to match his and her outfits effortlessly. Couples who prefer precise matches can go for full black or full white shades. Those comfortable with bright or loud colors prefer wearing brighter shades of red, purple, or blue.
It's not mandatory that you need to match the exact color shades with your partner's outfit. You can consider a little lighter or brighter shades than your partner's, creating a contradictory look, and you both will look great.
2- Accessorize with Denim.
Denim is a versatile fashion trend; you must always have denim in your wardrobe. You can easily use a matching accessory in a couple's outfit when wearing denim.
If he is wearing denim as a jacket or pants, she can wear denim as a skirt or a denim bag. You can use denim clothes or any accessory you have in your wardrobe because it's sure that you will find something that will work with her outfit.
3- Coordinated Tracksuits.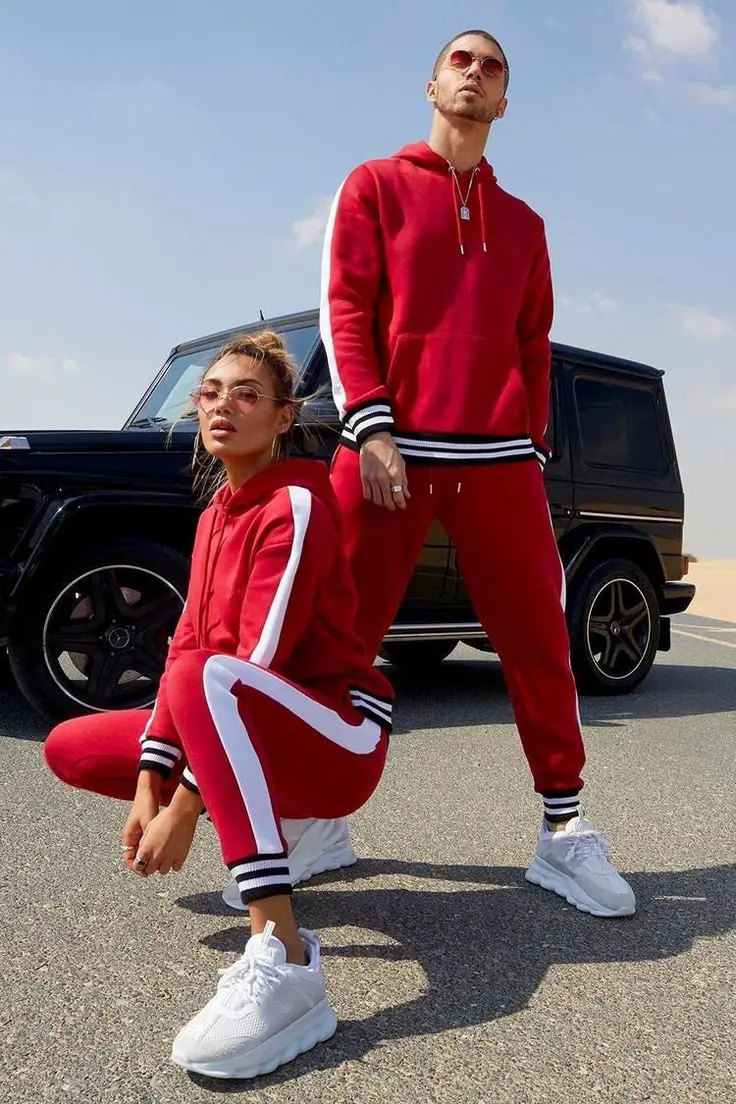 You can prefer wearing the same tracksuits to rock the same look as your partner wearing similar clothes. Other than that, you can easily match different tops or bottoms as per your choice.
His and Hers Outfits would be complete when you add some accessories to the combo. For example, you can wear matching hats to enhance your style. Sneakers and chains would also work well to level up your overall look.
4- Wearing the same fabric.
Couples who want to match their outfit can go wearing fleece. You can wear the same fabric in any season. For instance, during summers, you and your partner should prefer wearing polyester or linen, or get matching swimwear, from coordinating bikinis, and bathing suits, to swimming briefs or swim trunks.
You can match different fabrics as per your choice. For example, you can wear a satin shirt, a sweater, and denim jeans. This adds a fun element while selecting His and Hers Outfits as well.
5- Matching Suit.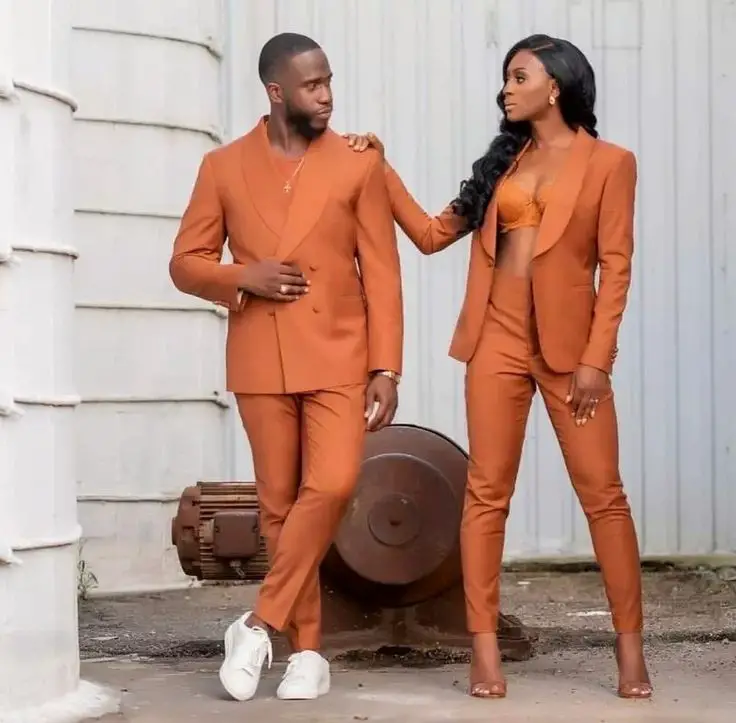 No outfit can outmatch suits because suits look the best in every way. However, if you consider matching your suit with your partner, you must try it.
He can prefer wearing a black suit with a white shirt inside, and she too could go for a black suit with a shade of pink. The positive point about wearing a suit as his or her outfit is that it looks good on every couple, no matter what the gender is.
6- Holiday Outfit.
The best time to wear a great His and Hers Outfit is on a summer holiday. However, if you plan to visit the tourist spots on sunny days, you must prefer wearing a tropical matching set with your partner.
You should try playing with different patterns and prints to enhance your style if you are heading towards a resort with your partner, as this is a cool resort look.
7- Preppy fashion.
Many trends come and go, but preppy fashion has managed to secure its place and will surely stay for a long time. You can upgrade this style, and this option would prove perfect for His and Hers Outfits.
Ladies might prefer wearing a collar top with a low waist pleated skirt. Add heels, and you would look beautiful. On the other hand, men can go for a cool polo shirt and a pair of dress pants. Together, you both will look just amazing.
8- Matching Outerwear.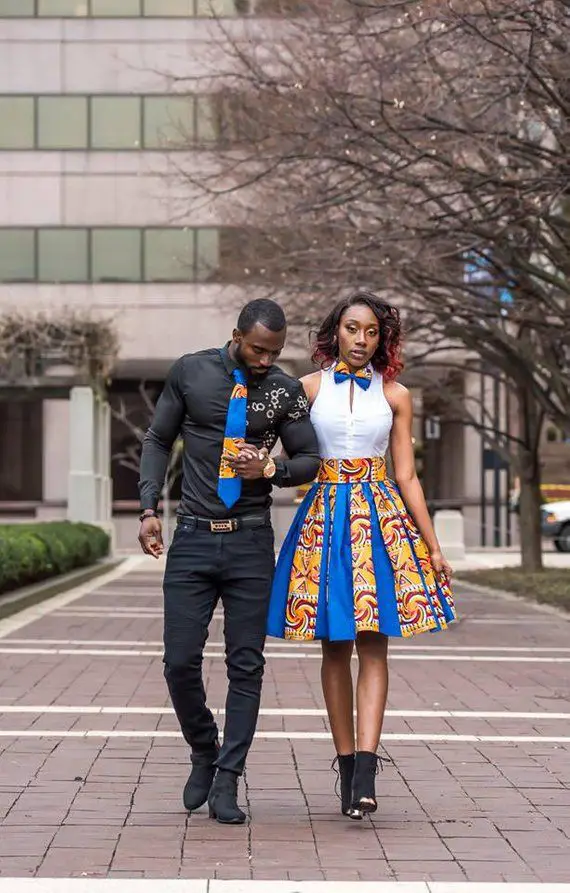 Wearing the same coat as a couple is not that easy, but it depends on the type of outerwear you choose for yourself.
So the best option is that the women try wearing a trench dress and men can go for a trench coat because everything you wear is not mandatory to be the same as your partner. But, sometimes, a little variation is a must. So, you must try this as it's a great option for His and Hers Outfits.
9- Korean Couple Look.
I am sure many couples must be inspired by the Korean look as Korean couples look a lot more adorable than anyone else. If you have ever visited Korea or seen pictures on social media, you will get to know that numerous outfits are completely on-trend.
His and Hers Outfits in Korea include a biker set to matching berets that look stylish and cool. So, you must try this look for sure!
10- Go for Dungarees.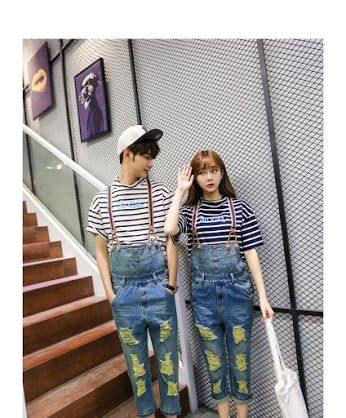 I don't think any couple would have considered wearing a dungaree as His and Hers Outfits. But you must consider it as it's not a bad idea to wear dungaree as a couple.
You can prefer a darker shade like black or blue for Dungarees; otherwise, it may look childish. Also, try linen fabric instead of cotton or denim to upgrade your look.
11- Brighten up the Look with Funny Quotes.
This idea includes shirt designs where quotes are written to spice up the look. However, you may find some designs very cheesy, like 'Together since 2015' or 'Mr. Perfect and Mrs. always perfect.'
But if you don't like cheesy quotes, you can go for some loving or funny quotes. Once you find the right one, it will be fun to wear the shirt as it's a great His and Hers Outfits idea.
12- Go for matching leisurewear.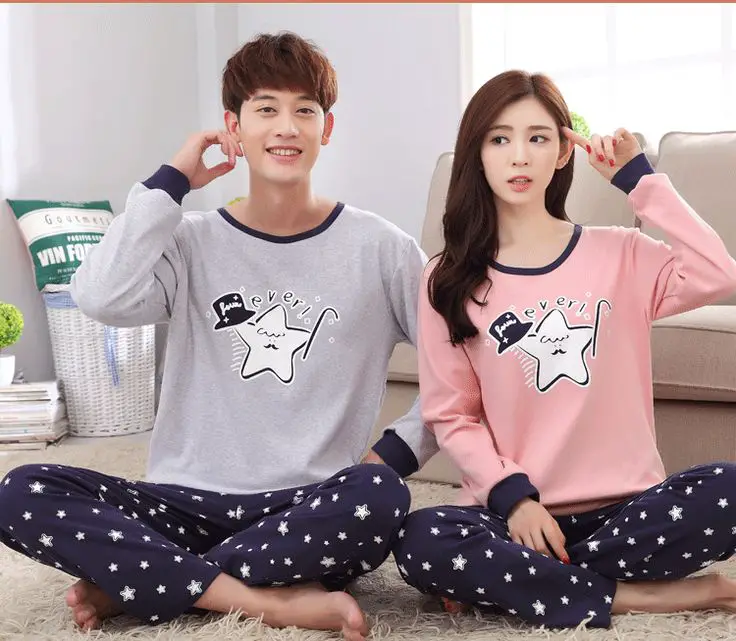 Leisurewear is a cool option for his and her outfit idea. In the case of winter leisure wear, you must try a white look in a hoodie and sweatpants. Moreover, add a puffer jacket to add confidence and attitude.
If you want certain variations in your style, you can go for a black hoodie, and your partner can go for a black cropped jacket to upgrade the look.
Cessation | His and Hers Outfits
Couples try to wear outfits that match each other's outfits, which is why all these His and Hers Outfits will indeed look cute, so try not to overthink about being cringy. Couples wearing outfits keep in mind that their partner's outfits look great and get a lot of compliments. I hope this article proves useful for you as we have gathered some fabulous His and Hers Outfits.