Dog Birthday cake Recipes For Your Furry Best Friend's Special day
Our pet animals bring a special kind of joy that we cannot thank god enough of. Dog birthday cake recipes are a great way to celebrate your dog's special day. You don't need birthdays to celebrate your furry friend's birthday, you can also celebrate 20th February too, as it is "love your pet day". We just want another day to treat our dogs in an extra notable method by these dog birthday cake recipes.
Dog cakes are a tasty and toothsome way to celebrate our beloved pet's birthday. So let's get started with dog birthday cake recipes for your dog.
Before proceeding let's see some healthy ingredients that we are going to use in baking dog birthday cake recipes.
Ingredients Needed For Dog Birthday Cake Recipes
1. Type of Flour required
We would suggest you be a little selective when it comes to buying flour for your cakes. Although, we know that flour is a binding agent in dog biscuits and dry food for dogs, all the flour types available with vet or stores are not similar in quality and ingredients. We are about to make a cake for your dog from scratch so it is better to keep your dog's health in mind before proceeding with buying the flour.
All-purpose flour that is white in color is usually preferred by many people in baking cakes, but it comes under the category of ultra-processed food items and has low nutrients in it. Instead of all-purpose flour, you can pick whole grain flour such as whole wheat. It is a healthier option for your dog with many nutrients in it.
Let's see what are certain other options for dog flours that we can use to create a toothsome and healthy recipe:
Best Flours To Use
If your dog is sensitive to wheat or whole grains, you can use below mentioned flours for cooking.
Chickpea
Coconut
Almond
Lentils
Potato
Flours That Are Okay To use
Whole grain flours are very less processed and have nutritional value for your dog's health.
Whole wheat flour
Barley
Oats
Sorghum
Buckwheat
Flours To Avoid
The worst choice for baking a cake is including all-purpose white flour that is highly processed and low in nutrients. Do not make the mistake of using such flours on your friend's special day.
Other Ingredients To Use For Dog Birthday Cake Recipes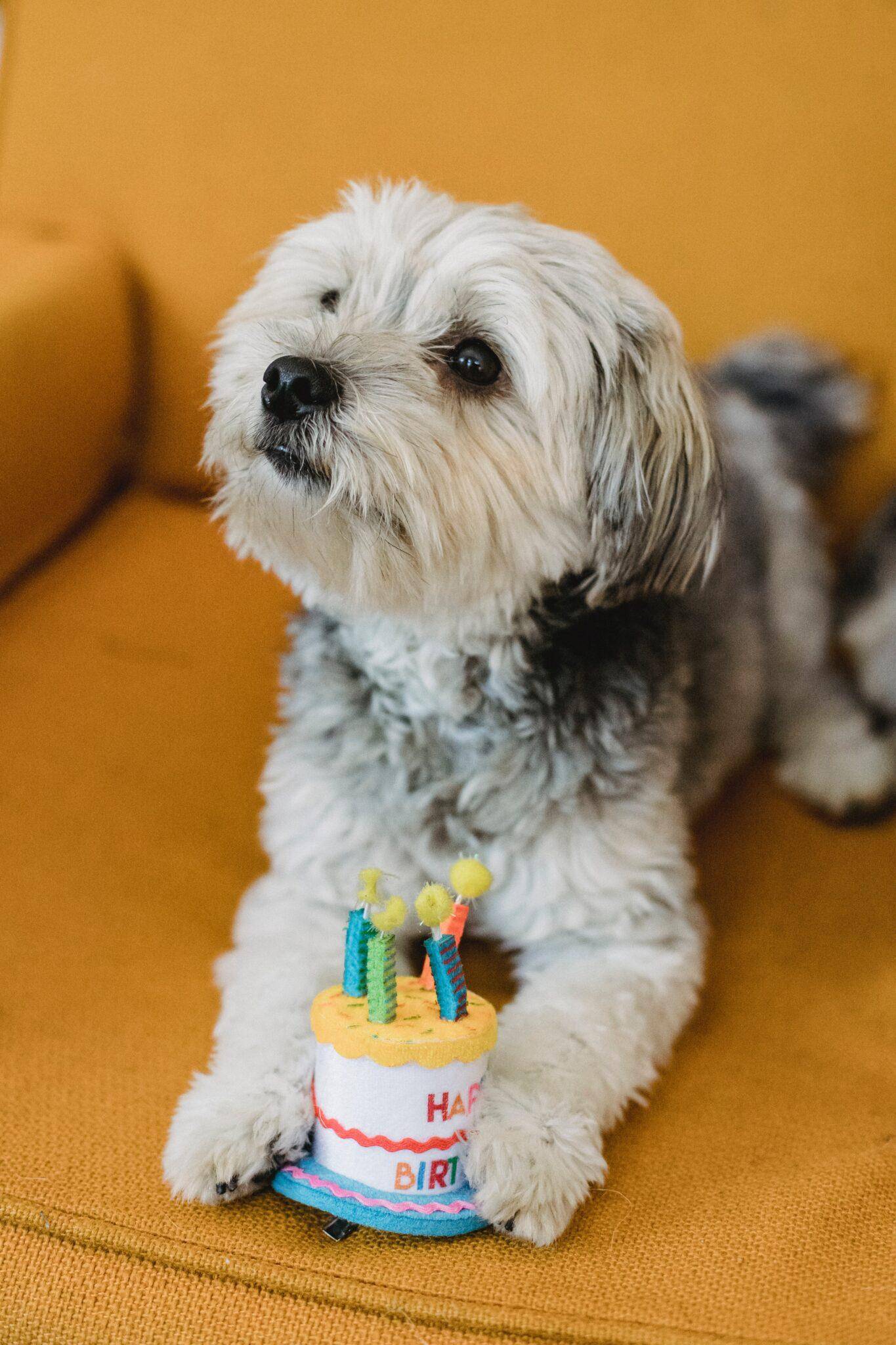 If you want to incorporate some human foods for your dog birthday cake recipes make sure you are checking if the food has some side effects or not. You can find a list of food items on resources like AKS which will help you and guide you to choose the right resources for your pooch. To begin with, here are few ingredients you should include and some that you should avoid.
Ingredients That Are Safe To Use
Seedless apples.
Blueberries
peas
carrots
potatoes
pears
strawberries
pumpkins
Ingredients Unsafe To Use
Cherries
Avocado
Chocolate
Grapes
Frosting Ideas For Dog Birthday Cake Recipes
low-sugar yogurt
Pumpkin puree
bananas
Sweet potato puree
Apple sauce
Mushed Potatoes
A small quantity of honey
Coconut oil
Peanut oil
Once you have all the ingredients needed, you can start preparing your dog birthday cake recipes. Let's see various recipes based on your pup's taste and likings.
Dog Birthday Cake Recipes
Let's go baking now because the cutest thing you can do for your dog is baking a sweet cake for them.
1. Coconut Berry Dog Cake
I am sure you may be tempted by this amazing and refreshing dog birthday cake because it is extremely tasty. to only it looks delicious, it is very healthy and rich in vitamin C, antioxidants, and phytochemicals. These are great in keeping your dog's health at better levels. Another fabulous ingredient we will use in this cake is coconut oil, I am pretty sure you are aware of the health benefits of coconut oil. It is great for digestion and helps in improving your dog's coat.
This recipe given below will make one 4 inch cake. Let's have a careful look at the ingredients and procedures to bake dog birthday cake recipes.
Ingredients required
one and a half cup of coconut flour
3 tablespoons melted coconut oil
one-fourth cup of blueberries
2 whole eggs
2 tablespoon of honey
Ingredients For Frosting
plain yogurt nearly 3/4th of a cup
honey 2 tablespoons, this is optional
Blueberries and strawberries for topping or icing
Natural food coloring agent, this is optional.
Direction To Bake
Preheat your oven to a temperature of 350 degrees Fahrenheit.
Mix melted coconut oil, eggs, and honest together in a bowl.
Stir the blueberries and flour
Grease a pan with coconut oil. Fill both the batter you have prepared and bake it for 25 minutes. Bake until you get a firm center.
Remove the cake from the oven and let it cool down.
Now mix together food coloring, yogurt, and honey for frosting.
Frost your baked cake and top it with berries.
2. Apple Banana Dog Birthday cake Recipes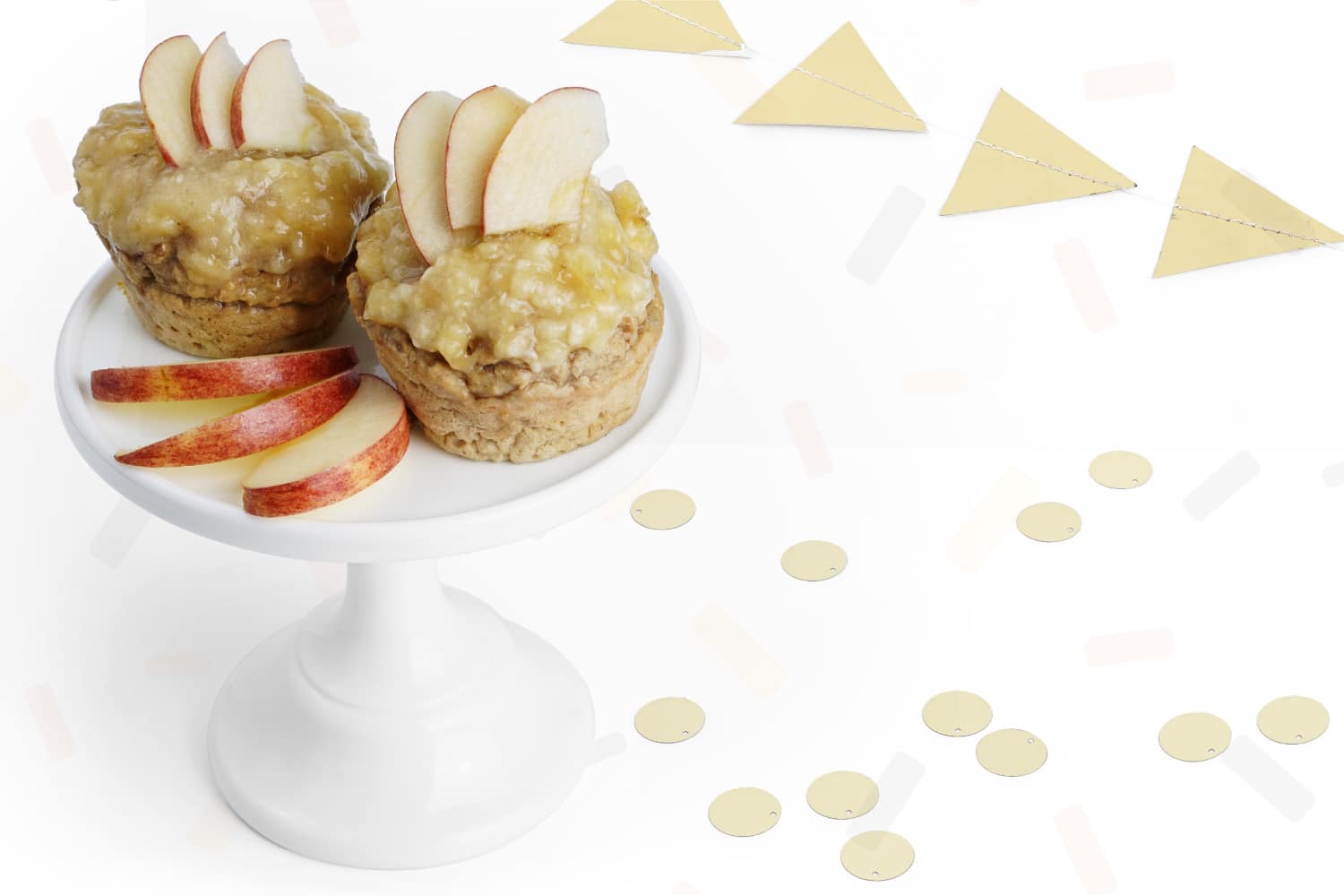 You can never go wrong and get over bananas and apples for dog birthday cake recipes. Apples being an excellent source of vitamin A, vitamin C, and fibers are definitely a must to include in birthday cakes, just make sure you are removing apple seeds from the apple as your dog may get sick due to them.
Bananas are also a great source of potassium and fiber. If your dog is having any issues with the gastrointestinal tract, you should definitely include bananas or prepares this cake. You can also top this cake using few apple slices, and banana slices for an extra treat. By following this recipe you will be able to bake 2 large-sized cupcakes.
Cake Ingredients Needed
Almond flour nearly 1 cup
Unsweetened apple sauce nearly 1/4th cup.
Shredded apple- one fourth cup
1 full mashed banana
Baking powder nearly a teaspoon
1/4th cup of water.
Frosting Ingredients Needed
1 banana mashed
Topped apple slices
Directions To Bake Cake
Preheat your oven to 350 Degrees Fahrenheit.
Mix applesauce, shredded apple, and mashed banana and stir the flour in water.
Grease your pan using coconut oil and bake until the center is completely firm for 20 or 25 minutes.
Mix mashed bananas and coconut flour together to receive a frosting consistency
Let it cool for few minutes
Decorate the cake or top it using mashed banana and apple slices.
3. Sweet Potato And Carrot Dog Cake
You can also get many bone-shaped pans in the market to bake a cake that your dog will entirely love, after all it is their important day. This cake is a little bit unique but great to taste. Layer the yogurt and sweet potato puree you have for getting a contrasting topping. You can also mix both the ingredients together if you wish to get a pale orange frosting. The recipe provided below according to the measurements will give 3 bone-shaped cakes for your dog.
Ingredients Required
Almond Flour- 1 cup
Sweet potato puree- 1/2 cup
Shredded carrots- 12 cup
Honey- 2 tablespoons
Melted Coconut oil- 3 tablespoons
Baking powder- 1 teaspoon
Water- 1/4 cup
Frosting Ingredients Needed
Plain non-fat yogurt- 1/4 cup
sweet potato pure- 1/4 cup
Shredded carrots if you need
Directions Of Baking
Preheat your oven at 350 degrees Fahrenheit
Mix honey, sweet potato puree, and coconut oil together in a bowl and stir almond flour, water, baking powder, and carrot.
Grease this pan with coconut oil.
Add the batter prepared and bake for 20 to 25 minutes until you get a firm center.
Let it cool down for some time
Top this using yogurt, shredded carrots, and sweet potato puree.
4. Pumpkin And Peanut Butter Dog Cake
If your dog is immensely fond of licking peanut butter, you should definitely try this dog birthday cake recipe. You can use mini bones and beef jerky to decorate your cake. Some people are fond of adding candles at the center, if you are one of them make sure you are removing it after taking pictures because unlike humans your furry BFF will not recognize the difference in a hurry.
You can bake 5 mini bundt cakes.
Ingredients Needed
oat flour- 1 cup
Pumpkin puree- 1 cup
Peanut butter- 1/4th cup
Honey- 2 tablespoons
Baking powder- 1 teaspoon
1 whole egg
Frosting Needed
Non-fat yogurt- 1/2 cup.
Peanut butter- 1/4 cup
Mini dog treats if you have any nearby
Directions Of Baking
Preheat your oven to 350 degrees fahrenehit.
Mix the peanut butter, pumpkin puree, honey, eggs together. Stir all the ingredients in baking powder and flour.
Grease the tins with coconut oil and fill them with the batter you have prepared. Bake it for 20 or 25 minutes until you receive a firm batter.
Mix peanut butter and yogurt together.
Leave it for some time to cool down
Frost it and use dog biscuits for decorating.
5. Meat Lover's Dog Birthday Cake recipes
Treat your little doggo with their favorite meat ingredients in the cake. This recipe will be making a mini meatloaf. Before you are serving it to your dogs make sure to slice them into many pieces. The veggies used in this are peas and carrots. You can swap these using your dog's favorite veggies or fruit toppings.
Ingredients required
Lean ground beef- 1 pound
one whole egg
Oats- 1/2 cup
Shredded carrots- 1/2 cup
Peas -1/2 cup
Frosting Ingredients
1 potato
water- 1/2 cup
Carrots and peas for toppings
Directions For Baking
Preheat the oven to 350 degrees Fahrenheit
Chop the potatoes and boil them until they are completely soft. It will require 20 minutes of your time.
Mix the ingredients oats, peas, carrots, egg, beef, etc.
Grease the tins you are using with coconut oil. Add the batter prepared.
Bake for 30 minutes to 40 minutes until your meat is completely cooked.
Till the time your meat is getting ready you can make the frosting using a mashed potato.
Once the meat has completely cooled down, frost using potatoes and uses your pup's favorite veggies for decorations.
These were the top 5 dog birthday cake recipes that you can prepare anytime for your pup's birthday and give them a tasty treat.