Over time, the cash register for small business has evolved to include more than just a cash box. They now usually come with powerful software that allows you to track inventory and taxes and function with credit card terminals and receipt printers. They are all-in-one checkouts that can be used by any business, from retailers to restaurants.
Traditional cash registers are still available, but you'll miss out on reporting tools, loyalty program add-ons, and the ability to accept contactless payments like Apple Pay and Google Pay if you go that route. The most recent point-of-sale (POS) systems work with cash boxes and provide affordable options that provide much more than just a way to accept cash payments. 
ECR (Electronic cash registers) or point-of-sale (POS) systems are the two cash registers available to small businesses. ECRs perform fundamental functions, such as tallying sales, completing customer payments, printing receipts, and storing cash.
However, standalone ECRs are becoming increasingly rare these days. Most businesses connect their tills to credit card terminals, barcode scanners, inventory management software, and point-of-sale (POS) software. Major ECR providers no longer manufacture cash registers, so businesses obtain cash register hardware from their POS software provider.
Even with all of the extra functionality, many POS software and terminals cost the same as or less than standard ECRs. For these reasons, this guide considers both ECRs and POS-based registers. Here are our top picks for the best cash register for small business in the market.
What you should know about cash registers for small business
Finding the best cash register for your small business comes down to price, components, and features. The low initial investment is one of the best reasons to go with a traditional cash register. On the other hand, a basic cash register does not add much value to your business, so you should seriously consider purchasing a POS system that connects to a cash register.
Here's some more information on selecting the best cash register for you:
What Is the Difference Between a POS System and a Cash Register?
There are two major distinctions between a cash register and a POS system: price and features. You can accept cash payments with a cash register and credit card payments with a connected payment terminal. A POS system usually includes or connects to a cash drawer or register, allowing you to accept all types of payments. Furthermore, POS software allows you to track sales, inventory, employee and customer information, and taxes (with automation).
Credit Card Processing at No Cost
Operating costs include payment processing, according to an unwritten business rule. Retailers and restaurants typically pay 2% plus a flat fee (average 10-15 cents per transaction). Some merchant service providers (MSPs) offer a no-fee payment processing option, in which the cost of processing is added to customers' bills. These surcharge fees passed on to customers may have a negative impact, so consider whether you will lose customers due to this additional cost.
Best cash register for small business
Based on our evaluation, the best ECR and POS cash registers for small businesses in 2022 are:
Sam4s ER 925: Best electronic cash register for low- to mid-volume retailers

Lightspeed: Best POS cash register for high-volume or multi-location retailers

Square: Best overall cash register for individuals, startups, and small storefronts

Sam4s ER 940: Best electronic register for low- to mid-volume restaurants

Toast: Best POS cash register for restaurants

Sam4s ER-180u: Best low-cost portable electronic cash register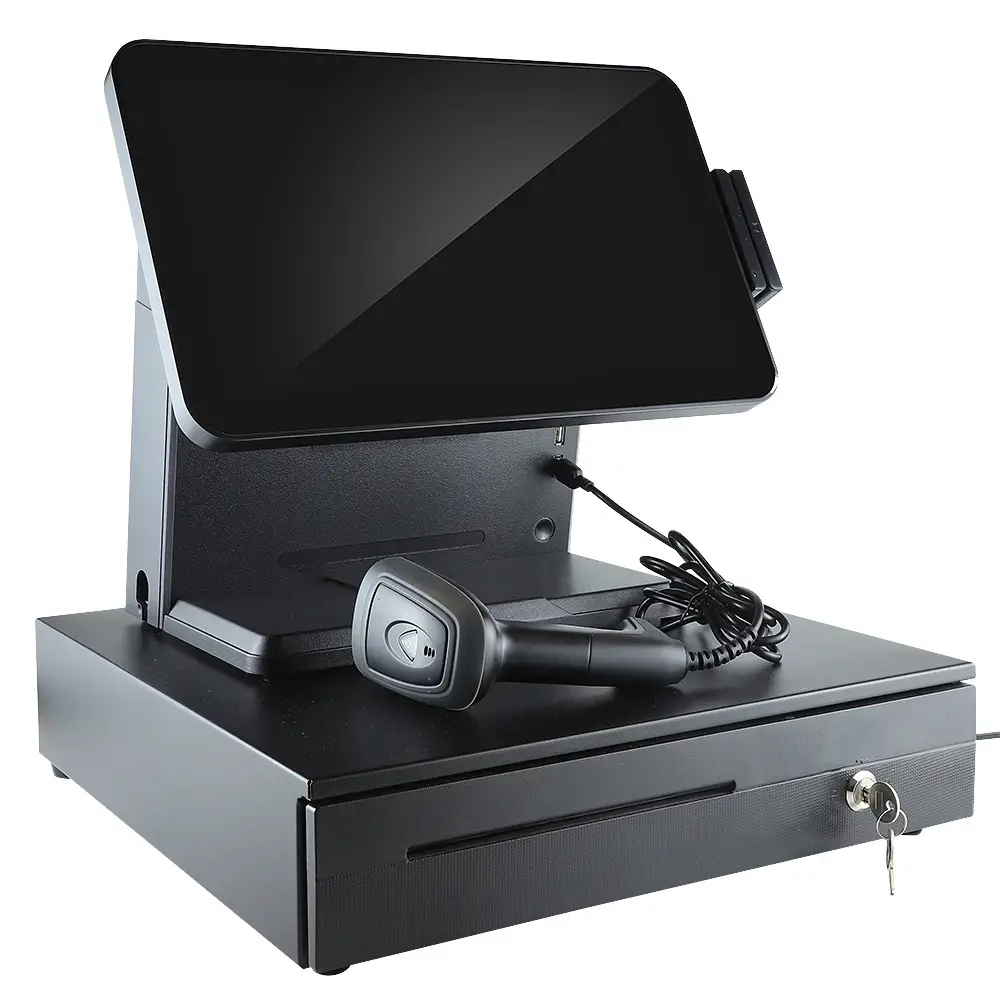 Square: best overall pos cash register for small business
Pros:
Free cloud-based software

Hardware that is reasonably priced and offers payment plans

Built-in payment processing allows for quick setup
Pricing in Squares:
Square Stand costs $149, or $14 per month for a year. iPad stand and card reader (iPad sold separately).

Square Register costs $799 or $39 per month for 24 months. POS register with integrated touch-screen monitor, customer-facing display, and card processing terminal.

Square Terminal costs $299, or $27 per month for a year. All-in-one portable credit card machine with built-in POS software and receipt printer.

Card readers for mobile devices cost $49. Join a contactless chip and swipe card reader to your smartphone or tablet.

Payment processing costs 2.6% plus 10 cents per chip, tap, and swipe transaction.

Monthly POS software fees range between $0 and $60.
Square is a POS-driven cloud-based register that offers several low-cost hardware options. Square is our top choice for the best small business POS systems because it is an all-in-one solution that incorporates a credit card processing service, software, and cash register in one system. Unlike electronic cash registers, it allows you to process sales and run your entire business from your smartphone or tablet. Alternatively, you can use one or more countertop registers to meet in-store selling requirements.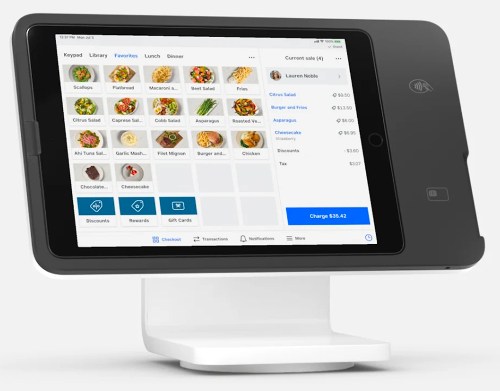 Square is the best POS-driven cash register for small businesses because it provides a comprehensive suite of free sales, payment, inventory, and business management tools.
Unlike the other options on our list, Square's POS register does not allow you to compare merchant account providers. Square's payment processing, on the other hand, is ideal for small businesses, with simple flat-rate fees and no startup or monthly account fees for a basic subscription.
You can upgrade Square's reporting and workforce management tools by paying $60 per month for the Premium service tier.
Features of the Square POS Cash Register:
Users who accept cash payments need to buy a cash drawer separately from Square or a third-party vendor. In addition, if you intend to use an iPad or smartphone as your primary register, you must connect it to a card reader. Users who sign up for Square's POS packages—Square for Retail or Square for Restaurants – will receive a free card reader. Others can typically find smartphone and iPad-compatible Square readers for around $9.99 for a swipe reader and $49 for a contactless reader at major office supply retailers. Square has the following features:
Sales and checkout:

Square's touch-screen registers support barcode sales, credit cards, and contactless payments. The system also keeps track of cash and checks, discounts and coupons, open tabs, split payments, and tips. Square's default is digital receipts, which allow you to collect customer contact information while saving paper, but you can print thermal receipts by attaching an optional thermal printer.

Mobile sales:

Besides in-person sales, Square supports online sales through its free Square Online Store website. You can receive online packets for pick up, delivery, or shipping directly in your Square register.

Taxes and reporting:

You can add and organize taxes from your Square online dashboard or the Square app on your register. Taxes are automatically tallied according to predefined rules.

Interconnectivity:

Square's register enables you to record sales and accept cash payments without needing an internet or cellular connection. You can also queue credit card payments to be processed automatically when you regain internet access. However, if you accept offline credit card payments, you must accept the loss for any declined cards. With a basic Square POS subscription, you can use Square on an unlimited number of devices.

Inventory management:

As you sell items in-store or online, your Square system stores detailed product lists and adjusts your inventory in real-time. You can effortlessly add new products from any internet-enabled device by logging into your Square dashboard.

Employee management:

Square, like Lightspeed, supports unlimited staff logins, whereas the electronic registers on this list limit staff log-ins to 10 to 50. Using your Square system, you can easily track employee sales and log employee hours for payroll. If you choose the Free POS subscription, keep in mind that you can only have one permission level at that level, so all employees will have access to the same register functions. Upgrade to the Premium level if you require customized permissions.

Customer Management:

Square, unlike the other ECRs on this list, saves customer contact information and tracks sales by customer. You can use this information to direct customers to items they might be interested in on future visits or to feed customized marketing and promotions.
Sam4s ER-180u: best low-cost portable electronic cash register for small business
Pros:
Lightweight and portable register; ideal for pop-up shops.

Sales functions are streamlined thanks to the built-in receipt printer and digital price display support.

For small retailers, basic tools are simple.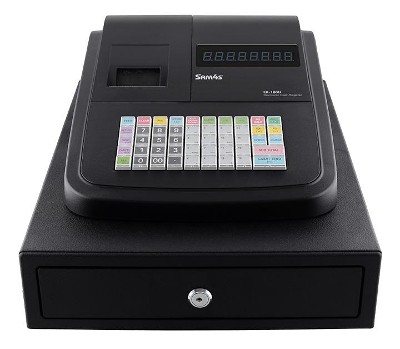 Sam4s ER-180u Pricing and Specifications:
Pricing:

$159.95 to $198 for Sam4s ER-180u (price varies by vendor)

Processing of payments:

You'll need a separate merchant services account and an un-integrated card reader. Rates will differ.

Specifications:
10 logins for employees

500 price look-up (PLU) codes are supported.

There are four programmable tax rates.

Up to 2,000 lines of transaction history can be recorded in an electronic journal.

Customizable receipts
Sam4s is a Korean electronics company that split from Samsung in 2003. With several legacy manufacturers exiting the ECR market, Sam4s is quickly emerging as the global leader in the electronic register category. It claims to support 15% of the global cash register market, with its products sold in 70 countries. As a result, customer service and replacement parts will be available for many years.
Sam4s' entry-level economy register is the ER-180u. This compact register is designed to accommodate the smallest retailers. Because the 180u lacks any ports for connecting an integrated card reader, it is best suited for cash-only transactions.
With only 10 cashier profiles supported, it is also best for small operations with a small staff. This portable register weighs only 12 pounds and is ideal for crafters and hobbyists who attend craft fairs.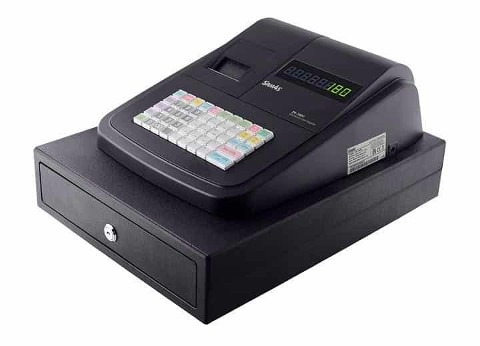 Sam4s ER-180u Cash Register Features:
The 180u is an all-in-one cash register unit; unlike the build-your-own cash registers from the POS systems on our list, you do not need to purchase a separate cash drawer and receipt printer. You'll need to add a standalone terminal from your merchant account provider to process credit cards. This model does not include an integrated credit card terminal. Features of the Sam4s ER-180u include:
Sales and checkout:

You can choose between a standard greyscale numerical keyboard and a programmable, color-coded keyboard for your 180u. This register accepts cash, check, or credit card payments, but cards must be swiped using an external card reader. You can also receive split tender payments (i.e., cash and charge). The amount owed will be displayed on the cashier's and customer-facing displays for cash payments.

Taxes and reporting:

Your 180u can be programmed with up to four tax rates. Tax can be counted as a separate line item on the receipt, or the tax can be rolled into the item price. The 180u tracks and stocks up to 2,000 lines of sales dealings in an electronic journal, and it comes with a few basic built-in information such as financial information and those for cash declaration, price code look-ups, and sales by the cashier. You can also print your whole electronic journal to use the data in other reports.

Interconnection:

This register does not require internet access to function. However, whatever external card reader you purchase will require internet or phone line access to process card payments.

Inventory management:

While not precisely inventory tracking, you can update your inventory using information from your electronic journal. If you require real-time inventory tracking, Square or Lightspeed are better options.

Employees:

The 180u supports up to ten employees, each with its profile and sales tracking. This is the fewest employee profiles available from any register on this list, but for small retailers, 10 may suffice.
Also Read: What is business venture definition? Learn about the best 10 business ventures you can host
Toast: Best POS cash register for restaurants
Pros:
Optional mobile POS terminal

Inventory should be tracked down to the ingredient level.

Online order management that is integrated
Pricing for Toast:
Countertop starter kit:

$0-$799 plus $69/month* Includes touchscreen POS terminal, Toast tap payment device, and router.

Handheld starter kit:

$0-$799 + $69 per month* Includes Toast Go 2 handheld POS terminal, wireless access point, and router.

Custom:

For those interested in paid plans, you can select more advanced hardware and receive a custom quote.

Fees for processing:

If you pay in advance: 2.49% plus a 15-cent processing fee. 2.99% + 15 cents processing fee if you pay as you go

Monthly POS software fees range from $0 to $165.
Toast account holders can pay for their hardware in advance or use the Toast Pay-as-You-Go model ($0 down with a higher processing fee).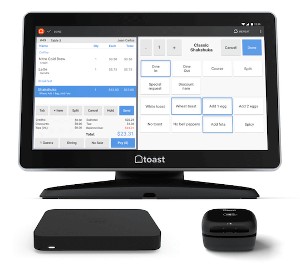 Toast is a restaurant POS system, and it is our top-recommended restaurant POS system. Toast, like Square, allows you to run your entire business from the cloud using your mobile or desktop devices. It's also a great cash register option for new restaurants because it comes with a $0 starter kit.
Toast's proprietary POS hardware allows you to take orders from a countertop register and on the go with their mobile POS terminal. You can then submit orders to your kitchen staff, and as meals are sold, your ingredient inventory automatically updates. Toast POS allows you to accept online orders, route them to industry-grade kitchen displays, and install self-service kiosks.
Toast POS Cash Register Specifications:
Toast users can use a Toast device to operate their POS system or access the management dashboard from any computer. If you want to accept cash payments, you'll need to buy a cash drawer from Toast or a third-party vendor—they're not included in the starter kits.
Toast also lacks transparency regarding the hardware options obtainable for the Custom plan. All of its paid schemes allow you to "choose your hardware," but viewing the expanded hardware kit options requires working with a salesperson. Among the features of the Toast cash register are:
Restaurant-grade hardware:

Restaurant POS systems are subjected to a lot of abuse, but Toast is up to the task with an IP54 spill-proof rating, quick processing times, and a sleek minimal design that fits any brand.

Tableside service:

Your subordinates can provide better and faster service with order-ready information, tableside payments, and visitor feedback portals at checkout.

Menu management:

Sync your menu with your inventory to track expiring ingredients and see which items are running low with inventory countdowns.

Online ordering:

Integrate your online orders into your POS device so the kitchen doesn't miss a beat—and your inventory controls don't either.

Training and installation:

All Toast account holders will receive free installation of all POS systems and in-person training and phone support 24 hours a day, seven days a week.
Sam4s ER-925: Best Electronic Cash Register for Low- to Mid-volume Retailers
Pros
There is an integrated card reader and dual cash drawers available.

It does not require internet access to function.

Several customizable peripheral options, including additional printers.
ER-925 Sam4s Pricing and Specifications:
Pricing:

Sam4s ER-925 prices range from $748.34 to $899.50. (price varies by vendor and add-ons)

Processing of payments:

A separate merchant services account will be required. Rates will differ.
Up to 50 employee logins are permitted.

Tracks with a maximum capacity of 3,500 PLUs

100 different discount options

Pre- and post-receipt messages of six lines

Additional ports for connection include a barcode scanner, a scale, an external card reader, an external pole display, and a Dallas key port.
The Sam4S ER-925 is a tough electronic cash register designed for retail establishments. Gift shops, ceramics studios, candy stores, and other mid-volume retailers love it. This register is more expensive than the much more affordable 180u, but it has many more features, including customizable peripheral hardware.
A barcode scanner, scale, and exterior pole display can be attached. You can also choose between an integrated and an external card reader. You can add a Dallas Key reader to speed up service by permitting cashiers to quickly log in to the register by connecting a magnetic fob. However, if you want to collect customer emails for marketing purposes or require a system with built-in payment processing, you should look for Square or Lightspeed.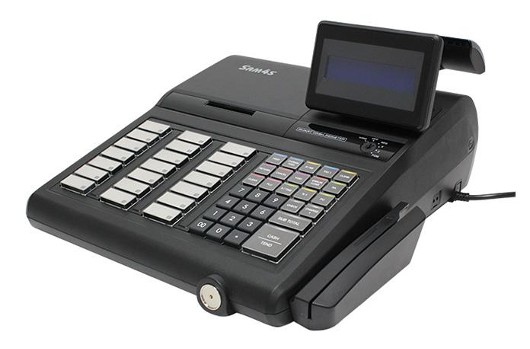 Sam4s ER-925 Cash Register Specifications:
Connect the ER-925 register to a credit card terminal to integrate payments into your checkout. Because the basic 180u has no terminal connections, it beats it right out of the gate.
The ER-925, like the 180u, lacks inventory management and inventory tracking tools in POS-driven registers. However, it includes an SD card for transferring sales data to accounting or reporting software, which aids in basic labor and inventory tracking. This solution isn't as streamlined as a full POS system, but it's a good compromise for shopkeepers with extra administrative time. Features of the Sam4s ER-925 include:
Sales and checkout:

Dual displays show real-time transactions to customers and cashiers. You can accept cash, cheques, EBT, gift cards, credit/debit card payments, split tenders, and process voids, returns, and discounts in the register. Optional accessories include a barcode scanner, scale, pole display, and change dispenser. Busy establishments may want to add the optional second cash drawer so that two cashiers can work from the same register.

Taxes and reporting:

The ER-925 supports both X and Z reports (which display totals without resetting your system) (which reset your register when printed). This register contains several reports that its sister register, 180u, does not. Aside from basic sales and financial reports, you also get stock reports, discount and void reports, and sales reports segmented by category or tender type. The PC utility on the register allows you to transfer your reporting data to a desktop via an interior SD card or direct PC link for more in-depth reporting and study.

Interconnectivity:

The register does not need an internet linkage for cash transactions and reporting. However, if you accept credit cards, you'll need an ethernet connection to power the integrated card reader.

Inventory control:

The ER-925's detailed sales by product category and waste tracking features give you far more inventory control than the 180u. However, they fall short of the real-time stock alerts provided by a POS-driven register. If inventory management is important to you, look into Square or Lightspeed.

Employee Logins:

This register keeps track of up to 50 employee logins. A Dallas Key port, optional, allows cashiers to quickly access the register by attaching their electronic fob. The ER-925 also has a training mode, allowing you to train new employees on the register without interfering with your daily reports.
Lightspeed: Best POS Cash Register for High-volume or Multilocation Retailers & Restaurants
Pros:
Robust features, with advanced inventory and reporting tools.

Join multiple registers and locations together.

A cloud-based system with real-time data synchronization.
Lightspeed Hardware Pricing: 
Hardware: Quote-based pricing is available for hardware bundles. Lightspeed is compatible with desktop computers, laptop computers, and iPads. Connect printers, cash drawers, barcode scanners, and card readers in any combination.
Processing of payments: Lightspeed Payments, a built-in credit card processing service, is included. The in-person swipe, chip, and tap payments rates are 2.6% + 10 cents. There are volume discounts available.
Monthly fees for POS software: Retail: $139-$319 per month, plus $29 for extra registers. Restaurant: $39-$289 per month + $34 for extra registers; additional add-ons range in price from $12-$39 per month.
Unlike Square, Lightspeed is a POS-driven cash register with a full suite of store management tools. Users can manage purchasing, staff, and business tasks across multiple locations and track inventory in real time. Lightspeed, like Square, connects in-store and online sales. Lightspeed, a POS-based register system, allows you to set up multiple registers in one or more locations and connect all data within one centralized, cloud-based software system.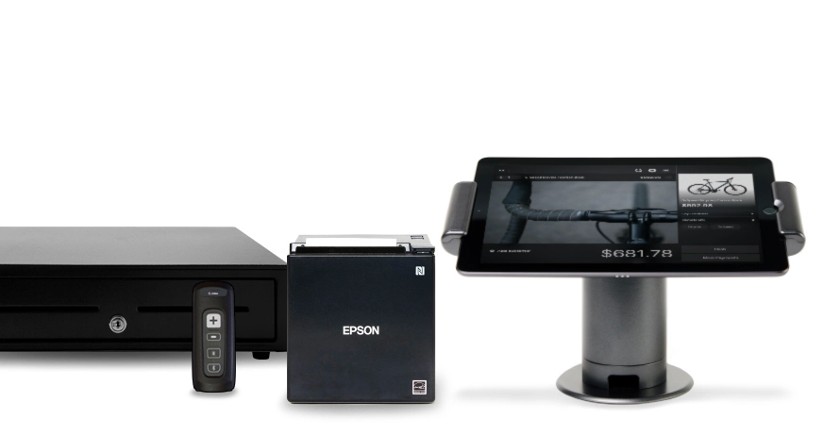 The ECRs on this list cannot connect to multiple registers or locations. You will need something more robust and networkable if you have a high-volume store or a multi-location business. Lightspeed is one of the finest options for businesses of that size, providing excellent value for the price. Users should be cautious because this cloud-based system requires a strong internet connection.
Lightspeed POS Cash Register Specifications:
Like Square's, Lightspeed's POS-driven cash registers provide far more sales and operational features than ECRs, but Lightspeed provides more register options than Square's iPad-based system.
Lightspeed users can tailor a cash register solution to their specific requirements, such as building a cash register around an iPad tablet, a Mac or a PC or using Android tablets and iPhones as mobile registers. This leads to the crown jewel of Lightspeed's feature set: advanced inventory management.
The ability to track stock counts, pricing options, and customer data in real-time is a major reason small businesses prefer a POS register over a standard register. Lightspeed truly excels in this area. It has excellent inventory management tools and a strong purchase order system. 
Lightspeed's fully integrated system replaces daily updates on inventory spreadsheets and sales journals for sellers who manage large inventories and multiple vendors. Furthermore, you can manage inventory across multiple store locations and backroom and warehouse storage. Lightspeed is our top choice for leading POS inventory systems for all of these reasons. Lightspeed has the following features:
Sales and checkout:

Lightspeed supports touch-screen or computer-controlled checkout screens and barcode scanning for item entry. You can also program discount codes and coupons to be applied via code entry or barcode scan and manage open restaurant tickets and tabs. For quick returns, your Lightspeed register saves customer data and transaction history. Receipts, like Square, can be printed or sent via email or SMS.

Taxes and reporting:

Taxes are calculated automatically based on the rules you set in the Lightspeed dashboard. The reporting provided by Lightspeed is the most detailed of any system on this list. Standard reports for sales, labor and stock counts can be printed, and your performance data can be integrated with accounting software to automate administrative tasks. To drill into your store's key performance metrics, the system includes hundreds of preset reports you can view using custom timeframes.

Interconnectivity:

Lightspeed has an "offline mode" that allows it to continue operating even if the internet connection is lost. However, you should be aware that some networking functions will not function offline, and you accept an additional risk for card payments processed offline. If the card is later declined, you will lose the money.

Inventory management:

Users can save detailed inventory lists, track parts and ingredients, and sync inventory across multiple locations and an online store. Lightspeed also includes features for managing product variants, custom orders, and sophisticated inventory reporting. When inventory runs low, your system will notify you, complete purchase orders, and track your vendors.

Employees:

Lightspeed, like the other systems on this list, allows you to create different employee logins to track sales by employee. You can also set custom approvals to restrict access to specific features. Technically, electronic registers support this function with manager codes and keys. Still, Lightspeed allows you to create unlimited users with customized permissions directly from the Lightspeed management dashboard.
Sam4s ER-940: Best Electronic Register for Low to Mid-volume Restaurants
Pros:
Spill-resistant flat keyboard

There is an integrated card reader available.

Several options for connecting to restaurant peripherals, such as receipts and kitchen printers.
Sam4s ER-940 Pricing and Specifications:
Pricing:

$699-$789 for Sam4s ER-940 (price varies by vendor and add-ons)

Payment processing:

Payment processing will necessitate the establishment of a separate merchant services account. Rates will differ.

Specifications:

50 logins for employees

3,500 menu items are supported.

Payment processing that is integrated

150 spill-resistant flat programmable keys

Discounts and tax rates that can be programmed

Languages supported include English, Spanish, and French.

Internal SD card allows for report recording, firmware updates, and custom receipt graphics.

Connects to common restaurant accessories such as dual cash drawers, high-speed thermal receipt printers, kitchen printers, coin dispensers, and barcode scanners.
The Sam4s ER-940 is the ER-925's restaurant counterpart. This register has all of the bells and whistles of the ER-925, plus a few extra restaurant features. The ER-940, for example, replaces the raised key keyboard with a flat, spill-resistant keyboard that can withstand spills behind a counter or bar top.
It can also connect to high-speed thermal receipts and kitchen printers. Busy bars and cafes will also appreciate the dual cash-drawer option, which allows two cashiers or bartenders to use the same register simultaneously.
This tough electronic cash register is ideal for small mom-and-pop restaurants where orders and payments are taken at a counter. Inventory tracking is the only truly missing restaurant function. If you require a system that tracks your inventory down to the ingredient level, you'll need a POS-driven register like Toast or Lightspeed. Furthermore, restaurants that serve a separate menu for breakfast, lunch, and dinner may find that even 150 keys are insufficient to cover every dish served.
Sam4s ER-940 Cash Register Features:
High-speed thermal receipt printers to Optional connections, kitchen printers, and kitchen display screens are included with the Sam4s ER-940. Barcode scanners, pole displays, scales, and change dispensers can also be attached. Features of the Sam4s ER-940 include:
Sales and checkout:

The ER-940's flat, spill-resistant keypad has 150 programmable keys to handle even the most complex menus. There are also keys for ordering eat-in, drive-thru, and takeout. If your menu changes frequently, the key sheet is paper, so you can easily change it. The ER-940, like the ER-925, has a built-in thermal printer and a customer-facing display. It also supports dual cash drawer tills and can process cash, check EBT, gift card, and credit/debit card transactions.

Taxes and reporting:

The reporting functions of the ER-940 are similar to those of the ER-925. Daily reports can be printed for each cashier, stock reports, item sales reports, and void and discount reports. You can also save your reports to the register's internal SD card and transfer the data to a desktop or connect to a computer using the register's PC utility for additional analysis and reporting.

Interconnectivity:

The register requires only an electrical outlet to function, but if you connect an integrated or exterior card reader, you'll need an ethernet connection to accept card payments.

Inventory management:

Inventory management is straightforward in the ER-940. You can generate reports that show how much of each complete dish you sold in a given day, but the system does not track the ingredient level. This may be sufficient for small restaurants, but if you require ingredient-level inventory tracking with low stock alerts, Lightspeed's Restaurant POS will be more useful.

Employees:

Your ER-940 can track up to 50 employees, with individual sales reporting for each. The ER-940, like the ER-925, has a training mode that allows you to teach new employees how to operate the register without invalidating your daily reports. This register, like all Sam4s registers, does not track employee time. Payroll will necessitate the use of a separate time-tracking system.
Takeaway
With more consumers relying on digital payments and fewer companies manufacturing cash registers, finding a cash register for your small business can be difficult. You'll have more options if you broaden your search to include POS-driven registers. Square was named the best overall cash register for small businesses due to its low cost, ease of use, and popularity among small businesses of all types.
We hope this article on the cash register for small business helped you to understand the best cash register for small businesses.