"Life is too short to have boring nails" and we couldn't agree more with this fact. When it comes to different types of nails, there are numerous options right on the platter in front of you. The types of nails are not just about coffin nails and square edges. It's definitely more than that, like almond nails. There are more than ten different shapes of nails that you can choose and each one has its own attire and uniqueness.
One of the most famous non-traditional nail shapes is the Almond nails. Have you ever heard about oval nails? Well, almond nails are nothing but oval nails with a bit more tapered end (but less tapered than the stiletto nails).
If you take a look at both the nails, you will be able to see the difference between almond and oval nails. The most advantageous thing about almond nails is that it looks good on both short and long fingers. If you are willing to groom your almond nails this year, here are some trendy ideas.
Seven Different Ideas To Groom Your Almond Nails
Holographic effect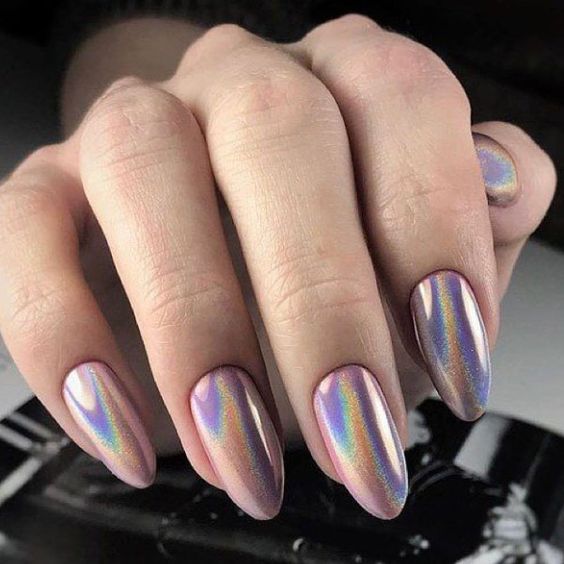 Even though the holo effect was introduced many moons ago, it's a happy fact that it's still on trend. Holographic nails are the ones that create a shiny rainbow like effect on the surface of your nails. The holo effects on nails are achieved by using holo nails powders.
If you think that getting the holo medis is way too expensive, then you are wrong. It's not as expensive as it sounds and if you are not willing to go to a nail salon, you could get easy access to holo nail powder online so that it can be done and dusted just by yourself.
People often confuse holo nails with chrome nails. Even though the process of application is the same for both there are three major differences between them. Chrome nails are way too shinier than the holographic ones and it doesn't produce a rainbow effect. Also, the nail powder applied on the shiny coat of nail gel is different from each other.
Classic white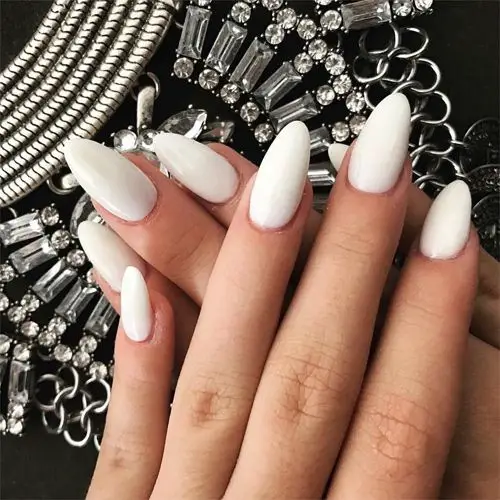 What is more aesthetic than the adorable and evergreen favorite classic look? Let it be a vintage full flare dress or let it be a neatly chiseled almond nail, classic white goes with everything. Classic white almond nails, popularly known as the classic French white tip, is absolutely elegant and it gives your nails quite a good accent.
Animal prints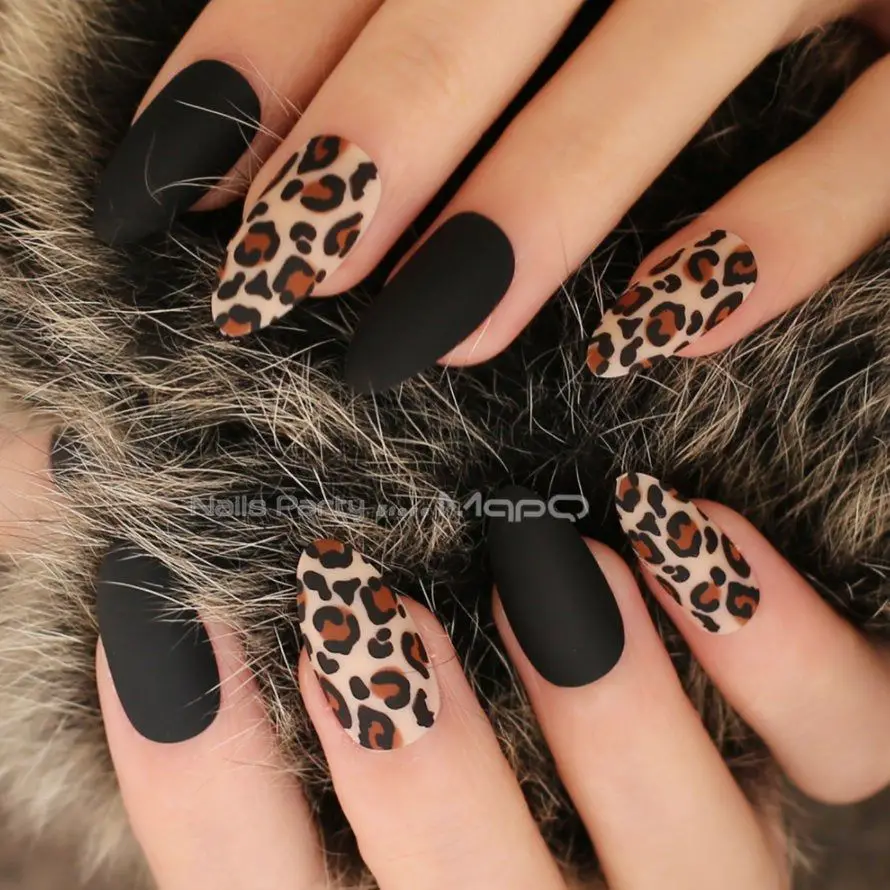 "In our own world, leopard is a color"- the quote which is like a flex to the fashionistas. There aren't any rule books stating that the animal prints are meant for only clothes, boots and bags. So, it's high time we have to apply those prints on our nails too.
There are loads of options available when it comes to animal prints on nails (not just leopard prints and zebra stripes). The Moo-print(cow print), giraffe print, snake print, ladybird spots, etc., are some of the other famous animal prints which you can recreate on your almond nails to twin them with your outfit and boots.
Ombre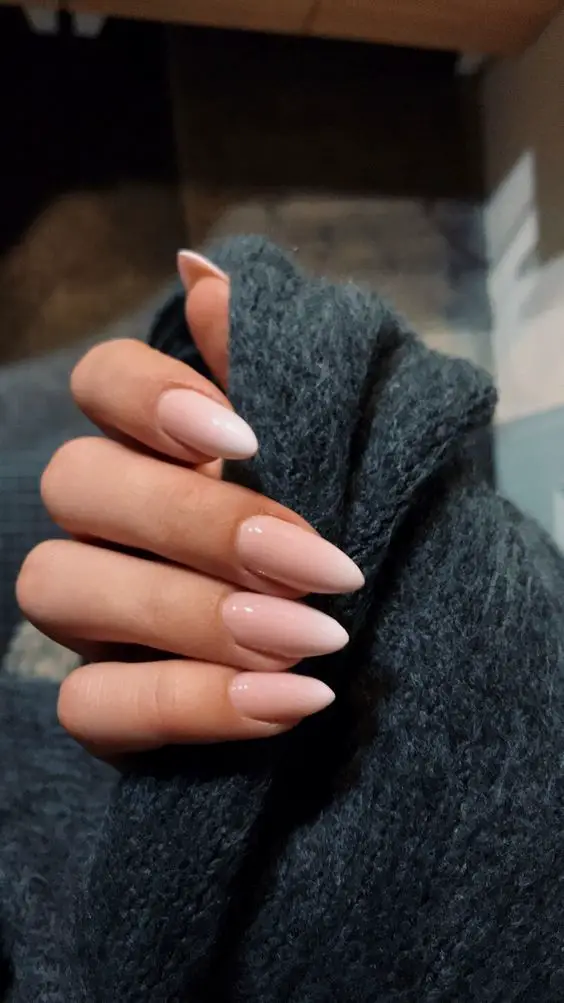 Always remember that it's never too late to get an Ombre effect. All you have to do is to choose two of your favorite nail hues. The Ombre effect is one of the go-to nail designs that never gets outdated as there are many ways you can innovate it.
French Ombre(distinguishing the nail and the nail plate with a white stripe in between), Blue Ombre, Nude Ombre, pink and white Ombre, etc., are some of the famous Ombre effects which you could create on your almond nails.
Neon effect
It's 2021 and nothing can beat the vibrant effect created by the neon hues. The neon nail colors are totally exotic and are dominating the pastel and the nude colors. Imagine yourself slaying in the beach body with neon nails on a summer vacay.
Gold foil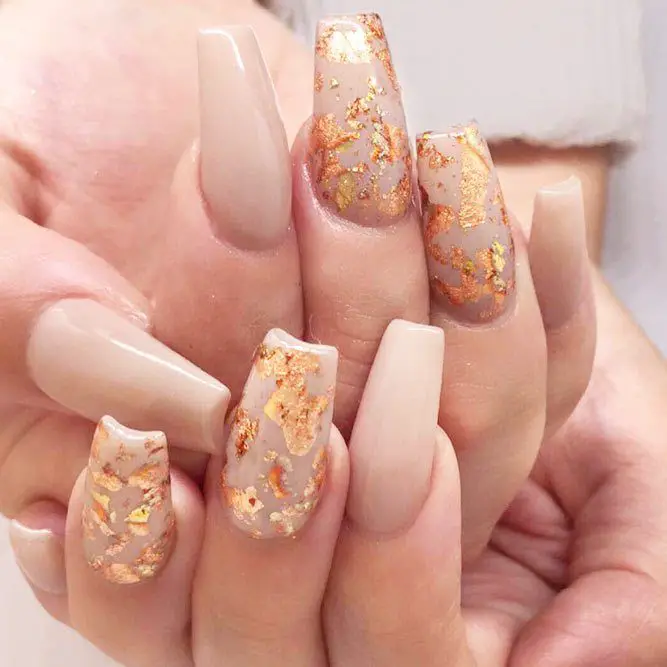 You may wonder how the gold foiled nails are gonna look on almond shaped nails but it's nothing less attractive than the gold foiled square edged nails. Apply two layers of your favorite base coat over your almond nails and with the help of a toothpick, tap the gold leaves over the tip of your nails. You can top the look by combining it with colors like black, white, brown, etc.
Checkered almond nails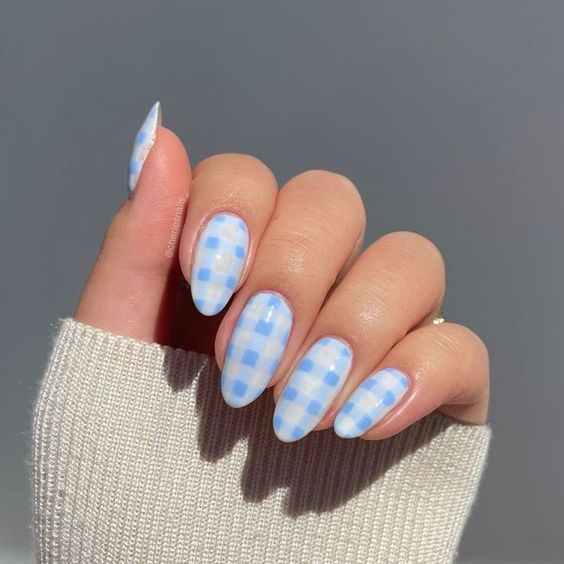 Well, the fact that everyone's Instagram feeds are loaded with checkered nails itself is enough to prove that these nails are on trend. If you are a person who doesn't like to visit a nail salon, don't you worry because this can be recreated by yourself and this is not difficult as it looks.
Closure
So, these were a few of my favorite ideas on almond nails that I came across. You can always mix and match your favorite combinations and let the artist in you come out. Everyone likes their nails to look amazing and so you can pick your favorite idea or make one yourself.
Hope this article helped you choose your favorite nail attire. Feel free to share your ideas and innovations about almond nails and their ongoing trends in the comment section below. Also, you can check more nail ideas on our website.