DIY Walking Stick – "Hiking is the solution, who cares what the problem is." Are you the one who believes in this statement? If you are, then you must know the power of this long, pleasurable walk on your soul and mind. It is a blessing that rejuvenates the soul and quietens the mind. However, whether you love to go on a trek through the woods or on a strenuous mountain climb, there is a companion that can make your long walks somewhat more manageable for you: "A Walking Stick" & a better one is "DIY Walking Stick."
A walking stick is a woody cane that helps you hike faster, longer, and farther. When this walking stick is made by you or by your loved one, then it also gives you a pride walk, and seriously, making this stick is not that much difficult. In this blog, the whole process is given of DIY walking stick with a touch of creativity.
Perks of Using Walking Stick while Hiking
For hikers, a walking stick is a necessary piece of equipment without which their journey is difficult and incomplete. Yes, there are many hikers who do not use a walking stick, especially a wooden walking stick, but those who use it know how much this stick can help them in their long walks.
It Increases your speed and makes you walk faster, especially when you are going downhill.
It gives you stability and burns calories.
When you are carrying a heavy backpack, it becomes somewhat difficult to walk comfortably. A walking stick make you walk comfortably and improves your posture.
It helps you to cross rivers, streams, creeks and maintain your balance on uneven terrains. Also, you can use it to check how deep the stream or river is before crossing it.
It shields your knees and reduces the pressure on your back and legs.
It can act as a great tool that you can use to avoid poisoned plants by pushing them through the stick.
In an emergency, you can also use the stick as a tent pole.
It can be said that a walking stick is something that results in quick completion of the journey with less energy consumption. It not only offers health benefits but also serves a number of surprising uses, and you should also give it a try.
DIY WALKING STICK: A Simple Procedure
Selecting a Stick
The first and foremost step for fabricating a walking stick is selecting a good piece of wood for making it. Go to your nearby parks, forests and get a suitable piece of wood for you. If you don't find any, then seek for the help of a park or forest ranger for the most environmentally friendly and sturdy option. Selecting a stick is not a hardcore process, but there are some necessary questions that you should hunt for before choosing a stick:-
#1 How long should it be?
The choice of height may vary as per the usage of the stick. If you are going to use it for casual walks or support, it should be long enough to reach your wrist from the floor. On the other hand, if you are planning to use it for hiking, then it should reach your shoulder, i.e., it must be about shoulder height. A longer stick can also be used for casual walking, but it will be relatively heavier.
#2 How much should it weigh?
Weight is not the point that should be given very much attention as hikers are usually healthy. However, if the person you are making this stick for has some physical limitations, then a great attention should be paid to its weight. It can be said the weight of the stick should be according to your strength, condition, and its usage.
#3 What about its toughness?
Hardwoods serve better and durable walking sticks. Some of the best options to choose from are maple, sassafras, cherry, etc. You can prefer dried mesquite. It is a sturdy piece of wood and much better than fresh wood. If you prefer freshly cut mesquite, then it may take a year to dry.
Also, try to avoid a piece of wood with holes or any insect infestation as it may be evidence of a weak stick. You can test the strength of the bar by a simple experiment. Hold the stick and place its one end into the tree's crotch. Now push against the other end as hard as you can. If it breaks or bends too much, then it's not the one for you.
Note: Be careful! While testing the toughness of the stick, you may get injured if it breaks suddenly.
Tools Required for DIY Walking Stick
If you have already made the mind, then it is time to gather the tools that you will need to make this walking stick.
Working Gloves
Wood
Saw
A Pocket Knife or Larger Knife
100 Grit Sandpaper & 200+ Grit Sandpaper
Tack Rag
Linseed Oil
Decor Gadgets (Optional)
Wood Stain
Grip Material
Base Cover Material
Wood burning Tool
DIY Walking Stick: 5 Simple Steps to Follow
Step 1: Trim your Chosen Piece of Wood
If you have chosen a long piece of wood, then you will have to cut it down to the appropriate length. After that, cut the branches that are protruding from the stick (if any). Use the hand saw to cut those branches.
Step 2: Cut Down the Bark
If you wish, you can leave the stick as it is. However, you may prefer to carve off the bark. You can shave off the bark by simply using a pocket knife or larger knife. Hold the stick and start removing the bark. Continue the process until you see a red layer under the bark. Some trees comprise multiple layers of barks, and thus this process may take some time. Be patient!
Check out this YouTube video for a better explanation.
Step 3: Make the Wood Clean & Smooth
Wear a sanding mask and start sanding the wood. Pick 100 grit sandpaper and wrap it around a 2X4 block. Now using this sandpaper, sand down the knots. Then switch to 200+ sandpaper and similarly do another round until you find the entire piece uniform. While this whole procedure, pay close attention to the end grain and knots.
Step 4: Wipe off the Remaining Sawdust
It is possible that some wood powder has been left on the stick. So, after sanding the wood, use the tack rag to clear off this remaining powder. It is straightforward to do.
Note: You can easily buy the tack rag from any hardware store, or you can also make one yourself. For that, you will need a lint-free cotton cloth and linseed oil. Boil the oil and put it on the fabric. After that, leave the material like that until it converts to a sticky state. Then use it to wipe off the surface.
Step 5: Finish off the Process by Applying Oil
Last but not least, finish your DIY stick process by oiling the stick. Soak a cloth in any of your preferred oil and spread it freely from the top to the bottom of the bar. It would be better if you hang the stick somewhere and start applying the oil as the oil may fall on the surface while doing this.
Customize Your Walking Stick: Do It Your Way!
Once you are completed with the process of making walking or hiking stick you may beautify it by using different ornaments, tools, and decor materials.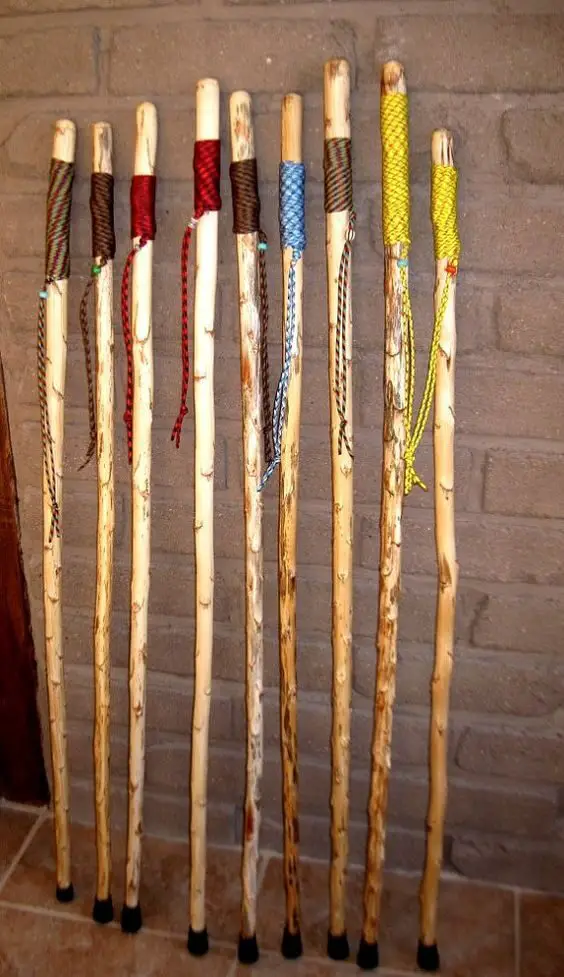 ## Give Your Stick a Makeover
You can give some creative touches to your DIY walking stick. Embellish it by using your creativity skills.
Using a pocketknife, you may decorate the top of the stick.
Carve your name on the stick.
Use a wood-burning tool to engrave different designs and initials on the stick.
Besides all these ways, you can also try another way to make your stick unique and eye-appealing.
## Use Wood Stain for Better Finishing
You may apply the wood stain to give it a smooth finished look.
Tips for using the Wood Stain
Apply it as per the package instructions.
If you want a darker finishing, add more coasts and let each coat dry overnight.
Consider wearing gloves, safety glasses, and breathing protection while applying the paint.
## Add Appealing Hand Grips
There are numerous ways to make your grip eye-appealing and comfortable.
You can use leather or nylon strips to do so.
You can also wrap the braided rope around that area. (Secure it with nails)
Have you seen tennis rackets? You can use the adhesive gripping style like those rackets.
Other than all this, you can apply grip tape that is used on hockey sticks.
## Cover the Base
You can trim or sand the base of your stick, or even you can leave it in its natural state. However, you may also prefer to give the bottom a better look.
Add rubber caps that are generally used for walkers to the base of your stick.
A large rubber stopper can also be used.
A short copper pipe can also be used to cover up the stick's base.
Key Points to Remember
While trimming and shaving off the stick by knife or another tool, carve it away from your body and never inwards. Otherwise, you may get injured very badly.
If you are looking for a fresh piece of stick, try to choose the one that is already broken off from the tree. Do not cut the branch from a live tree. Do some deep searches; you will find already broken branches.
Before beginning the process try to learn basic woodworking safety and how to use different types of equipment.
Use caution around sharp tools.
If you are a kid, make sure an adult would always get around you when you work.
Frequently Asked Questions (FAQs)
Q1 What is the best wood that can be used to make a walking stick?
There are varieties of woods that you can use to make a walking stick, such as hazel, birch, cherry, blackthorn, and ash, oak, elder, holly, etc. These woods not only result in sturdy and durable walking sticks but also serve multi-purpose as they can also be used to make excellent stick handles.
Q2 What are the tools that I would need to make a walking stick?
If you follow the simple procedure as like above to make a walking stick, then you will need only a number of tools, including:
Working Gloves
Wood
Saw
A Pocket Knife or Larger Knife
100 Grit Sandpaper & 200+ Grit Sandpaper
Tack Rag
You may also need some decor tools to customize your walking stick, such as:
Wood Stain
Grip Material
Base Cover Material
Wood burning Tool
Q3 What should be the thickness of the walking stick?
Your walking stick should be thick enough to withstand all the difficult ways of your long journey. The diameter of the stick should be larger if the person is heavier, and generally, it is about 1-2 inches in diameter. The point is thick should be capable enough to support the person; otherwise, it would be of no help.
Q4 How to seal a walking stick?
To seal a walking stick, you may use gloss polyurethane that comes in spray cans as its spray nozzle helps in easy application of the product. Apply four coats of this; it will be enough and let each coat dry overnight. However, if you want to use stain or linseed oil, it is not a wrong choice too.
Q5 How can a walking stick be prevented from cracking?
To prevent the wood from splitting and cracking, dip each end of the stick in the melted wax. Plus, covering both ends with some rubberized material would also help it work for a long time.
Q6 What should be the proper length of a walking stick?
The length of the stick may vary as per the usage of the stick. If you are going to use it for casual walks or support, it should be long enough to reach your wrist from the floor. On the other hand, if you are planning to use it for hiking, then it should reach your shoulder, i.e., it must be about shoulder height. A longer stick can also be used for casual walking, but it will be relatively heavier.
Conclusion
Hikes are peaceful journeys that not only have a physical impact on someone but also have a strong mental effect. In this pleasant long walk, a walking stick will act as your buddy, which will make it somewhat easy for you. It will not only benefit you health wise but also serve a wide variety of purposes: to clear spider webs, to part thick bushes or poisoned plants, support you when you are going uphill and aid as a brake when you go downhill, help to test the depth of the streams and snow and can also act as a defense against some wild animals.
It is not just a walking stick; it is a multi-functional tool that comes in many shapes and sizes. However, using your own made walking stick (DIY Walking Stick) gives you different happiness and pride. So why not try it when the whole process is not that much strenuous and also give it your creative touch.
*The whole process mentioned here has been based on the assumption that you have already learned the basic woodworking safety and also have learned how to work with different pieces of equipment. If you are not aware of these things, then seek the help of an expert to avoid any injuries.