Niacinamide And Vitamin C- Can You Mix These Two?
You may visit any dermatologist or skincare expert or obsess over celebrity skincare as we all do, you will always hear about niacinamide and vitamin C combo pretty early in the conversation, right?
By now you might have learned every trick in your skincare book: using retinol, vitamin C, and hyaluronic acid along with niacinamide. These ingredients are important A-listers that bring out the best in your skin — but how well do these ingredients act when they're mixed together?
Well, that depends on which ingredients you are going to mix. Not all components are friends with each other, and some might even oppose the other's benefits and cause serious side effects.
Since they are so beloved in skincare, you might be starting to think if you can use niacinamide and vitamin C combo together? Or, are both these formulas more like frenemies—simply tolerable but way too aggressive to ever have a significant relationship? Let's start with the answers.
Niacinamide And Vitamin C- Overview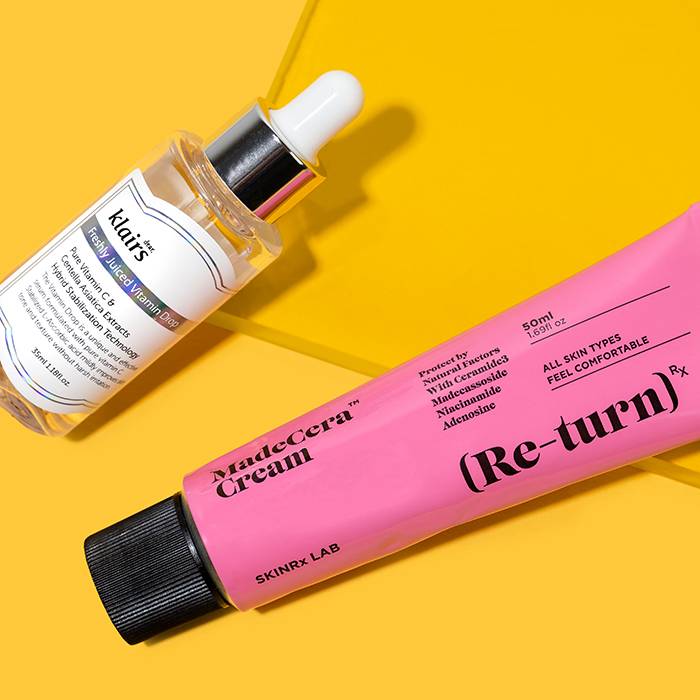 As far as skin heroes go in your skincare routine, Vitamin C and vitamin A receive all the attention due to their excellent qualities but there is a vitamin that often gets overlooked despite being fabulous. We are talking about none other than Vitamin B3 or popularly known as niacinamide. Similar to vitamin A and C, it has a lot of good benefits and many dermatologists believe everyone must apply it to their skin.
Some ingredients are simply better when combined and the same thing goes for our skincare components, but there is a definite amount of science to establish the ideal skincare routine. Layering the products might give you lustrous or glowing skin, but there is a reason why you must proceed with care. Some of the products we use are better when used separately unless was want sensitivity and possible acne breakouts.
However, there are lots of strong skincare ingredients that could be combined without creating negative reactions. In fact, most of them might become even more effective when combined.
One such powerful combination is niacinamide and vitamin C. This combination makes an extraordinarily potent combination. Niacinamide is a comparatively new ingredient in your skincare routine. It comes under a class of vitamin B-B3, to be precise. In the same pattern as vitamin C, niacinamide or vitamin B3 is a powerhouse component. It treats the signs of ageing, helps softening fine lines, and reduces instances of sallowness and hyper-pigmentation.
Let's have a separate look at both of these powerful ingredients, Niacinamide and vitamin C, and determine their excellent role in skincare.
What is Niacinamide?
Niacinamide falls under the class of water-soluble vitamins. It is also referred to as nicotine amide, an amide compound of the B3 vitamin. It exists naturally in food like mushrooms, nuts, and meats. Niacinamide possesses incredible skin-restoring and rejuvenating properties. It is also among the most popular skincare ingredients due to its ability to heal skin care problems with insignificant side effects.
Kudos to the anti-inflammatory activity of niacinamide, it is especially useful for ailments such as acne, breakouts, and hyper-pigmentation and it also helps in repairing the skin when it suffers from natural aggressors from the environment.
Niacinamide may also be used in oral supplements for treating acne, as it helps in reducing the inflammation linked with current blemishes while also serving to limit future breakouts. As an ingredient being cell-communicating in nature, it aids to incite microcirculation inside the skin cells, enhancing the skin tone with elasticity for an excellent resurfacing effect. Niacinamide is also a profound anti-aging component since it can increase the composition of fatty acids inside the skin.
In a skincare routine, where the dosage is restrained, niacinamide has limited to no recognised side effects at all and is steady in both light and heat. Some analysis on niacinamide has proposed that it shields skin against the effects of the sun, but while niacinamide is an excellent ingredient to incorporate in the skincare regimen, decent broad-spectrum sun protection or SPF must still be applied every day.
Niacinamide shows great results and works best when you use it for an extended period of time, like when you sleep at night you can apply an overnight niacinamide anti-ageing mask.
Here are some highlights of using niacinamide in your skincare, these include:
It helps fight acne.
It tackles hyper-pigmentation of the skin.
It helps soften fine lines and prevent ageing signs.
What Is Vitamin C?
Vitamin C is highly popular, in fact, it is the most popular ingredient when it comes to skincare. To brighten up a lacklustre complexion and erase any sunspots, vitamin C is the golden rule of skincare ingredients, particularly as the skin starts to age. Vitamin C is a powerful antioxidant in form of a topical and also a natural collagen promoter.
It compensates for free radical harm and defends the skin against harmful UV light and different environmental invaders, it also tackles abnormal generation of pigmentation to balance the skin tone and decrease dark spot appearance. While it is famously known for skin brightening, it could also be effective in skin firming.
Vitamin C serves most effectively when used in a mixture with other vitamins like Vitamin B, Ferulic Acid, Vitamin C, or Hyaluronic Acid. Created to achieve a high strength of actives, Vitamin C promoter serums are a highly popular option in skincare.
That being said, anyone with delicate or sensitive skin types may benefit from combining their vitamin serum with a moisturiser or going for a vitamin C-mixed moisturiser for more moderate delivery. To keep your skin happy and healthy, take a slow approach when attaching vitamin C to the skincare regimen. With any activity, it is necessary to begin slowly when combining ingredients into the routine and then proceed when your skin gets used to it.
Here are some highlights of this ingredient in your skincare:
It erases dark spots and helps even out your skin tone.
It plays a significant role in collagen production.
It helps tackle oxidative stress.
Scientific Knowledge and Studies On Niacinamide And Vitamin C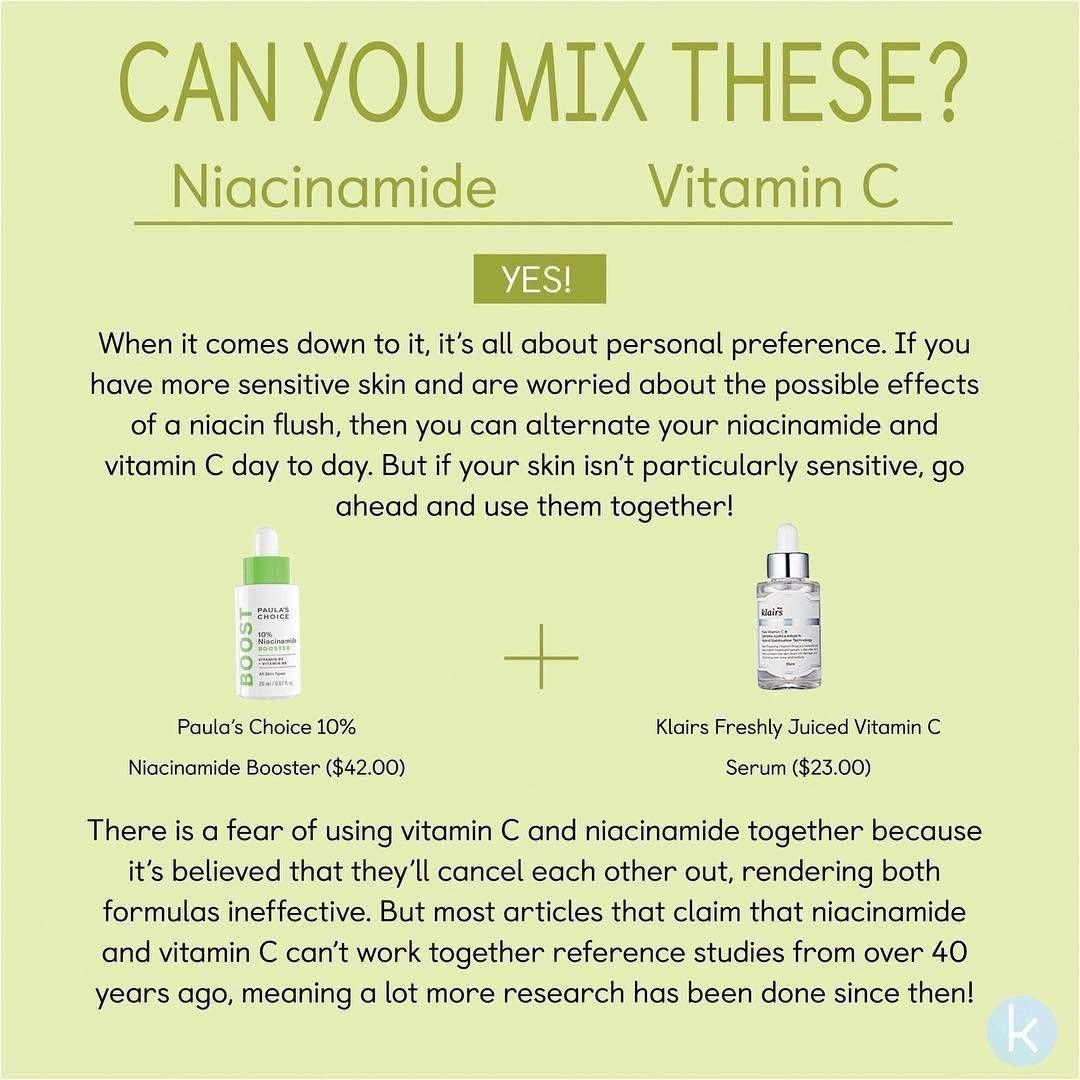 In a series of different studies, 50 women were asked to participate. All these women showed some signs of ageing. They were treated using niacinamide cream.
The outcomes of this study showed that the women who were treated using Niacinamide exhibited significantly more growth in skin elasticity and condition than other women who were treated with a placebo.
Studies moreover recommend that Niacinamide skincare products may decrease the signs and symptoms of stubborn acne or conditions such as Rosacea by decreasing the inflammation or swelling of the skin. If you have oily skin to be precise, Niacinamide is given to manage(and slow down) the oil your skin creates. With the less oily types of skin, openings appear smaller.
Vitamin C is also known as true or pure Ascorbic Acid, it is a naturally present antioxidant that serves to defend the skin from harmful UV damage, as well as decrease hyper-pigmentation, and boosts collagen production. Pair these two components together and you will get a powerful duo for glowing skin.
Can You Use Niacinamide And Vitamin C Together?
Do you want a quick and primary answer to this question? Yes! As you have likely noticed before, niacinamide really contains similar advantages as vitamin C, nevertheless. The two components can even work with each other, which is the reason you might notice niacinamide and vitamin C in stable forms in the same product for skin brightening.
Here's where everything gets difficult- former research has revealed that combining vitamin C—especially the unstable form of ascorbic acid—with niacinamide may change to another component called niacin, which might produce flushing on the skin. Flushing refers to blotchy and inflamed skin.
However, this science or study might be a little exaggerated- It really takes remarkably high heat or temperature for these two components to convert to another component called niacin, which is not likely to occur in skincare formulations. This former study mixed non-stable forms of niacinamide and vitamin C ingredients in a high-temperature atmosphere—such that it did not signify common skincare products in formation, manufacturing, or our home storage and usage.
If you are still worried though, you can use a proper layering method so that these ingredients do not irritate even after applying together. If your skin is sensitive to niacinamide and vitamin C but you still want results, then you must go for cautious layering.
The conclusion on combining niacinamide and vitamin C is that it is possible to do so. It is also possible that both ingredients can cause flushing, but it requires high temperature to do so which is rare when it comes to skin formulation and the environment we reside in.
Skincare does not tend to transfer to those ranges of heat, so you must be simply fine—but if the skin falls more towards the sensitive side, you may still require to continue with caution. And if you do possess sensitive skin, you may want to practice low concentrations initially of niacinamide and vitamin C, typically no higher than 2%, to evade irritation.
If you have decided to use niacinamide and vitamin C together, and wondering how to layer them, here is what you can do.
How To Layer Niacinamide And Vitamin C
If you are intrigued by employing both actives (niacinamide and vitamin C), here's how you can make certain they do not eliminate each other out—or lead to irritation:
1. Use your vitamin C serum first and then wait for it to dry
Since vitamin C is notably unstable, you will always require to implement it to clean and dry skin. This way, the ascorbic acid present in it has a possibility to sink into the skin. However, you must constantly apply the skincare products starting from the thinnest layer to the thickest. So, suppose, if you are having a niacinamide serum and vitamin-C-infused moisturiser, implement the serum on your face first, then follow up with the cream.
2. Find a product having both niacinamide and vitamin C
To make things simpler, you can always discover a product that includes both niacinamide and vitamin C in it.
3. Use Niacinamide in the moisturiser
Since niacinamide partners so well with different ingredients (unlike your vitamin C), you must be better off adhering to any pure vitamin C serum, than followed up with a good hydrating moisturiser that has niacinamide—you would not have to bother about the niacinamide not performing its job since it is pretty stable component overall.
Additional Ingredients To Use
In addition to combining Niacinamide and Vitamin C, here are some other powerful skincare ingredient equations to follow for beautiful skin.
You can also use vitamin A, C, and E
Moisturisers and sun protection with glycolic acids and retinoids
Retinol and ferulic acids
SPF when using retinol and protect skin from UVA and UVB rays.
The Bottom Line
Yes, you may use both niacinamide and vitamin C, but remember all the above tips so you do not have to end up worrying about the ingredients cancelling out each other. Layer niacinamide and vitamin C correctly.
Using them in a particular way will help reduce the chances of irritating your skin. Both these ingredients may form niacin but that only occurs when the temperature is higher, which is not possible on your skin and unlikely to ever happen. If you have sensitive skin, you may want to be slightly more cautious with the products you use and the ingredients in them.