Red-Brown hair- Stunning Ideas!
Red-brown hair or reddish-brown hair is a beautiful blend o various shades of browns and reds such as mahogany, auburn, chestnut, burgundy, ad copper hair colors.
When we talk about various blends of red-brown hair, there are endless hues to come up with. This color transcends the classic red shade and takes it to another level for a more rick and striking blend that will freshen and brighten your overall look straightaway.
Red-brown hair has a broad range of colors, thus making it an extremely versatile color that will undoubtedly complement all types of skin pigmentation. Colors that fall more on the browner side than redder shades suit fairer skins, while the colors that fall more on the red side of the color shades go pretty well on tan to dark complexions.
The weather is getting colder day by day, and that is one reason why you need to warm up your looks using this gorgeous red-brown hair color. Also, it is one of the hottest and most admired hair color trends right now. That is another reason you should think of a makeover. If you have planned on getting red-brown hair soon, there are tons of ideas to choose from.
You can find some inspiration for red-brown hair color ideas for your coming color appointment- Keep scrolling:
Red-Brown Hair Color Ideas- Which One Will You Choose-
1. Rooted Red-Brown Hair
If you admire the trend of red hair but are set off by the thought of regular upkeep? To help you have a good hair color that is also a little more low-maintenance, try having a rooted red hair color that also fits the trends. This shade stars brunette roots that transform into a stunning red, creating it excellent for natural brunettes. As the roots keep growing in, you will not recognize, giving you a lot more time between your touch-ups. A deal!
2. Rich Mahogany
Mahogany hair appears to be one of our preferred looks, and it falls beneath the red-brown hair shade umbrella too. The shade matches a burgundy tone with signs of a rich, throbbing red and a chocolatey-brown color to form a hair full of lovely dimension.
3. dark Auburn
Auburn is among our favorite looks, and there are so many ways to rock a red-brown hair coloring. If you wish for a somewhat subtler hue, think about a dark auburn shade. This gorgeous shade will leave everyone in a dilemma if it is your natural hair shade!
4. Brown Hair With Maroon Highlights
Are you interested in Red highlights, anyone? To dive into the red-meets-brown mane craze without many efforts, think about getting maroon highlights throughout the brown hair.
5. Peek-A-Boo Red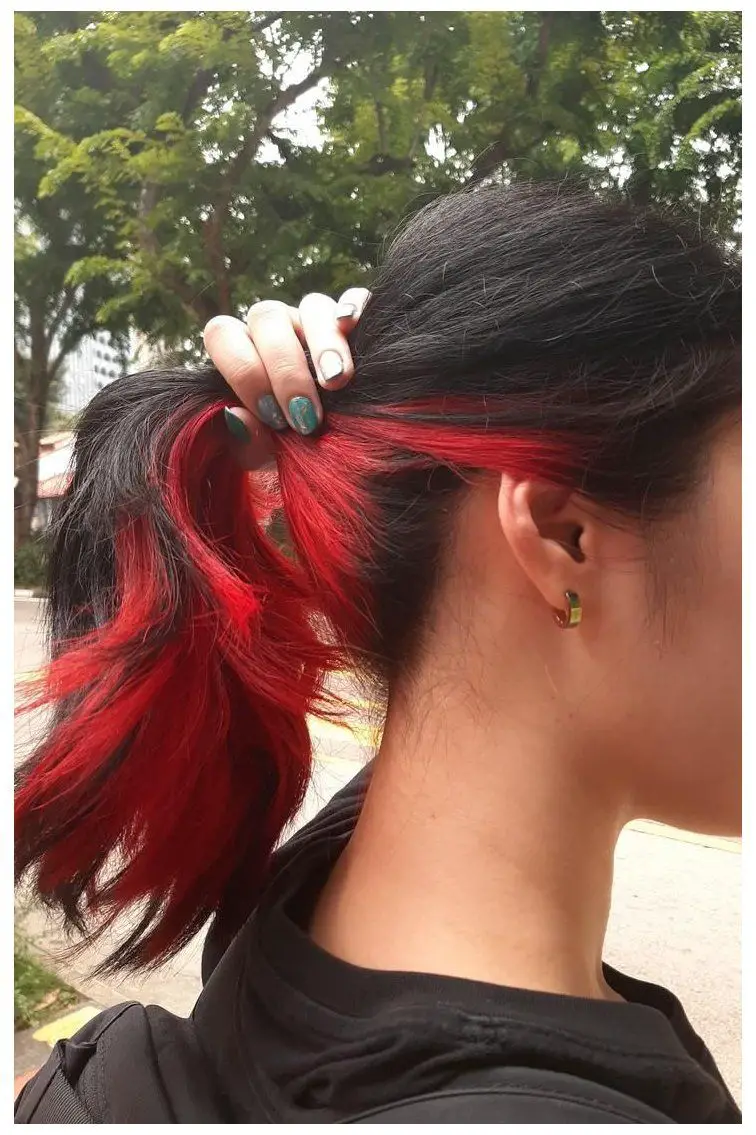 Wish to have your red hair color protected and covered until you are ready for its première? This hair color idea is perfect for you! A peek-a-boo red-brown hair shade is the ideal choice. Highlighting brunette hair strands on top and with a vibrant red tone on the underlayer of the hair, this red will be maintained as a secret till you select to wear the hair up for the show!
6. Golden Red-Brown hair
Why not combine some gold into the blend when it is also in trend? If you admire the look of action and body, there are no second thoughts. You will love the given hair coloring. With a combination of red, brown, with golden blonde hues throughout, your hair will pull the looks left and right. If you are ready for it, head to the salon!
7. Brown Hair Plus Auburn Highlights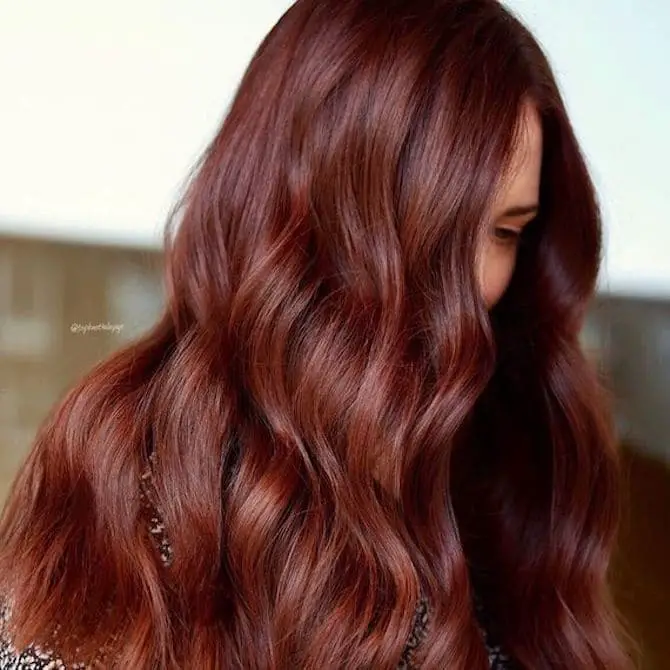 One more option for anyone who wants to fit effortlessly into the red-brown hair shade trend is beautifying their brunette hair with simply auburn highlights. That is typically one of the most straightforward and natural shades on this list; it is ideal and excellent for those who wish to outwit people into believing they are a natural redhead.
8. Rich Auburn
Fancy to play up the red shade? If you support red hair but still wish to have a bit of brown blended in to set out the look, we sincerely suggest you give this rich auburn hair hue a try. With the assistance of so many available shades in the market, getting this color at home is relatively easy.
9. Maple Brown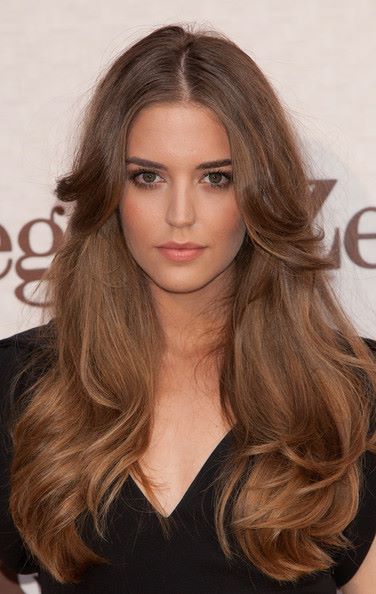 Conversely, if you favor playing up the brunette team of red-brown hair shades, search no further than this elegant maple brown hair color! It resembles our preferred pancake toppings; the maple shade includes a brown base with a crafty, tender red undertone.
10. Chocolate Brown With Copper Highlights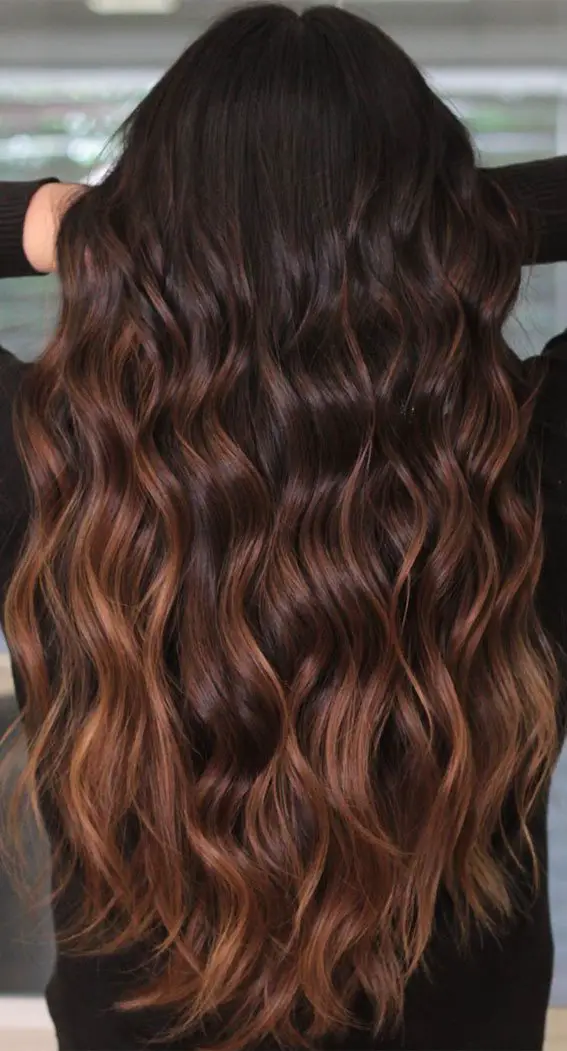 Already have a chocolatey brown base? Lucky you! While we love the look of chocolate hair all on its own, adding some copper highlights into the mix will take your mane to a whole new level. The bright red-orange color will bring your chocolate strands to life.
11. Burgendy Red Highlights
Getting streaks of burgundy red on your naturally dark hair will give you a stunning contrast that you probably cannot get with any other hair color. This idea is brilliant if you are looking for something to brighten up and spice up the natural hair base, but you don't wish to commit fully to regular maintenance.
12. Medium Brown hair Plus Copper Highlights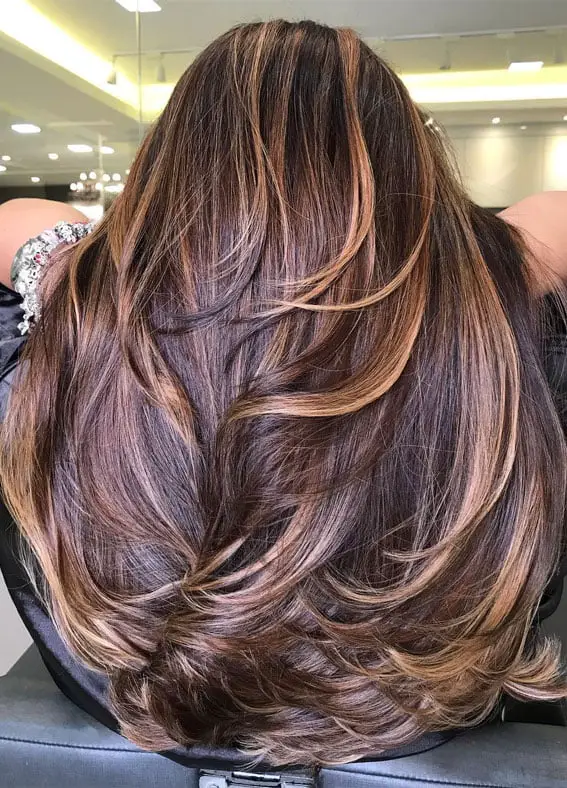 This hair color needs a dark base, mainly deep mahogany brunette; you can also think of the floor to be red wine with balayage copper highlights, making it a perfect autumn color for fall. The cut is angled and blunt with a few textured layers to grant an excellent dimension to the hair.
The red-brown hair color is for anyone who works at the office and desires to go edgy but maybe is not permitted to have hair colors while working.
13. Mahogany red With Brunette Balayage
This shade is mahogany red blended with brunette balayage to have deep red tones and copper baby lights. This is eternally stunning. It is the best hair color for anyone looking for a low-maintenance hair shade. You will only require to have root touch-ups every 6 to 8 weeks.
14. Caramel Brown Hair
This color is similar to maple brown, which you might have loved already; caramel brown is everything about the deep red undertones. Not to forget, it includes a bit of gracious, caramel blonde that matches the inside layer of your favorite chocolate as well. Seems pretty, right? You can also DIY the color using some hair color shades from your famous coloring brand.
15. Red Balayage On Brown Hair
We will always be a stan of balayage highlights, and these red balayage highlights done on brown hair that looks so pretty are no exception. This is one more of our low-maintenance hair color options; attaching red balayage into brunette hair will not break the locker or keep your schedule booked with regular hair color touch-ups and appointments.
16. Chestnut hair color
While you have might have been very involved listening to lyrics that mention chestnuts roasting on the open fire, we have also been occupied kneeling over this excellent chestnut hair shade! A perfect brown shade brought to life along with red undertones is genuinely ideal for anyone who prefers the brown side of these red-brown hair shades but still desires to get in on the game.
17. Chili Chocolate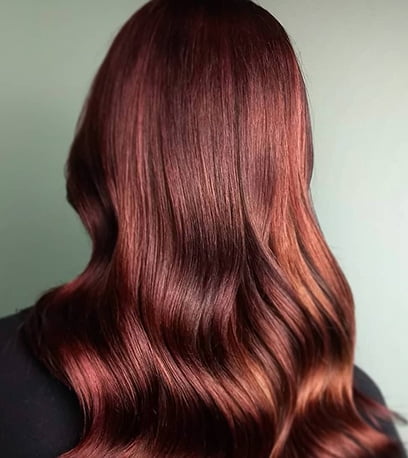 If you are looking to spice up your natural brown hair? Search no more than one of our preferred red-brown hair shade trends, the chili chocolate hair. We would be hiding the truth if we said we were not biased to this beautiful yet dimensional hue!
18. Dark Mahogany Red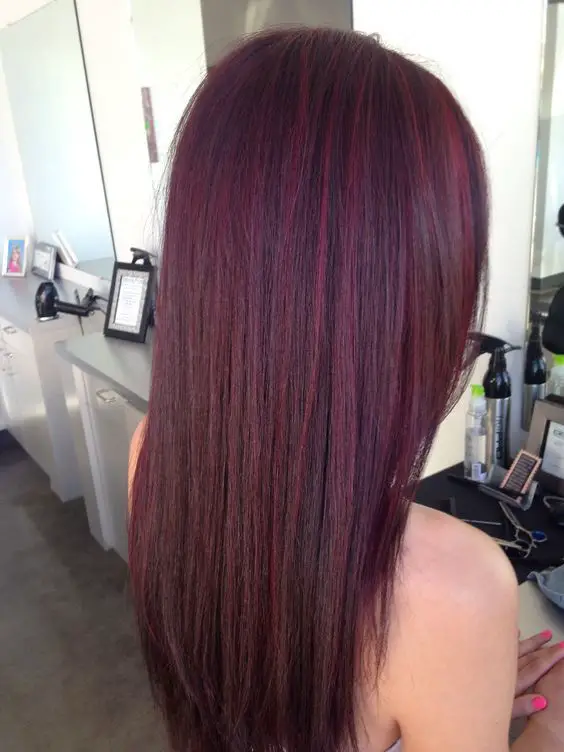 For a gorgeous mahogany shade that rolls more on a red, you can think about giving a deeper mahogany red hair a try. This is the ideal option if you are looking for a DIY alternative to get your new look, giving you a gorgeous, crimson red hair shade laced with hints of brown.
19. Burgundy Brown
Burgundy hair will always be a favorite hair color when it comes to coloring our hair for Christmastime. There is simply something about this stunning red-meets-purple hair shade that pops seductively facing a white fall wonderland. Combine a bit of brown into the blend, and we can not imagine anyone who would not immediately fall in love with this hair shade!
20. Auburn Brown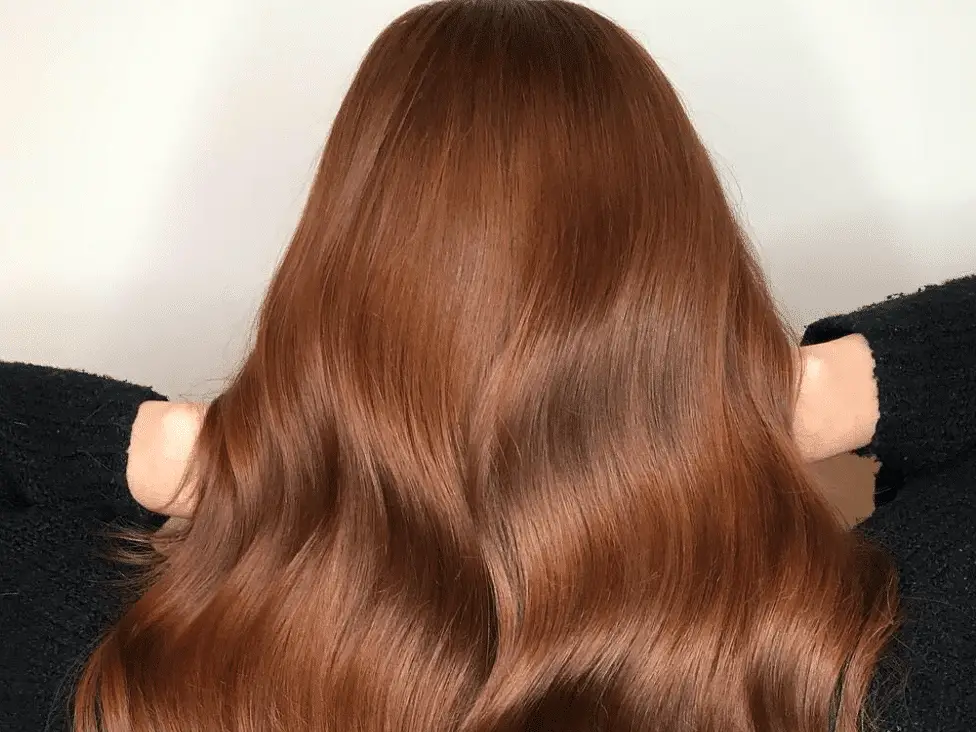 Are you among the ones following this beauty trend all about rust beauty inclination? We feel you! It appears that this red-orange shade has been moving its way beyond all areas of attractive beauty. Hair color is neither an exception. The Auburn brown is a stunning blend of rust mixed with brown, thus forming a hair color that is meant to go viral on your social media handles.
21. Red Tips On Brown Hair
The latest color in our low-maintenance red-brown hair color ideas is red tips on brown hair! In particular, this hair color trend is effortless to create at home effortlessly—you can also briefly swing the look for a day or two! To achieve this, color the ends of your hair using a hair spray that comes in a pretty red shade. When you are all set or ready to go back to being your full-blown brunette, wash the hair using an excellent regular shampoo and conditioner.
22. Red Ombre On Brown Hair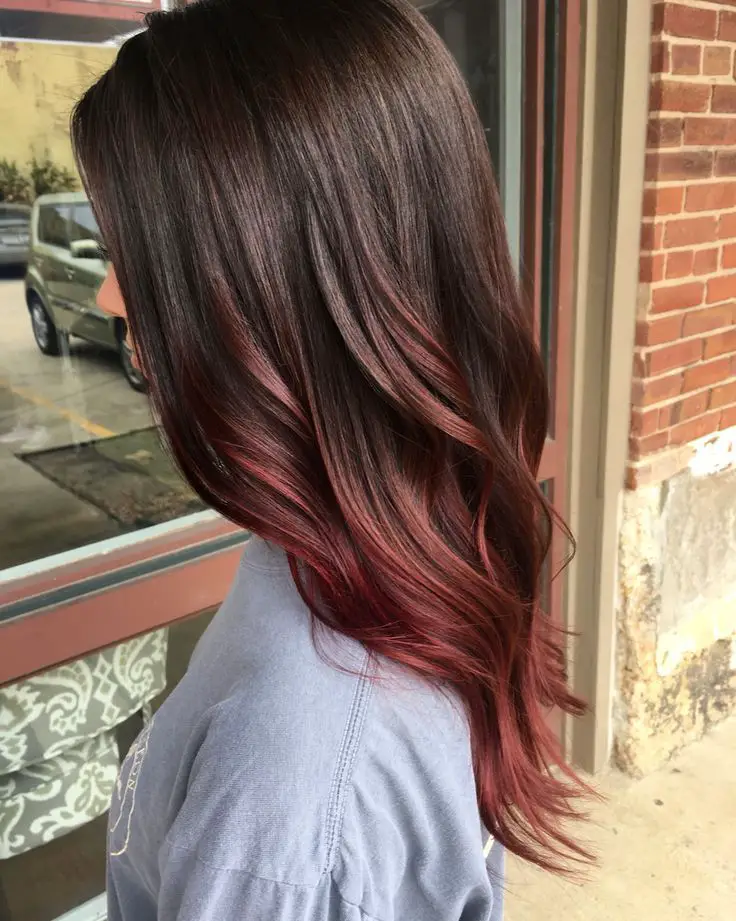 Still not sure if you are highly interested in one of the above given low-maintenance hair color options? Do not worry; we still have attractive options to try. Why not go for a red ombré shade on your brown mane? Your brunette hair will progressively transition to this red hair color, ending in an inclination effect of brown to red beginning from the roots to tips.
23. Light Reddish Brown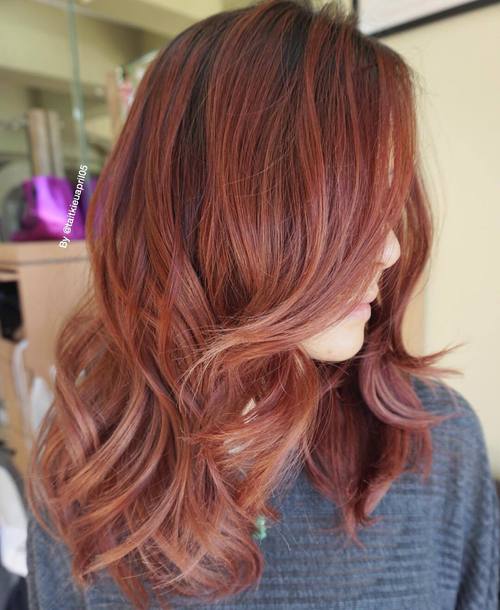 Wish to keep the hair strands light for this winter? You do not have to change to a dark red-brown hair shade to play in on the fun. Instead, rock a luminous brown hair color with slight red undertones. This shade appears outstanding yet minimalistic.
24. Dark Mahogany Brown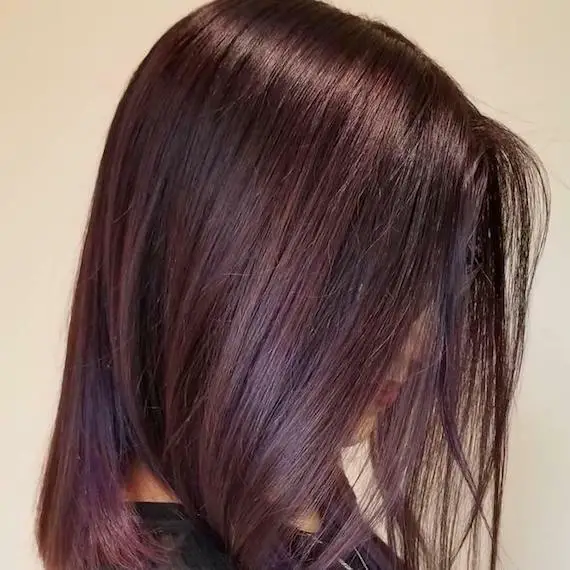 Here is one more of our mahogany hair color options? Dark deep mahogany brown! If you wish to add a slight bit of warmth to the brunette hair, this is ideal for achieving your favorite look. This color resembles a dark, rich chocolate brown hue with gorgeous red undertones, making for a thoughtfully beautiful red-brown hair shade.
25. Espresso Brown With Burgundy Highlights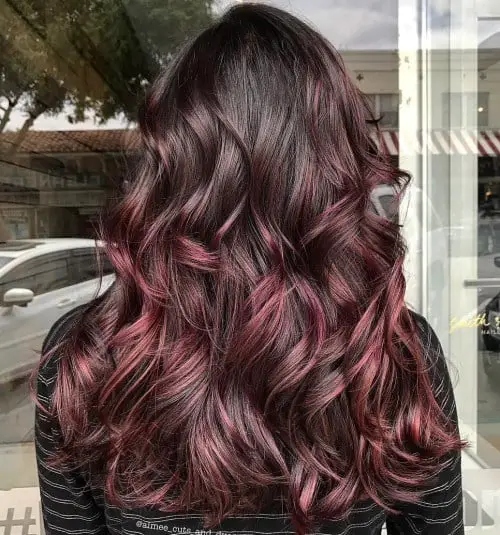 Here is our last but not least hair color idea, draw on the dimension! By now, you might have decided on some hair color idea; if not, here is one more! If you have a cool, dark espresso hair shade, we profoundly suggest presenting your mane with some attached depth with the assistance of these deep burgundy highlights. When you have a dark base, the highlights will not form a stark difference but preferably will combine beautifully for a hair full of richness and warmth.
There were some fantastic red-brown hair color ideas you can try this winter for a beautiful natural-looking mane.