Most Popular Shiva Temples of all time that you cannot miss visiting.
How do I describe Lord Shiva? THE UNDENIABLE SUPREME POWER to exist. The ultimate authority with absolute dominion, Lord Shiva is popularly known as SHANKARA in the Hindu religion and is accepted to be the most loved Deity. He is the giver of profound happiness and elated bliss and is portrayed as YOGI or a Peaceful entity in the ancient mythologies of India. Lord Shiva or Mahadeva is worshipped all over India, and many splendiferous and stupendous popular Shiva temples are built all over India.
One cannot deny the effervescent and positive energy radiated by the name of demigod SHIVA and to feel the divine, overwhelming rejoice, the devotees need to visit the most popular Shiva temples and see for yourself the salvation path and experience bestowing celestial triumph.
1. Kedarnath, Uttrakhand.
[media-credit name="India TV" link="https://www.indiatvnews.com/lifestyle/news-kedarnath-temple-facts-379820″ nofollow="true" align="aligncenter" width="700″]
[/media-credit]
Located near the pious Mandakini river, on the Garhwal Himalayan Range, Kedarnath temple is one of the most popular Shiva temples of India attracting a lot of attention these days. This Shiva shrine is enumerated among CHARDHAAM YATRA of Uttrakhand. The other famous destinations are Badrinath, Yamunotri, and Gangotri. It is also counted among the Panch Kedar and receives high worship by devotees. As the popular SHIVA temple is located on the Himalayan range at a high altitude, it receives high snowfall in winters and remains closed from December to April. The visitors may visit during the summer season and experience the purity of the temple.
2. Mahakaleshwar, Madhya Pradesh.
[media-credit id="268610″ align="aligncenter" width="1024″]
[/media-credit]
Lord Shiva is called by different names by his devotees based on "AVATAR" or incarnation. The Mahakal Incarnation Of Lord Shiva is the deity of death for the three lokas mentioned in Hindu Mythology. He is the messiah of innocents and destroyer of wicked and evil souls. The high point of attraction of this popular Shiva temple or Mandir as we call it is THE BHASMA AARTI, which is a must to encounter by devotees once in a lifetime.
3. Amarnath Temple, Kashmir
[media-credit name="Wikipedia" link="https://en.wikipedia.org/wiki/Amarnath_Temple" nofollow="true" align="aligncenter" width="1200″]
[/media-credit]
The popular Shiva Temple needs no introduction among Indians. The Amarnath temple is located in hollow caves of Jammu and Kashmir and the key feature about this temple is that only true devotees can reach the Ice Lingam of Lord Shiva as it is very pious and requires mental strength to outreach the destination. One who wants to visit may walk through rugged terrains of the hilly areas to get a glimpse of Bholenath or Shiva, which is totally worth visiting.
4. Shore Temple, Tamil Nadu.
[media-credit name="Britannica" link="https://www.britannica.com/topic/Shore-Temple" nofollow="true" align="aligncenter" width="1600″]
[/media-credit]
Located on the coast of the Bay of Bengal (Mahabalipuram), Shore Temple is not only a popular Shiva Temple, but it is also a UNESCO world heritage site. The temple has a hint of 8th century AD and is living proof of Indian heritage and skilled ancestors who build this masterpiece. For the travellers or devotees that are highly fascinated by the skilled architecture and legacy of ancient India, the Shore Temple is inescapable.
5. Kotilingeshwara Temple, Karnataka
[media-credit name="Karnataka" link="https://www.karnataka.com/kolar/kotilingeshwara-temple/" nofollow="true" align="aligncenter" width="708″]
[/media-credit]
This immensely popular Shiva Temple is known for a 1 crore number of Shivalingam placed closely. The temple is located in the Kollar district. The Temple has an enormous Shivalingam and Nandi statue (Nandi is Lord Shiva's sacred bull calf and vehicle).
6. Grishneshwar, Maharashtra
[media-credit name="Myoksha" link="https://myoksha.com/grishneshwar-temple/" nofollow="true" align="aligncenter" width="1200″]
[/media-credit]
The popular shiva temple, Grineshwar is assumed to be the last Jyotirlinga Temple to exist on Earth. Located in a village called Gerul, it is close to the ancient famous Ellora Caves. The temple is made up of red-coloured rocks in a historical archaeological theme. The name Grishneshwar is derived from an interesting epic story mentioned in the Indian Puranas.
7. Tribankeshwar, Maharasthra
[media-credit name="@bhijeeT" align="center" width="800″]
[/media-credit]
It is a Jyotirlinga Temple at the etymology of the Godavari river, built by the fearless ruler Peshwa Balaji Baji Rao in quintessential Hemadpanthi style. It is included among the most popular Shiva temples in India as it is completely built of charcoal black rock having a brilliant architectural design. The Shivalingam of Tribankeshwar depicts the embodiment of three supreme deities of Hinduism namely Lord Vishnu, Lord Brahma, and the almighty Lord Shiva.
8. Kashi Vishwanatha, Uttar Pradesh
Any born soul on earth that completes their last breathe in Kashi Vishwanathan is said to achieve salvation and unfetter themselves from the ultimate cycle of rebirth. This prestigious and popular Shiva temple is located in Varanasi. For everyone that follows Shaivism might be familiar with this temple as it possesses great importance in the heritage of India and it is beautifully carved.
9. Omkareshwar, Madhya Pradesh.
[media-credit name="Indore" link="https://indorehd.com/lesser-known-interesting-facts-omkareshwar-jyotirlinga-narmada-river/" nofollow="true" align="aligncenter" width="1920″]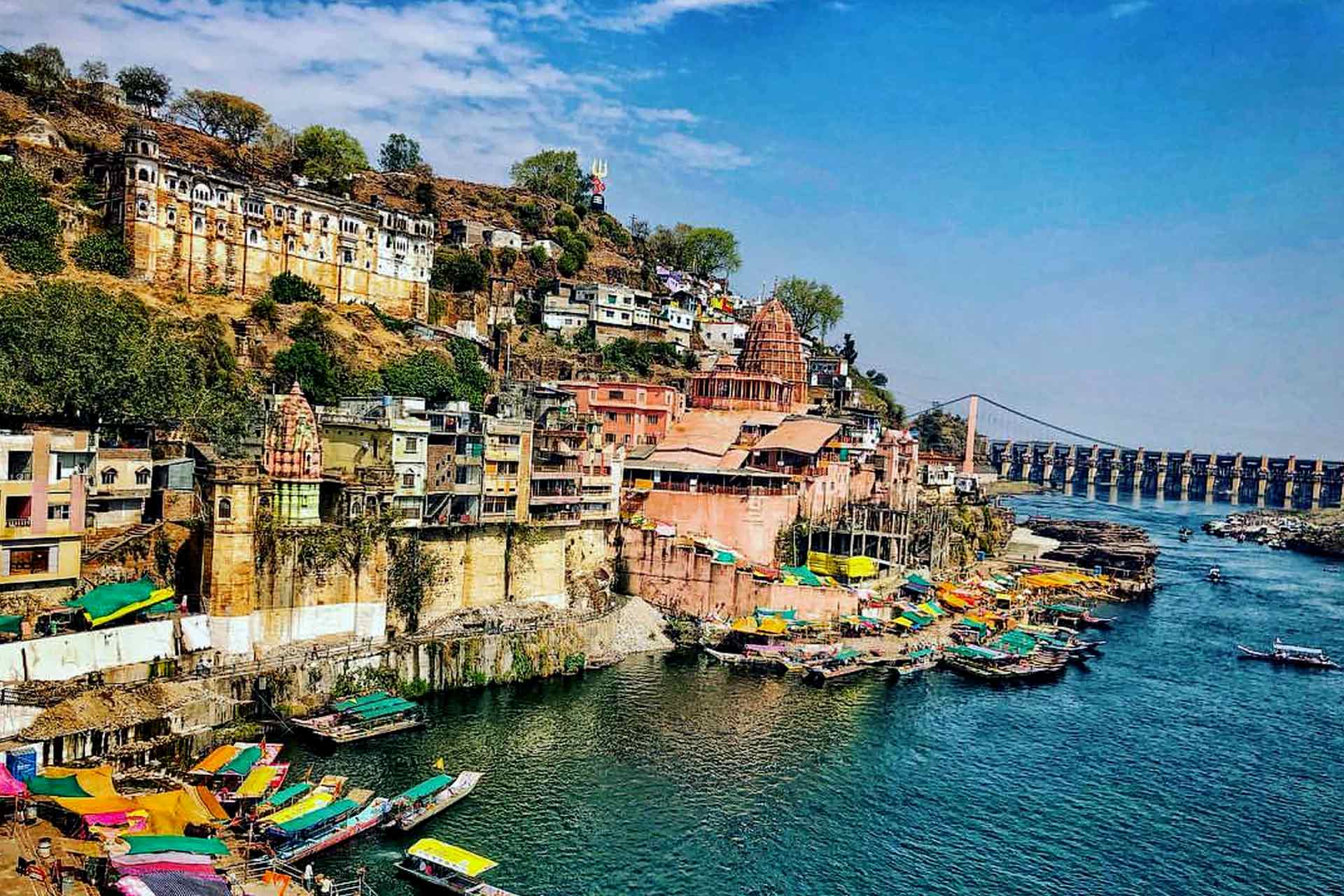 [/media-credit]
We are well versed in Hinduism Spiritual symbol "OM". The prominent and popular Shiva temple Omkareshwar is located on the shore of the Narmada River. It is a breathtaking wayfaring destination in India, and to take a glimpse of this temple in its most colourful and alluring state you must visit the temple in the fifth month based on the Hindu calendar, that is Shravana. The temple looks mesmerizing and it a delight to watch.
10. Mallikarjuna Swami, Andhra Pradesh
[media-credit name="Patrika" link="https://www.patrika.com/pilgrimage-trips/mallikarjuna-jyotirlinga-andhra-pradesh-kaise-pahuche-in-hindi-4339227/" nofollow="true" align="aligncenter" width="1024″]
[/media-credit]
Yet another popular Shiva temple located on the banks of the Krishna River. The temple has a stunning and gorgeous outlook with silver-plated doors and beautifully placed ornate pillars. The temple is known for worshipping Lord shiva in the incarnation of Mallikarjun and the divine Goddess Parvati is devoted as Bhadrakali (otherwise known as DEVI PARVATI)The temple is well built around 6 centuries ago. It is one of the best destinations for history lovers and Shaivism devotees.
These were some popular Shiva Temples, India is brimful of many such divine destinations from north to south and east to west for devotees and tourists that have the ability to pour their blessings on all the creatures.